Noel Keywood enjoys the twinkling ability of Naim's Uniti Star all-in-one system. Read our NAIM UNITI STAR Review.
Naim's Uniti was first launched in 2009, being their popular all-in-one solution – a complete hi-fi including streamer, in one box. And a Naim hi-fi too, with all the thinking that made Naim famous. By this I'm alluding to amplifier sound – one with smoothness but heft, for a dynamic listen. No weedy stuff here, by method I'll come to explain. Uniti has since gone through many changes, being upgraded to Star status in 2017. I am reviewing their latest update here.
Naim quote power of the Uniti Star as 70 Watts but our measurements show it has now reached 90 Watts (the precise figure depending upon load – see Measured Performance). Inside is a conventional Class A/B analogue amplifier – not Class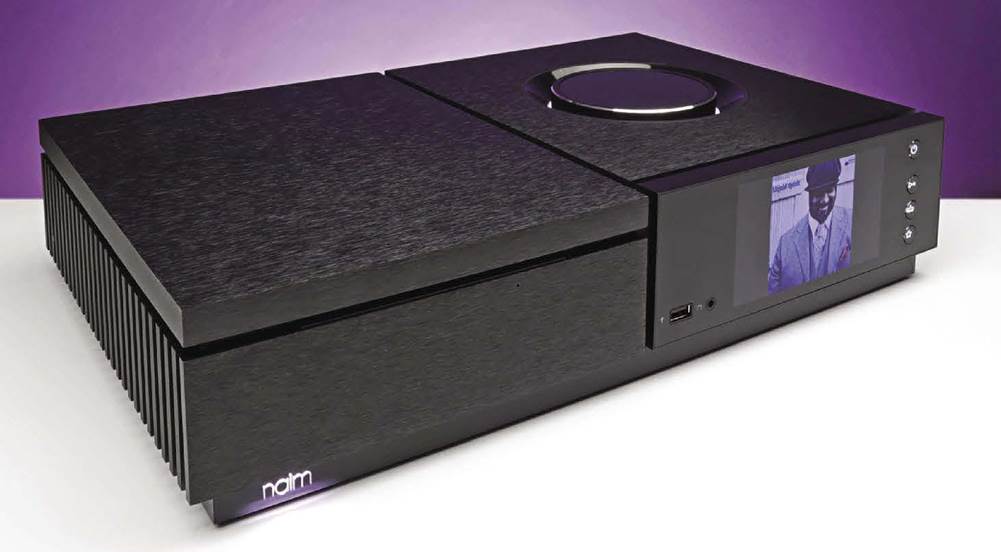 D – fed by a massive toroidal power transformer. And here we get straight to Naim philosophy: the ability to deliver big transient current to a loudspeaker, unfettered by a switch-mode power supply of limp ability. Penalty – the Uniti Star is compact but also heavy at 13kg, largely due to that transformer. Naim have had to pack a lot in tightly around it to keep dimensions down to 432mm wide, 265mm deep and 95mm high.
And there certainly is a lot in there. At left on the front panel is a slot loading CD player mechanism, at right a colour display screen – but it is not a touch screen. The expectation is owners will use either the supplied remote control or app. from the settee. Inputs can be selected by an illuminated control button at right – but not CD or USB I was surprised to find: these are only available from the remote or app., so if both go walkies neither CD nor USB can be fully accessed. Once CD is up and spinning however there is a Pause/Play button here; hold it down to Eject. If the Uniti is programmed to play CD automat­ically it can do so but track skip is unavailable on the player alone.
The CD player is also able to rip (copy) tracks to an external Flash drive. Playing ripped tracks can then be accomplished by selecting USB, to reveal full track listings on the app and the front panel display, together with song and artist info.
Because the Star is best controlled by the app or remote, its massive volume control at top will likely see little use in practice, since volume can be changed by the remote or the app.
To play music from a Flash drive (memory stick) there are front and rear USB 'mass storage' ports that can read up to 128GB. An SSD disc drive (1TB max) can also be hooked up to them. Naim additionally fit an SD card slot at rear, capacity up to 32GB.
Being an app controlled streamer, Uniti Star must be hooked into the domestic network, whereupon it can stream music from a PC, using UPnP Naim define this as hi-res streaming, but since a USB Flash drive can similarly deliver hi-res including DSD into the Star, an active PC isn't essential to play hi-res. Mac owners be aware that a paid-for app like EyeConnect is needed to provide UPnP streaming, since it's a Microsoft technology. And PC owners must turn streaming on in Windows Media Player to avoid frustrating silence, something that – as an occasional PC user – always catches me out!
Always best to hook into a network with an ethernet cable, but wi-fi is available too, the aerial now being concealed inside the player.
As with previous Naims, the Star was easy to get up and running on the network. It identified itself as UnitiStar on my BT Smart 2 hub (some streamers provide no ID) and on my PC (Windows 10). The Naim app picked it up immediately and its high contrast white text on black screen, uncluttered by spurious graphics, was easy to read. I did suffer an initial hiccup of downloading from Apple an app from 'Naim' that worked but would not see inputs. I deleted it and downloaded from 'Naim ltd' and this worked perfectly – a strange issue. But then if you have an app in the app store, as Hi-Fi World does, trying to get a grip on it through the world's largest company is a prodigious experience.
"she had vivid presence in front of me and I was transfixed."
Lots of functions in the app of course, including on-line music services such as Tidal, Spotify, Qobuz and Internet radio. Then there is Apple Airplay, Chromecast Built-In and the ability to work with Roon (Roon Ready). An audio return channel links to a TV though HDMI to pipe over TV sound.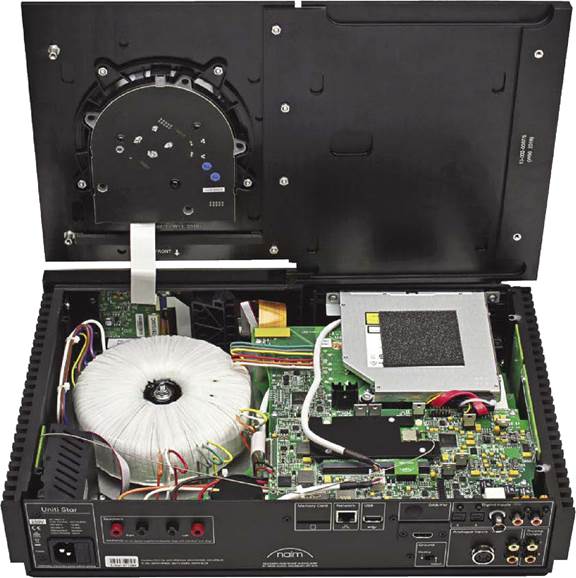 There is Bluetooth radio linking too (AptX HD), the aerial now being concealed. All inputs can be selected, analogue (two), digital (five S/PDIF), USB (mass storage), Servers (PC with UPnP), HDMI.
So what is it you don't get? There's no Phono input for LP; an external phono stage would be needed for this, connected into one of two Line inputs (phono-socket/ DIN).Vinylistas may cringe at the fact that analogue is converted to digital measurement showed, passing through a digital volume control before being converted back to analogue – but I checked this carefully and distortion was minimal here. However, there's a 2V overload limit imposed by the ADC so a high gain/output swing Phono stage would not suit (most swing 10V, valves 40V); a 40/60dB (MM/MC) stage is best here.
There are no balanced XLR inputs either. Plus no USB direct computer connection, since there's network connection instead.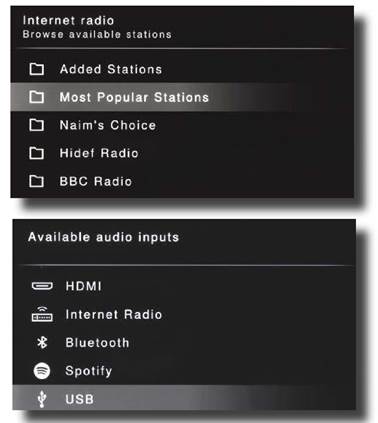 You don't get radio as standard but DAB/VHF/FM is available as an option. With internet radio fitted I don't see much point in this though.
Build quality and finish were superb, a step up on most else. The remote was also very good, lighting up immediately upon being lifted, but it lacks a numerical keypad for CD track number entry. There is a 3.5mm stereo headphone jack on the front panel. The app was, over the review period of weeks, stable, easy to understand and use.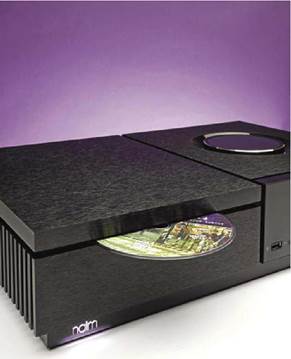 SOUND QUALITY
The Uniti Star was hooked up to our Martin Logan ESL-X hybrid electrostatic loudspeakers with Chord Company Signature Reference screened cables. For the most part I played CD and hi-res from Flash memory since this is a significantly cleaner digital source than any cable feed, where jitter and noise arise.
And from the word "go" the Uniti Star was a sonic star. Josefine Cronholm's In Your Wild Garden (CD) had sumptuous strength, its bass line providing supple background power. There was an enveloping ease to Ms Cronholm's vocals, but also a sense of subtlety and insight. Naim get the tonal balance absolutely right: there was neither warmth nor rasp to highs; it all came across as natural and easy, yet dynamically vivid.

With Skunk Anansie's Hedonism (CD) I could turn volume up and hear no strain, Skin's vocals holding steady centre-stage whilst the jangling guitars stayed unmuddled and palatable. Again, powerful bass marked out by big presence and a sense of unrestrained depth. Here I believe the Naim's low-ish damping factor was coming into play: the Uniti Star doesn't sound dry and retentive like so many amplifiers, reminding me of my various valve amplifiers I have to say. The lovely quality of its treble but the total lack of rasp or bite was also was a bit valve-like and here the fast cut-off above 20kHz may well be a contributory factor.

Across a wide variety of tracks, good and bad, old and new, there was a more muscular sense of definition and strength than comes from most amplifiers out there. Jasper de Waal's horn in Haydn's Concerto for Horn (DSD64) loomed large in the room, strings of the Royal Concertgebouw Orchestra sounding suitably lush around him, DSD and our electrostatics together suiting the full bodied nature of the Naim.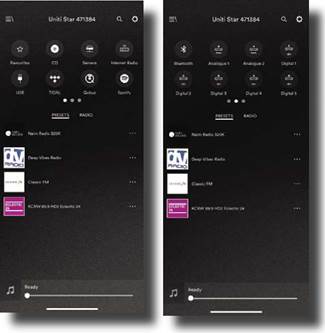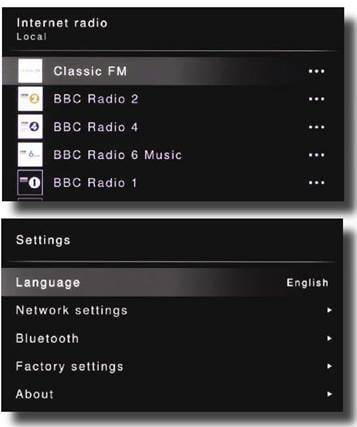 Similarly the soaring voice of Johannette Zomer singing Lascia Ch'io Pianga (DSD64) was solid and powerful from the Naim, etched up in large form; she had vivid presence in front of me and I was transfixed. An undeniably exciting sound that our XStat electrostatic panels again lapped up and threw out.
CONCLUSION
What you get here is a one-box hi-fi that does it all, except handle LP. Naim keep a firm grip on sound quality by shoehorning in a classic Naim-formula power amplifier, meaning Class A/B backed by a massive linear power supply. This is how the Uniti Star differs from most else – as trying to lift it demonstrates. You get an equally solid sound with powerful bass, a smooth easy midband and clear treble that doesn't offend – "proper high fidelity" in other words. It's an impressive package that offers a great hi-fi experience.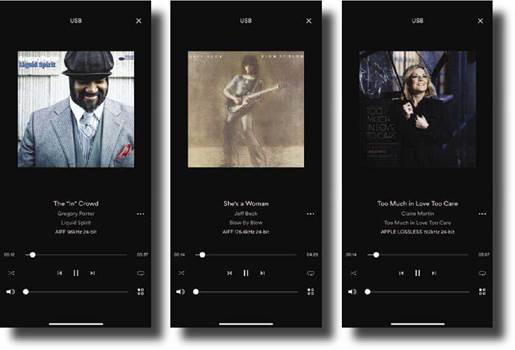 MEASURED PERFORMANCE
The Naim Uniti Star produced 78 Watts into 8 Ohms and 121 Watts into 4 Ohms. Upper response limit (-1dB) was a low 19kHz (see below) and distortion low at 0.04% (1W, 10kHz).
The Uniti Star is digital at heart, like an A/V receiver. Analogue inputs are converted to digital through an ADC then converted back to analogue through a DAC.
Fed a digital input the DAC (Burr­Brown PCM1791A) had a 30kHz hard limit, imposed by a brick wall filter, measuring -1dB at 19kHz. As with the Unitilite we measured in April 2015 issue, EIAJ Dynamic Range of this DAC chip was poor at 105dB – CD quality, even with 24bit hi-resolution digital. Distortion was acceptably low at 0.1% (24bit, -60dB).
Analogue bandwidth imposed by the input ADC measured 23kHz; the quoted -1dB frequency being 17kHz. As expected, with a low level (100mV) input to generate quantisation noise in the ADC (notched out during measurement) noise was a little high at -84dB – a penalty of A/V topology.
USB mass storage input gave the same result as S/PDIF (as expected) and CD was similar, with a brick wall at 21kHz, 0.24% distortion at -60dB and 101dB EIAJ Dynamic Range.
Performance of the Uniti Star was determined by the DAC that gave CD figures even when fed high resolution digital. Analogue inputs were constrained by an ADC of similar performance. The amplifier is powerful and measured well. NK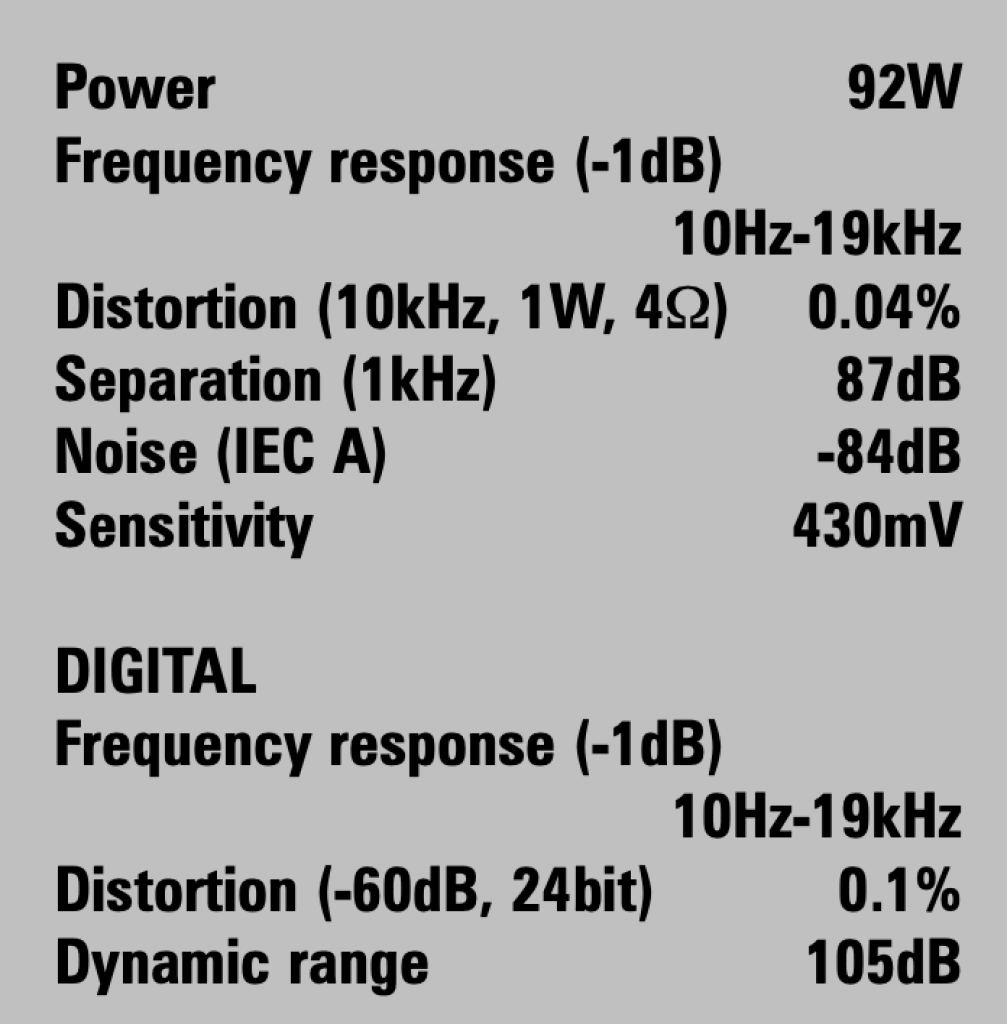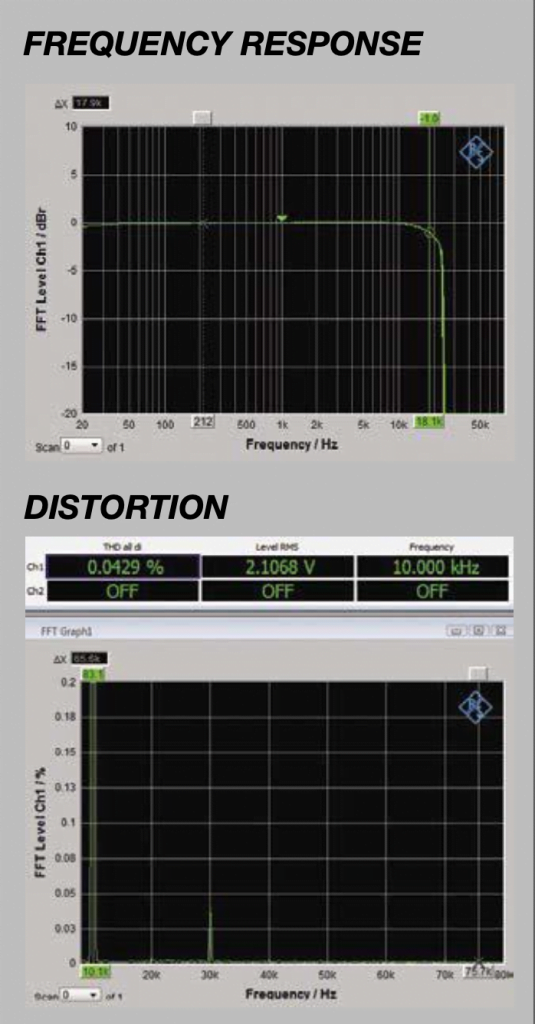 OUTSTANDING – amongst the best.
VALUE – keenly priced.
VERDICT
Best NAIM UNITI STAR prices ?

$

5,689.00
1 used from $4,299.97
6 new from $5,689.00
in stock


This all-in-one player packs a heavy punch. Since Uniti Star includes a CD player alongside streaming and amplification technology, our engineers had to pay special attention to preserving thermal stability and decreasing interference between components. The custom-integrated CD drive also...


$

6,599.00
1 new from $6,599.00
in stock

MORE DEALS

Naim Audio
www.naimaudio.com
+44 (0)1722 426 600