AMPLI-TUNER/NETWORK AUDIO STREAMER
It's a hub for HDMI devices, for wireless multiroom streaming, it has FM and DAB+ radio — and at its heart it's a Marantz stereo amplifier. The NR1200 should make a lot of people happy. Read our Marantz NR1200 Review.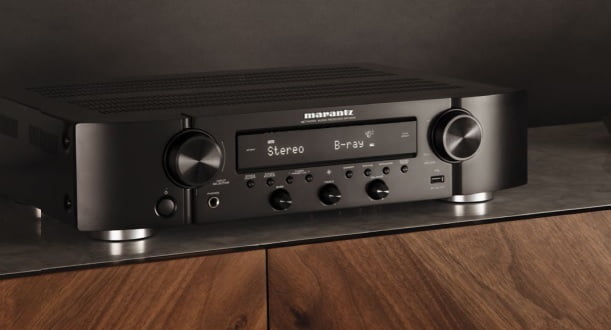 We are happy to bet that one of the reasons you're reading this review is because you've never heard of an 'ampli-tuner.' Neither had we, but there it was, written on the side of the box. Which was weird because written on the top of the box was 'Network Audio Receiver'. But before you say 'I don't want a multi-channel receiver', we need to point out that Marantz's NR1200 is not a multi­channel receiver… it only has two channels: left and right. Yep. It's a true stereo receiver that can receive broadcast FM and DAB+ radio stations. It can also play internet radio stations, and connect to your TV via HDMI so it can improve the sound of whatever you're watching. It's also a network player, able to play content stored on your network drive (NAS) or on your computer. Plus it's also a DAC, so you can also play back digital sources. and a lot more besides.
EQUIPMENT
You might also be asking yourself why Marantz built the NR1200 at all. Surely the potential market for two-channel receivers is so small that a large multi-national company such as Marantz wouldn't be interested? This is where we think Marantz has been very clever. The NR1200 doesn't appeal to just a single market segment, but to a great many, and this is what will ensure it will be a best-seller for the company. And here's why.
First, many people in the older demographics love listening to radio. They like the variety it offers. They like that it's easy to access: they can just select the radio station they want. And what they most particularly like is the fact that radio is free. No internet connections required, no complex usage plans: they're just plucking signals from the air. And radio isn't multi-channel, it's stereo, so using any type of multi-channel unit to play it back would be a waste. For these users, the Marantz NR1200 is the perfect component. It offers access to the FM band, which will give the best sound quality, and to DAB+ radio, which will give you access to all the stations from AM (as the NR1200 can't receive actual AM radio transmissions) but without the usual static and interference.
Then there's the demographic of rusted-on TV viewers who want to improve the sound quality they're getting from their TV, but do not want to install a full 5.1-channel sound system. (They likely also don't want the large, bulky electronic component required to drive all those speakers.) The Marantz NR1200 is small, slim, easy to use and, by virtue of its HDMI connections, will improve the sound of any TV. All you need do is add a pair of loudspeakers. even quite small speakers. and you will improve your TV sound out of sight. And if you'd rather use small loud­speakers (which aren't renowned for their ability to deliver deep bass), but you still want movie­quality deep bass, you can use the NR1200's built-in subwoofer outputs to connect a powered subwoofer (which can be hidden somewhere out of sight in your room and will still work perfectly well) to deliver it. In fact, the NR1200 has two subwoofer outputs, so you can connect two subwoofers. a trick that will always deliver more uniform bass sound throughout an entire room.
Then you have the youthful demographic that does want to be able to stream from the internet, accessing Spotify, Tidal et al, play music from their network and computer, and stream music from their phone but at the same time also wants high- quality sound. which you don't get from most of the other solutions that offer this kind of playback flexibility. The Marantz NR1200 offers all this and more, with low-noise, low-distortion amplification on board: a dual-mono Class-AB output stage that's rated at 75W per channel into 8 ohms.
So what's on board the Marantz NR1200? We've pretty much given it away already, but on

the analogue input side, you have three line-level stereo inputs, plus a moving-magnet phono input. On the digital side, you have two digital inputs (one coaxial, the other optical), plus you can get signals into it via its front-panel USB input, Ethernet, Wi-Fi, AirPlay 2, Bluetooth, HEOS or via one of the NR1200's five HDMI inputs, all of which support HDCP 2.3, 4K Ultra HD 60Hz video, 4:4:4 Pure Colour sub-sampling, HLG, High Dynamic Range (HDR10), 21:9 video, 3D and BT.2020 pass-through. The single HDMI output (for your monitor) has ARC (Audio Return Channel) so you can grab the sound from your TV and feed it from the amp through to your speakers, rather than having to put up with the tinny sound from your TV's speakers.
So far as outputs are concerned, the NR1200 has both 'A' and 'B' speaker outputs, so you could run a second pair of speakers in another room if you wish, plus Marantz has included 'Front' and 'Zone 2′ analogue outputs for even more flexibility. though Zone 2 doesn't talk to the HDMI or coax/optical digital inputs. Oh, and we guess it's an output, but we liked that the Bluetooth is two-way, which means you can send music to Bluetooth headphones as well as stream it from your device to the Marantz NR1200.
PERFORMANCE
As with many modern home theatre components, Marantz has provided automated set-up instructions that will walk you through the entire set-up process via on-screen instructions. All you have to do is connect a screen so you can see the instructions, and with HDMI, this is a snap!
Despite its many hard-wired options, the Marantz NR1200 has so many wireless options that you'll be able to choose the one that works best for you. or use them all. Marantz would no doubt argue that the best option would be its own HEOS wireless multi-room audio platform (shared with Denon), and it's certainly an impressive system, not least if you have other HEOS-equipped devices in your home, in which case you'll be able to share music between them, no matter where in your home they are physically located. But whichever option you ended up using (exclusively or partially), you'll be able to use voice control to select tracks, adjust volume, switch sources and so on, via the appropriate assistant (Siri, Alexa, Google Assist). These assistants are not equally capable, so if you have a specific application in mind, check it will do what you want before purchase!
When choosing any product, it's important to first look past the 'bells and whistles' and check the underlying performance, because if the underlying amplification is not up to the task, the rest is of no use. So we're happy to be able to report that the NR1200's amplifier has adequate power for any application it's likely to be used for, and is more than happy driving low-impedance speakers. We first tried the line-level input with the analogue output from a CD player and were mightily impressed by the high volume levels, the low noise, the absence of distortion and the very clearly extended frequency response. We confess we did think the sound was a tad better in either of the NR1200's 'Direct' modes, which means that for best sound, you'd have to forgo using the tone controls as well as the featured MDAX circuit (it's supposed to improve the sound quality of compressed audio formats) but the NR1200 sounds so good au naturel that we don't think you'll need them. The FM and DAB+ reception capabilities were good as well, so your 'free to air' listening will be all the more pleasurable. The phono stage was OK, but if you spin lots of vinyl, you might want to consider using an outboard one.
Good news on the digital input front as well. The coaxial digital inputs are excellent, so if you have an older CD player that has a digital output, you'll definitely improve its performance by connecting it to the NR1200. No doubt a lot of this performance is down to Marantz's engineers configuring the AKM AK4458 DAC in Dual Differential Mode, thereby improving the performance of what was already a first-rate chip. On that front, the device will handle ALAC, FLAC and WAV lossless files up to 24/192 as well as DSD 2.8MHz and 5.6MHz. All the popular lossy codecs are covered as well (MP3, AAC, etc).
All up, we enjoyed our time with the Marantz NR1200 immensely.
CONCLUSION
If you want all the 'mod cons' that current audio/ video technology has to offer, as well as first-rate audio and video performance, but you're not inter­ested in multi-channel sound, you've come to the right place. Highly recommended.
Marantz NR1200
• Superb feature set
• Fine sound quality
• High build quality
• Phono input could be upgraded
Power output: 75W per channel into 8ohm
Frequency response: 10Hz-100kHz
THD: 0.01%
Phono input sensitivity: 2.5mV/47kQ
Phono S/N ratio: 74dB
Line input sensitivity: 200mV
Line S/N ratio: 98dB
Power consumption: 210W
Standby consumption: 0.2W
Dimensions (WDH): 440 x 378 x 105mm
Weight: 7.9kg
Contact: QualiFi
Telephone: 03 8542 1111
Website: www.qualifi.com.au
Best Marantz NR1200 prices ?
MORE DEALS