Sound on the move from Philips new Fidelio L3 headphones fascinates Noel Keywood. Read our PHILIPS FIDELIO L3 Review.
I didn't know headphones could get this complicated. Philips new Fidelio L3s are powered 8lue tooth-connected headphones primarily for use with a mobile phone. Wireless connection is undoubtedly a boon, especially on the move, but you can also listen to YouTube on the computer whilst whilst letting the cat out 30ft away.There are drawbacks though.
On-board is a Bluetooth 5.1 transceiver, Active Noise Cancellation (ANC) and an 'interesting' control system activated by tapping or stroking an earpiece. Not quite perfected methinks: it can be switched out in the app. (more later). Philips Fidelio headphones have a reputation for sound quality, meaning a clean sound accurately balanced in true hi-fi fashion – no Beats bass here. I used a pair of Fidelio Xis for years until they passed away: great sound at sensible price.The Xis were conventional passive phones: the L3s have an on-board battery driven amplifier that power the earpieces at all times.
In spite of all they carry, including 800mAh re-chargeable batteries, the L3s are not heavy at 360gms. I've used plenty of headphones heavier, albeit when sitting in front of the computer. On the move, weight is more consequential but I think most people could handle the L3s.The headphone band is quite strong, again important on the move, and the ear pads both small and unyielding when compared to the large, lush affairs of the Fidelio Xis. Acceptable all the same.
The L3s can be connected by cable, one 125cm (4ft) cable being supplied, terminated by a standard 3.5mm stereo jack at 'phone (source) end and 2.5mm stereo jack at headphone end.
That excludes balanced connection and 2.5mm jack plugs are so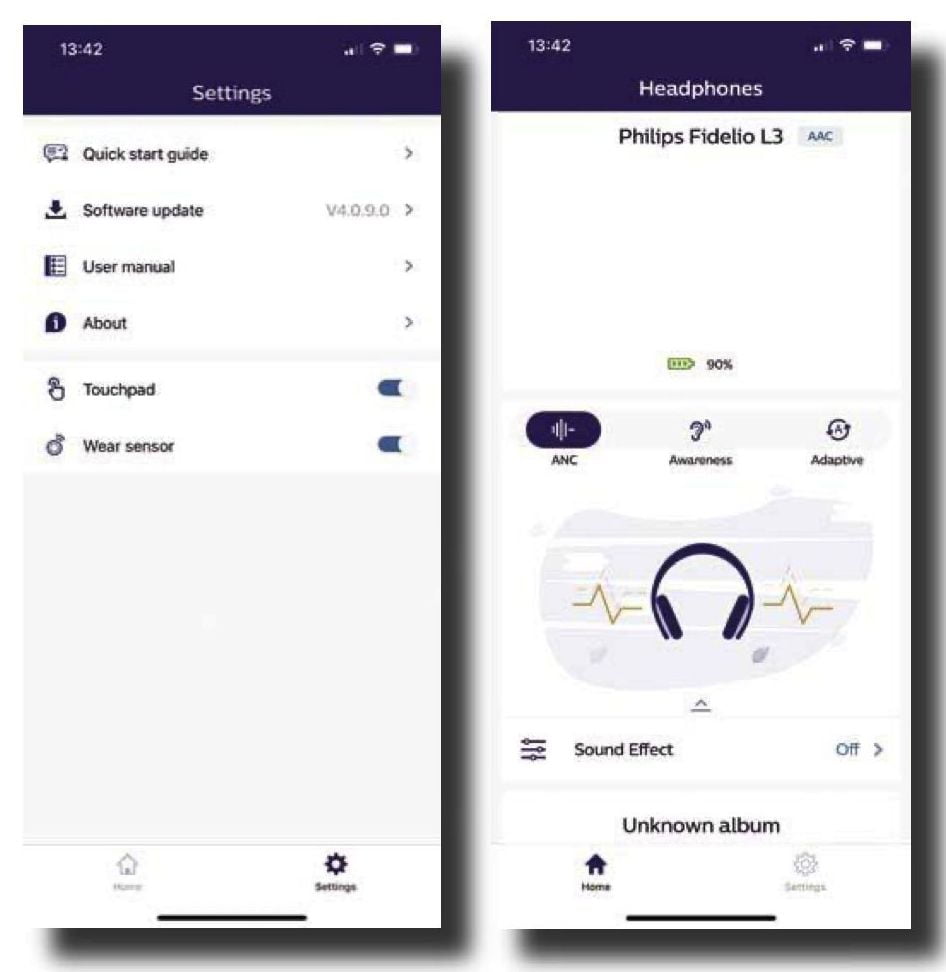 In the app's Settings menu both the Touchpad and the Wear Sensor can be switched off – sometimes useful. In the Main menu ANC, Awareness and Adaptive settings too. Plus a graphic equaliser in Sound Effect.
small they snap easily I've found, so this lead is to be treated with care or replacements kept in the drawer. Hard wired connection should give best sound quality, but not here I found.The 'phones sense cable connection and switch off Bluetooth, ANC remains active but touch control does not.
The L3s are purposed for use with a mobile 'phone and on the move, hence ANC, making electrical connection through a lead unimportant to its primary role. ANC cuts out external noise and the closed backs of these 'phones stop sound leakage outward, making them commuter friendly all round. Of course they receive calls and have a speech mic.
Closed back 'phones commonly have a hollow sound and bloated bass but the L3s avoided these problems completely.They were surprisingly dry in their presentation as closed-back phones go, but not as airy as open-backs.
All of which is to explain that the Fidelio L3s, as headphones with on-board electronics, come with a complex payload.They go very loud, but not shatteringly loud: volume is limited by a sensing microphone. And if the batteries die, so does the music; they will not work via wired connection to a headphone amplifier.
In addition to the slender and flexible electrical lead, there's a charging (only) lead, for any 5V phone charger. Charge time is 2 hours and working time above 3G hours Philips say. When charging they switch off, becoming unusable not good. It's possible to charge whilst maintaining functionality useful at home.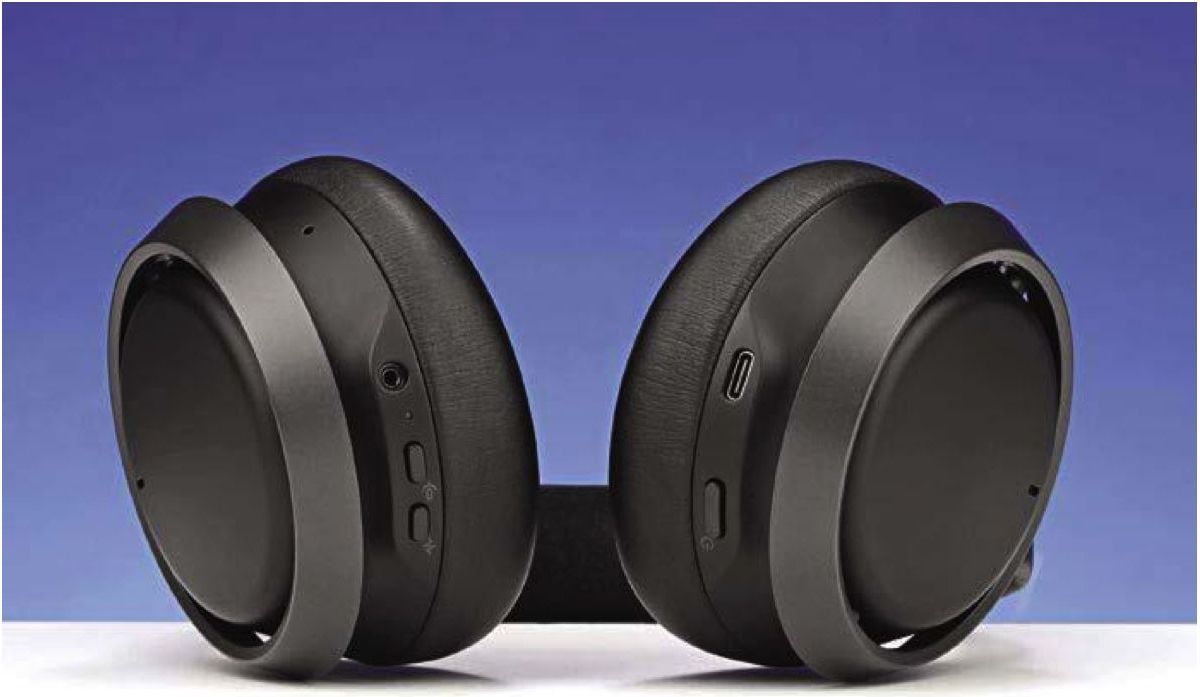 The Right earpiece carries a 2.5mm stereo input Jack, ANC and Mic buttons. The Left earpiece carries a USB-C 5V charging socket and on/off button.
Although the L3s look dull, with their satin black finish and seeming lack of graphics, there are many controls. The earpieces are not marked Left and Right as they should be, but a test CD (not supplied) showed Left carries the charging socket and power button, Right the 2.5mm input jack, an indicator LED and two selector buttons, one for ANC the other for microphone.
An app repeats these functions in easy to use form and adds in graphic equaliser plus fixed EQs. What it lacked was auto power-off time adjustment; remove phones from head and they switch off after 10 minutes to conserve the batteries, an infra-red sensor detecting absence of human.
Switch-on procedure then has to be negotiated, with a voice warning "power on" and "Bluetooth connected" – twice in my case as I used two simultaneous connections. This function can be switched off completely in the app.
If ANC or ANC+Awareness are on, a soft hiss becomes apparent, coming from the microphones. With ANC off there is silence.
A website picture shows the touch-sensitive right hand earpiece has control function graphics like Start/Stop, Forward, Reverse – but our sample came without them.
I paired the L3s with my Mac via Bluetooth; the iPhone was paired as well.This is called "multi-point" connection by Philips and it sort-of worked well.The 'phone takes precedence so as to accept incoming calls, but it also took precedence if a music app was running on the phone: there was technological confusion here. Pressing Play on YouTube running on the Mac started play on the 'phone!
Eerily, tapping lightly on the right earpiece halted YouTube video on the Mac.What? And with no physical connection. Having headphones control the computer was spooky. Swiping up or down on the right touch-sensitive earpiece changed volume but it was difficult to make work smoothly and the app allows this function be switched off, since it could be annoyingly erratic.These control functions and channels are defined by Bluetooth operating profiles: Hands Free, Advanced Audio Distribution and Audio Remote Control, Philips say.
Removing headphones from head invoked Pause function, putting them back on triggered restart. With a voice mic on board a virtual assistant can be used, but Siri did not (want to?) understand "Onkyo HF Player", only Apple player – so no use to me.
To judge fidelity I used the L3s wired into an Audiolab M-DAC+ fed from a Mac computer running Audirvana+ software player. For comparison Oppo PM I planar magnetic headphones.
To judge everyday Bluetooth (not wired) sound I used both the Mac and my iPhone I IXPro running Onkyo HF software player (Hi-Res version) that, measurement shows, delivers 24bit quality from an iPhone as well as playing DSD. The Fidelio L3s slotted into this environment well.
But feet on ground.The L3s have an on-board DAC and amplifier – and the DAC is not specified, so it won't be an ESS ES90182KM mobile device, for example. Both DAC and amplifier will be chosen for least power consumption from the batteries, not sound quality.There's just about no possibility the L3s could come close to Oppo PM I magnetic planar phones driven via cable from an Audiolab M-DAC+,with its linear mains supply and ES90I8 DAC.
Philips talk up the intrinsic sound quality of their drive units and Fidelio heritage, but there are exchanges to be made.What's on offer here is basically correct – accurate – sound balance in compromise with electronic wizardry.
Running wired from the M- DAC+, fed byAudirvana+ playing hi-res including DSD, the complex multi-track vocals of Fleetwood Mac's Silver Spring (24/96) were clear and well separated, clearer than the PM Is I fancied listening side by side, if with some hardness of tone in the upper midband. With Dreams Mick Fleetwood's drumming was tight and timely, certainly not bass heavy.The Doors Light My Fire (DSD64) was midband forward and very clear as a result, if again a bit mechanical and lacking atmosphere. Working through a wide variety of material the L3s were very well balanced, dry in nature and reasonably revealing. Even when running wired, the internal amplifiers are active; turning power off stops the music. So they determine sound quality, not the headphone amp feeding them.
I was happier with a direct Bluetooth feed from the Mac, again using Audirvana+ to play music.This lessened midband glare and hardness.There were some strange happenings here though, Siri reacting to the touch- sensitive earpiece: iTunes starting up, Onkyo HF Player on the iPhone grabbing Bluetooth and playing in preference until I switched the phone's Bluetooth off. Unbelievably, Siri made four calls from my iPhone whilst I was manipulating the earpiece.When the recipients called back with "did you call me" I said "no, the headphones did". Not improving my reputation for sanity!
It's best not to use headphones like this via Bluetooth from two sources, as weird confusions arise.
The L3s worked best with the 'phone alone, delivering a lovely sound from the Onkyo HF Player app. I turned Siri off and the touch-sensitive earpiece worked more reliably through iOS 14.4.1 on the 'phone than macOS 10.4.6 (Mojave) on the computer.The Hi-Res folder of HF player gives supremely smooth sound and this suited the L3s, Daft Punk's 'Giorgio by Moroder' (24/88.2) beating out a hard Electro synth bass line that would please anyone: grippy and powerful. Cyndee Peters 'House of the Rising Sun' (DSD64) was smooth and almost warm, conveying a sense of smoky atmosphere.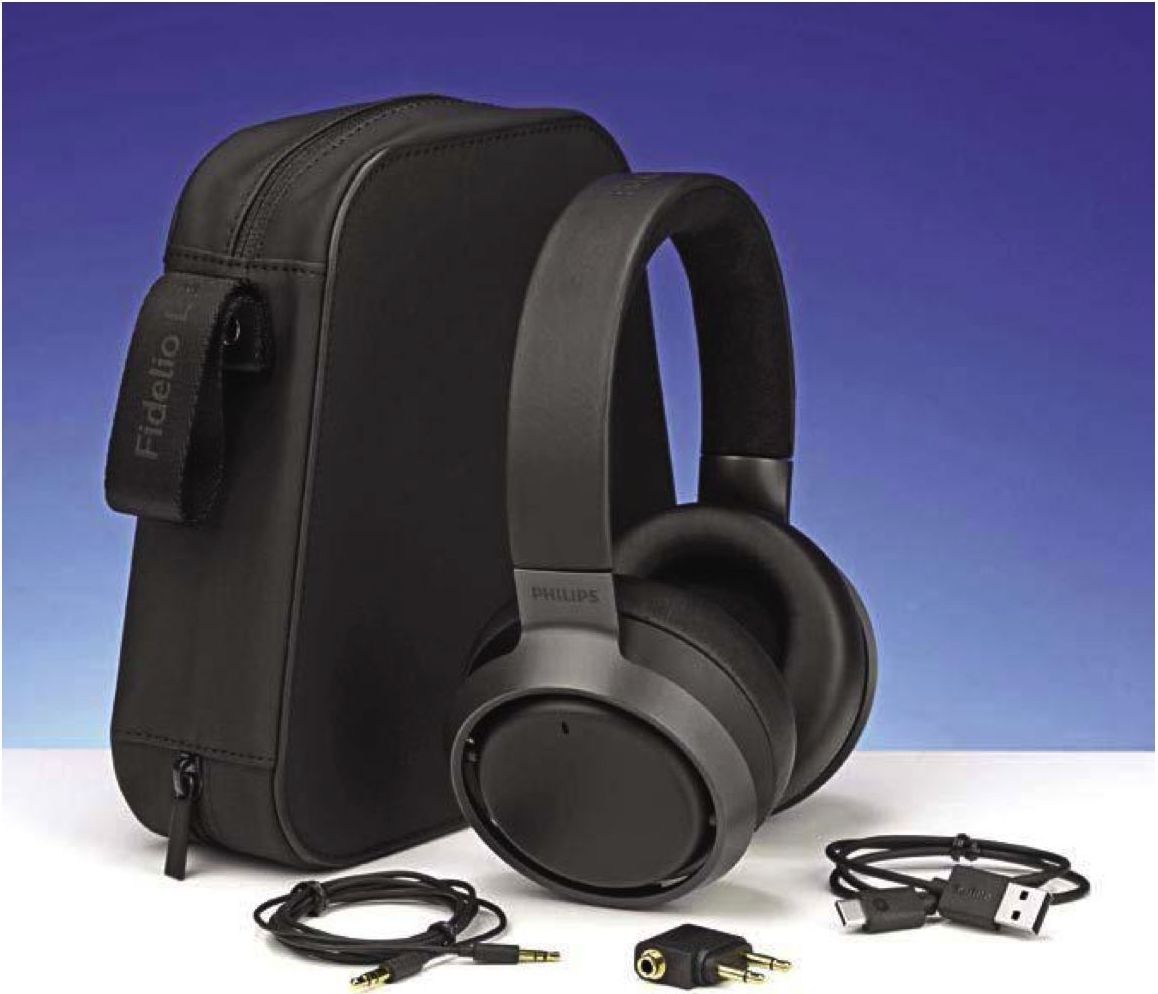 High quality carrying case, optional connecting cable, flight adaptor and charging lead are supplied. The headphones are finished in Muirhead leather we are told.
Even The Eagles 'Somebody' (16/44.1) slid through well, with a gloriously firm kick drum and Glen Frey sounding menacing at the mic, Hammond whirling in the background. As I moved through the iPhone's music library the L3s were enjoyable: great insight into vocals, firm bass and snappy pace. Philips have wrought a good balance.The 'phone would not stop asking me to turn on Siri whenever I fiddled with the touch sensitive earpiece, but – hey! – at least it got amusing. And Siri can be deleted.
ANC? It worked and there were no great sound quality differences. 'Off gave best insight by cutting out hiss but on the move in a noisy environment it's useful.
Philips L3 headphones were worrying.They even made phone calls out; Siri wouldn't let go.This strange behaviour apart they delivered a clear, crisp sound with solid, tuneful bass properly balanced to meet hi-fi expectations. No Beats bass bloat, no searing treble and the touch sensitive earpiece can be switched off in the app. Wire free connection courtesy of Bluetooth made them supremely easy to use and was a boon. An 'interesting' pair of phones giving quality on the move, so well worth considering – especially at some of the low prices being quoted.
| | |
| --- | --- |
| EXCELLENT | extremely capable. |
| VALUE | keenly priced |
| Brand | Philips |
| Phone | +44 (0)1483 910039 |
| Website | www.philips.co.uk |
PHILIPS FIDELIS L3 Review
Well balanced sound and lots of techno trickery.
PROS
Bluetooth connection
balanced sound
well made and finished
CONS
erratic touch controls
unusable whilst charging
unusable with dead batteries
Best PHILIPS FIDELIO L3 prices ?

£

150.00

£160.00
1 used from £148.50
5 new from £150.00
in stock


$

248.00

$349.99
3 used from $172.59
12 new from $240.25
in stock


Philips Fidelio L3 over-ear wireless headphones provide the perfect listening environment, whether you are sitting in your home office, riding in the back of a car, or on a business trip halfway around the globe. Thanks to 40 mm bespoke drivers and hybrid active noise canceling (ANC) system, the...

MORE DEALS