$ From https://us.nothing.tech
THE EAR 2 is the latest release by UK–based tech company Nothing which specializes in wireless audio, and represents an upgrade to its original Ear model. The first thing that strikes you is the design, with the case and in–ear headphones both using the same transparent plastic elements which lend it a unique look. It's also very lightweight yet well built, with the headphones offering IP54 and the case IP55 dust and water resistance, making them resistant to a light rain shower, for example. Read our Nothing Ear 2 Review.
Features Adaptive active noise canceling, personal sound profiles, LHDC hi–res codec, USB–C or wireless charging, up to 36 hours of listening time (8 hours after 10 minutes of charge)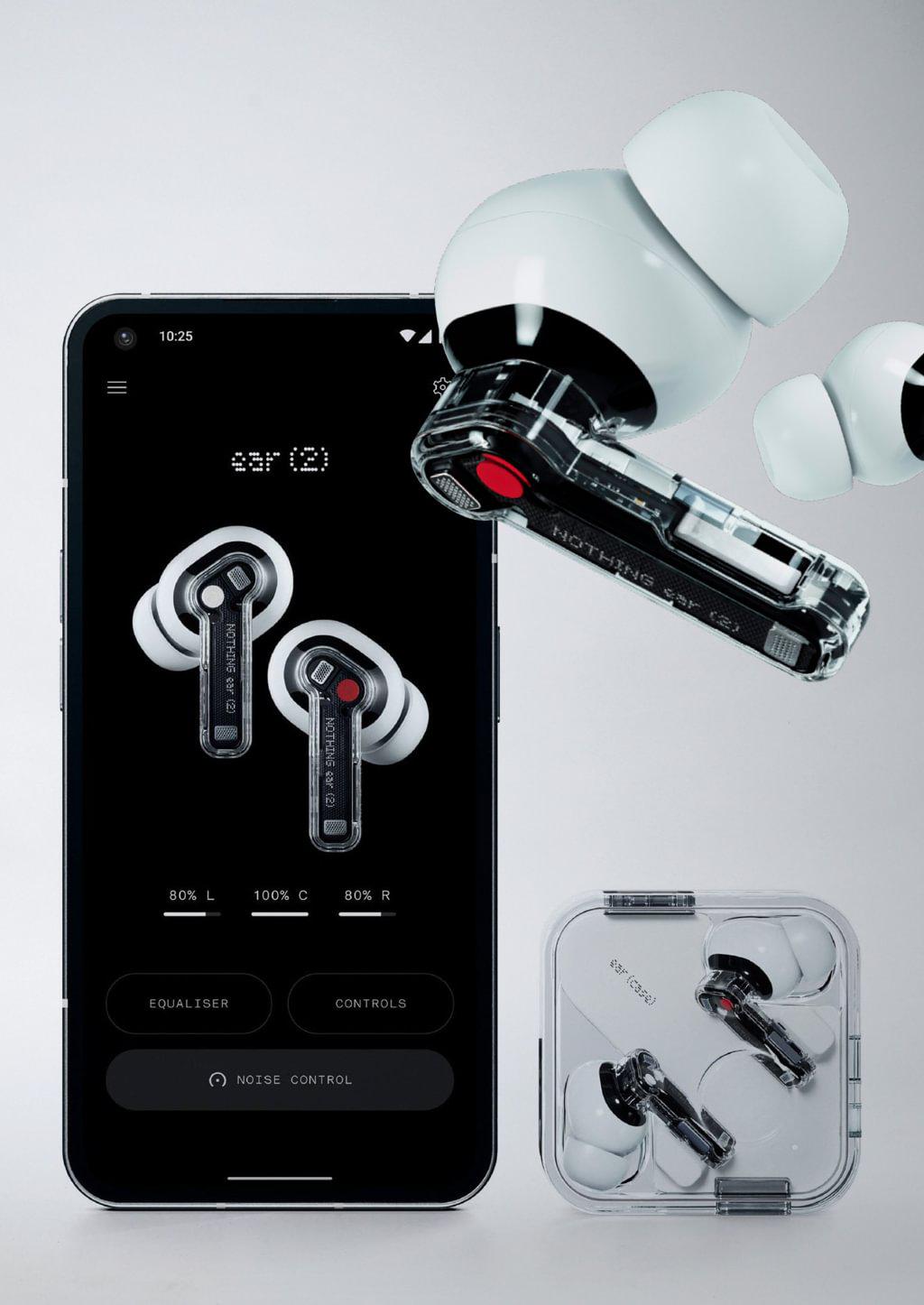 The case charges over USB–C with a cable included and also has 2.5W wireless charging capability, which is a nice bonus. The headphones will give you up to 6.3 hours of playback with Active Noise Canceling (ANC) off and up to 36 hours in total from the case, or up to 4 hours and 22.5 from the case with ANC on. The headphones' capacity isn't stellar by modern standards, though a ten–minute fast charge of the case will give eight hours of total playback, which is handy when you're in a rush.
Pairing the headphones is as simple as opening the case and you will want to download the Nothing X app, which provides access to a wealth of customization features. The headphones have an unusual pinch–to–press system which you can set up in the app to control things like track skip, volume, ANC mode and answering calls. It works well and some people will prefer it to the touch surfaces used elsewhere, which can be too easy to press accidentally while securing the headphones in your ears. Three sizes of ear tips are provided and the headphones are comfortable and secure when worn.
The list of features continues with in–ear detection and dual device connection, and it's possible in the app to manage which two devices will auto–connect. There's personalization available too, with the app offering multi–step processes to tailor both the playback and ANC profiles to your hearing. Three mics in each side help to power the highly effective environment–adaptive ANC and ambient modes, with variable strengths available. They also facilitate making calls, with voice clarity sounding very good in our tests.
JOYOUS SOUND
The headphones use 11.6mm dynamic drivers and support multiple codecs including LHDC for up to 24–bit streaming, as well as having the latest Bluetooth 5.3 version. While standard playback is good, this is an instance where you are well advised to run through the personalization process, since you get greater clarity and detail once you've done this. Crucially however once you have done the analysis you have more options — namely low, medium or high levels of enhancement and within each one a variable amount slider. So it's not simply on or off but you can really fine–tune the processing, even if the lack of a manual EQ is a shame.
In our test we found that the medium setting with around a 50% enhancement level offered the perfect balance versus the unprocessed sound. The playback really is stunning, rich and expansive with powerful but balanced low end, clear mids and sparkling highs. Music sounds joyous, bursting with energy and bags of volume available. The fidelity and soundstage really are remarkable and easily rival headphones costing significantly more. While battery life in the headphones themselves could be a little better, these sensibly priced headphones remain an excellent choice and an easy recommendation.
THE PLAYBACK IS STUNNING, RICH AND EXPANSIVE WITH POWERFUL LOW END, CLEAR MIDS AND SPARKLING HIGHS
THE BOTTOM LINE
Superb–sounding headphones with a wealth of features at a very reasonable price.
Wonderful, rich sound
Excellent noise canceling
Loads of features
Headphones battery life a little short
EXCELLENT

Best Nothing Ear 2 prices ?

$

149.00
1 used from $142.33
4 new from $149.00
in stock


£

695.05

£728.00
1 new from £695.05
in stock

MORE DEALS