Martin Pipe enthuses about Hifiman's Sundara planar-magnetic headphones. Read our HIFIMAN SUNDARA Review.
The Sundara – Sanskrit for 'beautiful' apparently – from Chinese manufacturer Hifiman is a step-up from the excellent Deva model we reviewed a couple of months back. It sells for the same £, but the 372-gram Sundara has a more luxurious finish and sits in the lower echelons of Hifiman's surprisingly-large 'reference' range; the Deva occupied the less-prestigious 'premium' category. However, you don't get the Deva's innovative plug-in Bluetooth dongle. Neither is there a protective carrying case, but the Deva wasn't supplied with one of those either. Here we review the latest 2021-model Sundara, and not its physically- similar 2018 predecessor.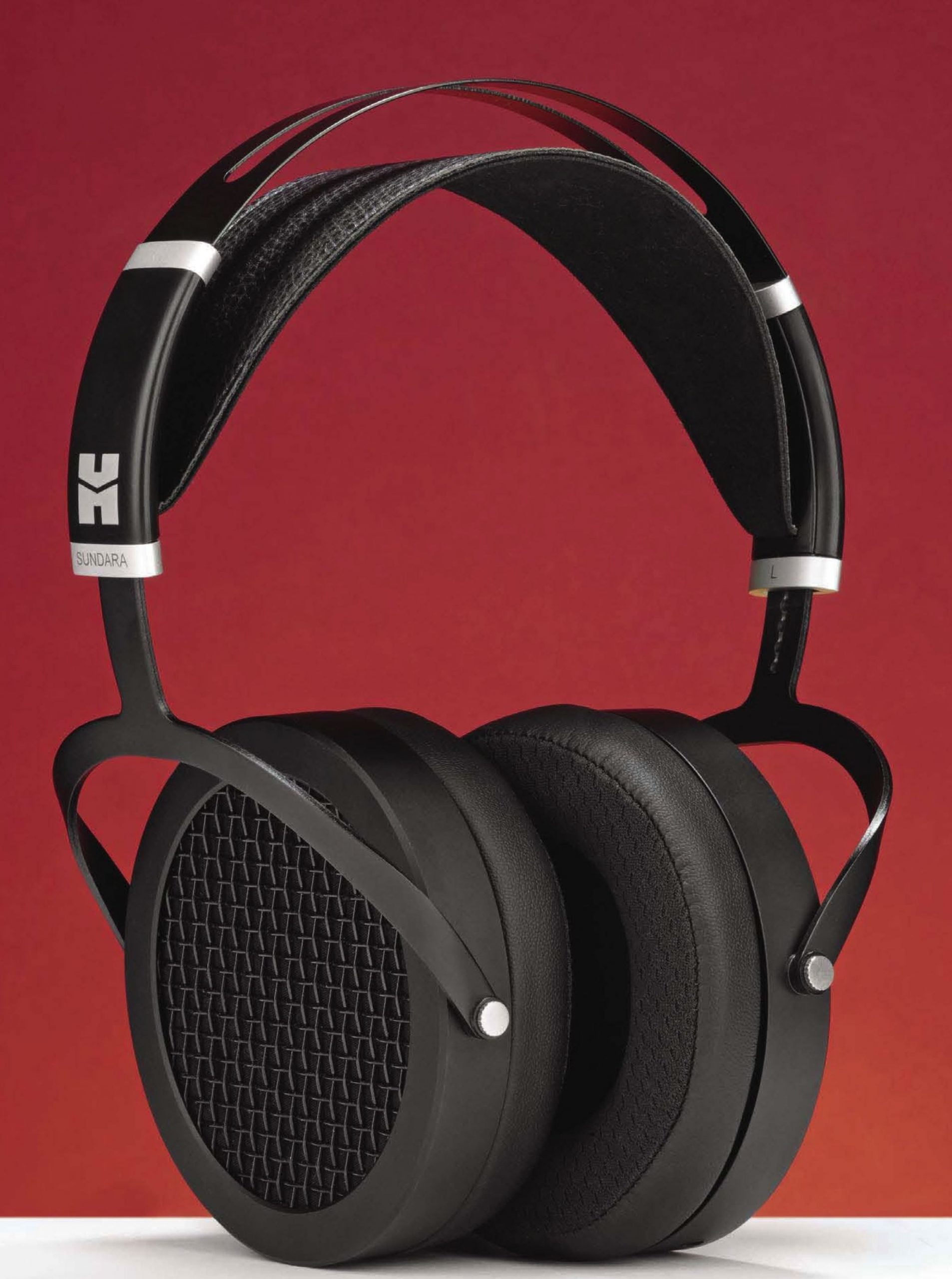 Like the Deva, the Sundara is an open-backed circumaural design of lowish 94dB (ImW @ I kHz) sensitivity.This is however generally expected from headphones with planar-magnetic (PM) drivers, like the ones favoured by Hifiman's engineers. It's alas the price you pay for the clarity and openness associated with the technology.
Given their shared ancestry, it comes as no great surprise to learn that the Sundara's 80mm 37 Ohm PM driver also boasts a patented 'Neo Supernano' diaphragm similar to that fitted in the Deva.This, Hifiman claims, has the "width of a human hair". Lighter than usual, yet boasting high tensile strength to resist breakup, the diaphragm is embossed with the signal-carrying voice-coil and sits between two powerful magnets.They interact, causing the diaphragm to move in time with your music – a different approach to the more conventional dynamic driver where an air-shifting diaphragm is coupled to a wirewound voicecoil surrounded by a magnet, as in conventional loudspeakers.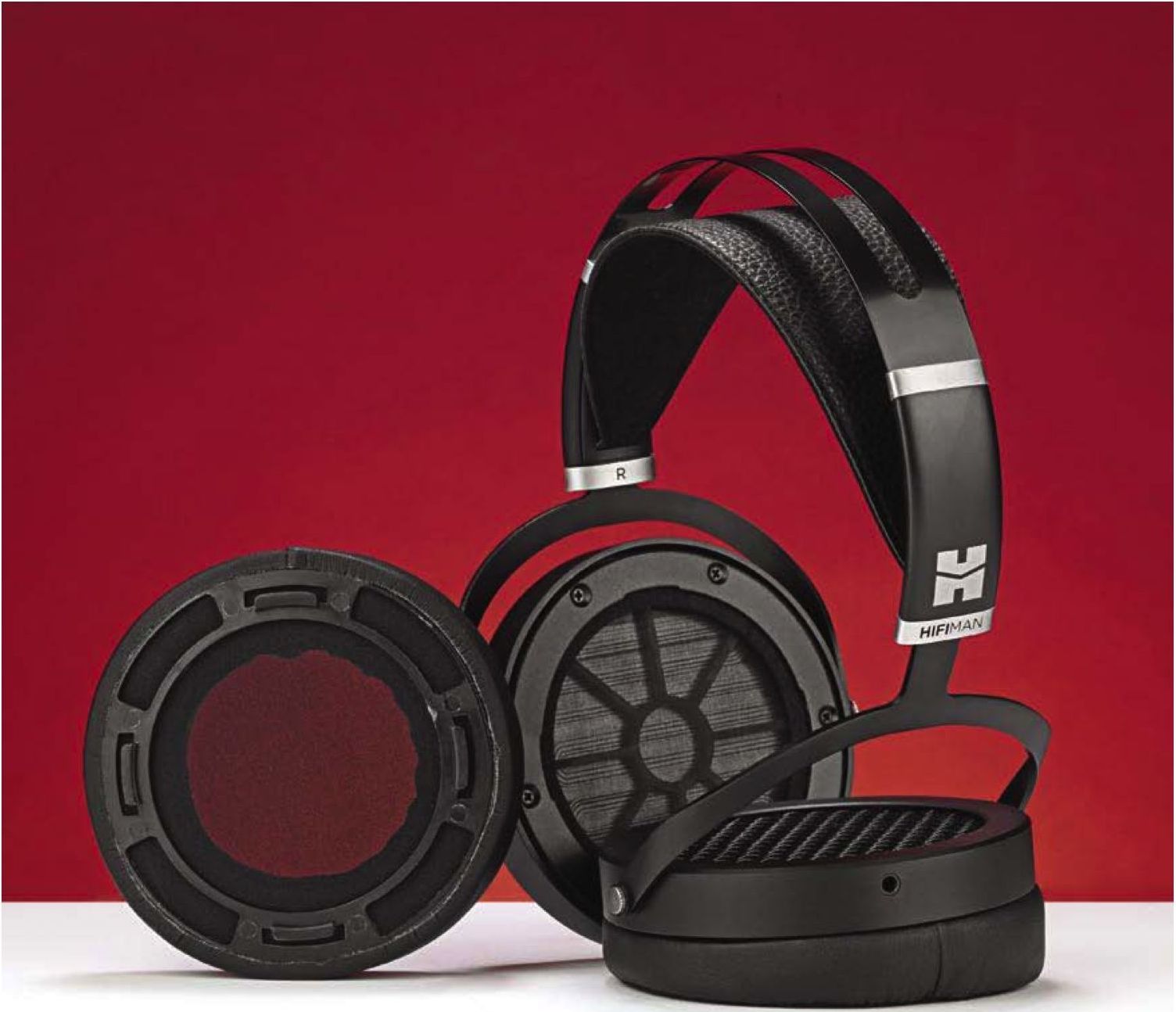 With the foam earpads removed the Sundara's 37 Ohm drivers are laid bare. Larger than usual, with a diameter of 80mm, each driver contains a patented 'Neo Supernano' diaphragm with a thickness "between 1 and 2 microns". The metallic printed patterns of the voice coils, which interact with magnets mounted on either side of the diaphragm, are also visible.
These transducers are mounted in large, jet-black aluminium enclosures, with neat wire grilles that protect the drivers whilst preserving the open characteristic (you can faintly see the driver's magnet arrays through them).
They connect to the adjustable headband via robust channel- identified yokes, and are fitted with replaceable earpads that are covered by a mix of cloth and synthetic leather.The supplied 1.5m lead plugs into both earcups via 3.5mm TRS plugs, opening up the possibility of switching to balanced operation via aftermarket cables.The supplied cable is, like the Deva's, unbalanced and terminates in a 3.5mm stereo jack plug.
Despite its size, the Sundara is comfortable to wear for hours at a time.The adjustable headband, with its 'weightdispersal strap', is effective here; the pressure placed on your ears is far from excessive. As with other open headphones, though, external sound leaks in all too easily.The Sundara can struggle to compete with energetic gym ambience and Tube noise; similarly, your musical tastes will be evident to anyone sitting nearby. Headphones of this type, it has to be said, excel when listening in quiet rooms. Should you indeed be listening'on the move' with a personal player, though, another practical point is that the solid right-angled 3.5mm plug tends to snag in pockets.
Hifiman is of the belief that its Sundara shouldn't challenge headphone amps, and in its opinion even the output stages of mobile phones are fair game. I'm not sure I agree. Although an Astell&Kern SR25 personal player and Prism Callia headphone-DAC successfully drove its transducers, the volume had to be turned up noticeably higher.The memorable hook of NZCA Lines fine 2016 synthpop outing Two Hearts (from Infinite Summer) sounds dirty even on a good system. Driven via my Google Pixel 3a smartphone, though, that hook sounded even grittier; deep basslines showed similar signs of stress. Furthermore, I found the Sundara to be fairly warmsounding until broken in – a process that can, according to Hifiman, take up to 150 hours. Until then, there was also a tendency for the instruments lurking at this end of the frequency scale to sound rather similar.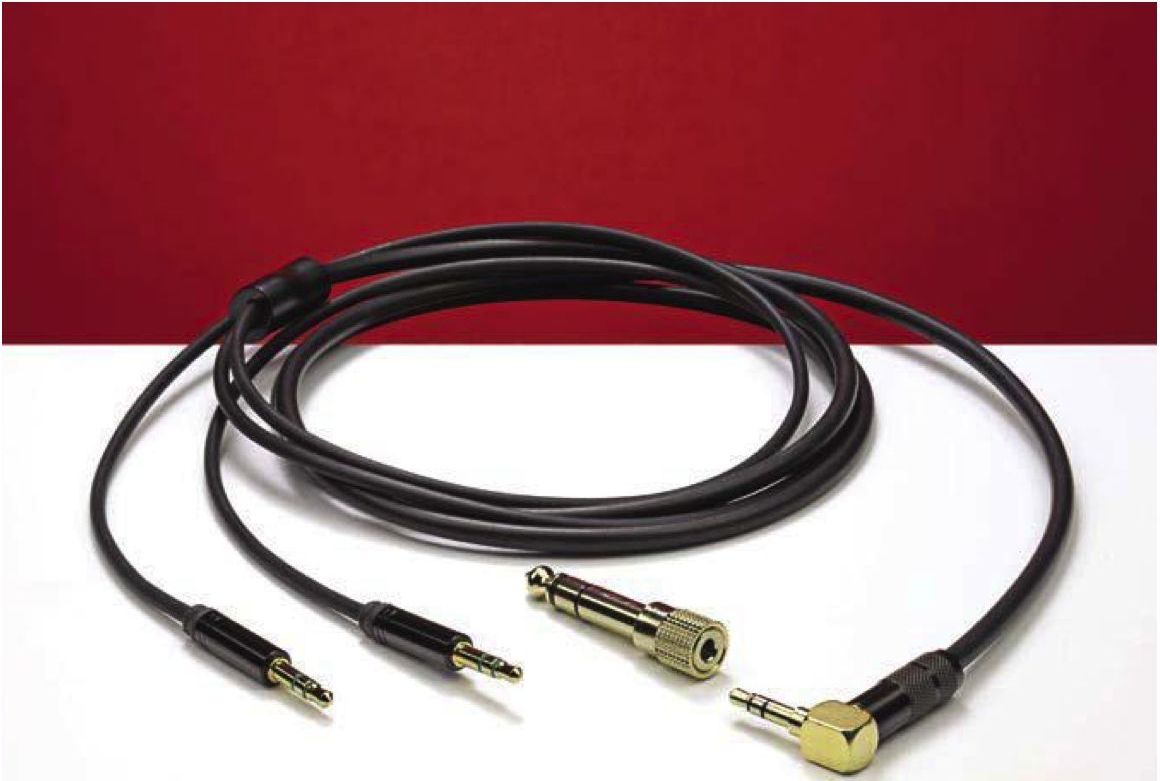 The 1.5m cable is terminated in an unusually-long right- angled 3.5mm stereo jack plug that can snag on clothing if you're using a portable player – handling noise can be a problem too. On the plus side, a 6.3mm adaptor is provided for full-size headphone jacks. At the other end of the cable are 3.5mm TRS plugs for each earcup – the left and right channels are identified. The use of detachable cables makes upgrades (and even balanced connectivity) practical.
Thankfully, this disappeared and I was left with a far more neutral character. Having said that, slight but perceptible treble emphasis favours some elements more than others.The bite of electronic music's synthetic high-hats and snares was more apparent. Saxes too, among them the tenor line that runs through – appropriately enough, Kate Bush's The Saxophone Song (The Kick Inside) – were easy to follow among the other elements of the track. Indeed, one of the Sundara's strong points is its almost-analytical resolution of detail.The breathing of the saxophonist (in this case, jazzman Alan Skidmore) was as apparent as the highly-complex combination of harmonics that gives his instrument its distinctive timbre. A check out with Simon and Garfunkel's America, there was a welcome absence of the blurring that can merge the individual performers' contributions.
When listening without visual cues (i.e. seeing the musicians) you have to rely not only on the skills of the recording engineer, but your equipment's ability to get across the subtleties. In this, the Sundara was surprisingly capable. It was even able to highlight the difference between 16 and 24-bit versions of the same music – more 'space' is evident in the latter. In this regard, the Sundara performs astonishingly-well for sub-£ headphones. An expansive but credible stereo image is conveyed, even from complex orchestral/choral works like Britten's War Requiem (Noseda/ LSO/LSC/Eltham College Choir) a 24-bit recording that also reveals the Sundara's dynamic capabilities. Bass-heads should note that the emphasis is on quality rather than quantity.The kick drum and bass guitar of Doves 'Cathedral of the Mind' (The Universal Want) have definite impact, but keep their place within the mix.
To the man in the street £ will sound like a lot of money to splurge on a pair of headphones – unless they come from the reassuring famous names in bigtech.Yet, for its comparatively low asking price the Sundara gives you a little taste of what high-end planar magnetic 'phones are capable of. And here brands like Audeze set the pace with prices far above the Sundara. I would compare them with cans selling for as much as £ or so, but the need for a good headphone amp remains, as always with planar magnetics.
HIFIMAN SUNDARA Review
Couple with a capable headphone amp or personal player, and prepare to enjoy!
PROS
detail and musicality hard to match at the price
comfortable and practical
upgradable
CONS
no carrying case supplied
needs drive to avoid audible strain
right-angled 3.5mm plug awkwardly-long
Best HIFIMAN SUNDARA prices ?
MORE DEALS