Martin Pipe reckons that if its SR2 is anything to go by, we'll be hearing more from iBasso in future. Read our iBASSO SR2 Review.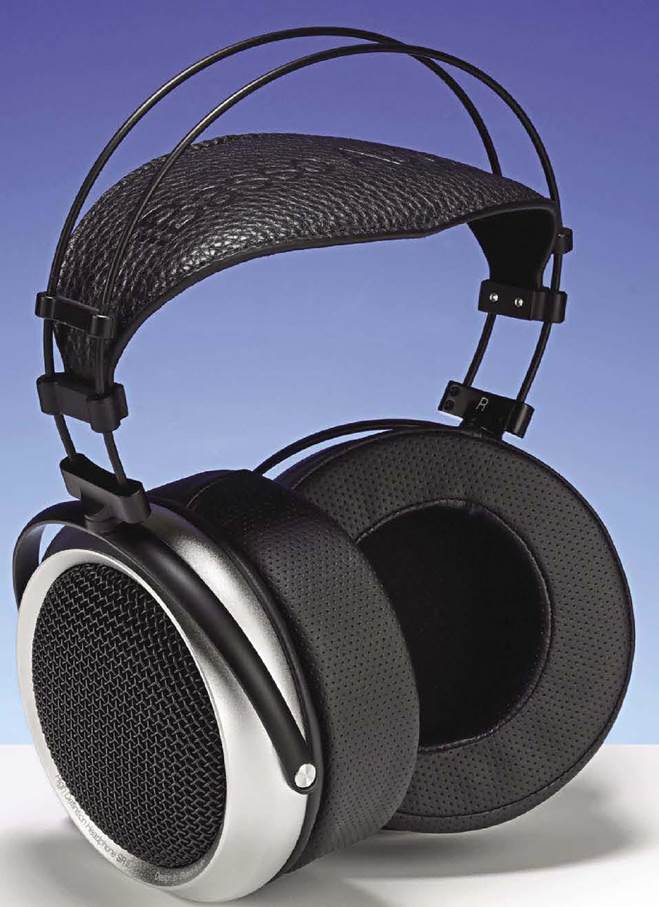 From what I can gather iBasso is an established Chinese company that mostly makes personal digital audio players (DAPs) and in-ear monitors (IEMs). Its products have occasionally been reviewed in this magazine, if not the SR1, an imposing pair of open-back headphones with dynamic drivers that make use of 'bio-cellulose' diaphragms and 'Tesla magnetic design'.
The SR1 was well-received but after two years it is now 'discon­tinued', being a limited-edition, total production amounting to 500 pairs. Could this pair of headphones have been a 'trial run' to test the market? At the time of writing, the iBasso website shows no replacement so when I was offered the chance to review the iBasso SR2 it came as a surprise!
Although their styling is rather different, the SR2 is also rather imposing in size, with generously-padded cups that easily fit around the ears. Internally too, the similarly open-back SR2 shares much in common with its predecessor – "silicone suspension, Tesla Magnetic Flux Technology and bio-cellulose dome diaphragms".
As with the SR1, the SR2's 1.8m unbalanced headphone cable is detachable – here, conventional 3.5mm stereo jack plugs are used instead of the SRI's MMCX types (which I've found to be less than totally reliable). The use of a 3-pole connector on each earcup means that a balanced upgrade is possible. These earcup plugs and the 3.5mm stereo jack plug at the player end of the woven cable are gold-plated. So too is the screw-on 6.3mm adaptor.
Not much information, beyond a bare spec, is available for the SR2. It would appear that the 'silicone suspension' refers to the drive­unit's surround. Silicone is tough but very elastic, ensuring that the diaphragm remains secured and free of distortion.
Removing the perforated earpads (iBasso include a spare se) reveals that the drivers have a diameter of approximately 40mm. I could not see the diaphragms as they are covered with a fine mesh. The bio-cellulose material they are made of combines rigidity and low mass, with potential benefits for transient response; other manufacturers, among them Sony and Fostex, have also used it to make headphone drivers.
Whatever the specific details of the tech lurking inside those earcups, the SR2 is remarkably- sensitive at 108dB/1mW @ 1kHz – if iBasso's spec is to be believed. That's even more sensitive than the Focal Clear Mg I reviewed recently. The low impedance (24 Ohms) of the SR2 will likely be responsible for this, causing them to draw current. Most 'phones are 40 Ohms or above. Driver power-handling capacity is rated at 50mW.
USE AND PERFORMANCE
Large this pair of headphones may be, but at 395g the SR2 is actually lighter than many high-end headphones I've tried. With the headband suitably adjusted, I found them to be fairly comfortable to wear. Those soft faux-leather pads enclose your ears, and although there's a good seal they can get rather hot and sweaty over long listening periods. Maybe that's why a second pair of pads are included! Also supplied is a carrying case, which despite its solid construction is a bit too ungainly to fit into a rucksack or briefcase.
With a name like iBasso I feared the worst – a presentation built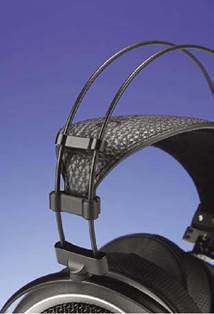 The simple but effective headband of the SR2 can be adjusted to comfortably-fit most people. The semi-open back transducers rotate on their pivots for a comfortable fit around the head.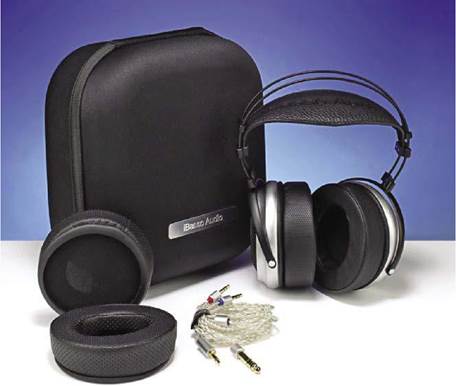 around a superficially impressive but bloated low-frequency performance. Fortunately, that couldn't be further from the truth. In bass terms the SR2 was instead coherent and tuneful, never going off the rails. Every bass guitar performance, whether it was Andy McCluskey's or Sam Beam's, to reference a couple of the albums (OMD's Organisation, and Iron and Wine's The Shepherd's Dog) I listened to via the SR2 retained the individual character of performer, instrument and recording. The SR2 goes deep enough to satisfy lovers of rap, organ recitals and electronic music, without excess flab or muddiness evident.
Clarity was also excellent I found, high frequencies being crisp and well-defined. Vocals were distinct and free of colouration, nicely defined by good imaging. For the asking price, the sheer detail on offer was difficult to beat.
This amount of revelation worked well at all levels – and could overwhelm. Yes, the SR2 brought me closer to the performance, but it also laid bare problems with recordings, such as faint background hum that somehow managed to elude the record company's QC process, and tape hiss from the multiple dubbing 'generations' needed to realise complex album projects in the pre-digital 1970s/ early 1980s.
I also noticed, to give another example of the SR2's resolving power, that the cymbals of some recordings sounded distinctly 'splashier' than others.
The SR2's analytical ability could well endear it to professional users. With a revealing headphone DAC like Prism's Callia, these 'phones could be used to assess recordings prior to distribution and release.
Thanks to its sensitivity, the SR2 was easy to drive – the Callia and a Chord Electronics headphone amp in Hugo TT proved to be worthy partners. Not even a Pixel 3a Android smartphone, with the bus-powered Ikko Music Patch (as reviewed last month), showed signs of strain at sensible listening levels; quite an achievement. Most of my listening was, however, done with an Astell&Kern SR25; the result was a satisfying levels of engagement, no matter what music was being played.
CONCLUSION
iBasso's SR2 may be revealing but music was no less enjoyable for that; it helps that the company has struck a natural tonal balance and, through excellent sensitivity, ensured that the SR2 can be driven by the majority of devices. By any standards, the SR2 is a worthy achievement for the price being asked. No wonder the website of its UK retailer Advanced MP3 Players shows it as 'out of stock'. I was however reassured that it will be on sale again before long.
iBASSO SR2OUTSTANDING – amongst the best.
VALUE – keenly priced.
VERDICT
iBASSO SR2 Review
Analytical but not at the expense of musicality, the SR2 represents excellent value.
PROS
Detailed and tonally
Balanced
Very sensitive
Detachable cables and spare earpads
CONS
A little too analytical at times
Cable long for mobile use
Best iBASSO SR2 prices ?

$

549.00
2 new from $549.00
in stock


£

449.00
2 new from £449.00
in stock

MORE DEALS

Advanced MP3 Players +44 (0)343 289 6880.
www.advancedmp3players.co.uk