Using latest tech digital chips, iBasso's DX160 portable player impresses Noel Keywood. Read our iBasso DX160 review.
This was an interesting player – in its sound, its technology and its foibles, the ones I encountered but others may not, as I will explain.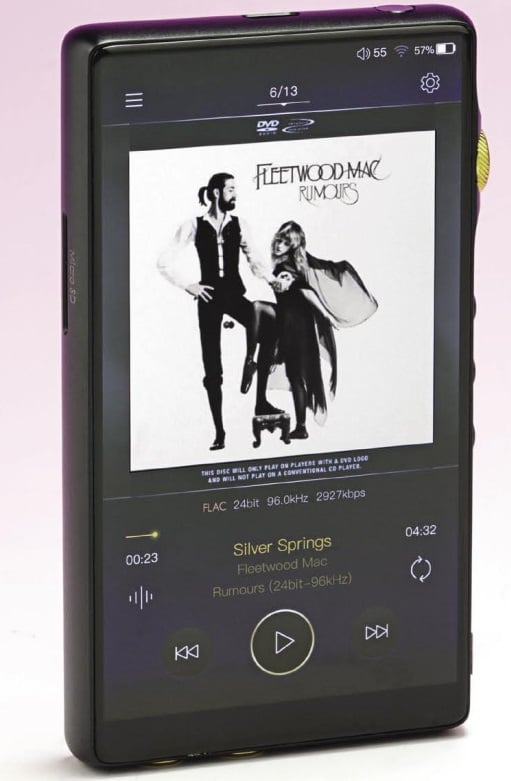 But in essence what you get in iBasso's DX160 is a solidly built and usefully portable player – neither too heavy nor too light – for a very reasonable £. That price brings on-line connectivity and Bluetooth plus the best digital convertor (DAC) we have ever measured.
Style and facility wise, this player is right up to date and lacks little.
It has a lovely 5in Sharp capacitive I080P resolution touch screen with clear graphics: I had no trouble except with some legends greying out when inactive, becoming faint in sunlight.
At heart lies an Arm Cortex 8-core processor with 2GB RAM – making it fast – running Android. There is 32GB of shared storage, on our player 7GB consumed by the system, leaving 25GB for music. That's enough for 400 CD tracks but not so useful for DSD tracks that come in at 500MB or more, meaning 50 in total. To cope, there is a single microSD card slot of unspecified maximum capacity. It's a push-to-fit type; there's no card loading tray.
Alternative music inputs are wi-fi (5G) connection to the internet for music streaming, Amazon HD now being incorporated in the firmware. Bluetooth 5 connection allows incoming data so the unit acts as a DAC / headphone amplifier, and outgoing Bluetooth so it acts as a wireless music source to a hi-fi system.
For wired connection to the hi-fi the 3.5mm stereo headphone output can be set to Line out for analogue linking, or to S/PDIF for digital linking – electrical not optical. There's also a 4.4mm fully balanced output that delivers 6.4V, but no 2.5mm alternative for those that may have such (barely-usable) cables.
The 4.4mm plug is quite sturdy, giving the DX160 a chunky balanced output socket next to the conventional unbalanced headphone output. Balanced output for headphones isn't a major improvement I've found, but it is a good way to feed a hi-fi fitted with balanced inputs, if you can find in this case 4.4mm-to-XLR adaptor cables.
iBasso use two Cirrus CS43 198 digital-to-analogue (DAC) chips, one per channel – and these I have not come across before. To date ESS, followed by AKM have dominated the DAC space; Cirrus Logic popping up in such a rarefied market was a surprise. The chip's revision history
starts at Oct 17 so this is a brand new design, relatively speaking. Cirrus claim 130dB dynamic range using the same EIAJ measurement method as Hi-Fi World, and we got an amazing 127dB from the DX160, the shortfall likely due to headphone output amps. used by iBasso, since Cirrus state output as 2V where the DX160 gives 3.2V. At present few hi-fi DACs manage better than 123dB.
I suspect others will be using this new Cirrus Logic DAC chip, but for now iBasso have brought it to market in timely fashion.
Measuring 70mm wide, 122mm high (not 113mm as quoted) and
15mm deep, with a weight of 182gm on our scales, the DX160 is large for a shirt pocket but an easy fit most other places. It is sturdily built with a solid alloy chassis and large rotary volume control having 0.5dB steps, without decimation Cirrus say, so resolution (i.e. sound quality) is maintained at low volume settings.
A lot is made of DSD processing by Cirrus who claim a patented technique that avoids conversion to PCM for volume correction and filtering before the low pass output filter. So DSD is no afterthought in this player.
The internal 3200mAh rechargeable battery provides 13 hours play time, iBasso claim. Needless to say, most file types are handled, including DSD256 (quad rate DSD).
I ran into peculiar problems when trying to load files to the DXI 60 from computer – not normally an issue with portable players. Plugging in, it charges from USB by default. Loading music demands access to Settings menu, External Devices and USB function where File Transfer must be selected – circuitous.
Initially, neither Mac (Mojave) nor PC (Windows 10) would see it. After hours of swops between computers, hubs and cables I finally established stable connection with a full-duplex USB 3 lead – but only into a USB 2 hub! The supplied lead was intermittent as was a substitute, but this seemed a player issue: it accepted for 20seconds then rejected (went blank). I note iBasso claim use of 'bidirectional USB' so I wonder whether our supplied cable was wrong, just meant for charging.
The player's software did not interface with USB 3 from my Mac's Thunderbolt linked USB 3 charging hub, using the full-duplex USB3 lead. Instead, it was happy only with a USB 2 hub.
Then the little green man of Androids's loader appeared (Mac) and stayed on screen, allowing me to load music.
Looks like the DX160 does not interface with latest USB 3 and needs USB 2, but as I understand it, USB 2 devices should work from USB 3.
Portable players usually interface more slickly with PCs than Macs, but my PC running latest Windows 10 did not see the DX160 either (via USB 2), using iBasso's
supplied cable. Swapping to the full- duplex USB 3 lead it appeared under 'Devices and drives' as an 'MTP USB device' when File Transfer was selected in the player.
Summarising, the DXI60 failed to reliably see either Mac or PC until a full duplex USB 3 cable was used with a USB 2 interface! I got there in the end, but iBasso's software has problems in this area. It was illogical and peculiar.
A firmware update to 1.03.123 did not help overcome these issues, but updating was trouble free even from a Mac firmware download (that causes problems with some players due to hidden Mac files).
Loading music on a microSD card was trouble free, except the Mango music player did not address either card or internal memory consistently, offering a blank file screen initially, but it got there in the end after re-starts.
Our review sample came without
User Manual, only a brief start guide, and there was no manual loaded onto the player either, where most come with a full pdf guide. Perhaps an early review sample issue buyers will not experience.
On-board Viper software, invoked by File Manager, was Chinese only and unusable. I deleted it hoping a basic alternative would appear but there was none, rendering File Manager unusable. Oh well.
SOUND QUALITY
Running through a variety of uncompressed CD files I use as review tools and know well, it soon became obvious that the DX160 offers a brighter patina and a snappier sound than most of the current high end crop. There was more light and less silkiness within the sound.
With Fleetwood Mac's 'You Make Loving Fun' (24/96) opening cymbal strokes shimmered and the track set off at a firm pace, multitracked harmonies from Stevie Nicks spaciously spread in open panorama behind. The guitar solo hovered against a clear background and there was conspicuous detail in the sound, making for an aura of business. Christine McVie's vocals stood out clearly, forward in the mix. The bass line was well etched if not as solid as you get from a mains powered DAC like Audiolab's M-DAC+ that I use as a side-by-side reference when reviewing portables, including this one. But this is always the case with battery driven equipment; the grunt is never quite there. Best to use digital S/PDIF out into a mains driven hi-fi DAC at home, avoiding internal analogue stages, if you want a firm low end at home.
There was no great change in character with DSD, where the choir of The Netherlands Bach Society singing Handel's Peace of Utrecht (DSD64) were well lit, sounding forward and specific. Lots of insight and midband forceful – a pushy sound even, unlike the AKM Velvet DACs in particular that are laid back. Same with Cyndee Peters singing House of the Rising Sun (DSD64) where triangle strikes were obvious but richly sonorous, saxophone powerful at left, blocks and hand drums vivid. The DXI60 brought dynamic zest to this (normally) laid back track, with great focus on Cyndee Peter's closing lines.
Then the player suitably brought up Fleetwood Mac's I Don't Want to Know (24/96) that raced out of the
gates, all pace and vigour, the guitar solo forward – as if to make clear to me that this is what I'm about. A wide range of review material, classical and Rock, confirmed this player's sonic character.
CONCLUSION
At heart the new iBasso DX160 is a fine player with a lively sound that's richly detailed. Its new Cirrus Logic
digital convertor chips are less silky but more snappy sounding than rivals, offering an interesting alternative.
Our early review sample was difficult to load from a computer due to a USB cable issue, and was USB 2 only, but worked OK from a microSD card. These difficulties apart, breadth of ability and sound quality were exceptional by any standard – and especially at the price.
MEASURED PERFORMANCE
Via the 3.5mm headphone output, frequency response with 192kHz sample rate PCM rolled down above 84kHz (-1dB) to the upper theoretical limit of 96kHz, with Fast Roll Off filter selected.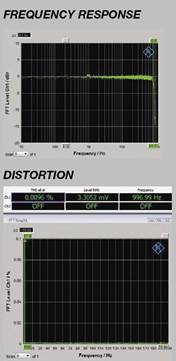 With Slow Roll Off (of four filters) selected the upper limit was 74kHz – minimal change. With 44.1kHz sample rate (CD) there was no change of the amplitude response, even with Slow Roll Off, where such filters commonly roll off high treble.
With 24/96 PCM, distortion at full level (0dB FS) measured 0.001% and at -60dB a very low 0.009% via the 3.5mm headphone output, lower than the best hi-fi DACs – an impressive result. Dynamic range (EIAJ), came in at 127dB, again better than hi-fi DACs – an extraordinary result.
Output from the 3.5mm stereo headphone jack (unbalanced) measured 3.2V with Gain at High, more than enough for all headphones, and 6.4V from the balanced output.
The measured performance of this player was exceptional, but the filters have little affect.
Frequency response (192kHz,-1dB) 4Hz-84kHz
Distortion (-60dB, 24bit)        0.009%
Dynamic Range (EIAJ)            127dB
Output (unbal/bal)              3.2V/6.4V
Verdict
outstanding – amongst the best.
VALUE – keenly priced.
iBasso DX160 review
Great performance at low price, but with niggles.
PROS
snappy sound
detailed
breadth of facilities
CONS
difficult file loading
USB 2 only
Chinese only apps
MORE DEALS

Advanced Players Ltd +44 (0)343 289 6880 www.advancedmp3players.co.uk