Se-ing Double
Astell&Kern's SE200 player has two DACs. Noel Keywood listens in. Read our ASTELL & KERN SE200 Review.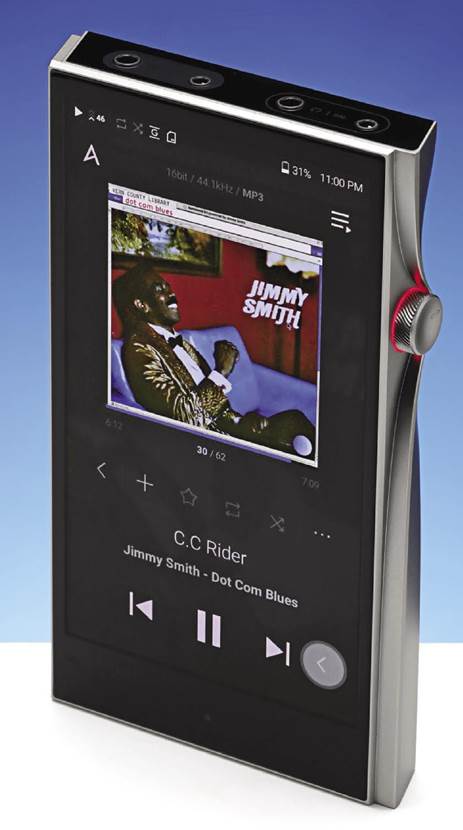 The new and slightly-swish SE200 portable player from Astell&Kern I'm reviewing here comes in at a massive £ – breathtaking by digital audio player (DAP) standards where FiiO will do you a nice one for one-third the price, or less. So what is it that makes this player so expensive? It has two DACs inside, so you can choose which you feel sounds best.
I admit to being initially baffled. The literature makes much of two DAC chips, one from Japanese manufacturers AKM, the other from American manufacturer ESS, but beyond that it says nothing about how a potential user can hear them, what the benefits are, etc. Since the output of DACs can be integrated, I wondered whether this was happening. After searching around I came across a small diagram on p03 of the pdf manual that reveals all: there are separate outputs from each DAC, having both conventional 3.5mm stereo jack plug and a not-so-nice 2.5mm four pole jack plug delivering balanced output. To listen to AKM plug in at left, to listen to ESS plug in at right.
It would be good if A&K somewhere explained to a new user, in text form, how the system works. Also the different outputs are unidentified on the player. Plugging into AKM lights the volume control surround orange, and plugging into the ESS output invokes "mint" (as the manual puts it) so a simple sticker is supplied that bearing these colours with ESS and AKM text. I suspect A&K have not clearly identified the sockets for their own production conveniences, leaving this a confusion for users when the sticker comes adrift. See our pics that illustrate the situation more clearly.
For the money you get a finely crafted, solid and rigid player weighing 276gm and measuring 77mm wide, 132.2mm high and 16mm deep. That makes it not so small, but not big either. Won't go into a shirt pocket like Astell&Kern's AK100, but will go into a bag, coat pocket or cargo trouser pocket. Size wise a tad smaller than an iPhone, except in weight and thickness, due mainly to casework and batteries large enough to run the power hungry DACs. There are two of them draining the batteries, although only one is used, a penalty of the design. Control is by a bright and clear 720×1280 5in touch-screen, but there are also transport buttons.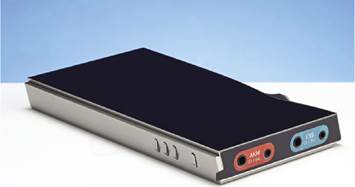 A top face user stick-on label identifies the ESS and AKM outputs.
Both AKM and ESS DAC chips are advanced and can process all modern digital, including DSD. The unit can play DSD from internal memory or a plug-in microSD card. Our review sample had a quoted 256GB memory of which 230GB was available on-board it said and the Android file loader confirmed – a massive amount. Additionally, the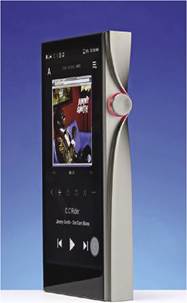 Heavily contoured casework gives a swish appearance.
SE200 accepts a microSD card up to 1TB capacity. Only DSD64 files, at 200MB apiece, will start to challenge such storage: 1,240 will fit internally. A CD track needs 65MB so 3,800
will fit onto 230GB in WAV form, or double in compressed FLAC form. Little need for an external card then, except to carry music libraries: say a card for Classical, one for Rock, or perhaps a category or artist. I find microSD cards useful like this – although it is like trying to herd ants.
Connecting the SE200 to my Mac's USB 3 socket via its supplied lead (USB C to IEC A plugs) produced no response – as Astell&Kern warn in their manual. A USB2 socket did work however. A&K recommend using Type C – Type C cable for Mac but again with USB 3 protocol on a Thunderbolt hub, this did not work. USB2 only it appears. Plugging into my PC running latest Windows 10 with USB2 the player was seen without problem. The spec says SE200 has a Type C socket running USB3 but my Mac Mini running Mojave did not think so.
As you'd expect at the price, there is Bluetooth transmission and wi-fi connection to a router, by which means the SE200 can access the 'net to play music from commercial music services, with Tidal and Deezer on our player, plus V-Link.
Charging time is around 4hrs from a standard 5V phone charger, but 2hrs from a 9V 1.5A fast charger; 12V from car battery is not recommended.
The DACs used are an AKM AK4499EQ and ESS ES9068AS. Start up time was a reasonable 20 seconds and battery life quoted as 10hrs AKM and 14hrs ESS. As you would hope and expect, all file formats can be played including quad-DSD (DSD256 – don't ask about file size) and MQA files. The unit can be used as a DAC running from a computer via USB connection, in which case it accepts DSD over USB as DoP (check out the excellent Audirvana player for this).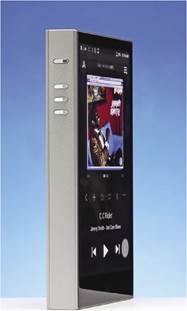 At left, small transport control buttons.
The user screens were reasonably well ordered in terms of operating logic, Home screen being a rather basic looking 11-option list in which many were awkwardly identified – Folder was internal/ external storage differentiation for example. The Play screen's progress bar and time code info were too small I felt, but album artwork and basic controls sufficiently visible to be seen under shaky operating conditions, like travelling on London's Tube.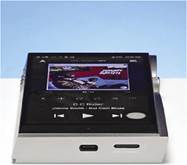 The underside has a USB C style socket for charging/file loading and (right) a single microSD card slot.
SOUND QUALITY
I used the SE200 with Oppo PM1 planar magnetic headphones. With fast tempo Rock like Fleetwood Mac's Go Your Own Way (24/96) the AKM 3.5mm (unbalanced) output was the faster and sharper of the two, hard in its dynamic and punchy: visceral Rock. Mick Fleetwood's drumming almost exploded through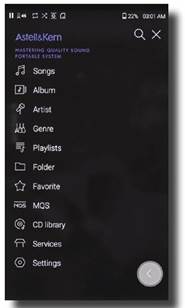 The Home screen, a basic eleven option list.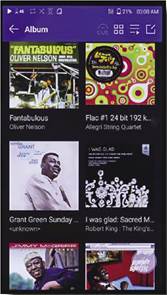 Album artwork was well reproduced by the high resolution screen.
the 'phones and the multi-chorus backing leapt out.
Plugging into the ESS 3.5mm jack output brought a slightly softer approach – but one with more delicacy, insight and subtlety. The sound stage broadened a tad as more information was teased out; altogether an easier and more sophisticated sound. But the differences were not great – not so great I would dare declare one obviously better than the other.
I swung more toward AKM with Diana Krall's Narrow Daylight (DSD) where plano had a harder presence and timing seemed sharper, more precise. There was bite in the sound.
The ESS DAC was more insightful and delicate, almost gentle – but less propulsive. Yet at the same time it teased out more detail from plucked guitar strings. Very difficult call!
The differences in sound transferred over to classical. With Vivaldi Concerto Opus 4 No8 (DSD) strings were rich and smooth via ESS, but better differentiated via AKM! Confusing. After lengthy listening I went for ESS for a broader sound stage and generally more atmospheric presentation, with greater insight into the timbral richness and tapestry of the strings.
The ESS balanced output was a tad cleaner and better defined when using the Oppos with a balanced cable (separate earths) but the AKM sounded a little uncouth. Because 2.5mm four-pole balanced plugs are so small and easy to break, they're impractical except for home use so I don't take them seriously.
Overall, the SE200 gave a rich and full bodied sound, if with the soft bass definition that all battery powered portable players exhibit.
CONCLUSION
Astell&Kern's new SE200 player is distinguished by the presence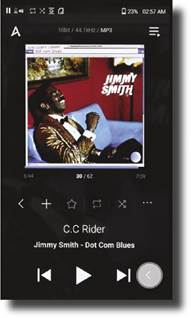 The Play screen with barely visible blue progress bar.
of two high performance DAC chips, allowing users to choose the sound they find most engaging. It's a very nice player overall but with questionable results under measurement from the AKM section and at a price that is stratospheric in portable player terms I can't see that it will appeal to many.
MEASURED PERFORMANCE
Frequency response of both chips was identical, running flat to 90kHz with 192kHz sample rate PCM (ESS shown).
As quoted in the spec, output from AKM was 3V and ESS 2V via the 3.5mm unbalanced headphone jack, and double
FREQUENCY RESPONSE ESS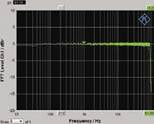 DISTORTION ESS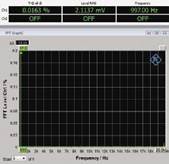 from the 2.5mm balanced jack. With a – 60dB test tone however it was clear that the AKM output was noisy, but the ESS output silent – putting them far apart in measured performance. The presence of noise limited AKM EIAJ Dynamic Range to a poor 95dB via unbalanced and an even worse 78dB via balanced, suggesting a noisy headphone drive amplifier, since AKM DACs don't produce figures like this.
EIAJ Dynamic Range of the ESS section measured an excellent 122dB from unbalanced and 124dB from balanced – the sort of figures expected at the price.
The AKM section measured poorly, the ESS section very well. This is unlikely fundamental DAC performance so much as behaviour of the buffer headphone drive amplifiers. A peculiar result, possibly determined by differing drive amps. selected for their sound. NK
DIGITAL (AKM / ESS)
Frequency response (192kHz,-1dB)
5Hz-90kHz Distortion (-60dB 24bit) 0.3/0.016% Dynamic Range (EIAJ) 95 / 122dB Output (unbalanced) 3V / 2V
ASTELL & KERN SE200
GOOD – worth auditioning
VERDICT
ASTELL & KERN SE200 Review
Rich smooth sound with two presentational options. But very expensive.
PROS
choice of sound
build quality
CONS
unnecessarily complicated
heavy
poor AKM performance
unmarked outputs
Best ASTELL & KERN SE200 prices ?

£

1,395.00
3 new from £1,395.00
in stock


£

1,799.00
2 new from £1,799.00
in stock

MORE DEALS

Armour Home Electronics +44 (0)1279 501111 www.armourhome.co.uk