A portable digital player bigger than most others. Noel Keywood wrestles with FiiO's new M17. Read our FiiO M17 Review.
Long ago I recall the emergence of "transportable" computers.These were an attempt to shrink down full size desktop computers to something that could be moved – or lugged shall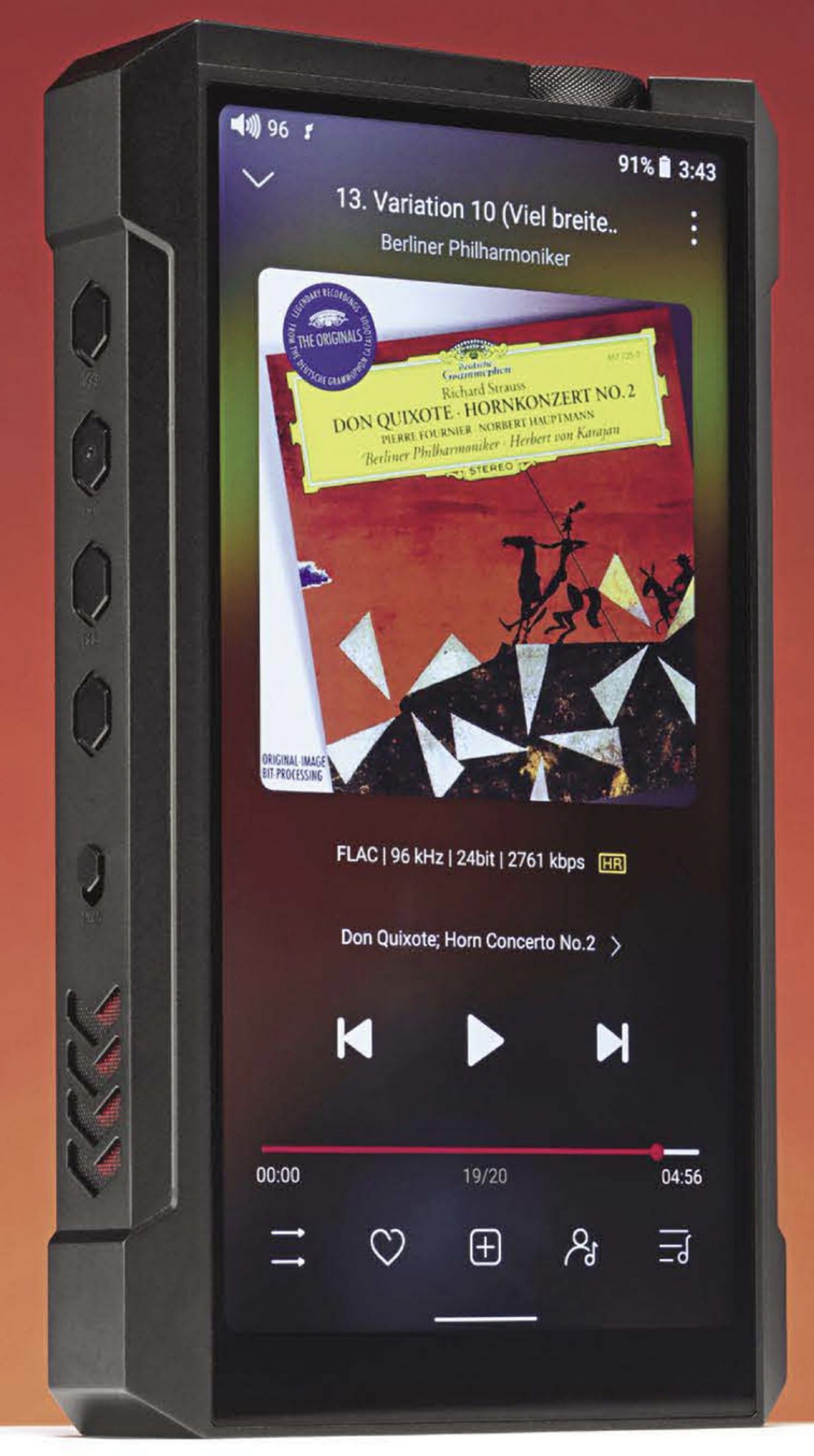 I say."Transportable" is the word that popped up in my head when I saw the new FiiO M17 portable digital player. All the many FiiOs I've reviewed were small – so what happened here?
By FiiO's standards the M17 is big, lumberjack big – as in you'd need lumberjack pockets to cope. The leg pockets of my cargo trousers swallowed it, in place of the resident iPhone, and with a weight of 610gms it's best placed low to avoid falling over! The screen area is little less than an iPhone – big. And bright – no problems with visibility here. It's much like a large mobile phone except at 30mm about x4 thicker. Having a machined alloy case however, no problem with solidity and strength.
So why? As FiiO state, it is to get closer to the sound of a full sized hi-fi system from a portable player.There are many portables available today with top spec chips and when I review them my reference is an Audiolab M-DAC+, with ESS ES90I8 DAC chip driven by a linear mains power supply.The portables always fail to match bass power and control – tunefulness – of the Audiolab. Batteries cannot match connection to a power station! Cue FiiO's use of a large 9200mAh battery plus massive 470mF super-capacitor to handle peaks.Additionally, there's a 12V alternative power supply to bolster the internal supply, ideally when allied to a docking unit, something I'll come to later.
The battery feeds not one but two ES9038Pro digital-to-analogue convertor (DAC) chips from ESS of California.This chip gives highest performance with all eight outputs strapped together – but then it becomes a mono chip. So one must be used in each channel.The penalty is not only cost – two of the world's most expensive DAC chips needed – but power consumption. That's why the big case gets warm and the docking station has a cooling fan! Battery life is quoted as 9hrs on one charge and there are fast-charge options.
Downstream from the ESS DAC lie twoTHX AAA 7888+ line driver chips that they say are optimised for high power delivery to headphones. On this player they feed a selection of four headphone sockets.There are 1/4in (6.3mm) and 3.5mm stereo output jacks (unbalanced), plus 2.5mm and 4.4mm balanced output jacks, the latter being most useful.They can be set for headphone use (PO) or as Line Out (LO), where volume is fixed at max.
The player has an Android based operating system run on a Qualcomm Snapdragon 660 processor, with 64GB internal storage for music files, plus a microSD card slot that can read cards up to 2TB. So plenty of storage, even for DSD files.There is wi-fi for internet connection and this must be used for Airplay to work, allow updating, Google Chrome web browser and other apps.
FiiO unusually split usage into 'operating modes':Android with apps, Music Player, USB DAC,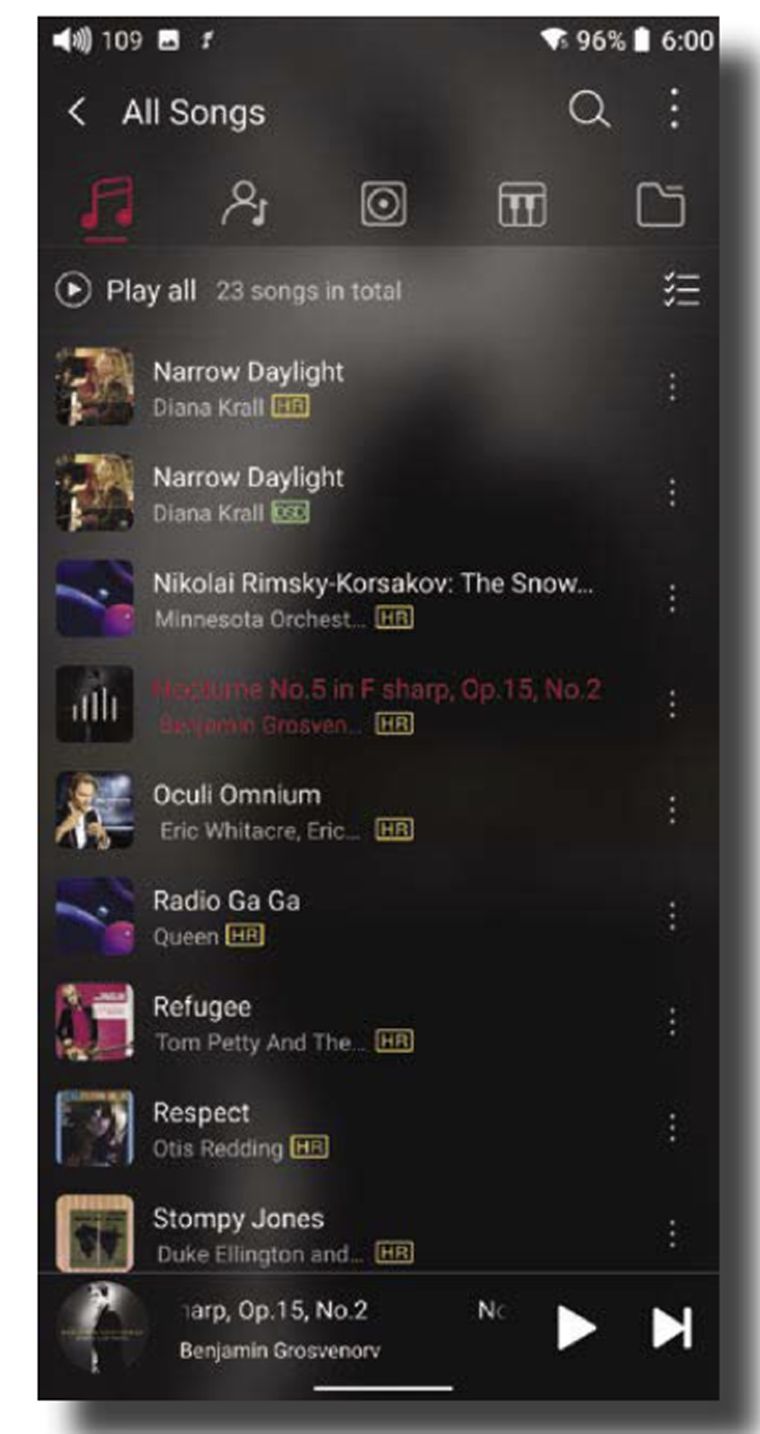 M17 screen. A nicely proportioned and colourful music library screen, with clear format legends – DSD, Hi-Res etc.
Bluetooth receive, S/PDIF receive and Airplay. It's a bit of a faff to move around them – so many screens – but I guess that in use most people will get used to access by a swiped drop-down screen. Music apps can be downloaded of course, from Spotify,Apple,Amazon,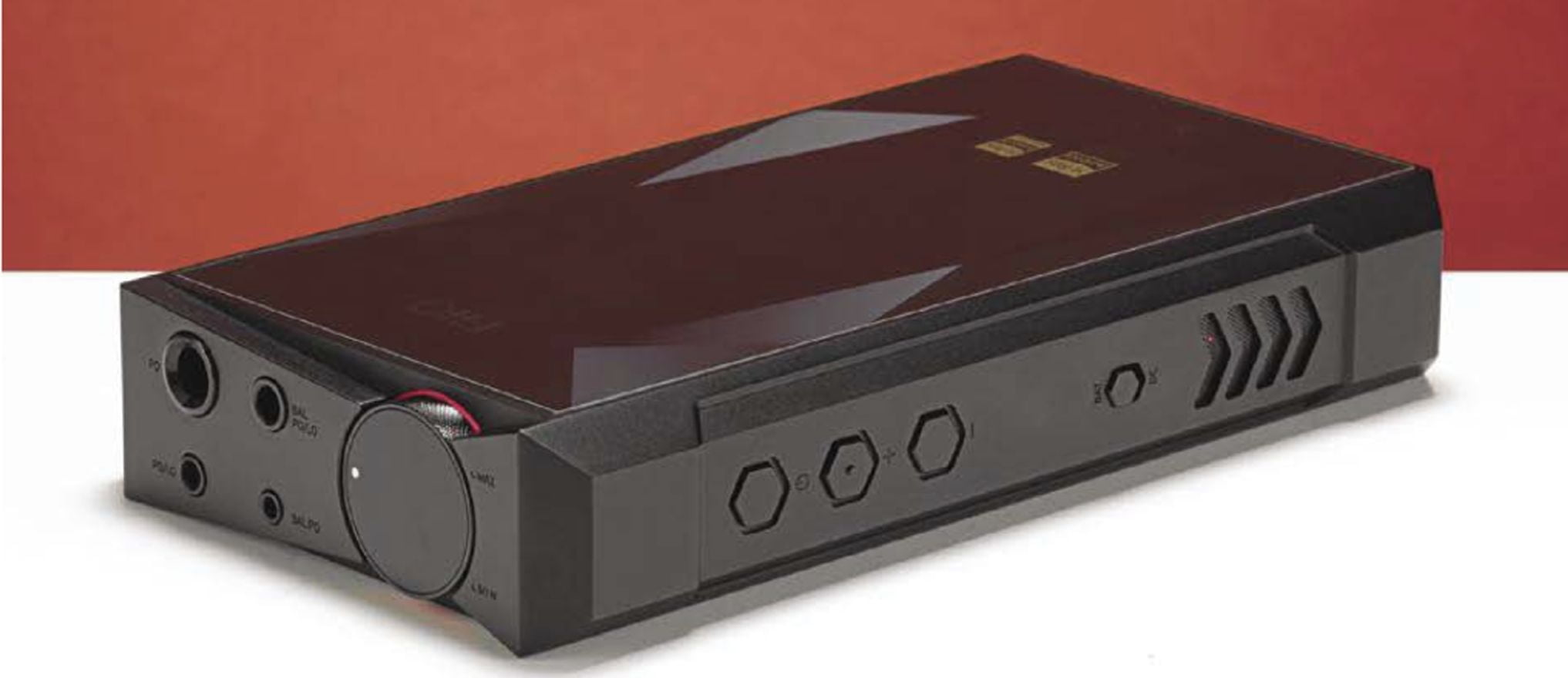 At top a big rotary volume control and four headphone sockets, all different. At side a power button and volume up/down.
Qobuz and such like.
Initial funnies I encountered were a clock set to time in Shenzhen, China that didn't update when 'net connected, and stony silence from a USB C – USB C link (USB3) to my Mac. I sat there puzzled: this thing should work, it usually does. But not here. With FiiO's supplied USB C – USB A crossover cable however, the little green man of the Android loader popped up, enabling music file transfer.
Android interfaces more slickly with a PC where the player was seen as an attached device.The M17 saw the PC as a network attached Media Server and was able to read its music files through Windows Media Player.The Mac was seen too, an alternative to Airplay.
Bluetooth 5 receive (Rx) is provided to accept incoming from a portable phone, with a whole slew of codecs to suit various phones including aptX-HD (Android) and LDAC (Sony).With my iPhone IIXPro(BT 5.1) it flagged up AAC (Advanced Audio Codec) but this incorporates a new codec called LC3 (Low Complexity Communications Codec) that Bluetooth say "supports 24 and 32bit depths'' at up to 48kHz sample rate.With the M17 a massive 119dB Dynamic Range was measured, an amazing result, putting Bluetooth firmly into hi-res league here – far ahead of its current reputation as a mediocre medium.
There is Bluetooth transmit (Tx) as well, to send music out to headphones and loudspeakers. Just bear in mind that BT headphones use tiny batteries driving tiny amplifiers with weedy bass, sacrificing sound quality for convenience.Also, sending digital out means it will be processed by an external DAC, not the ES9038Pros
in the player – a waste of their ability. Buy a player like this for its analogue output quality I'd suggest, into headphones or the hi-fi, ideally by balanced connection.
On the base is a large co-axial (RCA phono socket) in/out for S/PDIF digital connection.This could, for example, accept the digital output from a CD player, placed nearby.
Bringing me onto use as a hi-fi system sitting on a stand, or the DK3 multi-function dock as it is called. Rather than charging and/or working from 5V USB power a separate power supply delivering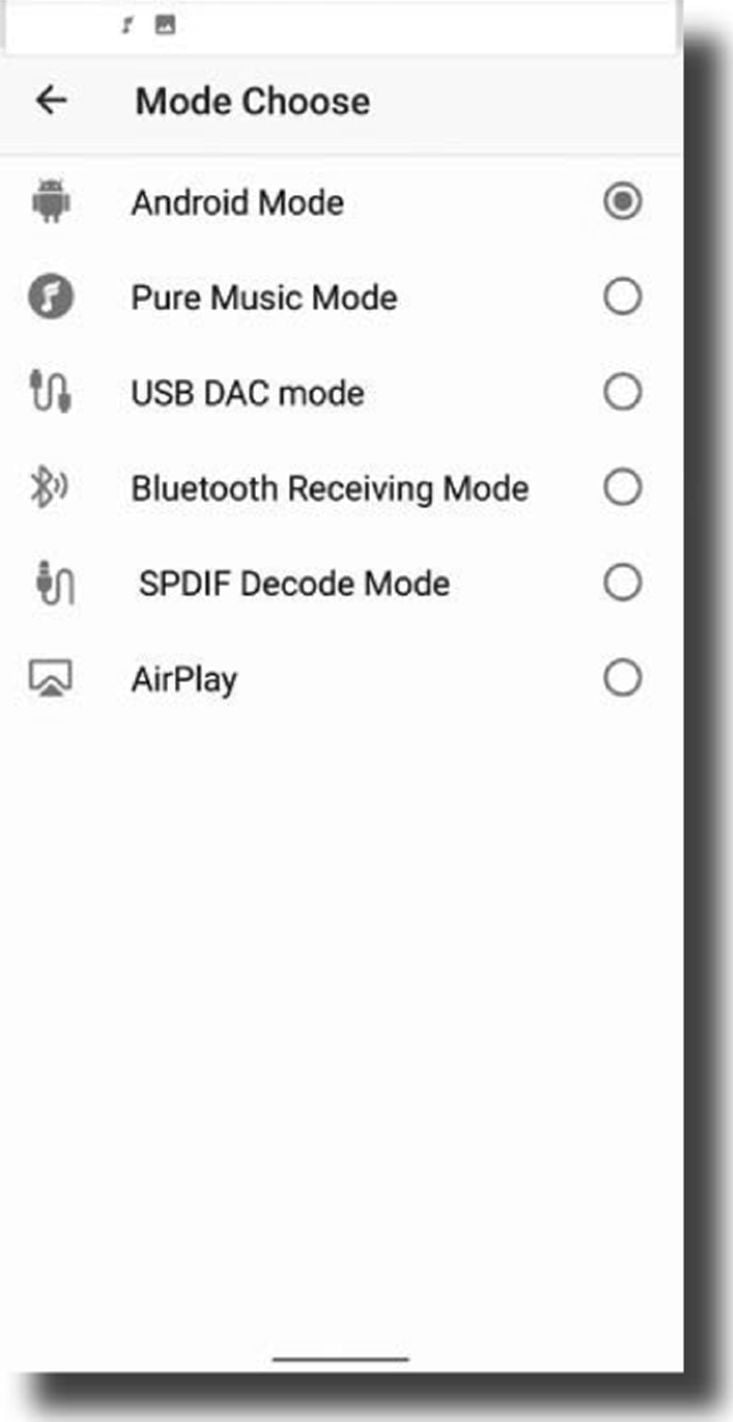 M17 screen. The six basic modes of operation can be found in a swipe down menu.
12V 3A is provided that, FiiO say, increases the internal power line voltage by 35%, for even better results.There's a special 'Over-ear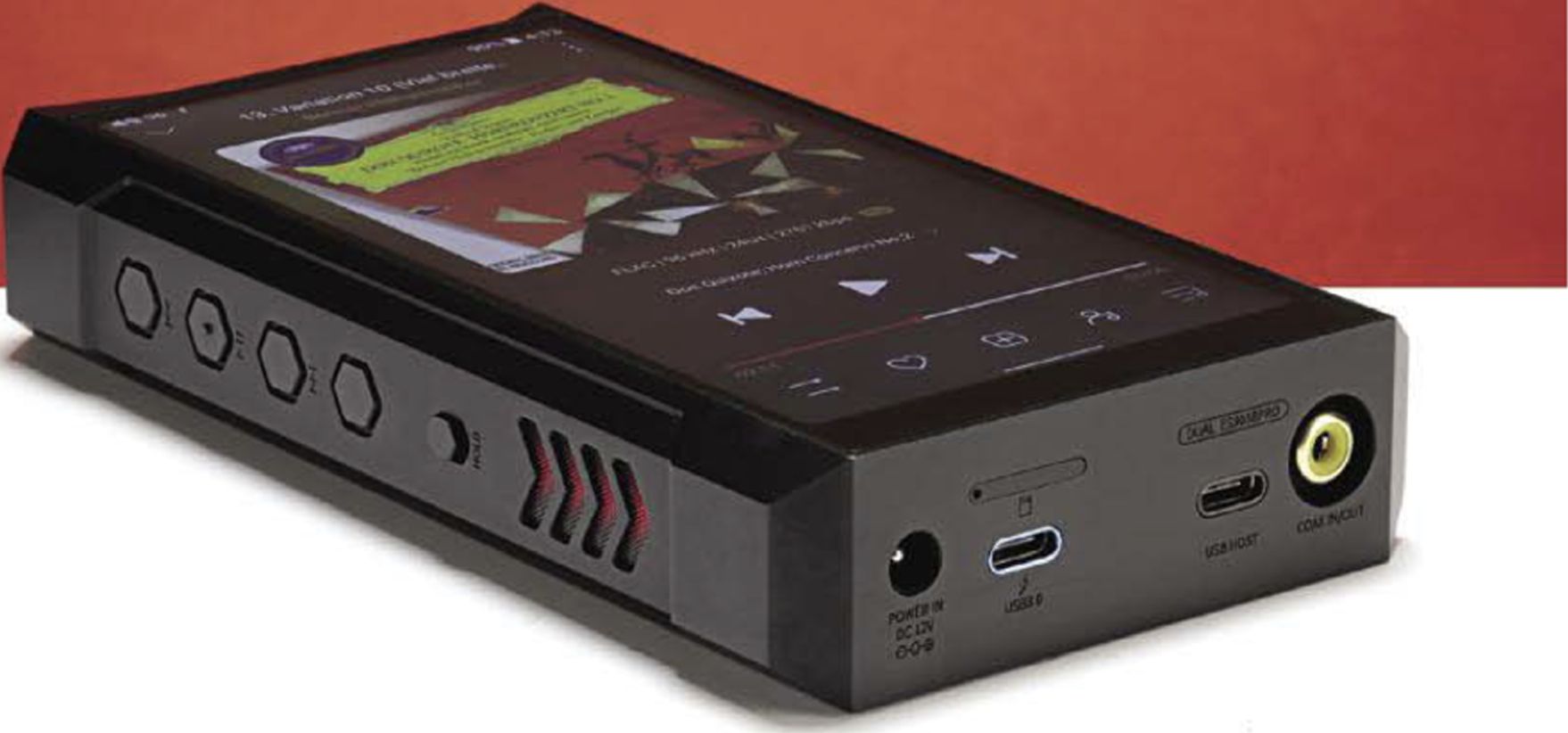 On the base a coaxial 12V d.c. power input (left) a USB C for computer connection and USB C for power, plus S/PDIF in/out.
headphone mode' to take advantage of this that I don't understand the logic of, since this allows 9V to be sent into headphones where 4V is plenty enough. Perhaps there are some super-inefficient magnetic planar or electrostatic 'phones that need it. The DK3 needs an additional 5V USB supply to drive the fan, but the player did not get past warm when I used it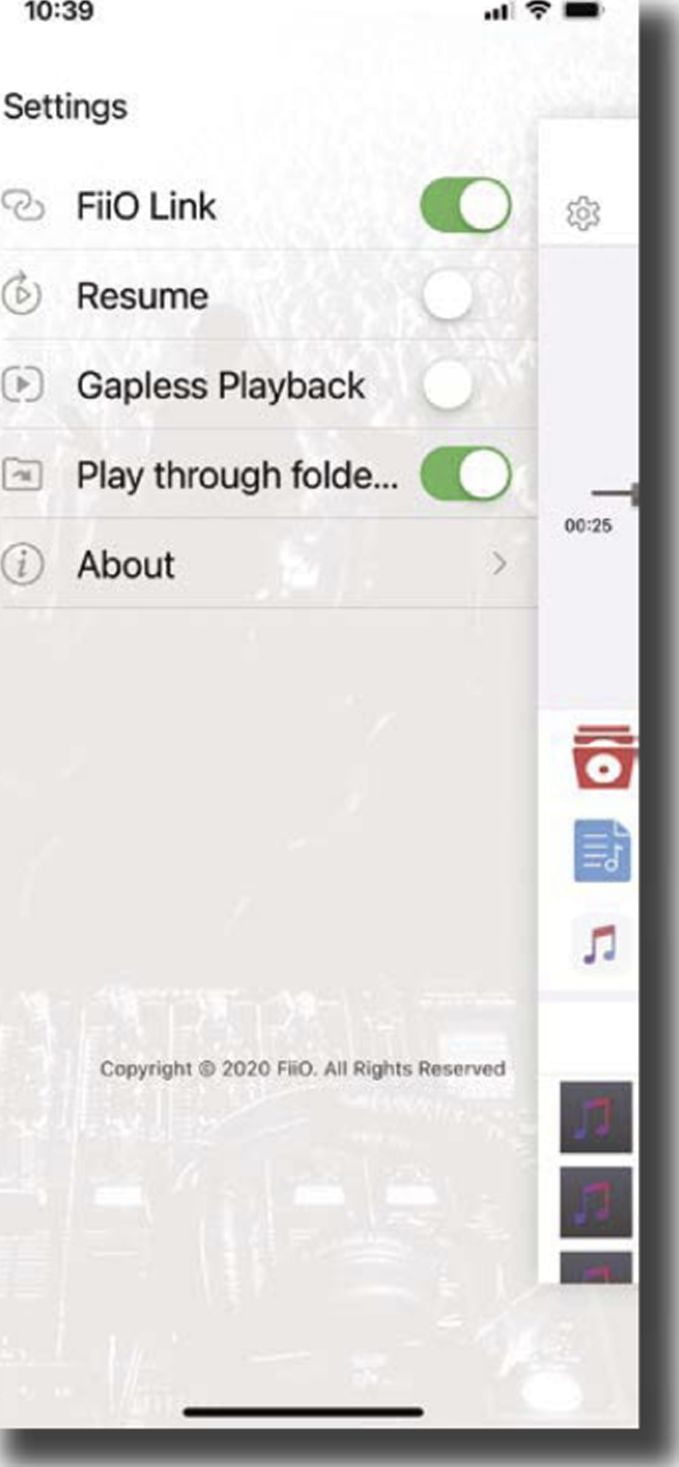 Mobile 'phone player app. screen. Activate FiiO Link in Settings (needs IP address) and the 'phone becomes a remote music player.
In a situation where the M17 is connected to the hi-fi through a headphone output it needs remote (app) control.This is possible by downloading their player app to the phone and establishing a wi-fi link through an IP address. But this seems a work in progress as there was no volume control on the 'phone's app – or not one I could find – when working in this mode. It saw the player's music library, allowing me to select and play songs, but no more. I also downloaded a FiiO control app to my phone but the M17 was not in its compatibility list and it did not work, so no way to select different filters or such like. With Bluetooth you get remote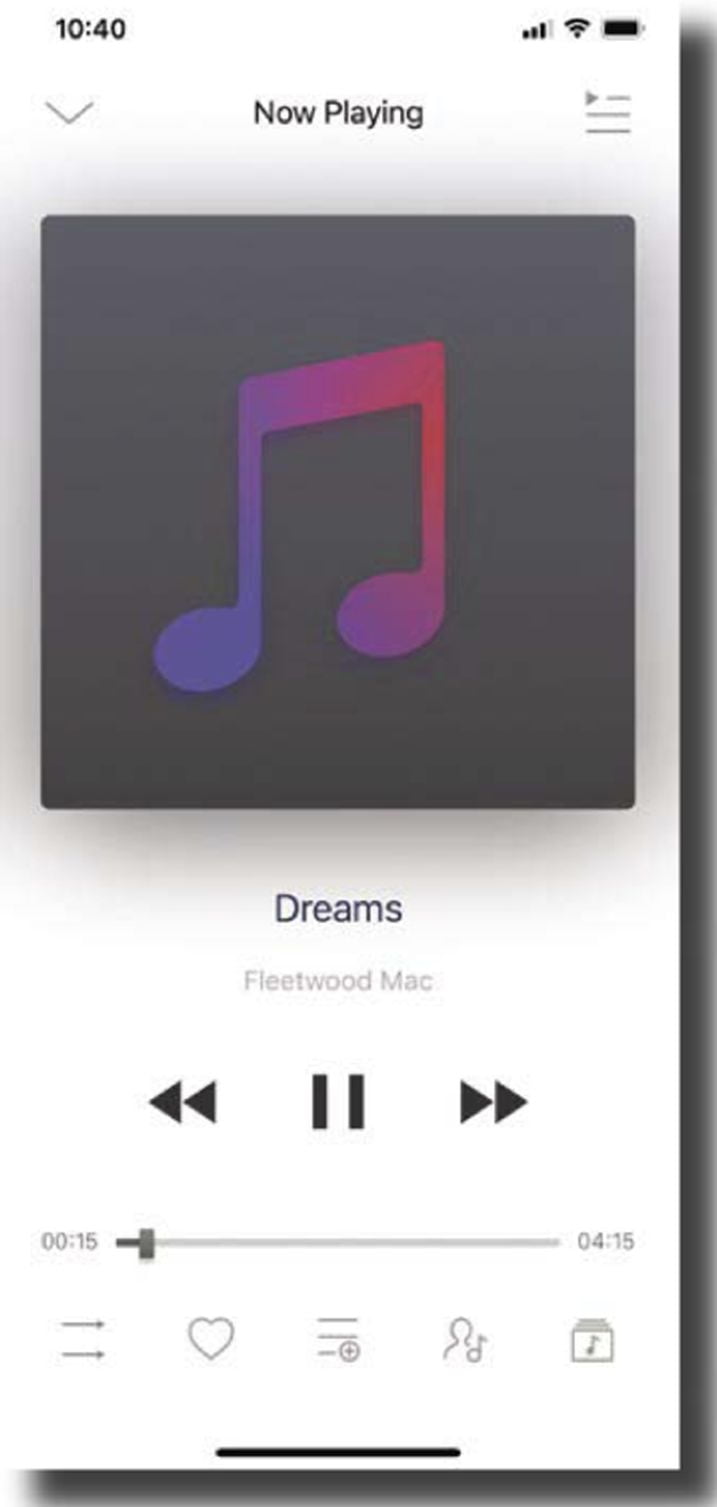 Mobile 'phone player app. screen. The Play screen lacks volume control when working by FiiO link. Peculiar.
play and volume control of course, if not access to the player's own music library.
This is not an especially easy player to use. In some modes (e.g. Bluetooth) the swipe-down screen is unavailable, another Exit route must be taken. I did like the home screen background of circuit boards, much nicer than the psychedelic screens of some players.There are pics of ESS chips, no valves unfortunately, but you can load your own pics so this is possible. Start time is a little lengthy at 27 seconds.The player screen is populated with – to me irrelevant – Recently Played, Most Played and Recently Added lists that remain even when the music library (on microSD card) has been removed, so they have to be manually erased by Reset Database. Messy.As music players go FiiO's needs tidying up. Good to see was a VU level meter that showed music level and clear legends in the track lists showing quality (Hi-Res, DSD, etc).
SOUND QUALITY
For the most part I played from a library of music on a microSD card. This is the most direct method and allows me to use a lot of DSD without having to load it all to internal memory. I also used Bluetooth, music on the phone being handled by an Onkyo HF player, paid-for hi-res version that sends 24bit, as well as DSD.
FiiO's player made its point straight away with Mick Fleetwood's kick drum at the start of The Chain (24/96) played out of the 'phone over Bluetooth. It was not just solid and powerful, but textured too in a way that I have not heard before, using Oppo PMI planar magnetic 'phones. And this was running from battery, not the external power supply (which added a tad more low bass). Bass heavy tracks like Daft Punk's Giorgio by Moroder (24/88.2) were fluid, clear and powerful, the closing synth run in this track making its point by drilling through my head.
Moving on to Cry Me A River (24/96) by Diana Krall made plain that this player has top ESS DACs – big, mellow and deep sound stage, making this laconic track a great listen.The lady's vocals had fine dynamic contrast, she sounded big bodied (in voice that is!) and the sound stage was a warm room surrounding her. Similarly, Johannette Zomer fairly soared singing Lascia chi'io Pianga (DSD), ethereally clear and powerful on crescendos. Even the strings came over as full bodied.
Another feature was sturdy left and right images when volume was turned up and cross faded drums (Go Your Own Way) were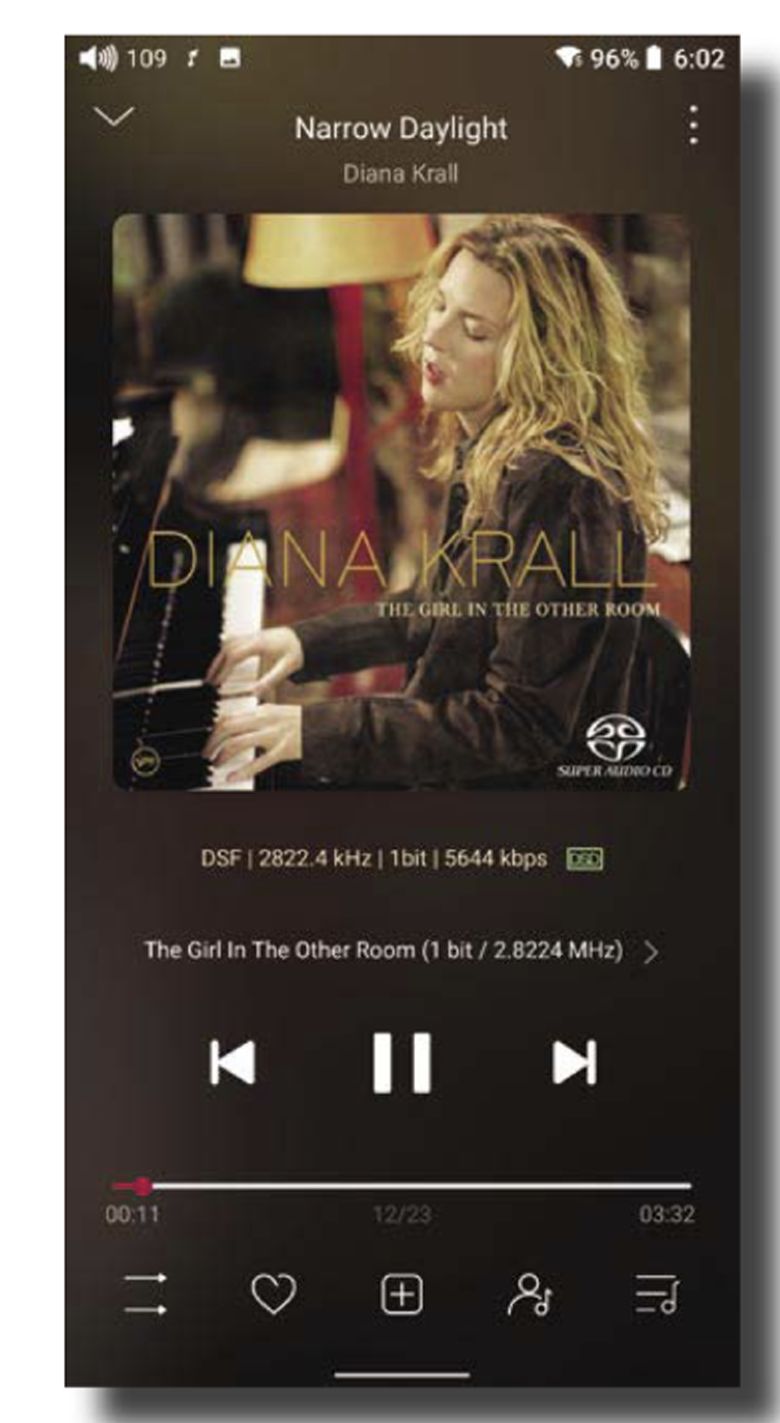 M17 screen. The Play screen carries technical data as well as cover art.
hammering out (Mick Fleetwood again): the M17 delivered this one with speed and slam, plus rock steady imaging. A big sound, heavy Rock, music with cojones. The M17 captured its Zeitgeist. And I must get back to English!
But the point is battery powered players start to collapse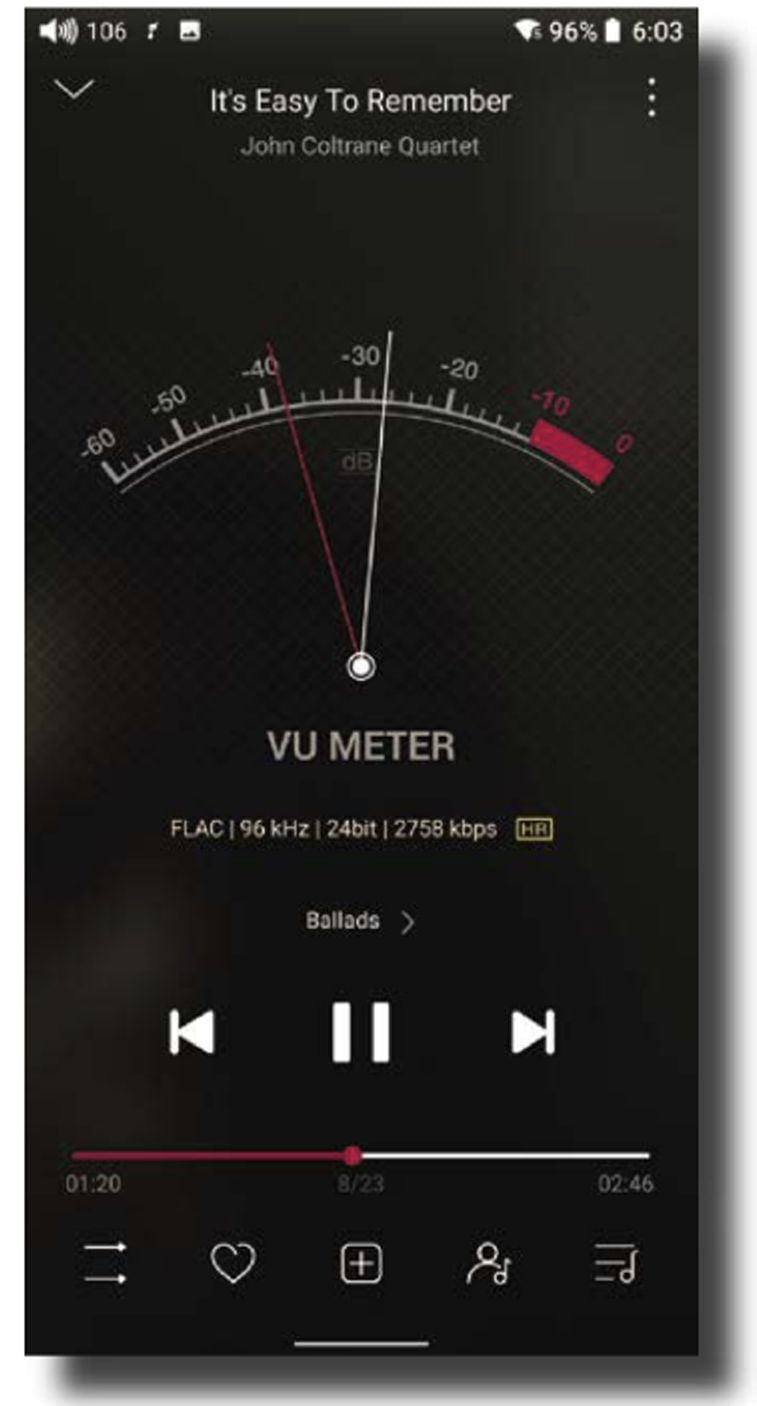 M17 screen. Tap on cover artwork and up comes a VU meter showing music level (peak and average).
back to mono at low frequencies when pushed hard, the sound stage subjectively narrows and becomes laterally vague. FiiO have conquered this problem well here, the result being a wide, stable stage even with panned kick drum.
CONCLUSION
FiiO's M17 sort-of-portable player has huge ability, that's for sure. Its big internal power supply and twin ESS9038Pro DACs deliver a thunderous low end, capacious sound staging and easy demeanour – no graunch from dodgy digital. OK, you need cargo trousers for it, but then you do get a sound that's like a home system, or likely better.
Not the easiest or most elegant player in software terms, it takes acclimatisation and much User Manual reading – but the manual is good in that it does explain how to invoke a function in simple manner. An easy read.
Although a shock to see initially, I quickly got used to the bulk. In fact, my iPhone started to feel flimsy after using the M17 – and its big,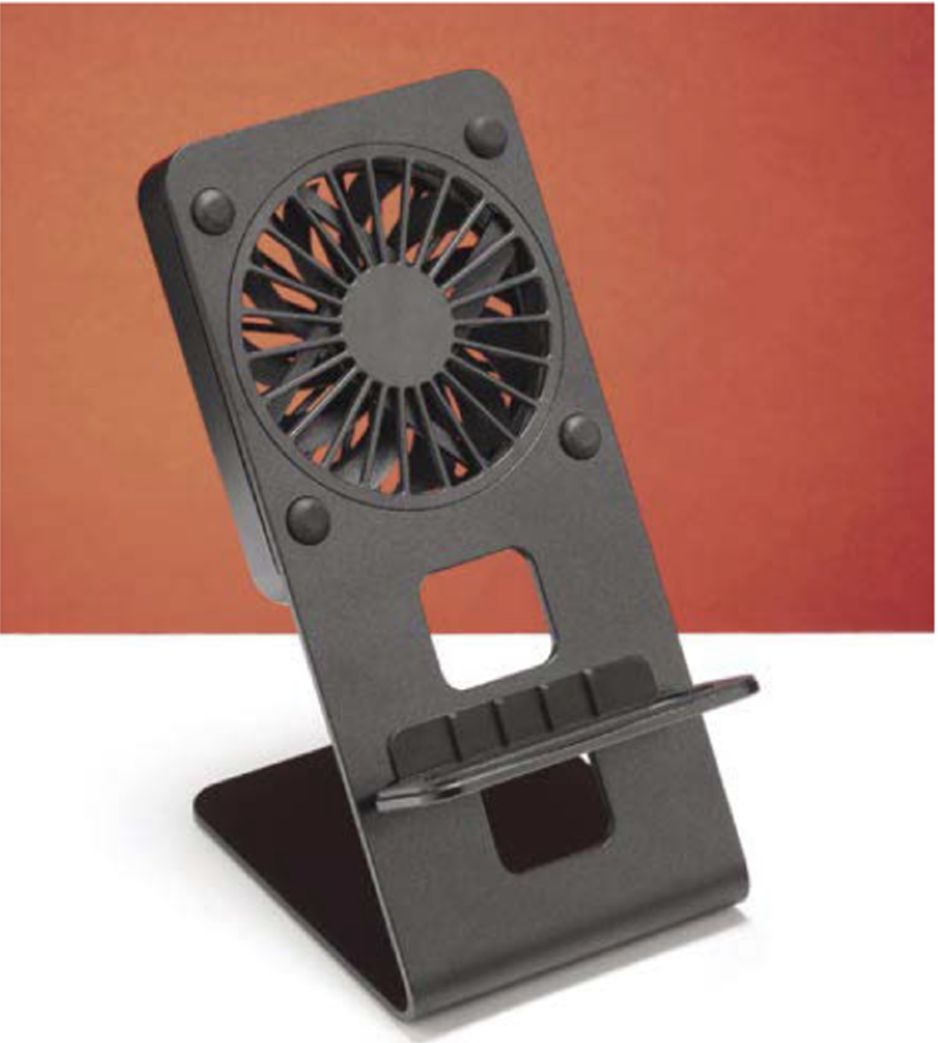 The DK3 stand, with 5V USB powered fan. There's no clamp for the player, it just rests on the shelf.
bright iPhone quality screen helps. Bit like buying a big vehicle after a small one: the step up can be persuasive.
So big, bulky, challenging to use in its complexity, but with a sound that reflects its physicality. It won me over.
MEASURED PERFORMANCE
Frequency response (192kHz sample rate) measured flat to 89kHz with the fast filters – that varied little amongst themselves. The Slow filter reduced this little, to 74kHz. There are seven filters, all of which I have seen before and likely those provided as options by ESS in their ES9038Pro chip. Custom design filters are possible with these chips but FiiO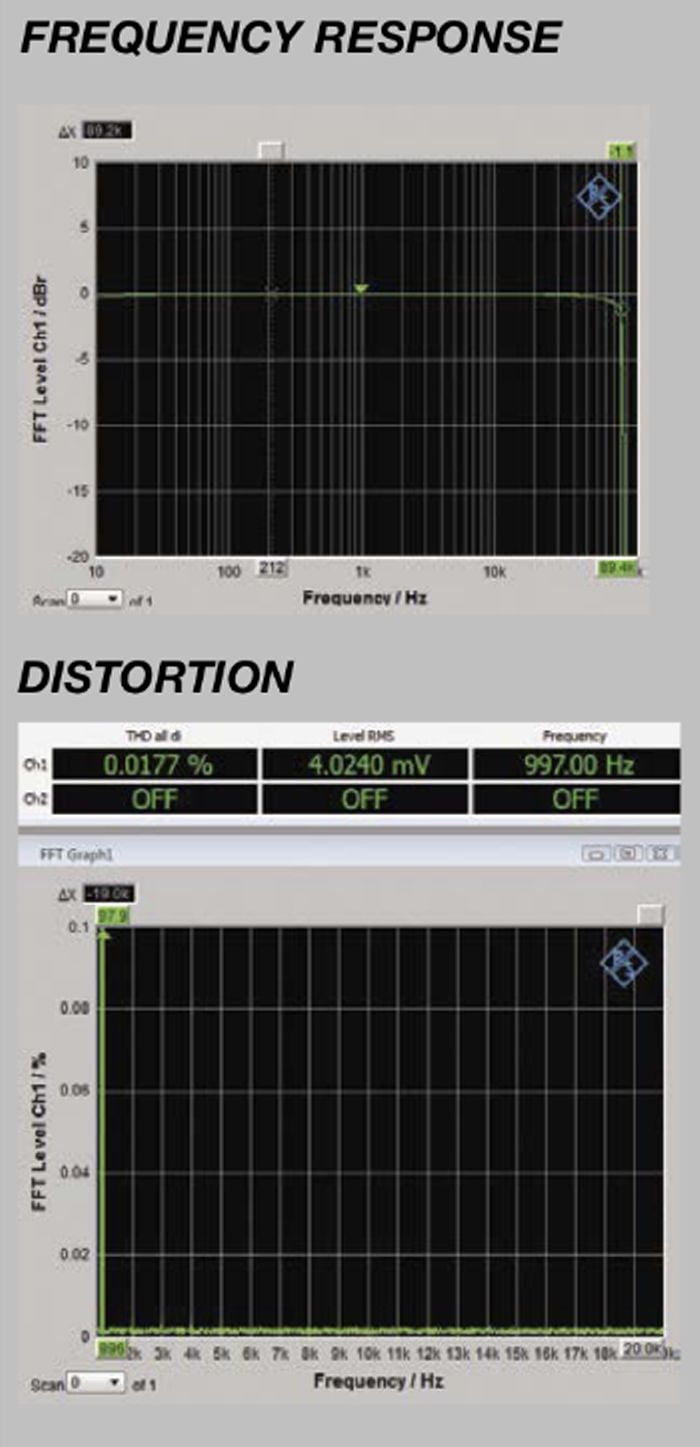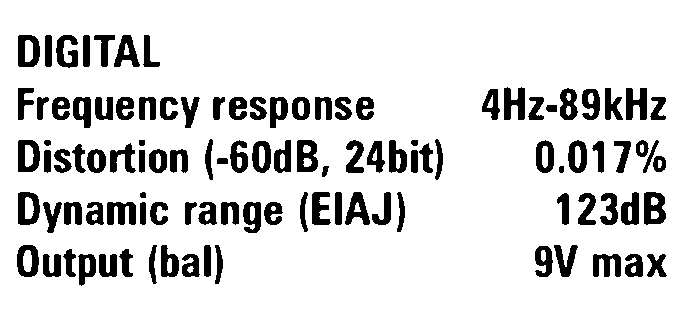 have not gone down this route. With CD (44.1kHz sample rate) the situation was much the same, cutoff frequency varying from 19kHz up to 21kHz- small differences. Slow filters give best timedomain impulse response, and the least sharp, best damped sound.
Distortion levels at -60dB with a 24bit digital input were impressively low, measuring 0.017%, irrespective of level and frequency, sinking to 0.0002% at full scale (0dB FS).
EIAJ Dynamic Range measured a high 123dB – and 119dB from Bluetooth – an exceptional result.
Output from the 4.4mm balanced Pentaconn socket was 4V maximum and from the 3.5mm unbalanced socket 2V. With the 12V supply connected and Over Ear Headphone mode selected output measured a massive 9V from the balanced outputs and half this unbalanced – more than enough for headphones where around 1V is extremely loud.
The M17- turned in superb measured result all round. Only the filters could have been more useful.
VERDICT
FiiO M17 Review
Powerful, smooth sound and masses of ability, if weighty and complex.
PROS
sound quality
range of ability
build and finish
CONS
complex set-up options
limited remote control
graphically overloaded software player
Best FiiO M17 prices ?
MORE DEALS