THE HS65 SURROUND is the cheapest of three newly-released Corsair headsets. Corsair has proven over the years that it knows how to put together a solid gaming headset, but how does this $ offering sit in its line-up? Could the HS65 be your main gaming companion or should you opt for a more expensive option?
–SAM LEWIS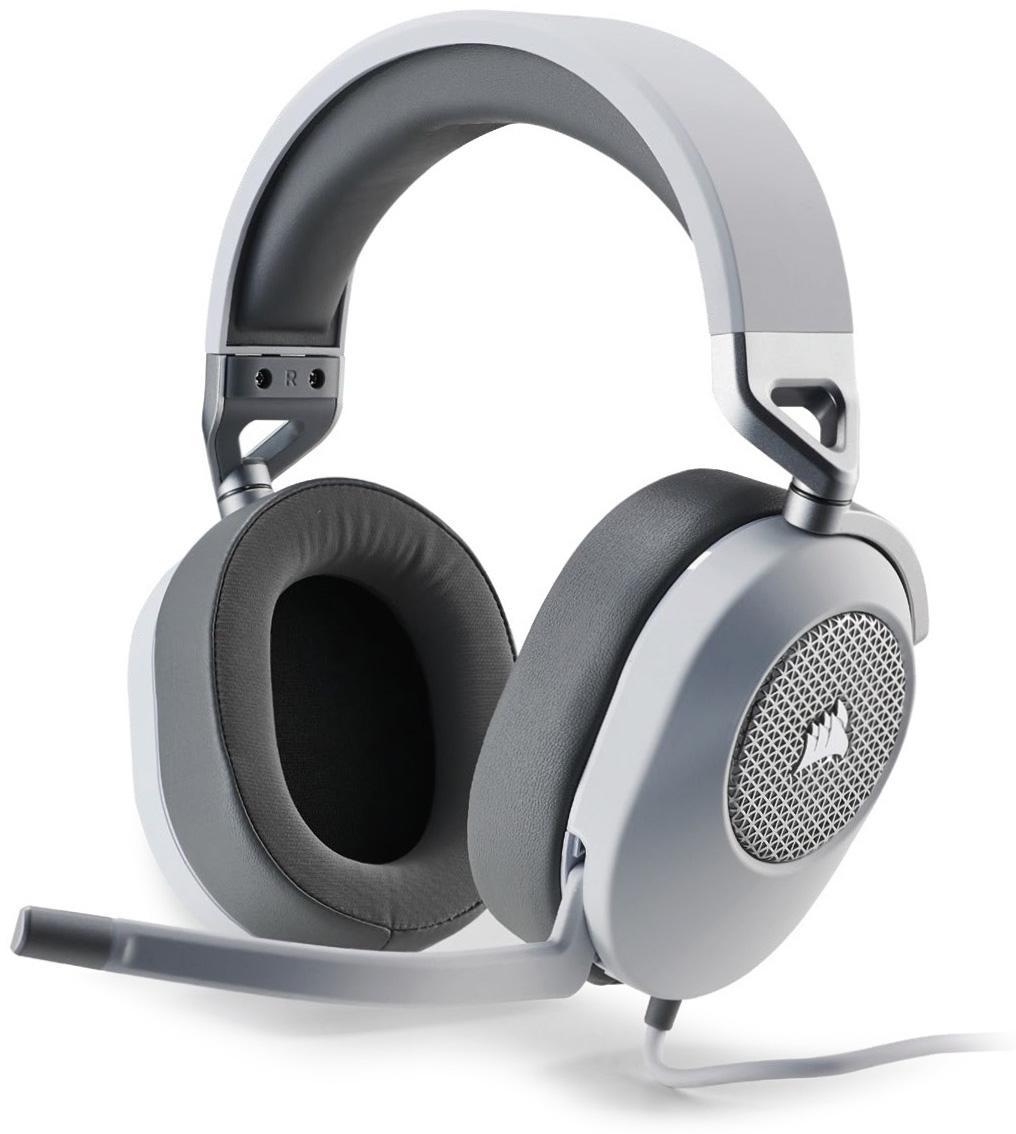 Picking it up for the first time, the HS65 certainly feels more expensive than the price tag may imply. Although it's a mainly plastic construction, it's soft to the touch and contrasts well with the other materials used. We're reviewing the white version and if we had to choose, we'd opt for this over the carbon black alternative. The white with gray accents looks more premium in our eyes. Talking of the gray accents, these make an appearance on the earcups and headband cushions, which are extremely plush thanks to the memory foam used, making them comfortable for long periods of time. Corsair's headsets are consistently nice to wear, and the HS65 Surround doesn't spoil that reputation. Read our Corsair HS65 Surround Review.
The earcups have plenty of swivel and adjustment, and although they're a light pair of cans, they feel sturdy enough to be worn daily, either at your desk or on the go. They also feature a metal grille on each cup that houses the Corsair logo, adding to the premium aesthetic of this headset. There are no features on the right earcup; it's on the left side where you can find the 3.5mm auxiliary cable and volume dial.
There's also an omnidirectional microphone that becomes active when moved down from its vertical position. It's easy to use and bends so you can get the perfect angle when in a party chat. In the box, you also get a Dolby 7.1 Surround USB adapter for hooking the headset up to your PC. To get the most out of the HS65 Surround, use this instead of just plugging in the 3.5mm auxiliary cable.
As the cheapest option in the new line-up, there aren't too many features on offer. No Bluetooth or wireless connectivity, and no playback controls or RGB lighting. On the flip side, this adds to the device's ease of use. There is no fear that your headset will run out of charge; it's a simple plug-and-play device that just works. One thing we would have liked to see is a detachable cable, so you could replace it if it breaks—we've all trapped a cable and broken it at some point. So, for the money, you're getting a straight-to-the-point headset with premium design and build quality, but how does it sound and what's it like in gaming situations?
In short, it follows the majority of Corsair's gaming headsets—games sound punchy and immersive, especially when using the Dolby USB Surround adapter. It's crucial in competitive games to have accurate directional audio and the HS65 Surround delivers. The bass is rather heavy and can be overwhelming in some areas, but you can tweak this within the iCUE software, which is now integrated with SoundID from Sonarworks. This tuning software enables you to create audio profiles for different users or scenarios.
Software aside, the mids and highs can start to feel muddy at higher volumes and the overall sound stage becomes a little flat when listening to music loud. However, for the most part in gaming, it's a well-rounded pair of headphones that perform strongly in high-octane head-to-heads, casual RPG titles, and even occasional music listening. The Discord-certified microphone is also worth a mention because it picks up your voice clearly without grabbing too much of your background noise. Again, it's easy to use because you just fold it down to go live, which is how we like it—nice and simple.
At under $ the Corsair HS65 Surround ticks plenty of boxes but also leaves some unchecked. The lack of wireless connectivity could be enough to turn many people off, but those who still prefer the ease and dependability of a wired option shouldn't overlook this headset. The HS65 feels, looks, and sounds more expensive than it is, and has a sturdy build quality and a crisp mic. Whether you're using it for gaming or taking video calls in the office, it's a great value headset.
VERDICT
Corsair HS65 Surround
+ Strong software support; premium aesthetic; immersive surround sound audio; low price tag; clear microphone.
– Lacks a lot of features; non-detachable cable.
Corsair HS65 Surround Review
MORE DEALS

$ www.corsair.com
SPECIFICATIONS
Driver Type 50mm neodymium
Frequency Response 20-20,000Hz
Impedance 32 ohms
Connectivity 3.5mm auxiliary, auxiliary-to-USB adapter
Compatibility PC, Mac, PS4, PS5, Nintendo Switch, mobile
Design Style Closed-back
Weight 0.62Ibs