Astell&Kern release their Kann Alpha high-end portable player. Noel Keywood goes walkabout
Astell&Kern (Korea) made their reputation with the small AK100 player, a tiny device able to fit a shirt pocket, but with vivid sound quality: fast and punchy. It predated all others. I use an update, the AK I 20. so know the sound well.The new Kann Alpha reviewed here sort-of reminds me of the original AK 100. It looks compact, has a great sound and is fairly easy to use.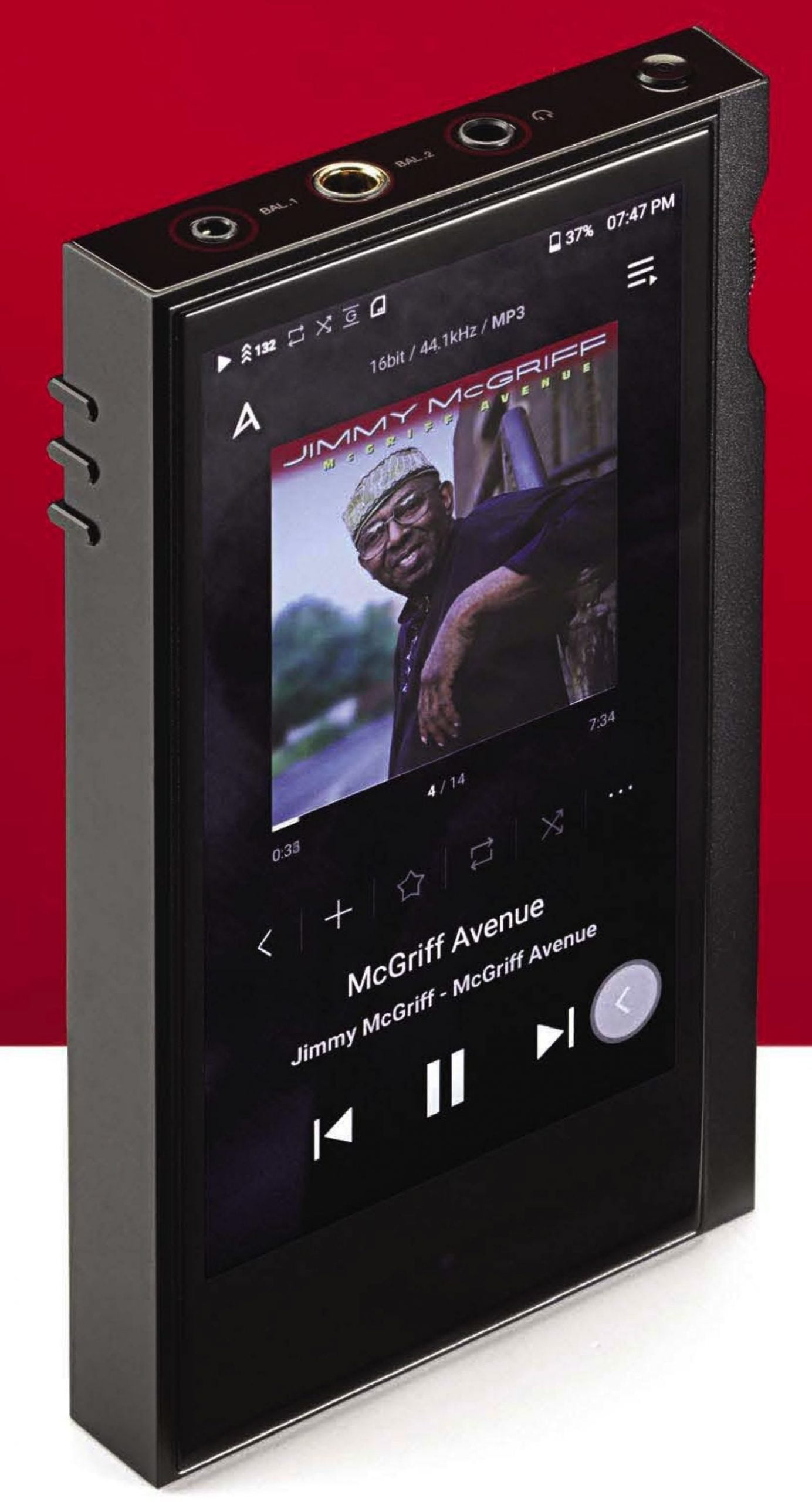 Portability is a key issue, so let me look at this property first.The Kann Alpha's black livery makes it look small, like an AK 100 but Inflated. Depth is a substantial 25mm (I in) and weight "about 3 I 6gm"; on our scales 3 18gm, That makes it heavy and unsuitable for a shirt pocket, bulky in a trouser pocket unless you wear cargoes as a mobile comms centre with phone etc. but OK elsewhere, like a bag or rucksack.Width measured 70mm and height I 18mm, using our vernier caliper gauge. Not a small player by any means and bulkier by far than an iPhone.
Reason being that the player has a large 5,600 mAh Li-polymer re-chargeable battery to feed its two current hungry ESS ES9068AS top-quality DAOs, a quad-core CPU and somewhat ambitious output amplifiers that deliver I 2V maximum, where 2V is common and IV necessary.The suggestion here is it can deliver 18 Watts into a loudspeaker. Hmmm…
I didn't try this as it might overheat the output devices, resulting in a large bill.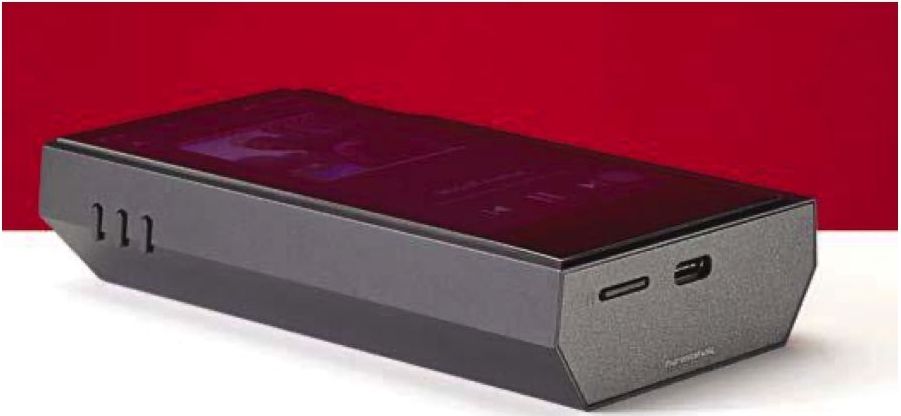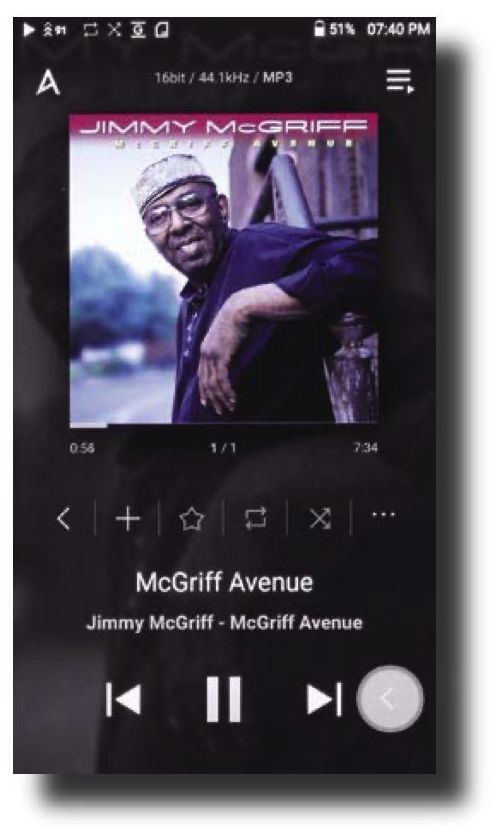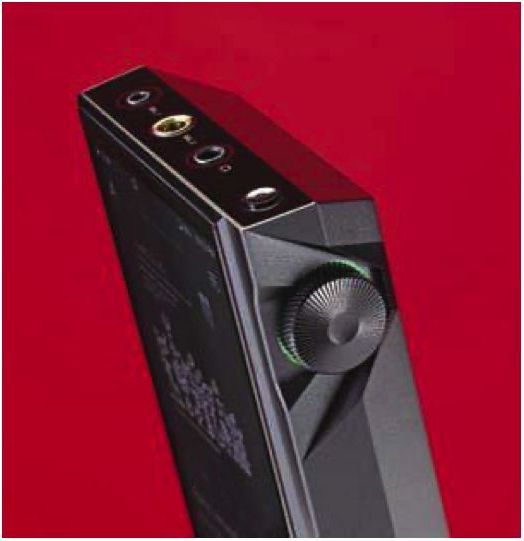 "the synth kick drum had enormous presence and dynamic punch"
Instead of driving loudspeakers direct, the player is best used to drive headphones or a hi-fi system from its standard 3.5mm headphone jack or from its balanced outputs, both 2.5mm and 4.4mm.These give identical drive, but through different socket types, 4.4mm being the best for its physical strength. High volume from headphones means IV maximum, but there are magnetic planars that need 2V. Not certain why the output amps deliver I 2V but Astell&Kern suggest this gives them "headroom".Whatever, the Kann Alpha has massive drive ability, way beyond most other players that max out around 2V. And it is beautifully built and finished, machined from solid aluminium.
There is a massive 64GB of onboard memory, plus a single microSD card slot with ITB read capacity. Enough for ripped CDs at 0.65GB apiece but single-track DSD files can reach I GB so the external card slot will come into use here perhaps, with avid DSD users.
Playback time is quoted as 14.5 hours under light use (screen off etc) and charge time 3.5 hours from a fast charger. I found charge time lengthy from a 5V iPhone charger, 5 hours being quoted – about right. Start time was 25 seconds – tardy.The player usefully enters last-played track at start, rather than main menu, but it's just one step back to main menu with Songs, Album, Artist etc, standard defaults taken from meta-data.
The clear, sharp, touch screen was easy to read I found and the menu system easy to navigate.
This is an Android device so came up quickly on my Windows 10 PC when connected through the supplied USB C lead. Hooked up to my Mac however (OSX Mojave) the green-man Android loader pops up – and there's always a small wrestling match between us as I try to load up files. But do-able all the same and I populated internal memory with a wide variety of files for measurement and listening purposes, including DSD.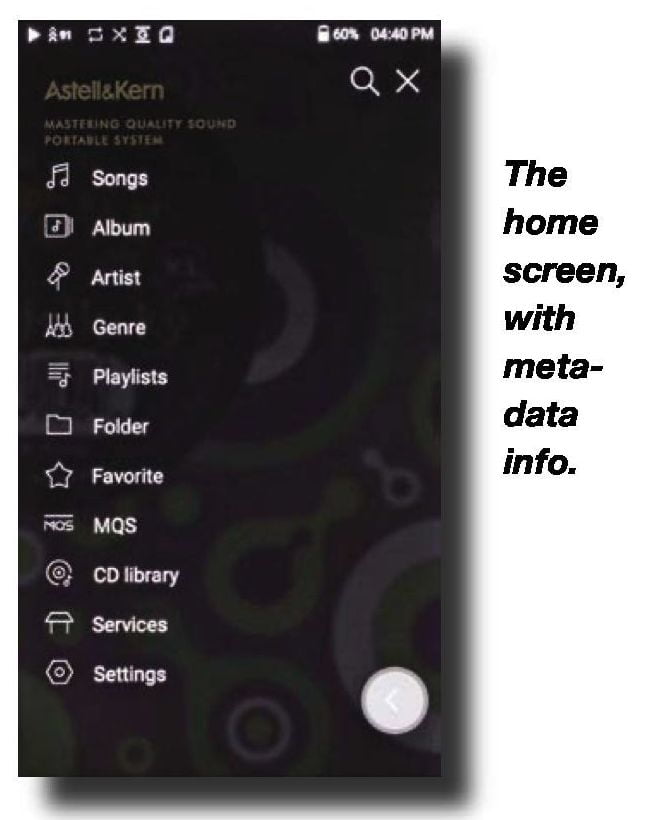 Wi-fi connection gives access to on-line services such as Deezer and Tidal, and the player can be used as a DSD DAC using the DoP protocol over USB link to a computer. Nowadays, and at the price, all this is to be expected.There's also Bluetooth for connection to wireless headphones or a hi-fi, and S/PDIF digital from an optical output within the 3.5mm headphone jack. Both can be used to drive a hi-fi system of course, as an alternative to analogue connection.
SOUND QUALITY
I ran the Kann Alpha with Oppo PM- I magnetic planar headphones, using an Audiolab M-DAC+ connected optically as a reference.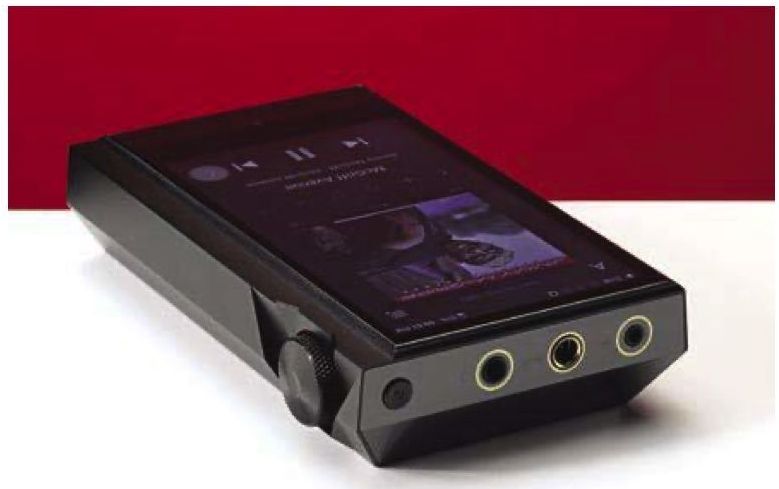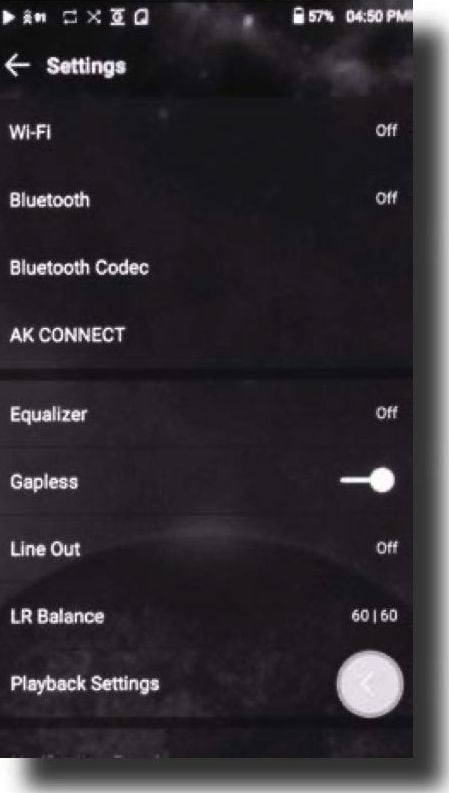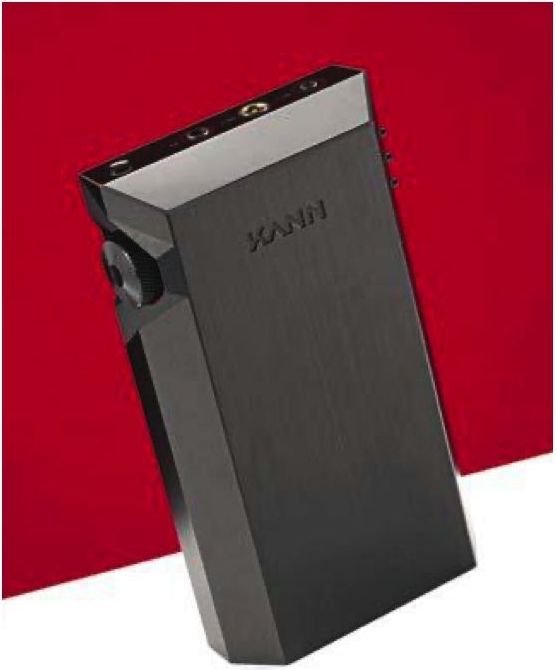 And as I guessed, the twin DACs and large battery in this player give it enormous bass grunt, on par or even slightly greater than the M- DAC+ – a real surprise. Normally, portable players fall down in bass quality, having enough of it but not with the rhythmic push of a mains powered DAC where more current is available. But with Safri Duo's thunderous Samb Alegro the synth kick drum had enormous presence and dynamic punch. There was also the smoothness of the M-DAC's ES9038Pro convertors and that glorious sense of silky openness that ESS tease out of CD digital (44.1 kHz/1 6bit). I fancied here that the stereo sound stage was a tad wider and more stable from M- DAC+ but this didn't detract from the massively powerful sound of the Kann Alpha.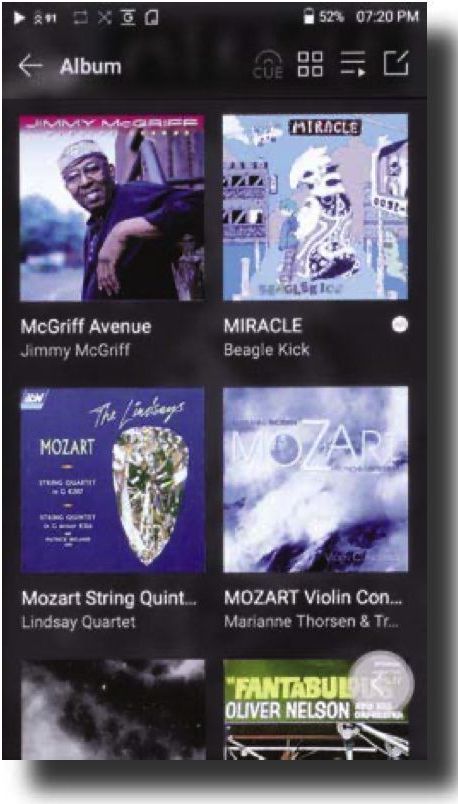 The player's clear midrange came over well with Sinead O'Connor's vocals in The Foggy Dew, where she stood out clearly, especially with the phrases "Britannia's Huns" (!) and "gaze with amaze", whilst the bodrans of the Chieftains pounded out a marching tune behind her with suitable thunder. A fine rendition here.
With Haydn's Concerto for Horn played by Jasper de Waal (DSD 64, .dsf) there was the lovely sense of space and analogue smoothness DSD possesses, violins were sweet and glossy whilst horn came over as rich and fruity centre stage.
Like all ESS DAOs those in this player were delightfully revealing and atmospheric rather than hard edged – but that's the ESS sound. So the fast strummed strings of Nils Lofgren's guitar in Keith Don't Go were fast and superbly delineated, but not lacerative. High frequency transients here were less challenging than from M-DAC+ though, that was crisper and of harder definition in the treble, giving strings more guts in their bite. I suspect this is why M-DAC+ gave a better defined sound stage.A small minus for the Kann, but it was every bit an equal over the midband and bass.
CONCLUSION
If you want the bass power and dynamic punch of a top mains powered DAC, but from a portable player, then Astell&Kern's Kann Alpha is one to hear. It has plenty of visceral wallop, plus the smooth yet deep revelaton of ESS DAC chips. Also, the player can be used as an external DAC connected to a computer, or a digital player feeding a hi-fi system. Headphone users have a standard output and two balanced outputs.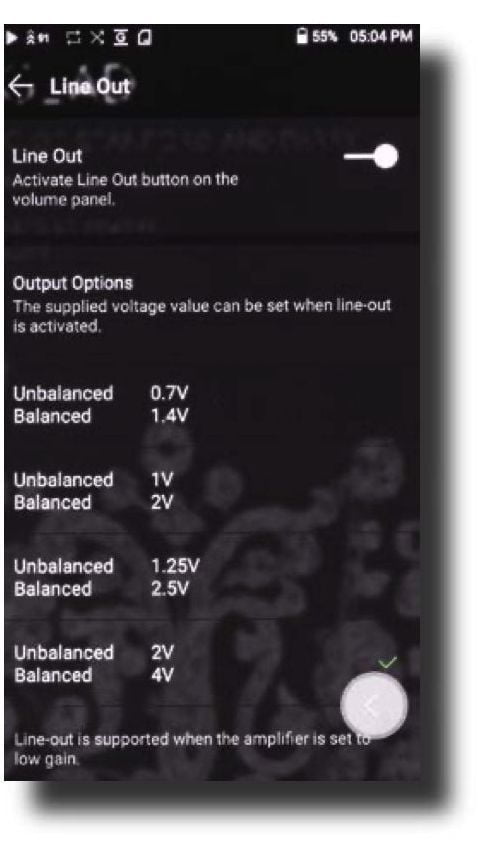 MEASURED PERFORMANCE
Frequency response measured flat to 92kHz with 192kHz sample rate PCM our analysis shows, using the default fast filter. There's a brick wall roll-off to the 96kHz upper theoretical limit. The Slow filter and Hybrid fast filter made little difference, reducing the upper limit to 80kHz. Even with CD the filters made little difference, reducing bandwidth from 21 kHz to 18kHz (-1dB).
I found this an easy player to get along with but the big issue is just that – it is big. This is no compact lightweight. Beautifully built and finished though, so for those of sturdy disposition and appropriately sized pockets – a top player.
Output from the 3.5mm unbalanced headphone jack measured 2.3V, 4.3V and 6.3V at Low, Mid and High output settings. These figures double from the balanced outputs. Since most headphones go shatteringly loud from IV the Kann Alpha's headphone amplifiers deliver massive output, way past what is normally needed, except for a few insensitive magnetic planar types. The Line Out can be used to drive a hi-fi system, but again only IV is needed by most amplifiers.
EIAJ Dynamic Range of the ESS ES9068AS DAC measured an excellent 123dB from the unbalanced 3.5mm headphone jack and from balanced 4.4mm jack – superb results up with the best hi-fi DACs. Distortion at -60dB (24bit) was also very low at just 0.01%, a figure that is not bettered by any mains powered hi-fi DAC.
The Astell&Kern Kann Alpha player delivered exemplary measured performance. The huge maximum output levels are academic, but the headphone amps certainly have plenty of headroom, plus low noise for high dynamic range. NK
Frequency response (192kHz,-1dB) 4Hz-92kHz
Distortion (-60dB, 24bit) 0.01%
Dynamic Range (EIAJ) 123dB
Output (unbalanced) 2V – 6V Output (balanced) 4V-12V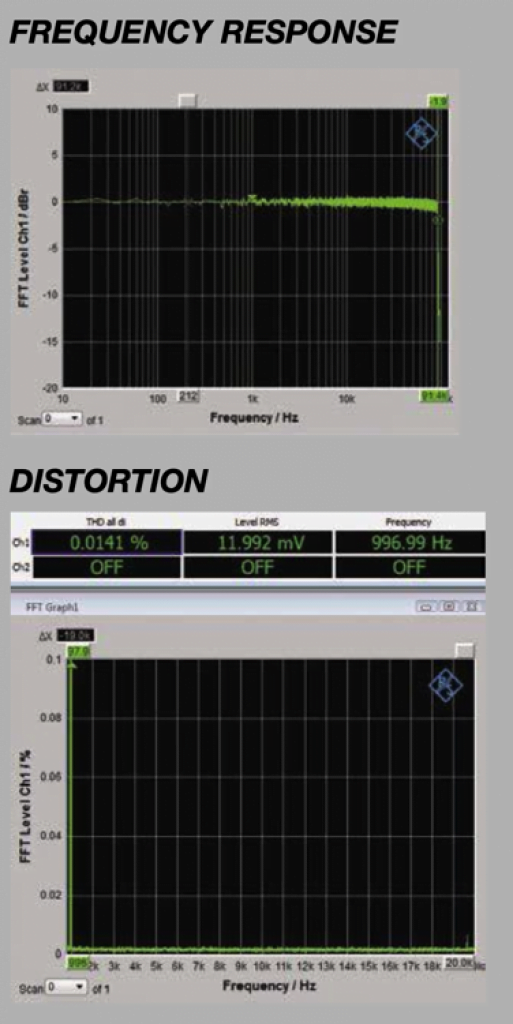 OUTSTANDING – amongst the best.
VERDICT
Editor choice
Astell&Kern KANN Alpha Review
Great sound with powerful, punchy bass. Easy to use, but large and heavy.
PROS
strong bass
vocal clarity
ease of use
CONS
slightly soft treble
depth - weight
Best Astell&Kern KANN Alpha prices ?

The Power HouseKANN ALPHA the third product in the KANN series of Digital Audio Players. While the goal of the Astell&Kern KANN line is to provide ultra-high power output to drive any headphone or IEM KANN ALPHA has not forgotten the essence of being a portable DAP so you can enjoy a near-perfect...


The Power House KANN ALPHA the third product in the KANN series of Digital Audio Players. While the goal of the Astell&Kern KANN line is to provide ultra-high power output to drive any headphone or IEM KANN ALPHA has not forgotten the essence of being a portable DAP so you can enjoy a...

MORE DEALS

Armour Home Electronics
+44 (0)1279 501111