Multi-bit or 1 Bit? Noel Keywood chooses with Teac's impressive new UD-701N digital DAC and streamer. Read our TEAC UD-701N Review.
Here's a DAC quite unlike all else.That's because Teac have built it around their own custom circuitry and high grade audio components. No ESS or AKM chips inside this one; quite the reverse: it goes off in another direction, stepping back to basic multi-bit digital conversion. Priced at £ this flagship product will catch the attention of purists worldwide who claim that good 'ol multibit sounds better.
What's going on at digital level inside this almost-disconcerting device is complex and the product's topology is not clearly explained. But I have a good idea, confirmed by its behaviour under measurement. Suffice it to say at this introductory point, the UD-70IN offers users two basic processing options: multi-bit or I bit (as they are labelled), as well as three optional Delta-Sigma sampling frequencies and three Delta-Sigma filter options.This will leave most people baffled I suspect. Oh, and I forgot to mention it has Upsampling too! Point being it's a DAC for digital aficionados to tweak and tune for the sound they prefer.
There's more to this machine than just its unusual digital conversion technology however.
Unlike most DACs it is also a streamer and the way Teac go about all this is unlike most others. Internet connection is by Ethernet cable only (no wi-fi) and streaming is app driven. However,Teac's app is a streaming player, not a control app; it cannot be used to select filters for example – the remote control/front panel controls are needed for this.
Whilst there's no CD player mechanism there are front and rear USB Flash drive (mass storage) sockets able to read ripped CD files, or hi-res all the way up to 32/384 PCM, or (quad-speed) DSD256.The rear socket can be used as permanent storage, the front for casual plugin. Teac's HR Streamer app will read the music on these drives; no front panel display is available, making the app essential and 'net connection necessary. Playing from Flash storage I find easy and convenient, the short, direct link between storage and DAC giving best sound quality. This is an assured way to play DSD – no DSD over DoP malarkey – and I even got a 384kHz sample rate (test) file to play, just as Teac claim. This is a bit academic of course, but at least it's possible.
There are four selectable S/PDIF digital inputs, two optical and two electrical. The opticals work up to 24/192 I found (unlike some). Then there is USB for computer connection and this will as usual accept DSD via DoP, plus all hi-res.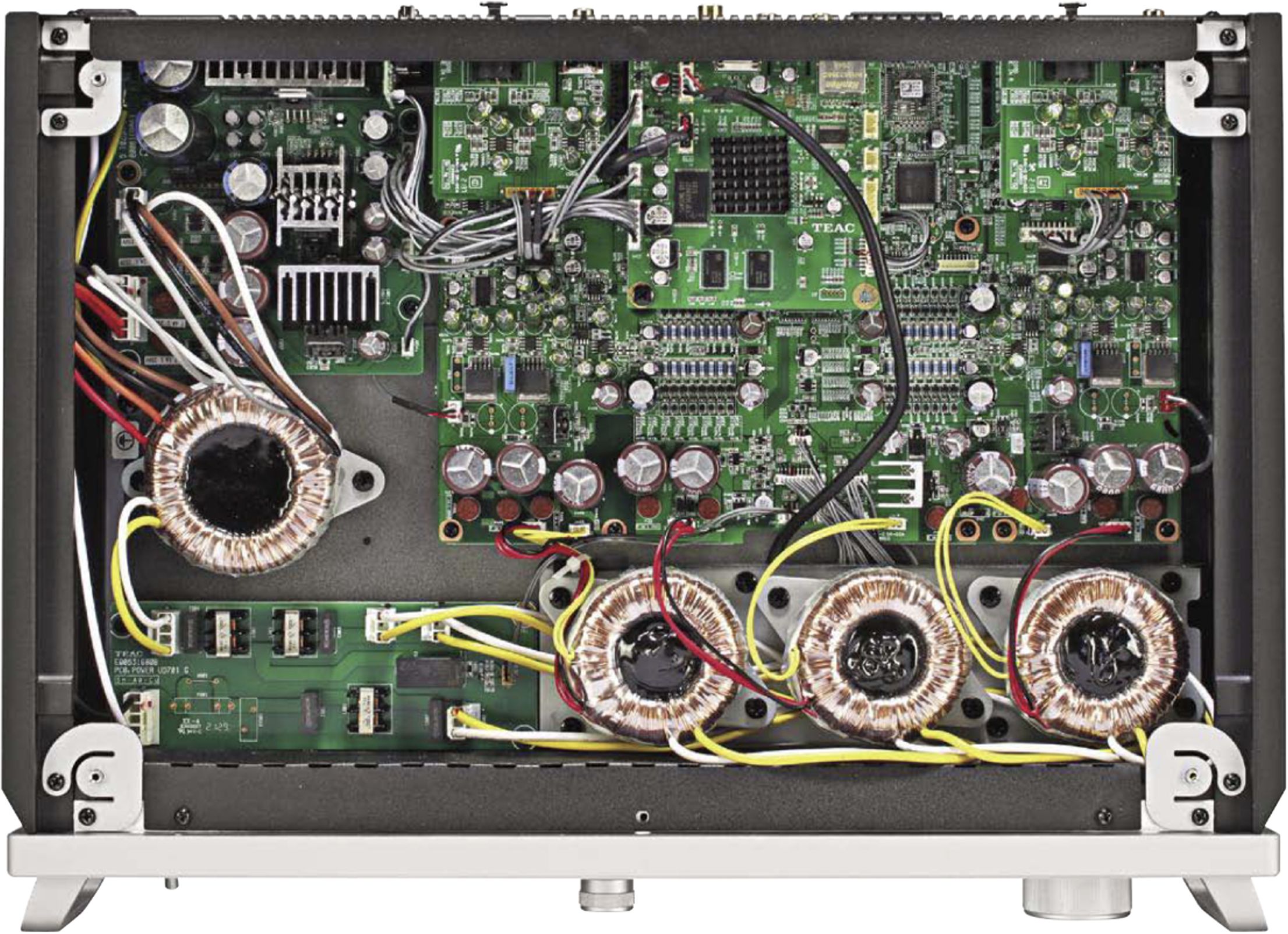 A complex interior dominated by four toroidal mains transformers, each one feeding a separate linear power supply. The vastly complex circuit board houses Teac's own custom digital convertor chips, that make this DAC very different to all others.
I was surprised to see my Mac recognised the Teac as an Airplay output and Audirvana+ confirmed its presence and Airplays CD-only quality, push-playing music to it. The PC (Windows 10) saw it as (Flash drive) storage on the network and would play from it; the app saw the PC's music library and would play from it too.Teac say it will also address a NAS drive and of course it sees music servers like Tidal, Qobuz etc.
I can't say I enjoyed using Teac's app: it has an intrusive and unnecessary play-list screen, plus cramped control icons and oversized artwork placeholders that appear as large grey blocks when no artwork exists.
There's Bluetooth 4.1 (old), so music can be sent from any Bluetooth equipped device – commonly mobile 'phone, tablet or portable player. Pairing is a two-part process of source selection then a button-press to initiate, something that caught me out initially. Various compression schemes are fitted including Sony LDAC and Qualcomm aptX HD, plus Apple's AAC and standard SBC. However, there's no LE2 for later iPhones running Bluetooth 5.1 and this slightly lacklustred my hi-res files from an iPhone IIX Pro with Onkyo HF player (hi-res. version).
So much for getting music in digitally. It also has an analogue Line input that could, for example, accept a phono stage and when Line is selected there is very high gain available to the RCA phono socket/XLR socket analogue outputs that feed an amplifier. There is no Bluetooth transmit function: output is strictly by wire.
Although not unusually large, measuring 444mm wide, 334mm deep and I I I mm high, the UD-701 N is very heavy, weighing 11.8kgs.That's because there are no fewer than four toroidal mains transformers inside, one each for Left and Right digital and analogue stages.These are linear supplies of course, not switched-modes.
SOUND QUALITY
I connected theTeac to our PrimaLuna EVO 300 Hybrid amplifier (valve/transistor), driving Martin Logan ESL-X hybrid electrostatic loudspeakers (electrostatic with bass bin), connected via Chord Company Signature Reference screened loudspeaker cables. For the most part I relied upon playing from Flash drive, but an Oppo BDP-205D player was used as a CD transport as well, connected by QED Quartz optical digital cable.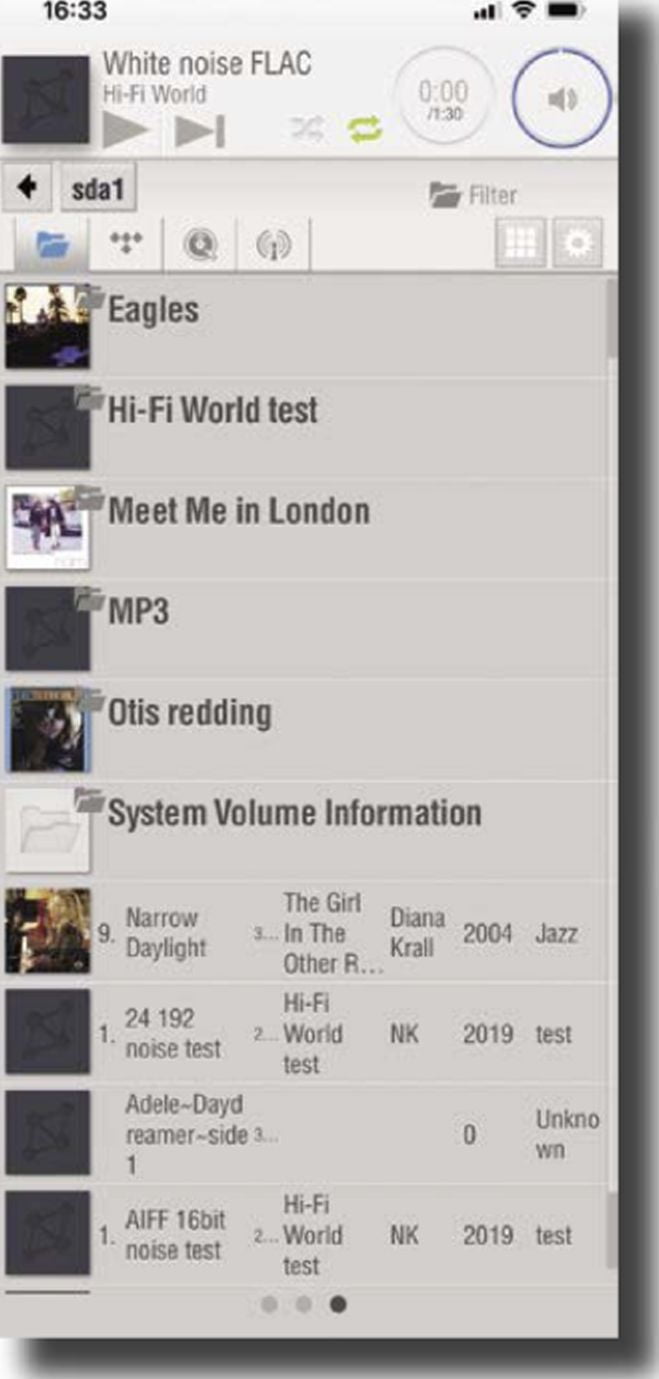 A music library app screen with grey placeholders where no artwork exists. Small control icons at top.

Analogue outputs and inputs at left and centre. Between them and at top, the RJ45 ethernet socket for internet connection with, alongside, a USB mass storage socket to accommodate Flash memory music file storage.
Having been there and suffered that in the 1980s I knew what to expect in terms of basic presentation from this player. No surprise to hear a very upfront sound that I could describe as "bright" – but that would not be saying much. There was a sense of clear openness in the basic presentation, with singers and instruments projected forward in challenging fashion. A fast, zippy presentation with vivid bass that brought in a sense of muscularity and dynamism that was exciting. Can't help feelingTeac's power supplies contributed here, as much as digital conversion technology.
The sound was quite different to the current norm – as epitomised by ESS DACs that have all but taken over. ESS offer listeners silky smooth sound free from offence – and with fine insight and superb stage depth. With this player Teac bring the stage forward, make it vividly insightful but drop any pretence of warmth or depth. No palliative to tame dodgy digital, but a more direct delivery that was both challenging and exciting.Think of ESS as a warm cosy bedroom, join Teac for a brisk run in the park -in January. Both have their merits, whilst being complete opposites.
Where stage depth was truncated, stage area was expanded. I heard large, full height images between the electrostatic panels, strong and stark at left and right. Diana Krall's Narrow Daylight (24/96) usually comes across as dark and smoky; the Teac threw windows open, let in daylight and imposed stark clarity. No smoky stuff here. Cymbal strikes had power and substance, images took on a sense of solidity and weight.The bass line strode along firmly. I sat entranced, but also querulous. And here things get a little complicated.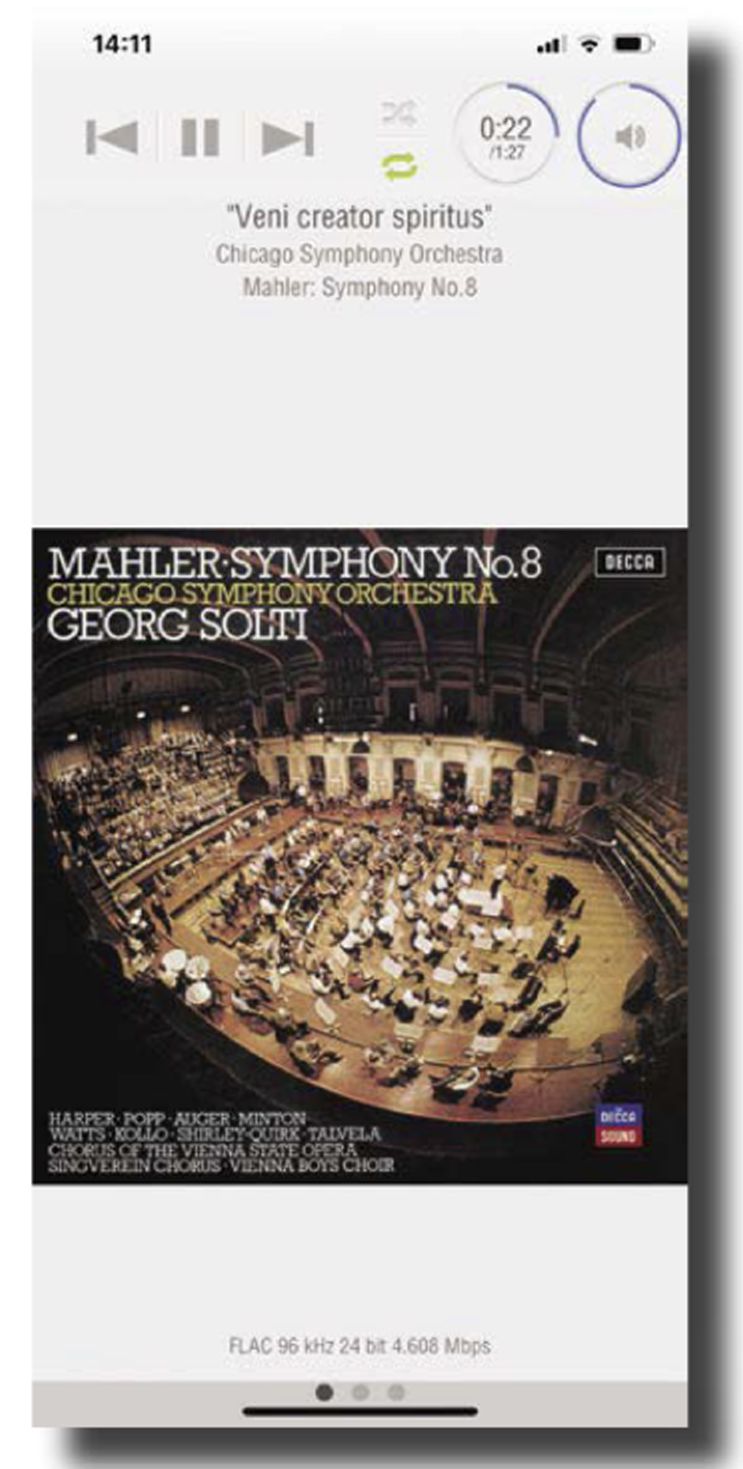 The main app play screen – simple and clear with artwork and file data.
I was running the UD-70IN in raw state, meaning Upconversion off, Delta-Sigma sample rate at its lowest (x128) giving highest (out-of-band) noise, and the DSD filter set to Off so as not to curb this noise.This left me to switch between two basic operational states: multi-bit and I bit. First surprise was that I bit sounded coarser than multi-bit: Since conversion to I bit is associated with improved sound this seemed surprising. I felt there was slight hacksaw edge. I liked multi-bit: it was fast yet more amenable.
Time to twiddle. Setting Delta-Sigma sample rate (Fs) to its highest value (x256) for lowest noise, and selecting the FIR I DSD filter softened out the sound, much as expected, but most obvious was subtle degradation of the otherwise chiselled sound stage.There was also less edge to transients, and a little less laceration in the sound. However, even with every'improvement' strategy selected the UD-701 N still came over as more forward, open and fast than the current crop. A nearest equivalent would be Chord Electronics DACs, in outline at least.
However, when running raw this DAC gives entirely different (worse) measured results to most and, together with its multiple linear power supplies, has speed and punch like few others. Funny combo / unusual sound.
Quite what effect these many options had subjectively I found to be music dependent. For meaty Rock some may prefer to run it raw with I Bit, although I shied away from the edginess. Dramatic certainly, but also uncouth. With classical, running like this pushed choral sections of the Chicago Symphony orchestra forwards but they had sore throats in Mahler's Symphony No8 (24/96). Selecting Multibit cured the throat problem and also put in better delineation between singers and instruments.There was a tad more stage depth too, but still not ESS style.The Teac pushes everything forward – part of its drama – and in doing so comes across as clearer and more explicit than most else. Generally I found its drama better suited to visceral Rock – but I did rather like the big, solid sound of Benjamin Grosvenor's piano when playing Chopin's Nocturne No5, Op 15, No2 (24/96).

A relatively simple and dedicated remote control unit that is central to usage, since the app does not mirror its functions.
With Nils Lofgren's Keith Don't Go (CD), which has strong treble from close miked guitar strings, there was a slight loss of bite to transients, as measurement predicted, due to high-treble roll down. However, the performance was so dramatic, particularly in its broad, open sound staging and rock hard imagery that this hardly seemed to matter.
With another test track I know well, Safri Duo's Samb Adagio, the powerful synth beat pounded out with relentless strength, again confirming the Teac's extraordinary bass quality.
With DSD it was best to use
I Bit at top sample rate (x5I2) for best smoothness and depth, FIR I filter adding to this, whilst slightly reducing openness of sound staging. Results with DSD were superb, as you might hope from a DAC that has obviously been honed to work well with it. Also be aware I use very high resolution electrostatic panels that are phase coherent to hear all this; with conventional loudspeakers the sound staging properties may be less obvious, but I feel sure this DAC's basic character will be rendered clearly.
CONCLUSION
Teac's UD-70IN is a sonically distinctive and enormously capable streaming DAC. Without a doubt Teac have engineered it superbly, the four big linear power supplies being responsible for its tight, powerful bass that betters all other DACs. Its dramatic sound sets it apart. It does not measure well and is far from the current norm, technically. All the same, well worth hearing if you want digital with drama. In this regard it is easily the best.
MEASURED PERFORMANCE
This is a very unusual and highly specialised "drive it yourself" DAC with numerous tune options that affect measured performance. Firstly there is a multi-bit DAC with tunable Delta-Sigma input modulator. Set to 'PCM Delta Sigma – Multi-bit' meaning pure multi-bit (no prior D-S modulation) distortion was expectedly high – around 0.4% (-60dB, 24 bit) as our analysis shows. Choosing 'PCM Delta Sigma – 1 bit' brought in prior D-S modulation, improving linearity to 0.18% but with added noise. To lessen this noise it was necessary to set Delta Sigma Fs (sampling frequency) to x512 to push the noise up-band and DSD filter to its most effective FIR 1 setting.
In spite of all this the final best distortion result of 0.18% (shown here) is ten times higher than the 0.02% of current DAC chips. With CD (16bit) distortion rose to around 0.35% at -60dB, not much above the 0.25% figure from today's best chips (set by quantisation noise), so no disaster with CD.
At full level, pure multi-bit operation delivered 0.02% distortion against 0.002% with Delta-Sigma 1 bit prior modulation – but peak level values, whilst commonly quoted, are inconsequential to sound quality.
To summarise, with hi-res distortion was x10 higher at best, with CD it was fractionally (x1.5) higher.
Because of the presence of multi-bit distortion or 1 bit noise, EIAJ Dynamic Range with hi-res (24bit) measured around 103dB, much the same as CD.
I can't be too specific about any final result because Sampling Frequency, Delta-Sigma rate and Noise Filter values all wandered slightly, possibly due to temperature variations at component/ junction level, and perhaps lack of corrective feedback.
With filters off frequency response rolled off slowly above 39kHz with 192kHz sample rate PCM. Selecting Brick Wall filter this extended to 82kHz. With CD, output rolled down above 10kHz, as shown – sufficient to produce slight warmth but better damped transients. Slow, well damped filters give a clean sound and are popular, so no issue here from a purist perspective.
Output levels were high at 9V from XLR/headphones balanced, 5V from RCA and headphone 6.3mm unbalanced. All these outputs were achieved from a full scale digital input (0dB FS) so there is enough gain in the system. There was x15 (23dB) gain from Line-in to Line-out at max volume; the Teac can drive any power amplifier.
Working from Ethernet and using Teac HR Streamer app control on an iPhone, the UD-701N retrieved the music library on a USB flash (mass storage) drive plugged into the front panel, playing test files that showed results here were identical to S/PDIF and USB connection. And as Teac claim a 384kHz PCM test file played perfectly.
The UD-701N did not measure well in terms of digital-to-analogue conversion but it discards ultimate performance figures for a purist approach that can only be judged by subjective sound quality. NK

Verdict
OUTSTANDING – amongst the best.
VALUE – keenly priced.
TEAC UD-701N Review
Big, bold sound that's punchy and challenging. Not cuddly or warm.
PROS
bold sound
build and finish
multiple sources
CONS
old Bluetooth 4.1
limited stage depth
poor user guidance
Best TEAC UD-701N prices ?

With a revamped discrete DAC this advanced all-around unit serves as the core of your high-performance audio system. Features Newly-developed TEAC (Delta Sigma) discrete DAC Dual mono fully-balanced circuit structure realizes outstanding channel separation Playback of 22 TEAC UD-701N Dual-Mono...

MORE DEALS

TEAC
eu.teac-audio.com