Top performance at a low price. It's got to be magic thinks Noel Keywood. Read our CAMBRIDGE AUDIO DACMAGIC 200M Review.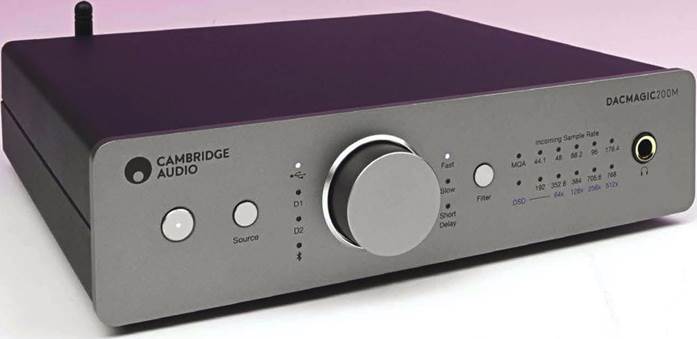 Cambridge Audio introduced their first Dac Magic in the mid- 1990s, using Wolfs on digital convertors if I recall rightly. It was a simple, unpretentious little unit that worked well, purposed for a better sound from a CD player. But much has changed since then, Cambridge Audio recently released their latest version, the Dac Magic 200M, bringing this ever affordable design right up to latest standards.
All sounds simple enough doesn't it? I was quite taken aback at what they have done however. Especially at the price,To dive straight into it, Cambridge Audio have grabbed the very latest DAC chip from now-famed ESS of California, the ES9028Q2M, configured it for best performance and built the new Dac Magic 200M around it, to give an extraordinary result, one that undermines much else – especially at the price,You don't quite get all the bells and whistles, but you get most of them, including Bluetooth wireless reception from mobile phone, tablet, portable player or such like, explaining the stubby aerial at rear.
The unit inevitably comes with a wall-wart power supply, 12V d.c. at 2A being sent down a slim I metre long cable, so just enough to stretch from table height to floor with a mains outlet nearby. Plug in, switch on and three pale blue LEDs light to show the unit is active. A source button at left selects between USB input from a computer; or optical / electrical S/PDIF connections marked as Dl / D2 that might typically be hooked up to a CD player's digital output or any of the many other devices that deliver standard digital of the PCM variety.
Since the ES9028Q2M is a comparatively recent low power Mobile version of the Sabre series DACs it accepts up to 768kHz sample rate PCM, which is a bit academic for most of us where 96kHz is fine and 192kHz about the useful limit. Measurement confirmed theTOSLINK optical inputs work up to 192kHz, so you won't get silence when running from a portable player like an Astell&Kem that delivers 192kHz files via optical. All ten possible sampling rates, from 44.1 kHz up to 768kHz, are identified on the front panel by two rows of pale blue LED indicators.
ESS chips come with integrated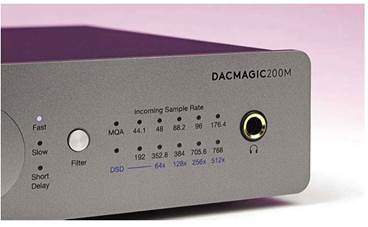 At left a Filter button sequences through Fast, Slow and Short Delay. Then MQA and DSD indicators, an array of sample-rate indicators and at right a 6.3mm headphone socket
volume control that offers 0,5dB steps, which Cambridge Audio use to provide variable output from a rotary volume control on the front panel; there's no remote control.
Maximum output is a standard 2V from the phono socket outputs – the same as a CD player.There are balanced XLR outputs too, offering 4V, again a standard value. Always best to use these since all DAC chips, including those from ESS, deliver a balanced output as standard; the unbalanced phono socket output goes through an extra conversion stage that slightly degrades quality.
DacMagic 200M has three digital filter options: Fast, Slow and Short Delay, selected by sequencing through via a single push button. Differences between the filters were not great under measurement, unlike those programmed in by Audiolab in M-DAC+ for example, but whilst Fast gives widest bandwidth Slow usually sounds best by giving the cleanest impulse response. Most people will try these filters with CD and notice only small sonic differences,
DacMagic was always small and unassuming and the latest version is no different.The case measures 215mm wide, 52mm high and I 91 mm deep so will slot in just about anywhere. It's flyweight at 1,2kg too. Nicely built with a solid aluminium front panel and sheet steel case – built in China but designed in the UK (London), Small and unassuming it may be, but today's DacMagic has some fineries. For a start it will process Master Quality Authenticated (MQA) files, used by Tidal for example for high quality streaming from their Master Quality Audio service.
Then there's Direct Stream Digital (DSD) decoding too, for that rather lovely analogue-type sound that DSD delivers. DSD is accepted via USB using the DoP delivery format, meaning a DSD capable player like Audirvana+ is needed. The front panel shows up to quad-rate files can be handled but you'd need massive disc storage capacity for these, should they appear,There's confirmation of DSD reception, as there is of MQA. I would like the DSD light to have been red, or something different from PCM to make the differentiation obvious at a distance and I got caught by an auto-off power saving function that leaves the power button light on but confusing silence when the play button is pressed after making a cup of tea.
All that's missing is remote control for armchair volume adjustment if used to drive a power amplifier direct, eliminating the need for a preamp.
SOUND QUALITY
I connected the little DacMagic to our Creek Voyage i20 amplifier's balanced XLR inputs through Chord Company Epic cables, the Creek driving our Martin Logan ESL-X hybrid electrostatic loudspeakers through Chord Company Signature Reference cables. Sources were an Oppo UDP-205D to spin CD, connected optically by QED Quartz glass- fibre cable, and a MacBook Pro to deliver hi-res and DSD from the Audirvana+ player.
And what I heard was very much in line with what I know well from ESS, Cambridge Audio getting a fine sound from the ES9028Q2M, There was a slightly drier air to it than from our Audiolab M-DAC+ or the Oppo, both with ESS chips

The rear carries unbalanced and balanced (XLR) analogue outputs (left). There are two sets of optical and electrical S/PDIF inputs, plus USB for computer connection and DSD. The stub aerial is for Bluetooth wireless reception from a mobile phone, tablet or portable player.
but with chunky linear power supplies.There was the same sense of sorted smoothness though, a lack of hash or confusion that made even complex tracks such as Skunk Anansies Hedonism come across as listenable, the jangling guitars being a clean strand in the music rather than one that grates by sounding raucous – as sometimes is the case.
Another test track that often raises problems, if mostly in loudspeakers, is Willy DeVille's Spanish Harlem – but not here.
His close-miked sibilant vocals were easily transmitted to my ears: I didn't wriggle or squirm as sometimes happens, due to laceration in the sound.
The bass end of things was strong and solid, plucked bass behind Holly Cole singing The Train Song coming across with good strength. A slightly drier, less fulsome sound than that of the non-mobile ESS chips that draw current and thrive on a linear power supply, but powerful bass all the same – no criticism here. But then ESS DACs do generally offer an easy balance with strong bass so DacMagic did a good job in conveying this strength.
At times I felt I heard just a tad more insight from the DacMagic 200M than I have heard previously from any other DAC, especially with the Short Delay filter that offered a more insightful view than Fast, if by small margin.
It specialises on mid-band insight, putting a spotlight onto vocals; there was a bit more air around the strings of Antonio Forcione's guitar in Tears of Joy. Many will prefer the Slow filter for its damped and darker sound; Fast puts slightly more sheen into highs, making the sound a tad livelier up top.These are small, subtle differences though.
I could hear no filter differences with DSD, even though the chip carries DSD filter options: methinks you get only PCM filters in DacMagic. All the same, the famed ESS sound is not a zingy bright one; if anything they rose to prominence by eradicating forceful, harsh treble.
With DSD the DacMagic was no less able, if arguably not quite as sturdy in its low end dynamics with Cyndee Peters House of the Rising Sun (DSD 128) as I've heard it, but with gloriously sweet treble from solitary triangle strikes and slowly hit cymbals.This is where DSD always scores I find and Cambridge Audio's little convertor did a great job.
Diana Krall's Narrow Daylight (DSD64) similarly was superbly well resolved, with great insight into her vocals and very concise sound stage imaging too, instruments bolted solidly into position it seemed. Not quite the fruity bass line I have heard from M-DAC+, but still solid and strong.
CONCLUSION
What a fabulous little convertor! Cambridge Audio have wrung top performance from a recently introduced ESS DAC chip by strapping all eight channels into optimal arrangement – no skimping here in spite of the low price tag. And you can hear it too.This is a deeply insightful convertor that delivers digital with an easy going clarity that defies much on the market.With just the right balance between capability, ease of use and top sound quality – ignoring that it necessarily has a wall-wart power supply – the new DacMagic 200M is an instant corker I think.You won't get this amount of dynamic range nor this amount of sheer resolution and clarity elsewhere at any price, let alone at such a low price.
"more insight came from DacMagic 200M than I have heard from any other DAC"
MEASURED PERFORMANCE
The measured EIAJ Dynamic Range value of DacMagic 200M came in at an almost record breaking 126dB. That's higher than most other DACs available irrespective of cost. It requires the use of very quiet buffer amplifiers on the output of the chip and these may come from ESS too.
The buffer amps deliver 4V output via the balanced XLR sockets and 2V out via the unbalanced phono sockets, at full volume.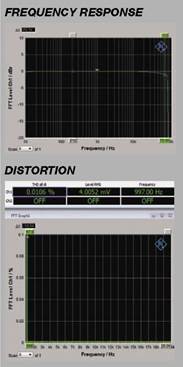 To get high dynamic range demands very low distortion as well as noise, and distortion from the Cambridge – our analysis shows – is non-existent: there are no visible distortion products in the noise floor. This gave a figure of 0.01% at -60dB with 24bit, again lower than all other DACs. With CD the figure was as always 0.2% due to 16bit quantisation noise/distortion.
Frequency response measured flat to 76kHz (-IdB) with Fast and Short Delay filters before rolling down slowly to the 96kHz upper limit for a 192kHz sample rate PCM signal. The Slow filter reduced this figure to 64kHz, so only a small change. With CD the situation was similar, Fast running flat to 21kHz, Slow rolling off above 16kHz. Subjective differences will be minor.
USB gave identical results to S/PDIF and up to 768kHz PCM sample rate is accepted. Dynamic range and distortion levels were identical to S/PDIF, so no degradation here.
Cambridge Audio's DacMagic 200M gives a set of measured performance figures all but unmatched in the current market place. Exceptional results. NK
Frequency response (-IdB)
3Hz-76kHz
Distortion (10kHz, 1W) 0.01%
Separation (1kHz) 108dB
Noise (IEC A) -124dB
Dynamic Range (EIAJ) 126dB
Max output (phono/XLR) 2V / 4V
CAMBRIDGE AUDIO DACMAGIC 200M
OUTSTANDING – amongst the best
VALUE – keenly priced
VERDICT
CAMBRIDGE AUDIO DACMAGIC 200M Review
A top quality digital convertor with great sound, at unbelievably low price. Awesome.
PROS
High resolution sound
Broad capability
Small size
CONS
Poor front panel display
Wall-wart supply, unidentified
Best CAMBRIDGE AUDIO DACMAGIC 200M prices ?
MORE DEALS

Cambridge Audio + 44 (0)207 551 5422 www.cambridgeaudio.com