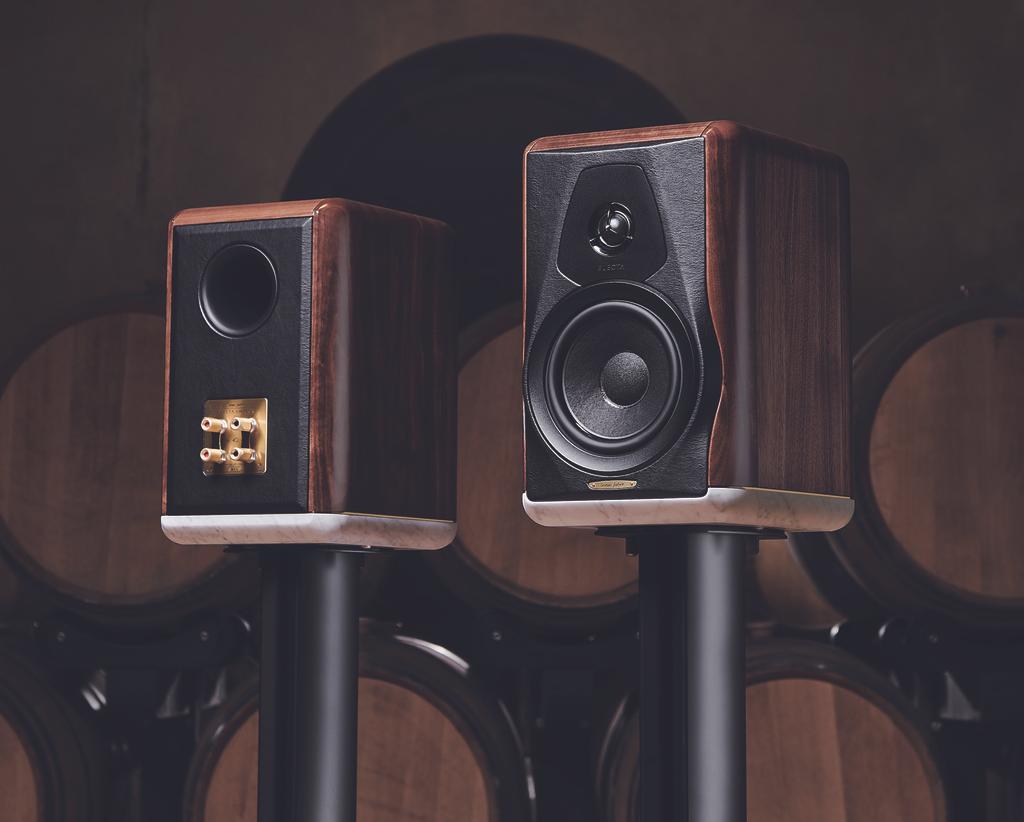 Our second pair of standmount speakers from Sonus faber raises the stakes from the company's Lumina 1 at $ (back on page 58) to the larger of the two standmounts in the company's luxurious Heritage Collection, the Electa Amator III. These are, as you can see, more than 10 times the price of the entry-level speaker, so they represent the heights to which the Italian brand, as well as our group of speakers this issue, can rise. What components, what construction and what sound might justify such pricing? It was, we can tell you from the off, a pleasure to find out.
The Electa Amator IIIs were originally released in 2018, designed to commemorate Sonus faber's 35th anniversary, because despite all the loudspeakers the company has built since that time, it is on record as stating that it was the original Electa Amator (released 1987) and Electa Amator II (released 1997) that contributed most to the company's international success, and that this new "small but precious speaker" inherits characteristics from both those models.
Even a casual glance will show that this new model is made firmly in the mould of the two previous generations. The third-gen model is also a compact, two-way, standmount, bass-reflex design… just like the two that preceded it. And whereas most loudspeakers that are made of wood use a manufactured wood (usually MDF, HDF or ply) that is then finished with either a plastic or wood veneer (or painted – usually with a high-gloss varnish), the cabinet of the Sonus faber Electa Amator Ills are crafted from solid slabs of 25mm-thick walnut that are left as bare wood on the top and sides of the cabinet, but covered with soft leather on the baffle and rear panel. At the base of the cabinet is a 30mm-thick slab of Carrera marble, the sculpting material favoured by Michelangelo, as well as many premium kitchen designers.
This marble is the build element that contributes most to each speaker's back-bending weight of 14.6kg. Needless to say, the overall effect of this combination of premium materials is very classy – there are few loudspeakers that convey such an aura of luxury.
The tweeter here is the H28 XTR-04 DAD soft-dome type that is used in the company's top-end Homage Tradition and Reference models. That '28' is the tweeter diameter in millimetres, while the DAD stands for 'Damped Apex Dome'. When a soft dome moves forward (after first having moved backwards), the highest point of the dome (which Sonus faber refers to as the 'apex') tends to 'crumple' inwards due to air pressure. The movement of that particular bit of dome fabric is therefore non-linear, and also out of phase, which causes the high frequencies to roll off prematurely. Sonus faber's solution is to add what they call 'local dampening' via a small bridge across the dome, at the centre of which is a backwards-facing cone. This structure is quite visible on all Sonus faber tweeters incorporating DAD technology.
The 180mm-diameter bass/midrange driver was apparently designed specifically for this model, its cone made of materials Sonus faber has previously favoured, being a blend of cellulose pulp, kapok (a fine, fibrous substance rather like cotton), kenaf (or Hibiscus cannabinus; we'll say no more), and other natural fibres. During the production process this cone is not force-dried but air-dried in real-time, said to optimise rigidity, reduce mass and minimise resonance behaviours. The cone is terminated by a standard half-roll profile rubber suspension surround which in turn connects to the basket, which is made from cast aluminium.
The crossover network has a nominal crossover frequency of 2.5kHz and is said to use very high-quality components, including ClarityCap capacitors and Jantzen inductors. Connection to the speaker is made via two pairs of rather beautifully made multi-way speaker terminals that are shaped to make connection and tightening processes easy.
Above this connection plate is the bass reflex port – 185mm in length, 68mm in diameter and made from thick plastic, flared at both ends to reduce the possibility of chuffing or other port noises.
There's more marble on the dedicated stands, which at 11.2kg each are very nearly as heavy as the speakers themselves. These used to be bundled with the speakers in Australia – which made comparison with international pricing deceptive, as other countries advertised the speakers alone; now Australia has fallen into line with that. The stands are 720mm high, which puts the tweeters exactly ear-height above floor level… though some further height adjustment is possible thanks to the provision of four spikes underneath the base of the stands.
Sonus faber's engineers steered a very clever path when they created the Amator Ill's sonic signature. It is undeniably Italian, with the sonic DNA of the Sonus faber 'family' writ large across it. Yet they are at once accurate without having the ultra-neutral delivery of a studio monitor, while at the same time muscular and full-bodied without straying into the realms of overt coloration. Granted you need to partner them with suitably-talented electronics, and with an amplifier which has sufficient free-flowing power on tap in order to extract the full dynamism of which they're capable. But this is no more than would be asked of almost any loudspeaker in the same orbit.
With those elements in place, you don't have to work hard to get great sound from the Electa Amator IIIs. Place them out into the room and away from the side walls, and just a bit angled-in towards the listening position, not directly at the centre spot, as this can leave them sounding a little bright in the upper treble. Their midrange, meanwhile, is to die for. These little speakers delivered exceptional expression and articulation, to the point that with well-recorded tracks they sounded totally magical, the magic being enhanced by the dynamic capabilities on show, so long as replay volume was kept at a socially acceptable level. And keeping the volume restrained was difficult, because the overall sound is so clean and balanced that it's easy to wind up the volume too far, asking more of these small speakers than they are able to deliver, though even then they respond gracefully with mild confusion on the peaks, rather than with noticeable distortion.
"At the base of the cabinet is a slab of Carrera marble, the sculpting material favoured by Michelangelo, as well as many premium kitchen designers."
The Electa Amator Ills are rare small speakers in bringing the excitement and emotion in music to the fore, and most particularly bringing the best out of vocals. Listening to Melody Gardot's 'The Absence', the Electa Amator IIIs delivered the album's sumptuous production and complex rhythms with jaw-dropping finesse, reproducing Gardot's rich tonality brilliantly, injecting levels of expression and layers of nuance as good as anything we've heard at this level.
They're perhaps not the last word in rhythmic precision or outright drive, and as fairly compact speakers they're never going to produce the kind of bass that makes furniture rattle. If you listen to music that requires aggression to work, or you're into pipe organ recitals, then you're likely to find the Electa Amator IIIs a little too bass-light and a touch too polite. Yet for their size, low frequencies are a strength. They sound impressively authoritative and deliver bass frequencies with palpable punch and muscle, hand in hand with a low-end agility such that the resulting sound is both articulate and tuneful.
And the soundstaging abilities are outstandingly good, so precise that you'll hear all the instruments totally locked in position and remaining positionally stable no matter what the musical demands of the music that's playing. If you close your eyes you'll find it impossible to locate the speakers.
Don't close your eyes too much, however, because you'll want to drink in the stunning style of these speakers as well as their sound. As so often with beautiful Italians, it's all too easy to fall in love with them.

SPECS
Type: two-way bass reflex
Drivers: 28mm DAD soft-dome tweeter, 180mm cellulose pulp-blend woofer
Impedance: 4 ohms nominal
Sensitivity: 88dB (2.83V/1m)
Dimensions (hwd): 375 x 235 x 360mm
Contact: Synergy Audio-Visual
Web: www.synergyaudio.com