The hi-fi market is full of speakers that look a little 'different', but few are quite as eye-catching as an electrostatic design where music appears to be coming almost from thin air. MartinLogan, the Kansas-based company established in the early-Eighties, is one of the best-known advocates of the technology. It began life with a 'static model, and though its range has expanded since into conventional box-type speaker territory, its mantra still remains: "wherever possible, we go electrostatic".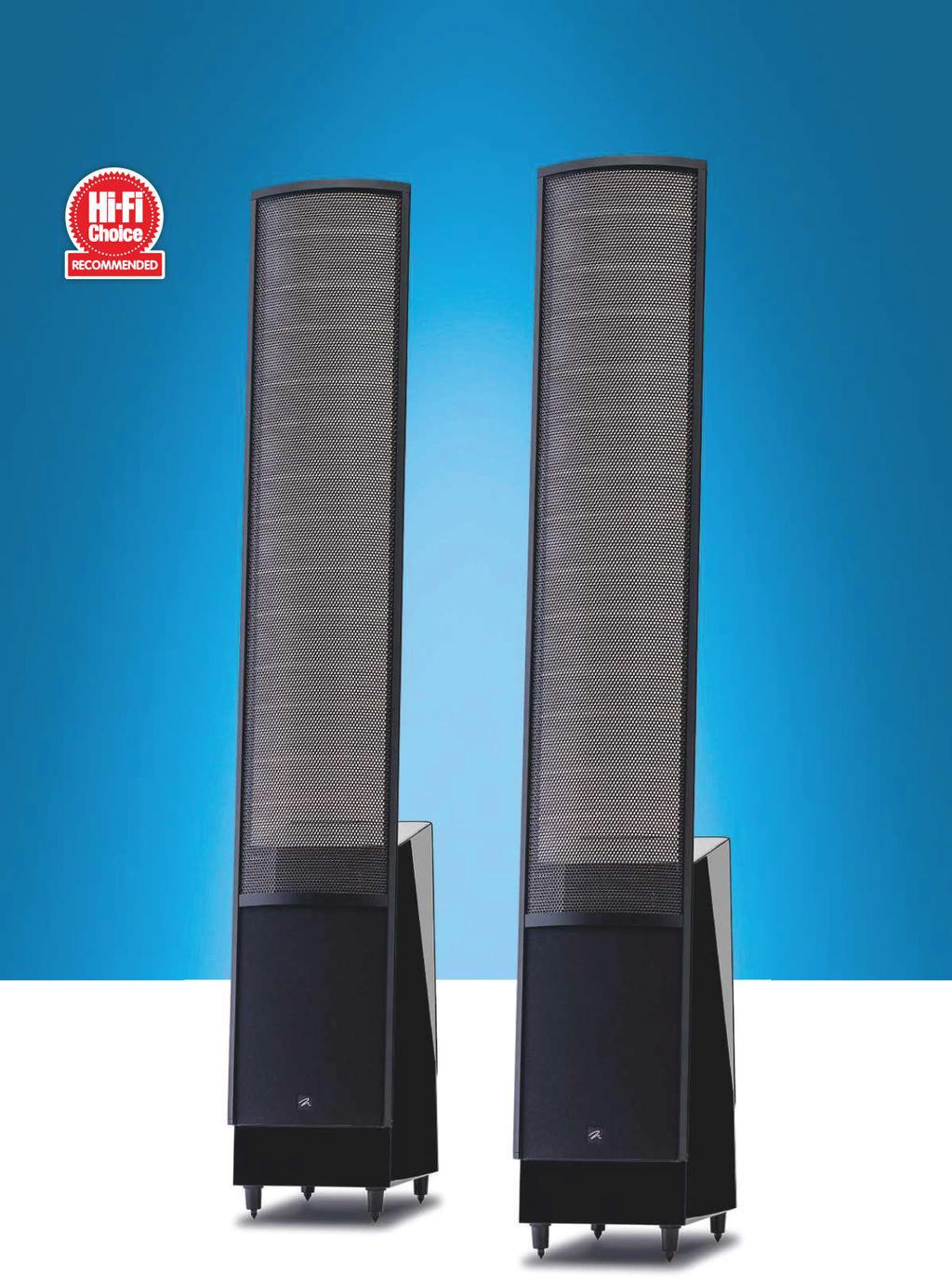 With the ElectroMotion series, it also enters more affordable ground. The EM-ESL X tested here sells for £ (there's also the option of the smaller £ EM-ESL) and, when compared with the company's Masterpiece stable where pricing extends from the £ Classic ESL to the £ Neolith, this seems something of a bargain.
That impression doesn't wane when you lay eyes on it. A floorstanding model standing 1.5m on pre-fitted feet, the EM-ESL X will likely tower over your listening perch – although maybe 'over' isn't the right word, as the XStat panel, a 12-micron-thick film diaphragm sandwiched between two perforated steel stators, leans back slightly. This rake is intended to channel the speaker's limited vertical dispersion, targeting energy at the listening position and reducing off-floor reflections.
MartinLogan's XStat panel is curved, an engineering tweak it says enables an optimal 30° horizontal dispersion. It's then housed in an aluminium composite AirFrame enclosure that maintains panel rigidity, while maximising 'playable surface area'. This enclosure joins to the speaker's lower cabinet, which has a front baffle that continues the angle of the electrostatic transducer, and a rear that angles the opposite way. The result is an unusual overall aesthetic, though the EM-ESL X's front and rear grilles aren't a great match for the cabinet's gloss black finish.
Behind these grilles are 203mm bass drivers, completing the speaker's hybrid design. In this case the bass section is passive, whereas most of the pricier Masterpiece models incorporate Class D amplifiers in fully active bass solutions.
Meanwhile, the standard ElectroMotion ESL has a single front-facing driver while the EM-ESL X we have here has another 203mm unit mounted to the rear. So while you can think of this model's 'X' suffix as signifying 'extra-large' – the panel has 50in2 of extra surface area over the step-down EM-ESL, by virtue of being 16cm taller – it could also stand for extra bass. However, this second driver doesn't result in a radical change to the claimed bass extension as the EM-ESL X's 41Hz (–3dB) is just 1Hz deeper than the ESL's 42Hz.
It's more concerned with transitional speed and detail than sheer output
Some speakers are more obliging when it comes to placement than others, and the EM-ESL X fits into your room begrudgingly. It's not only very tall but, as a dipole speaker, boundary wall proximity needs to be managed. The recommendation is a minimum 61cm, as outlined in the in-depth installation manual (where the use of a torch – to reflect off the inner third of the curved panel – is even recommended with toe-in).
MartinLogan suggests that side walls should be less of a concern, thanks to the EM-ESL X's low, phase-cancelled, horizontal output, but the gist is that this is a speaker that benefits from plenty of space. And that includes a distance to the listening position in excess of the width between the pair – and plenty of experimentation.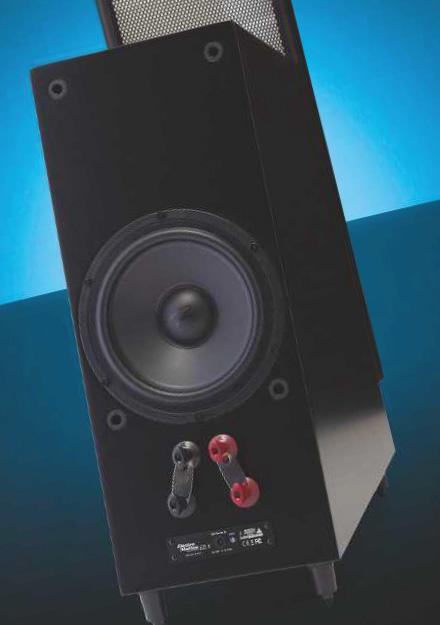 Then, of course, each speaker needs an AC wall socket for the supplied DC PSU that gives the electrostatic panel its get and up go. This socket, and corresponding status light, is mounted on the EM-ESL X's rear below dual sets of speaker binding posts that are contoured for an easy grip. Forget to plug it in, and all you'll hear are the bass drivers…
Sound quality
It takes considerable time to setup but once done, as expected, the sound is noticeably different to much of the cabinet-meets-driver competition, most obviously in terms of imaging and soundstaging nuance. You'll struggle to think of a more 'invisible' model at this price or one that betters the clarity and openness of its mids and highs. The EM-ESL X's sizable transducer elicits a detailed, transparent listen, joined by a well-defined and up-to-speed bass performance.
But first there's the scale of the performance to applaud. The size of the MartinLogan's sound outshines the speaker itself, its grand soundscape a feature of other large dipole panels. Jon Hopkins' instrumental Contact Note from the eponymous 2004 album provides a perfect demo of its room-filling ability. Ominous synths and choral vocals emerge from deep, wide wall of sound that feels totally independent of the diaphragms.
This presentation is the EM-ESL X's calling card, but it won't count for much if traded for a shortfall in tonal or timbral accuracy. Iron Butterfly's proto prog-rock epic In-A-Gadda-Da-Vida finds the electrostatic hybrid bringing superb texture and body to plump bass, overdriven guitar and vibrato organ. Ron Bushy's legendary drum solo also becomes a barometer of the speaker's handling of stereo movement. As tom-toms dance forward and back, stage right, and then drift leisurely across to the left channel, this late-Sixties production trick is all too easy to appreciate.
Singer Doug Ingle sounds distant here, almost lurking at the back of the soundstage, but with recordings that place more of a focus on vocals, this loudspeaker can be ridiculously entertaining. When Mark Knopfler starts saluting, "these mist-covered mountains" in Brothers In Arms, there is a marvellous lucidity to his voice.
Even with those two bass drivers in play, the EM-ESL X is voiced to ensure that the low-end rarely sounds dominant. In fact, it seems more concerned with transitional speed and detail than sheer output.
Considering the uncoloured, transparent nature of the loudspeaker's midband, this makes sense, but does mean the sound here is drier rather than warm and won't suit those who tend to cherish bass weight above all else.
Subsequently, enjoyment levels fluctuate from track to track. The EM-ESL X finds a groove with lean-sounding rock music – The Cult's Love Removal Machine from their hit record Electric enjoys genuine punch, bite and swagger. However with something altogether different like The Beach Boys' Wouldn't It Be Nice – off Pet Sounds – there is less meat to chew on, less bounce to the lower mids and upper bass. And while overall bass extension is sufficient for most music, on occasion the 203mm drivers and downward-firing port are being asked to dig deeper than they can comfortably manage.
This is more of an observation than an outright criticism, as one should be wary of expecting too much from a loudspeaker at this price that performs so admirably in other areas. For instance, the EM-ESL X steers clear of high-frequency nasties. Hi-hats and cymbals are always distinct and well separated, avoiding splash or brightness. Metallica's Dyer's Eve, the closing track on …And Justice For All – an album famed for its treble-heavy 'scooped' guitar tone – is eminently listenable, helped in no small measure by the EM-ESL X's speedy transducer keeping its frantic rhythms and riffs astonishingly clear.
The sound is most obviously different to rivals in imaging and soundstaging
Conclusion
Lastly, for a simple five-minute demonstration of what this loudspeaker can do when called upon to have real fun, we decide to give Elton John's Honky Cat from the Honky Chateau album a whirl. Huge piano accompaniment, dynamic trombone and massive saxophone hits, a drum track that sounds almost three-dimensional in its majesty and good ol' Reginald Dwight throwing out rhyming couplets right smack bang into your listening room. It sounds… simply electrifying!
DETAILS
PRODUCT
MartinLogan ElectroMotion ESL X
ORIGIN
USA
TYPE
Two-way electrostatic floorstanding loudspeaker
WEIGHT
24kg
DIMENSIONS
(WxHxD) 238 x 1,503 x 526mm
FEATURES
• 1,016 x 218mm XStat CLS electrostatic transducer panel
• 2x 203mm paper cone bass drivers
• Quoted sensitivity: 91dB/1W/1m (6ohm)
DISTRIBUTOR
Professional Monitor Company Ltd. UK
WEBSITE
IN SIGHT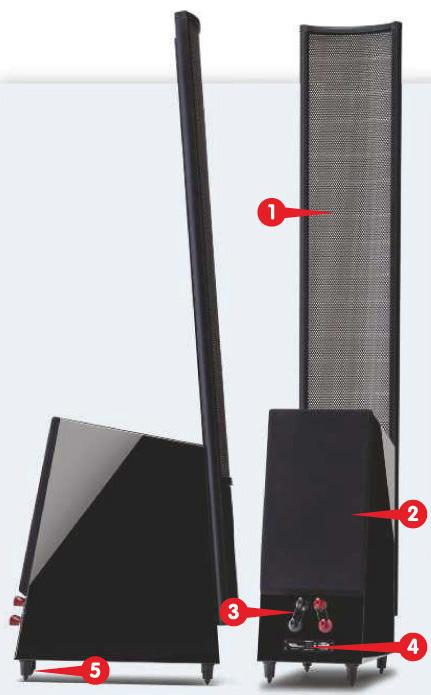 HYBRID HERO
If the ideal driver is entirely weightless, then the electrostatic principle gets the loudspeaker designer fairly close – albeit with a host of technical challenges. MartinLogan has been developing this technology since its inaugural CLS prototype in 1982 – employing a 'cling film' thickness (about 12 micrometres) conductive membrane stretched between two highly charged, perforated steel stators. Then, as now, the membrane is positively polarised and pushed and pulled in sympathy with the applied audio signal. Reproducing deep bass remains tricky, however, for as the sound wavelength exceeds the size of the membrane there's a progressive cancelling of rear and front output.
In short, the bass rolls away very swiftly, as audiophiles discovered when Quad launched its 'full-range' electrostatic back in 1957. Arthur Janszen was ahead of the game with his smaller Model 65 electrostatic in 1955, as this was often partnered with Acoustic Research's AR1, complete with 305mm bass driver, to flesh out the lower octaves. MartinLogan's 1983 Monolith was a fused electrostatic/moving-coil speaker and it has continued with this hybrid theme right up to the flagship Neolith and EM-ESL X of today, the latter with dual 203mm bass drivers.
HOW IT COMPARES
If you are hankering for that wonderfully translucent and delicate vocal quality so long associated with electrostatic speakers then MartinLogan is 'Hobson's choice' in this category. If, however, you are open to the idea of a more conventional, slim floorstander then KEF's Uni-Q equipped R11 is hard to beat at £. Combining maturity and ease of listening with massive low-end punch, the R11 offers more than a taste of the high end without destroying your wallet. Different again is the £ Signature version of B&W's 702 (HFC 480) – beautifully finished, it's both hugely enjoyable and musically very rewarding. These speakers are very room friendly and easy enough to match with most likely amplifiers of your choice.
OUR VERDICT
Editor choice
MartinLogan ElectroMotion ESL X Review
Hard to imagine a better near-entry level hybrid
PROS
Sublime clarity
Tight bass
Remarkable soundstage nuance
Best MartinLogan ElectroMotion ESL X prices ?

$

2,249.99
2 new from $2,249.99
in stock

MORE DEALS