Back in business
As Oppo makes its audio comeback with an affordable and impressive set of earbuds, Cliff Joseph welcomes it with open ears. Read our Oppo Enco X2 Review.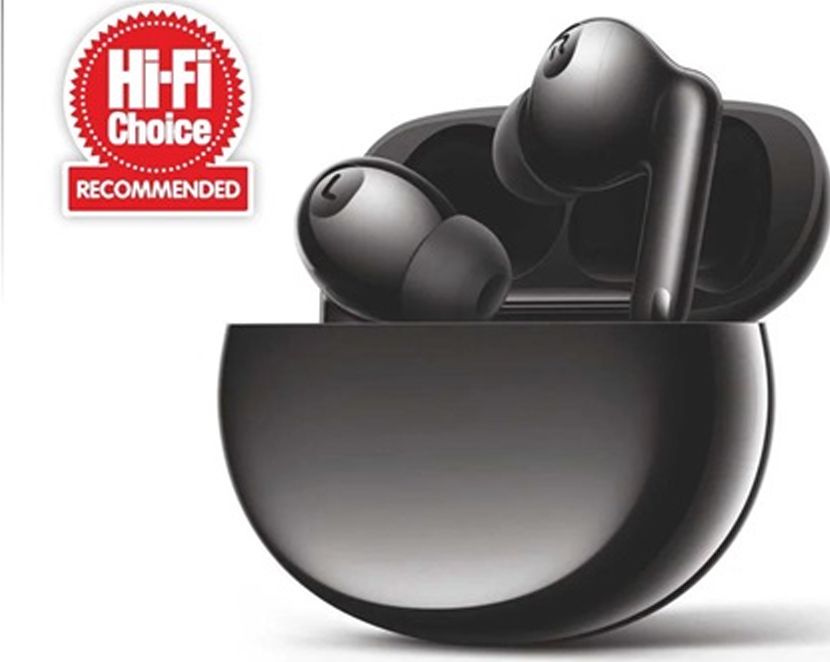 DETAILS
| | |
| --- | --- |
| PRODUCT | Oppo Enco X2 |
| ORIGIN | China |
| TYPE | True wireless Bluetooth earbuds |
| FEATURES | • 11 mm full-range driver with 6mm planar diaphragm • Bluetooth 5.2; SBC; AAC; LHDC • Battery life: up to 40 hours with case |
| DISTRIBUTOR | Oppo |
| WEBSITE | oppo.com/uk |
It looked as though Oppo was getting out of the audio business a few years ago. leaping onto the smartphone bandwagon instead. But smartphones always need accessories, and the company has returned to the audio market with its Enco range of wireless earbuds.
Available in black or white, the X2 is clearly imitating the design of Apple's AirPods (HFC 485), with compact earpieces that rest lightly inside the ear and a small stalk that hangs down and houses its touch-sensitive controls. 1 always have problems getting AirPods to fit properly, and the X2 is no exception – despite the inclusion of three sizes of silicon ear-tips. I also find the touch controls on the small stalks rather fiddly, often dislodging the earbuds – so I rely on the controls on my iPhone instead.
The X2 is designed in collaboration with Dynaudio and each earpiece includes a dual-driver system with a separate 11mm bass driver and 6mm tweeter – akin to traditional speaker designs – which together boast a frequency response of 20Hz-40kHz.
The wireless earbuds use Bluetooth 5.2, with support for the SBC codec and AAC for Apple devices. There's no aptX as Oppo has adopted LHDC instead – which is also supported by several of its smartphones.
The earbuds are rated IP54 for water resistance. Battery life is good, but depends on how much you use noise cancelling and the codec you choose. Using AAC to stream from Tidal on my iPhone, the battery lasts for around 9.5 hours from a single charge, with the USB-C powered charging case extending that to a full 40 hours.
Sound quality
First up I turn to a recent discovery -Celine Dion's cover of River Deep, Mountain High. Dion's power ballads are normally too straight-laced for my tastes, but producer Jim Steinman's instinct for bombast overrides this and encourages Dion to go for broke. The opening is relatively restrained, allowing the X2 to display a clear, well-balanced sound that highlights Dion's banshee wail without drowning out the musicians. The crisp percussion firmly sets the pace and there's a nice punchy sound on the backing vocals. The final chorus is epic wall-of-sound stuff, with a vast avalanche of drums surging forward, yet still maintaining a precise, steady pace that keeps the overdriven sound from toppling into chaos. And, above it all, the X2 demonstrates its 40kHz range, clearly capturing the laser beam precision and power of Dion's voice, without any harshness to mar the sound as she lets rip with uncharacteristic gusto.
At the opposite extreme is Kate Bush's delicate a capella solo vocal on My Lagan Love. Again, the X2 reaches up to that soaring vocal – which can challenge lesser rivals – capturing both the clarity and warmth of her voice. It provides a wide, open soundstage too, with just the lightest hint of reverb and echo. The only disappointment is that the noise cancellation isn't quite as effective as I might have hoped. It manages to cut out about 50 percent of the drone from a simulated aircraft engine sound, but it's not any more effective than the noise cancellation I've heard from other earbuds at this price.
Conclusion
I finish off with the deep, electronic bass of Prime Evil by The Orb. The X2 doesn't have the exaggerated lower frequencies of some, but the intro has a firm, full sound to it along with a fluid, sinuous rhythm that draws you in. The clarity of the sound stands out again too, allowing the nervous ticking of the percussion to contrast sharply with the slow sway of the bass. The fiddly design and controls may not suit everyone, but the X2 certainly delivers strong sound quality at a competitive price – especially if you have an LHDC smartphone that can really show it off at its best
OUR VERDICT
Editor choice
Oppo Enco X2 Review
Strong sound at a competitive price, despite fiddly controls
PROS
Clear, precise sound
strong with higher frequencies arid vocals
CONS
Fiddly controls
noise canceling could be better
Best Oppo Enco X2 prices ?

£

145.99

£169.00
12 used from £107.56
10 new from £145.99
in stock


£

159.95
4 new from £159.95
in stock

MORE DEALS