The most expensive cartridge in the group, this has plenty to live up to, but does it fulfil its promise? Read our Nagaoka MP-500 Review.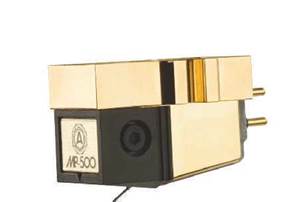 DETAILS
PRODUCT Nagaoka MP-500
ORIGIN Japan
TYPE Moving-magnet cartridge
WEIGHT 8g
FEATURES
• Line contact stylus
• Boron cantilever
• Quoted frequency response: 20-25,000 Hz
DISTRIBUTOR Tonar
TELEPHONE +31 334 554511
WEBSITE nagaoka.co.jp
Nagaoka started making precision clock parts in 1940. By the late seventies it was winning praise for its moving magnets, and also made a line of high-quality vinyl accessories too. Now it's a prolific producer of cartridge styli, and has continued to develop its pick-ups. The MP-500 is the flagship model, and sports the combination of a super-fine polished line contact stylus and a boron cantilever. I'm a fan of the latter because it confers high strength with low mass and tends to have less of a sonic footprint than aluminium; it can be expensive, though. Nagaoka bodies are lovely things too; this one is very rigid and sports a powerful samarium cobalt magnet, reinforced carbon fibre pole shoe and anti­magnetic permalloy casing.
The MP-500 puts out a fairly average 3mV and load resistance is a standard 47k ohms, so it should work with pretty much any MM phono stage. The body weighs a high-ish – by this
IN SIGHT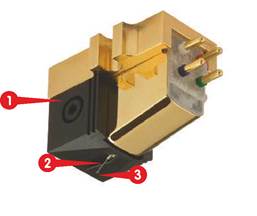 1) Anti-magnetic permalloy shell
2) Boron cantilever
3) Line contact stylus
group's standards – 8g. Like all models in this test with the exception of the Dynavector and Rega, the stylus is user-replaceable. On this design it's locked in place by a small Allen bolt for extra rigidity and tracks between 1.3g and 1.8g; I run it at the upper limit and it proves most secure. Again, the old-school boxy oblong body makes alignment in the tonearm's headshell easier than some, and I am impressed by the general fit and finish. Sadly, though, the shiny gold body ends up covered in my grubby fingerprints – sometimes you just can't win!
Sound quality
This is the most expensive-sounding cartridge of this group – proving that sometimes in life you actually get what you pay for. The MP-500 has a lot of everything; it's tonally warm without going over the top, it has a slightly soft but strong and tuneful bass and a lovely, delicate and finely resolved treble. In the midband, this cartridge bristles with detail, yet this isn't presented in a forensic or analytical way. Rather, it's sweet and supple, with a really good rhythmic flow. There's also a remarkable lack of surface noise.
Cue up
The Bodines track for example, and a recording that tends to sound vague through the Grado, brightly lit on the Ortofon or frenetic on the Dynavector suddenly seems beautifully balanced. Instead of being distracted by a particular trait of the cartridge's performance, I'm transfixed by the sheer emotion of the recording. I'm especially drawn into those distinctive vocals, which some cartridges here tend to make a little bland. Via the Nagaoka, the timbre is crystal clear. The same goes for Thomas Dolby's Field Work, which is a massively compressed and dense recording, but the MP-500 just scythes through it like a machete through the jungle undergrowth. It seems to have more conspicuous spaces between the notes, with the proverbial 'inky black' silences where most others here have a tendency to just smear things.
Yet it's with my other two reference recordings that the Nagaoka really pulls ahead. The Beethoven in particular is a delight – with a
It has a slightly soft but strong bass and a lovely, finely resolved treble
cathedral-like soundstage inside which different instruments are very accurately located. Not only this, but you can hear right back into the hall, something most other designs fail to allow. Instrumental timbre is excellent; strings sound lustrous and there's almost a glow to violins. This is neatly tied into a living, breathing feel to the performance; the MP-500 giving a great sense of flow to the music without sounding forced. A brilliant all-round moving magnet then, this shames even some respected moving-coil designs.
OUR VERDICT
Editor choice
Nagaoka MP-500 Review
One of the best MMs that money can buy
PROS
Brilliant all-round performer
Best Nagaoka MP-500 prices ?

$

255.55

$270.11
16 new from $255.55
in stock


£

449.00
1 new from £449.00
in stock

MORE DEALS

Read our MOVING-COIL CARTRIDGES GROUP TEST