EVERY ONE OF the cartridges is installed and played for roughly one day each to compensate for any difference in the number of hours each had when supplied. After a few days of casual listening, the first stage of critical listening takes place, with extensive notes made from the test music selection. Further small adjustments are made to optimise tracking force, tonearm VTA settings and electrical loading via the Trichord Diablo/NC phono stage.
After this, each cartridge is fitted into a standard Technics headshell. It is correctly aligned in a Technics SL-1200G turntable using a Mobile Fidelity Geodisc protractor. Then the comparative stage begins in earnest, swapping out the cartridges quickly via the different headshells with only the tonearm balance and height needing to be adjusted. Back-to-back comparisons are done and further notes made using the four different songs.
Some of the cartridges can be quite music dependent, so the track selection is designed to catch this. As well as the varied test records, the two turntables (and tonearms) used have a distinctively different sound, with different strengths and weaknesses. This means it is possible to get a broader sense of each cartridge's ability. After the direct back-to-back comparisons are made, the findings are amalgamated into the reviews overleaf.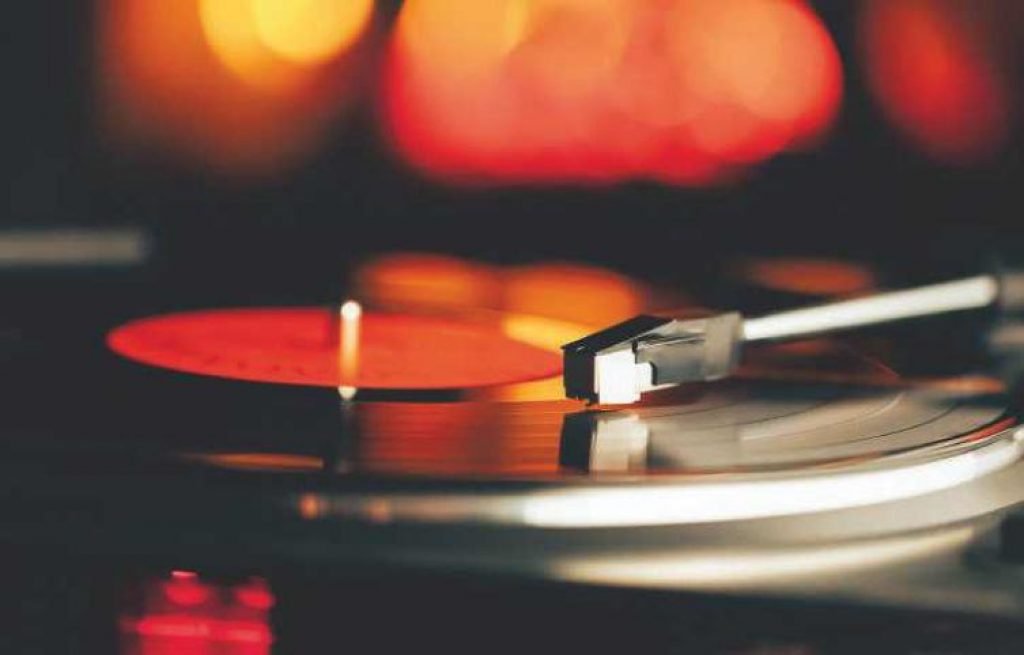 Needle craft
As the record revival continues to go from strength to strength, Nick Tate compares six high-quality moving-coil cartridges for the more discerning vinylista
WHEN THE VINYL LP hit its sales peak in the UK back in 1975, virtually every pick-up cartridge on sale was a moving-magnet design – even right up at the high end. The almost complete ubiquity of this type of cartridge was down to a combination of factors. Moving coils were in their relative infancy, and also there was a lack of good, high-effective mass tonearms to play them with. They also tended to have vanishingly low outputs – roughly a half of today's designs – and moving-coil head amps were pretty noisy back then, too.
Yet just five years later, things had changed dramatically. We'd seen the introduction of a new generation of 'super arms' like Linn's Ittok and Syrinx's PU2, which were of highish effective mass and low friction, ideal for tracking low-compliance MC cartridges. Phono preamplifiers were getting better and moving-coil cartridge design was improving fast, yet they still remained very expensive in real-world terms.
During the eighties, moving magnets came to be regarded as the poor relation of moving coils. High-end designs like Koetsu's Rosewood and Supex's SD900 began to acquire cult status. Because the coil assembly is attached to the cantilever – rather than to magnets – moving mass is lower. This means that the stylus is better able to trace the groove, reducing distortion and increasing resolution, especially at high frequencies.
In pre-digital times, moving coils were the 'hi-res' music source of their day, and were widely viewed as having an almost magical sound. Nowadays, a low-output moving coil remains the gauge of a serious high-end vinyl system. So, let's take a look at six of the best relatively affordable modern designs and see how they fare…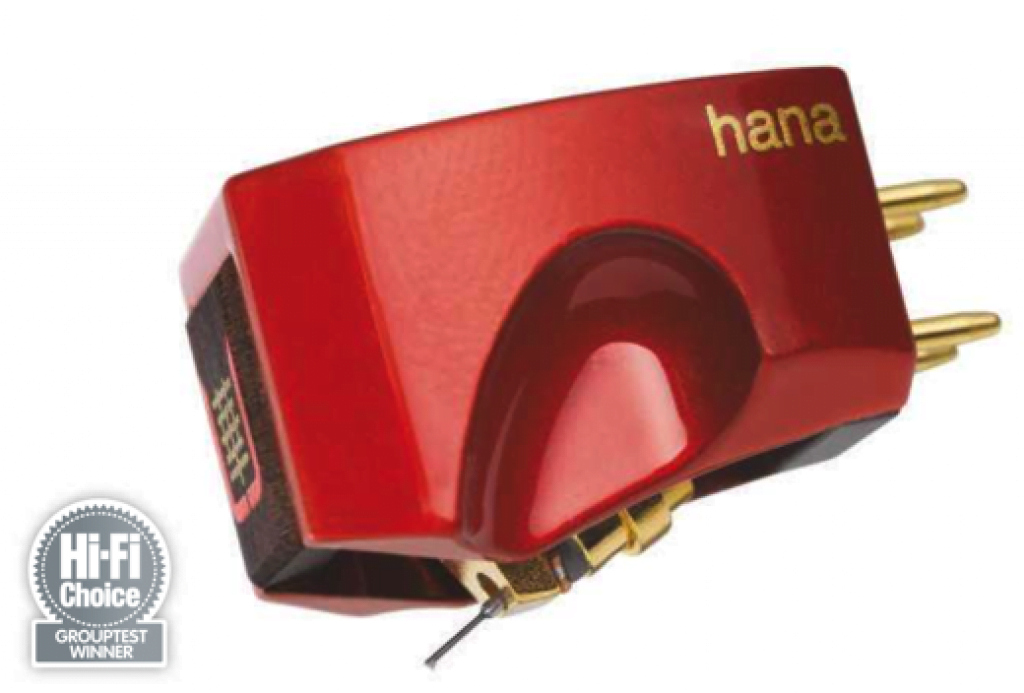 Find Best Price Now
Hana's Umami Red
Hana's Umami Red gets the gold. In a way, it was always going to given its high price tag, but there have been some upsets here. It sounds beautiful with a superb combination of power, poise, musicality, detail and insight. Some others run it pretty close, but it still comes out on top.
Group test verdict
Six moving coils, five of which come highly recommended by Nick Tate, but which beguiled him enough to take the spoils of victory?
AUDIO-TECHNICA'S AT33SA RANKS sixth. That's to be expected, considering its lowly price, and yet it's way better than any sub-£ moving magnet, and surpasses many moving coils that are a fair bit more expensive too. You get a delicate, nuanced, detailed sound that unlocks vinyl in a most enjoyable way.
Soundsmith's Zephyr MIMC Star is next. I love its brio, energy and musical demeanour, but it's not as refined or detailed as some here.
Ortofon's Cadenza Black is fourth. Given its excellent all-round ability, and super-neutral, delicate and finessed sound, it is a great performer. It doesn't quite have the visceral power that some here display. Think of it as a half-way house between the super sophisticated Lyra Delos and the muscular Soundsmith.
In third place is Shelter's 901 III. A fabulous-sounding moving coil, it's natural and organic by nature. Some might take a dislike to it because it has relatively little 'character'. That, I'm sure its designers would argue, is for the music to have, and not the thing reproducing it. All the same, it's very sophisticated and hard not to like, whatever your musical taste.
Lyra's Delos takes the runner-up spot. Considering it is the second cheapest in the group, that's a mighty impressive result. It has its own style of making music, which is so delicate and intricate that it makes some of the other designs here look positively Neanderthal in comparison. It's able to dive remarkably deep into any record groove and excavate vast amounts of music. Don't infer from this that it's too analytical, though, as it's surprisingly engaging with any musical genre – and really cuts to the rhythmic chase.
ON TEST
Audio-Technica AT33Sa Review
From one of Japan's longest-running cartridge makers comes the latest version of one of its longest-running MC carts. For the money, the spec is superb with a boron cantilever and shibata stylus. Can it outpunch its pricier rivals?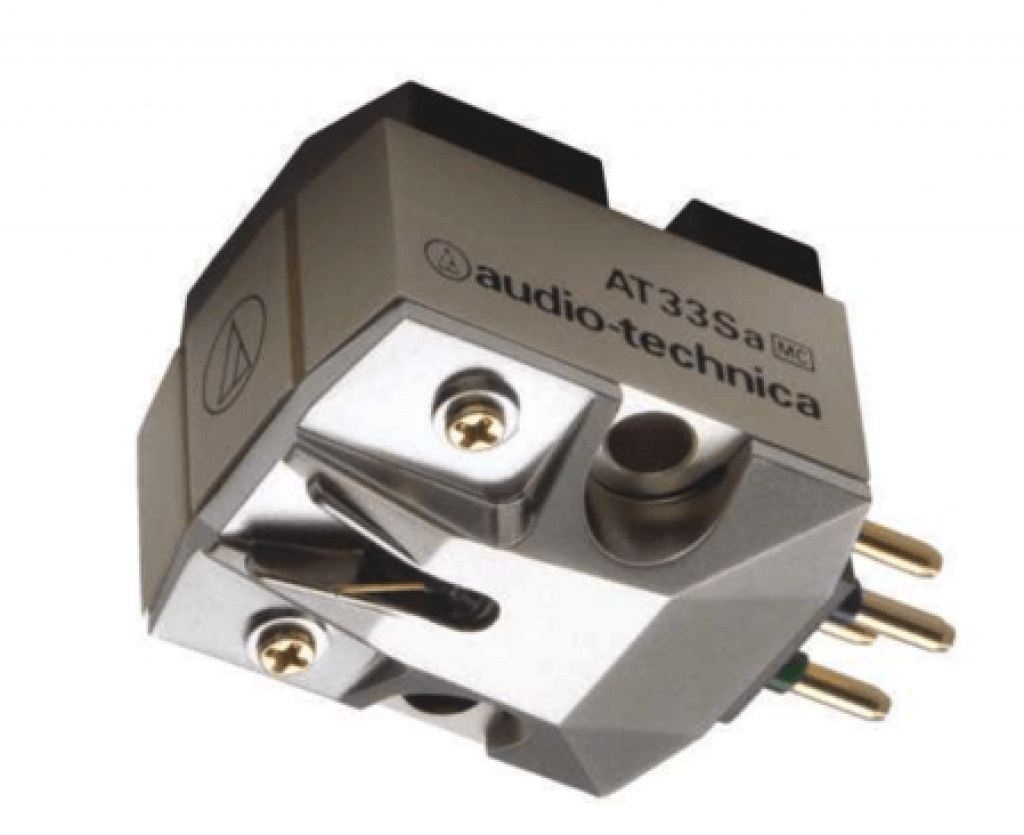 AT needs little introduction to any analogue addict. It's had massive success over the years with its AT95E (HFC 387) budget moving-magnet offering, and also the more expensive AT-OC9 moving coil and its derivatives. Yet the AT33 has kept soldiering on in relative obscurity since the early Eighties, and actually predates the more fashionable AT-OC9.
The AT33Sa is the latest version of this venerable model, and also the first Audio-Technica MC to feature a shibata stylus – which is effectively an enhanced-line contact type. Impressively at the price, it's mounted on a tapered boron cantilever, which is exotic stuff considering most of its price rivals use heavier, more resonant and cheaper aluminium. A dual moving-coil design with PC-OCC wiring, the number of coil rotations has been reduced over previous models for claimed better low-level detail, while a powerful neodymium magnet is fitted, with a permendur yoke.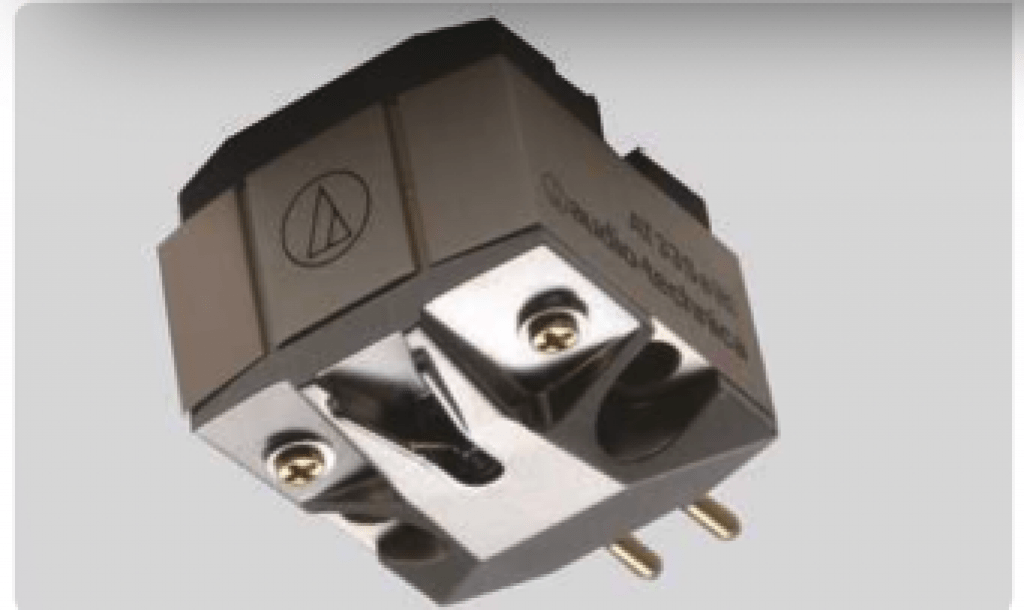 This is finished off by a relatively soft silver-painted aluminium and synthetic resin body – you should be careful not to over tighten it in the headshell. Despite its dramatically lower price, any owner of this Audio-Technica won't feel like they're in the cheap seats; build and finish appear first class and the cartridge looks less 'home made' than, say, the Soundsmith at three times the price.
Considering this is the cheapest cart, it comes as a surprise just how good it is
It gives little away in measured performance either, with a quoted 15-50,000Hz frequency response and 30dB channel separation. The nude square shank stylus tracks extremely well in the middle of its quoted 1.8 to 2.2g VTF range. Its squarish 6.9g body makes it easier than most here to align in a headshell. Quoted output is a reasonably healthy 0.4mV (1kHz, 5cm/second) and compliance is said to be 40×10, 10×10 (6cm/dyne), so it should fit most medium-to-high mass tonearms comfortably.
Sound quality
Considering this is the cheapest cartridge in the group by far, it comes as quite a surprise just how good it is. Actually, I'm lying, because for many years I used an AT33E as my moving-coil of choice, and love it! The AT33Sa has the same sweet, expansive, smooth and delicate sound, but with a more dynamic and tonally neutral tone.
The great thing about this cartridge is its all-round ability, relative to its price. It does so much very well, without quite making any magic. It's more competent, and/or less flawed, than pretty much any rival close to the price, and gives some of the others here a hard time. Cue up a crisp piece of techno like Bassheads' Is There Anybody Out There, and you'll be amazed. I hear oodles of detail and a very polished and precise rendering of the sound, set into a surprisingly wide soundstage.
This cartridge is musical too; it's not up there with the more expensive designs in the group, but still no slouch nonetheless. It has a measured presentation, yet one which is subtle and detailed enough to capture the natural flow of things. Vaughan Williams' A London Symphony is lovely, the Audio-Technica reminding me why I love hearing classical music through a serious vinyl source. The delicacy, the space and the atmosphere are all there, while the filigree detailing on the massed strings is a joy; this cartridge really captures the 'texture' of them.
It's big fun on the chugging rock of Van Halen's Jump too, once again serving up a super-detailed, almost forensic sound; it lets me hear all of the production tricks and all the different strands of the mix. It's certainly enormous fun, although it rather lacks the visceral power of the likes of the Soundsmith and Hana. Overall, it's brilliant value and a seriously high-class act for the money
DETAILS
PRODUCT Audio-Technica AT33Sa
ORIGIN Japan
TYPE Low-output moving-coil cartridge
WEIGHT 6.9g
FEATURES
• Shibata stylus
• Boron cantilever
• Quoted frequency response: 15-50,000Hz
DISTRIBUTOR Audio-Technica
OUR VERDICT
LIKE: Super smooth, detailed sound
DISLIKE: Nothing at the price
WE SAY: Top-value budget moving coil
4/5
Lyra Delos Review
The brainchild of eccentric genius Jonathon Carr, this radical-looking 'naked' MC is handmade in Japan by Mishima-san, a great artisan cartridge maker. Supplies are limited, and the company sells every single one that it makes. We find out why.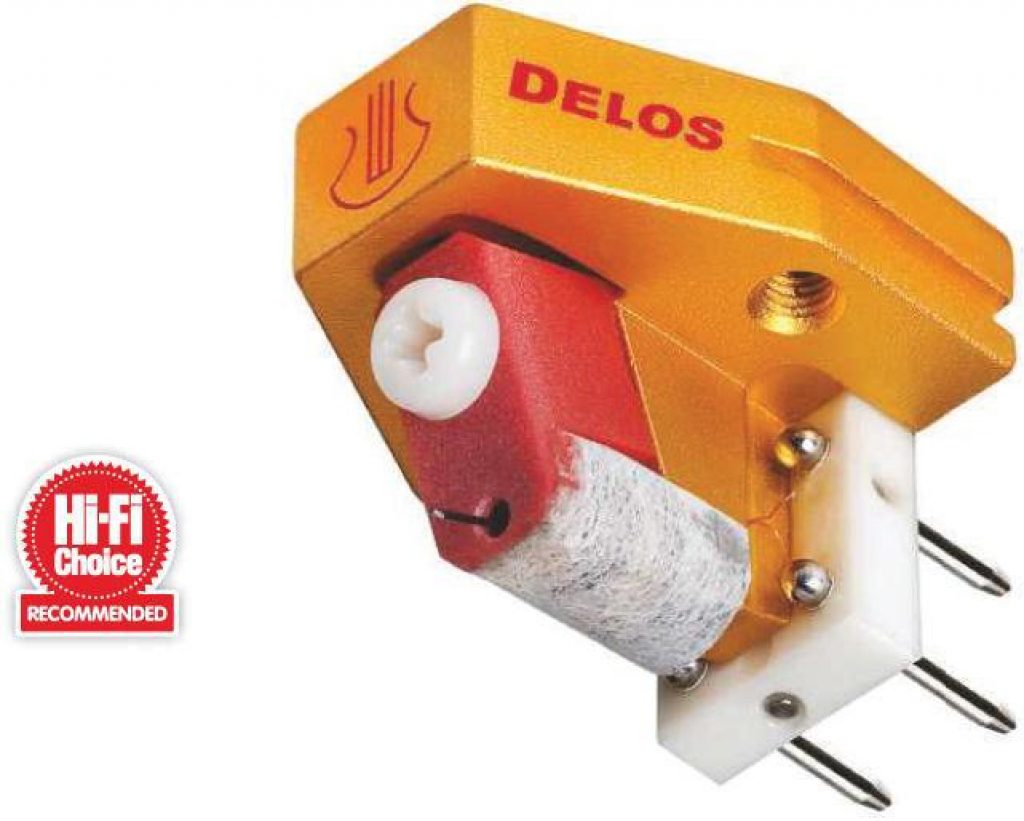 Named after one of Greece's best-known mythological sites, there's a degree of intrigue surrounding the Lyra brand. The designer, Tokyo-based Jonathan Carr, has built a fine reputation for moving-coil carts over the past 30 or so years and subcontracts the hand-building of them to artisans Yoshinori Mishima and Akiko Ishiyama. Lyra pioneered this distinctive skeletal style of moving-coil design, which nullifies the effect of body resonance. The downside is it makes the cartridge even more vulnerable when handling.
The chassis is hewn from a solid 6063 aluminium billet, deliberately non-parallel in its shape to minimise sensitivity to external vibrations. 6N purity copper signal coils are affixed to the body, with square-shaped high-purity iron formers and a solid boron cantilever is attached to these using a asymmetric single-point suspension system. This is designed to minimise angular discrepancies between magnetic circuit, signal coils and core when the stylus is tracking the record groove. It's claimed to yield better resolution, tracking ability and dynamic range. The stylus is a Japanese-sourced Namiki microridge line-contact nude diamond type.
The Delos' pièce de résistance is it's not boringly forensic, but it is high energy
The stylus guard is the saving grace for those fitting the Delos; it's designed to shield the whole body while you're installing it in a headshell. Build quality is superb and this cartridge feels more exotic than most here. I find it tracks extremely well at the recommended 1.7g and it puts out a healthy (claimed) 0.6mV@5cm/second. It's a medium weight (7.3g), low/medium quoted compliance design (12x10cm/dyne at 100Hz). Frequency response is put at 10-50,000Hz and channel separation is greater than 30dB at 1kHz. Loading is unusual; Lyra recommends it should be anything between 97.6ohm and 806ohm into a standard MC phono input; "finalise by listening" says Lyra!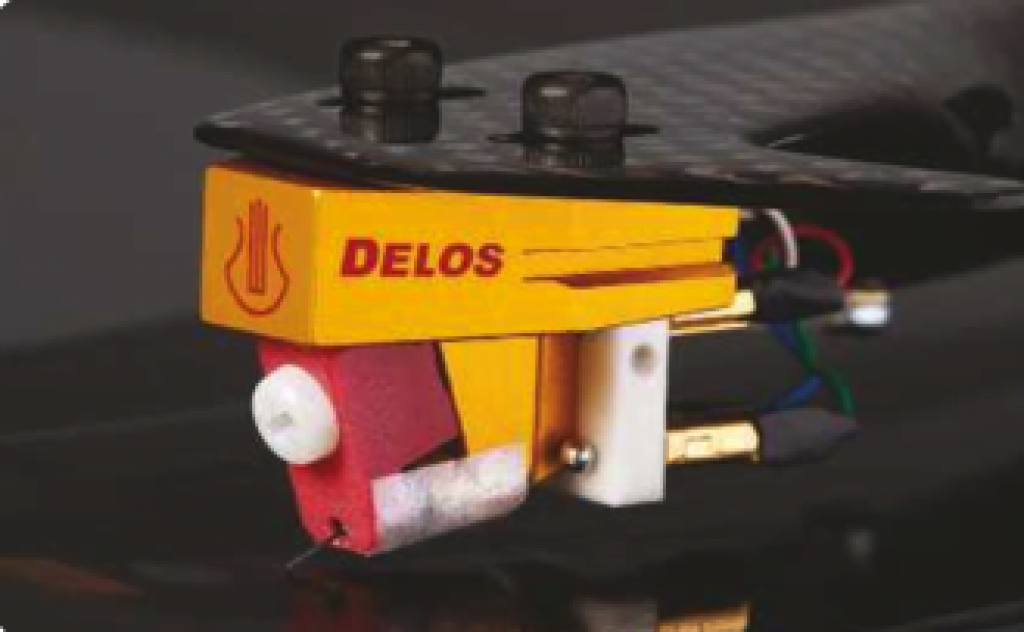 Sound quality
This is another design I know well, as its predecessor, the Dorian, replaced my aforementioned Audio-Technica! The Delos is actually quite similar in some ways to the AT33Sa. It shares many of the same traits with a distinctively delicate, detailed, forensic sound – but, to use the Spinal Tap analogy – "this one goes up to 11".
Some might call it a very Japanese style, but however you label it you're a very long way from Shure or Grado moving magnets. The resolution is mind-blowing, with an almost translucent midrange that excavates vast tracts of information out of the record groove. The Cocteau Twins' Lazy Calm is an ethereal mid-Eighties indie track, but listening to it is like being in the mixing booth, hearing the original analogue multi-track in all its glory. Likewise, with the Vaughan Williams piece, the Delos scythes through the recorded acoustic to deliver a hugely atmospheric rendition of the performance.
Yet its pièce de résistance is that it's not boringly forensic; it might be hi-res, but it's also high energy. The Van Halen track is a barrel of fun, the Lyra rocking along to the groove, while diligently signposting all of its many production effects. The only downside is that it has so much focus that you can end up thinking that the recording isn't quite as good as it could be.
It is lots of fun on the Bassheads dance track too; this is a digitally mastered early-Nineties piece and so not the last word in hi-fi. But the Lyra still ekes all the natural goodness out of it. The Delos has excellent soundstaging, with rock-solid location of instruments in the mix and depth perspective that's on another level to all but the Hana here. The hi-hat sound is delicious, amazingly sweet and detailed in a way you don't hear from hi-res digital. Bass is super taut, supple and propulsive. Precociously talented, at the price it's hard not to love
DETAILS
PRODUCT Lyra Delos
ORIGIN Japan
TYPE Low-output moving-coil cartridge
WEIGHT 7.3g
FEATURES
• Micro-ridge line contact stylus
• Boron cantilever
• Quoted frequency response: 10-50,000Hz
DISTRIBUTOR Symmetry Systems
OUR VERDICT
LIKE: Super-precise yet highly musical sound
DISLIKE: Skeletal design requires extra careful handling
WE SAY: Stellar performance at this price point
5/5
Hana Umami Red Review
Formed in 1970 in Yokohama, Hana is the modern brand name of Excel Sound Corporation, an OEM supplier for many companies back in the glory days of vinyl. This, its flagship moving coil, has won it many friends over the past couple of years.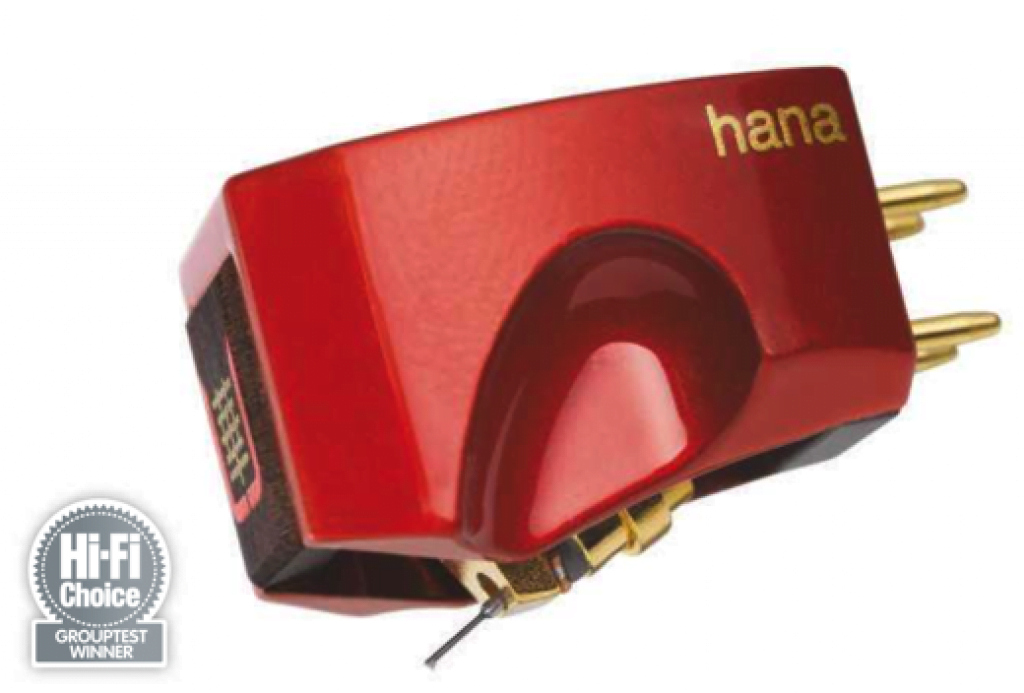 Six years ago, Masao Okada took the decision to add a high-end moving-coil cartridge brand to his company, the Excel Sound Corporation. It had originally been a trusted OEM cartridge maker back in vinyl's heyday, but later diversified into audio and video accessories. Finally, when it was clear that black plastic was undergoing something of a renaissance, he launched Hana in 2015.
The Umami Red is the company's flagship product, and follows the usual Japanese best-practice of being built by specially trained artisans. Okada-san says two of his craftsmen have worked for Excel Sound for up to 40 years, no less. A low-volume production line is now setup, with eight cartridges made every day.
Interestingly, this is a half-covered cartridge; a sort of Lyra with a loose fit coat on. The generator is under a 'shroud' but open to the outside air rather than contained within a body, Audio-Technica AT33Sa-style. As any long-term Lyra user will tell you, they do tend to pick up dirt and this is designed to stop that without transferring airborne resonance to the generator itself. It's made of duralumin and ebony wood with a multi-layered urushi lacquer finish, and looks very attractive.
No matter what you play, it renders it in a lovely, almost aristocratic way
The generator sports a samarium/cobalt magnet with a square plate permalloy armature, hand-wound with 30-micron copper wire. Like all cartridges here it sports a boron cantilever, with a nude microline Namiki diamond stylus on the end. The company quotes 0.4mv/1kHz for the output level, while its quoted compliance of 10×10(-6)cm/dyne (100Hz) is on the low side. The shroud is quite heavy, giving an overall body weight of 10.5g. Recommended tracking force is 2g, and frequency response is said to be 15-50,000Hz. Thanks to its largish oblong body, it proves easy to fit.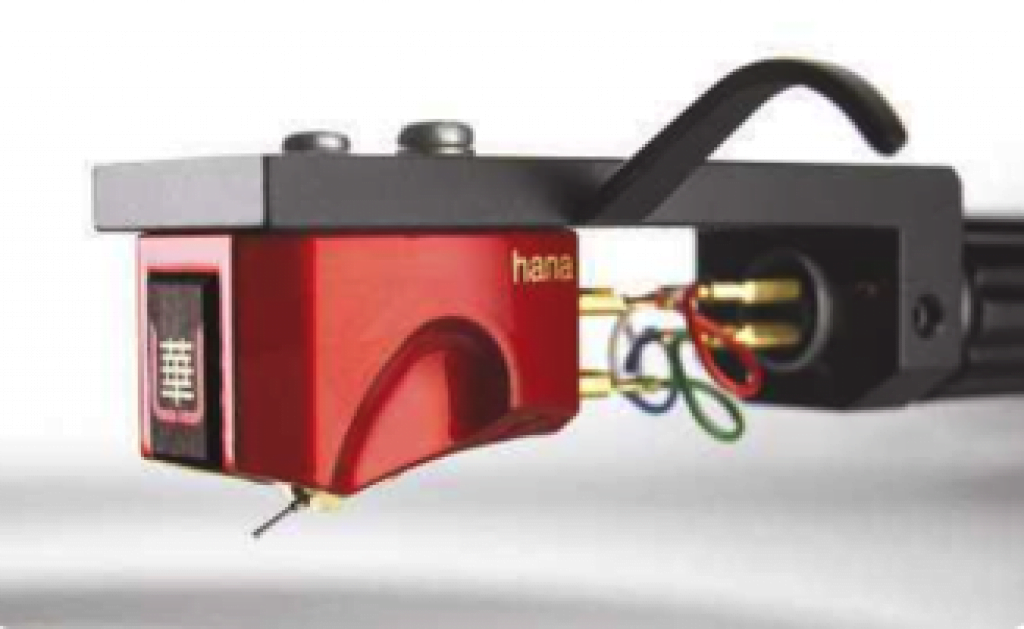 Sound quality
This is the most expensive cartridge in the group by a fair way, and sounds it. That's not to say it is hugely better than the others, but it has a maturity and poise that's really special. No matter what type of material you play, it renders it in a lovely, almost aristocratic way. While the superb Lyra Delos snaps at its feet in many respects, the cheaper cartridge doesn't quite have the same sense of self-assuredness; it's as if it's trying too hard to please. The others here – Audio-Technica aside – also equal it in some respects, but just don't quite better its ease and sophistication.
Dive straight into the heavy rock of Jump and you find yourself caught in a riveting musical groove, in a vibrant recorded acoustic full of different instrumental tracks that you can focus in on with consummate ease. Tonally the Hana proves one of the more warm moving coils here, sounding quite old school in this respect along with the Shelter. The driving bassline gets a bit more heft than with the AT, Lyra and Ortofon especially, and vocals are a wee bit smoother and less etched. Hi-hat cymbal crashes still have that metallic crunch, but it isn't quite so bright, even if it is beautifully detailed.
Lazy Calm is lovely; it gives a less forensic presentation than the Lyra, homing in on the lilting rhythms rather than the precise location of the multi-track guitars in the mix. The music sounds very vibrant and enveloping, yet strangely most serene at the same time. I find a similar phenomenon with the Vaughan Williams piece; the soundstage is vast, with superb depth perspective, yet I am more in tune with the flow of the music and its overall emotional impact. It's a less cerebral sound than many here, indeed in terms of general musicality the Hana is superlative. It earns its stripes for this fact alone, but is a great all-rounder too
DETAILS
PRODUCT Hana Umami Red
ORIGIN Japan
TYPE Low-output moving-coil cartridge
WEIGHT 10.5g
FEATURES
• Nude microline stylus
• Boron cantilever
• Quoted frequency response: 15-50,000Hz
DISTRIBUTOR Air Audio
OUR VERDICT
LIKE: Dramatic, charming, highly musical sound
DISLIKE: Nothing, except the price
WE SAY: Superb-sounding, beautifully built MC cartridge
5/5
Ortofon Cadenza Black Review
The first in our group not to be made in Japan, Ortofon is one of Europe's longest-established cartridge manufacturers and has recently modernised its range with some superb new MM and MC designs.
This illustrious Danish brand has no shortage of experience in phono cartridge design and is an early pioneer of moving coils. Ortofon's very first SPU-GT appeared in 1958 and blazed a trail for the technology. Because of its very low output, it came with a small transformer integrated with the cartridge and sold with a headshell affixed as standard.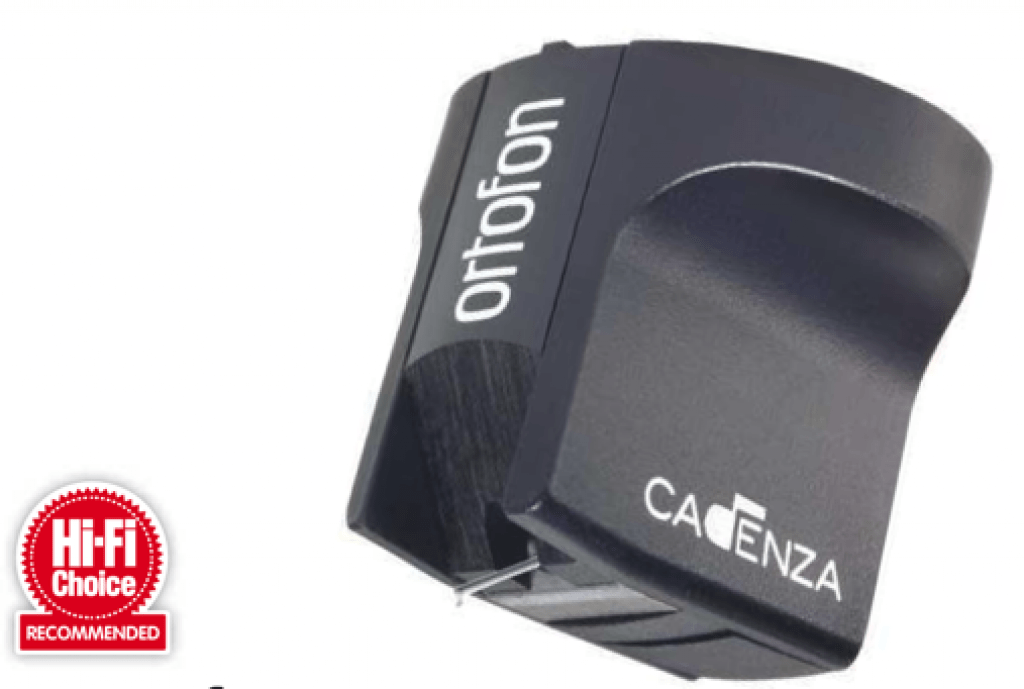 While distantly related to this, the Cadenza Black is far more advanced and is the flagship model in Ortofon's middle-ranking Cadenza range. It sets out to give a taste of the company's latest high-end models without the expense. It's a conventional design with a painted aluminium and stainless steel body, and uses a boron cantilever – de rigeur for a serious phono cartridge – tipped by a nude Shibata stylus. This makes for a low effective mass, which what you want on an audiophile design; don't use it for slip-cueing on your Technics SL-1200, though!
The Cadenza Black uses technology that has been trickled down from the company's high-end MC Anna, and other such super-expensive designs. Specifically, this is its Wide Range Damping system, which controls the high and low-frequency damping separately. The coil windings use Ortofon's Aucurum wire, made from gold-plated 6NX copper. This gives a low quoted output (by the standards of this group) of 0.33mV, so you'll need a good phono preamplifier.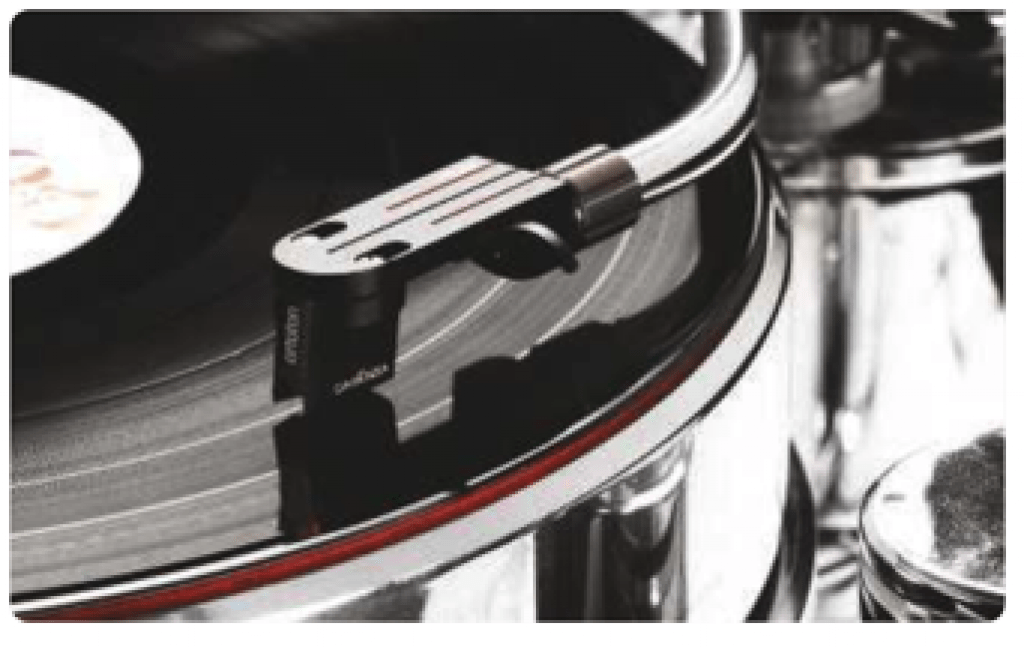 Thanks to its body, it's on the heavy side in present company at 10.7g – but nothing out of the ordinary. It is of medium compliance, at 16μm/mN, so easy to match to most modern tonearms. I find it tracks best at its recommended 2.3g. Frequency response isn't specified, but channel separation is put at less than 27dB. Recommended load impedance is less than 10ohm. As ever for this level of Ortofon cartridge, it's beautifully made and easy enough to fit.
Sound quality
So far we've had three Japanese takes on what makes a great moving coil, which – to a greater or lesser extent – all have a family sound. That means precise, detailed and grippy with the accent on technical perfection. So how does this Scandinavian design compare? Its sound is clean, even, measured and subtle; it doesn't fire detail out at you so much, yet still has it in spades. It's less technical and more organic than the AT33Sa and to a lesser extent with the Delos, and less showy, too.
This makes music like Lazy Calm very nice to listen to, more in the vein of what many would call 'the magic of vinyl'. It isn't trying to be an analogue alternative to hi-res digital, but instead plays music in a relaxed but beguiling manner. Things sound very genteel and delicate with the Cocteau Twins track; I really love its ease and flow.
That said, it's no firebrand. With Jump, there is less rhythmic impetus than the Lyra and Hana; dynamics aren't as dramatic and things don't rock along quite so much. Yet still it is most enjoyable, showing another side to the track that the others in the group miss. The sound is super polished like the Lyra, but not quite as incisive and a touch tonally warmer. Bass plods along a little more than the Lyra and the Hana too, although it isn't bad at all. I love the delicate cymbal work, although it's fractionally brighter up top than some in the group.
It sets out to give a taste of Ortofon's high-end models without the expense
Soundstaging proves excellent, although not quite as defined as the Lyra. It's a touch less etched and doesn't sound like it is scything through to the rear of the concert hall so much on the Vaughan Williams. Everything is more well rounded, with music coming across as less showy and more all of a piece. The overall effect is very classy indeed
DETAILS
PRODUCT Ortofon Cadenza Black
ORIGIN Denmark
TYPE Low-output moving-coil cartridge
WEIGHT 10.7g
FEATURES
• Shibata stylus
• Boron cantilever
DISTRIBUTOR Henley Audio Ltd.
OUR VERDICT
LIKE: Sweet, smooth, sophisticated sound
DISLIKE: Lacks a little energy and drive
WE SAY: Classy premium-priced MC
Shelter. 901 III Review
Established in 1986 when Yasuo Ozwa left Fidelity Research after four years of designing cult eighties moving coils, Shelter hasn't looked back. This is a middle-ranking moving-coil cartridge that is hand made in Japan to very high standards.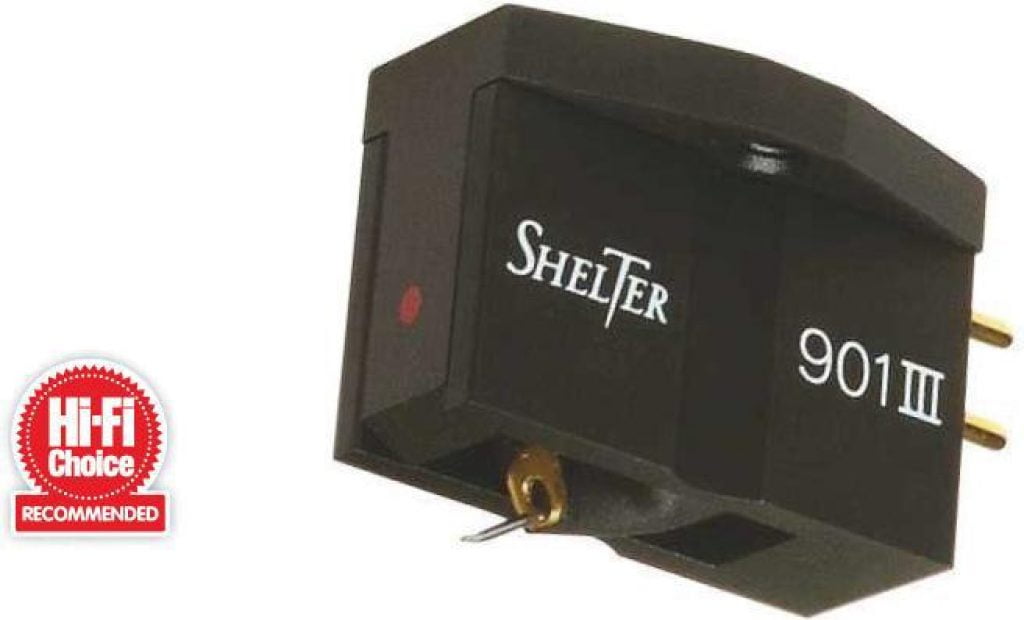 Yasuo Ozawa joined Fidelity Research in 1982, where he worked on its MCX-3 and MCX-5 cart, among other things. He left in 1986 to form Shelter, which has since become a renowned vinyl specialist. This is yet another small Japanese company that hand builds cartridges, which are inspected and approved by Ozawa.
The 901 III tops off the company's Legendary Line and is based on the original 1986 Model 701, albeit highly refined since then. It has an old fashioned-looking but beautifully finished anodised aluminium body housing, a hard aluminium-clad boron cantilever and an elliptical diamond stylus. Shelter says it has been deliberately voiced to: "provide the comfort of analogue playback sound", as opposed to: "pursue more information" like its flagship carbon-fibre bodied Harmony MC.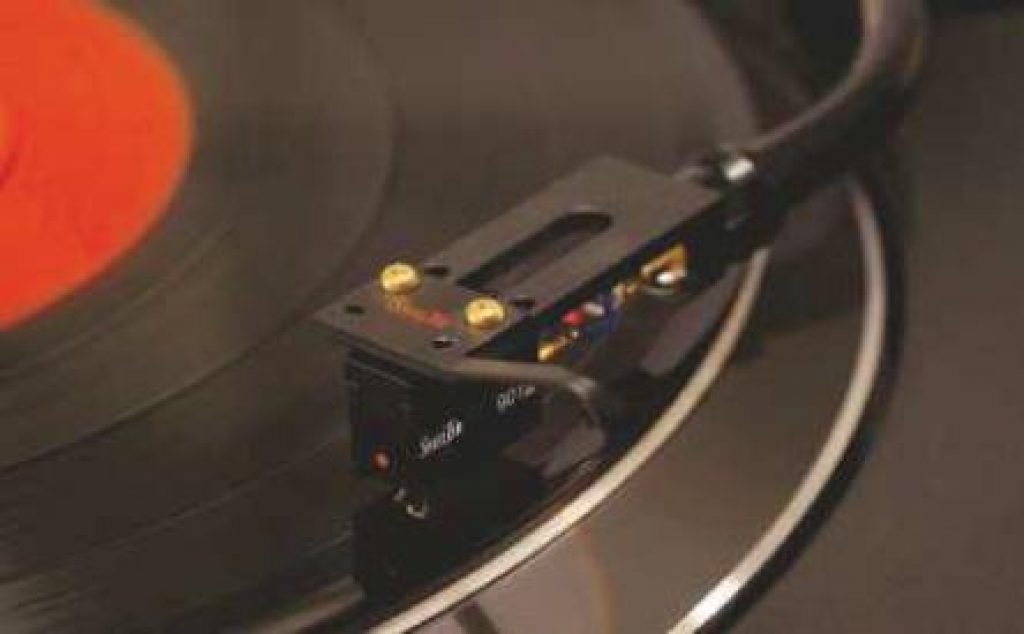 That neat-looking, tall, narrow, oblong body reminds me of the classic Supex SD900 of yore; its shape certainly makes it easy to mount and align in most tonearms. The 901 III puts out a claimed 0.5mV, on the higher side of the group average, so should work with most moving-coil inputs. At 9.1g, it's fairly average in terms of weight, too.
The manufacturer specifies a tracking force of 1.4 to 2.2g; I find it happiest around 2g. Shelter recommends all of its cartridges to be loaded with 47kohms, which is pretty standard. Although compliance isn't specified, it appears to be low to medium, and tracked very securely in my high(ish) effective mass SME Series V tonearm. It clears the record surface nicely and seems less fussy about VTA than cartridges like the Lyra Delos, for example. My main gripe is that its metal stylus guard keeps falling off while I'm trying to install it in the headshell, which is exactly what should not happen at times like this!
Sound quality
A subtle one, this. Whereas many of the others here confer distinctive shades upon the music, the Shelter is quite hands off. It's basically a very smooth and self-effacing performer that doesn't draw attention to itself. It's less forensically detailed than the Lyra and even the Audio-Technica runs it close in terms of scavenging the groove. It's way less charismatic than the Soundsmith and almost presents as a sort of 'Japanese Ortofon' in the way it goes about making music.
That means it's clean, open, even and finessed to the point that you don't really focus on the cartridge at all when it's playing music. For example, with Van Halen's Jump it gives a very mature, classy sound that's probably not too far from what people associate with the best of vinyl. Nothing in the mix sounds hard or grainy, rather the music has an effortless, organic quality. There's plenty of pace, but it isn't edge-of-the-seat stuff as with the likes of the Lyra, Hana and Soundsmith.
The same effect is noticed with the Bassheads techno track; it comes over as warm and tuneful, with a lovely shuffling bass. The timbre of the piano line is delicate and beautifully resolved, as are the vocals. Yet there are fewer fireworks here than with some of the others.
A very smooth and self-eff acing cart that doesn't draw attention to itself

I find it much more in its element with softer material, such as the Vaughan Williams. Here there's an almost romantic quality to the orchestra, with a subtle dark tonality that really suits this broodingly atmospheric piece. It makes some others seem overly deconstructive in their music-making style; this is easier and more beguiling to hear. I get a similar outcome with the ambient Cocteau Twins piece; the music more clearly rendered than the Soundsmith for example, yet with an equally mesmeric quality that really catches its mood well
DETAILS
PRODUCT Shelter 901 III
ORIGIN Japan
TYPE Low-output moving-coil cartridge
WEIGHT 9.1g
FEATURES
• Elliptical stylus
• Aluminium/boron cantilever
DISTRIBUTOR Padood
OUR VERDICT
LIKE: Crisp, natural, organic sound
DISLIKE: Nothing at the price
WE SAY: Very classy high-end MC offering
4.5/5
Soundsmith Zephyr MIMC Star Review
The brainchild of Peter Ledermann, who started designing his own carts after remanufacturing Bang & Olufsen designs in the Seventies, this mid-price moving iron is distinctively different to the other contenders here.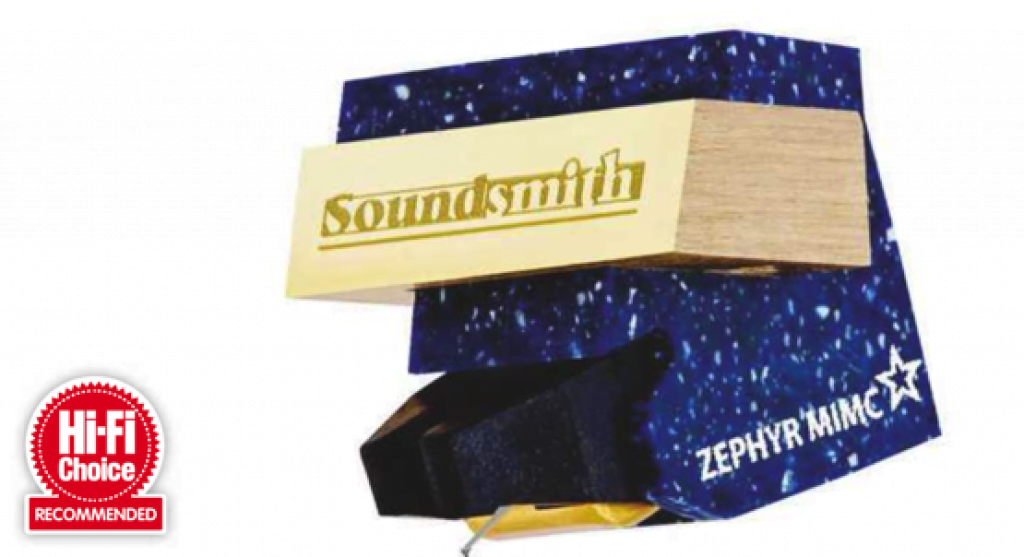 Hearing it play Jump is great fun. The bassline chuggs along like it's been enhanced by steroids, the synthesiser stabs sounding thicker and juicier than from any other here and the vocal appears more raucous. It's definitely a 'rock cartridge' in the way a big JBL or Klipsch is a 'rock speaker'. Yet I am less impressed by its soundstaging and detail levels.
The Zephyr MIMC Star delivers a pleasingly wide recorded acoustic on the Vaughan Williams piece, but there is less definition inside it, and it doesn't quite have the depth perspective of most of the others here. It's a marked contrast to the Lyra, Ortofon and Shelter particularly, giving a more editorialised version of the recording. That's not to say it isn't fun – quite the reverse. The music has body, power, emotion and guts; indeed it's quite rousing. It certainly does a good 'behold the magic of vinyl' routine.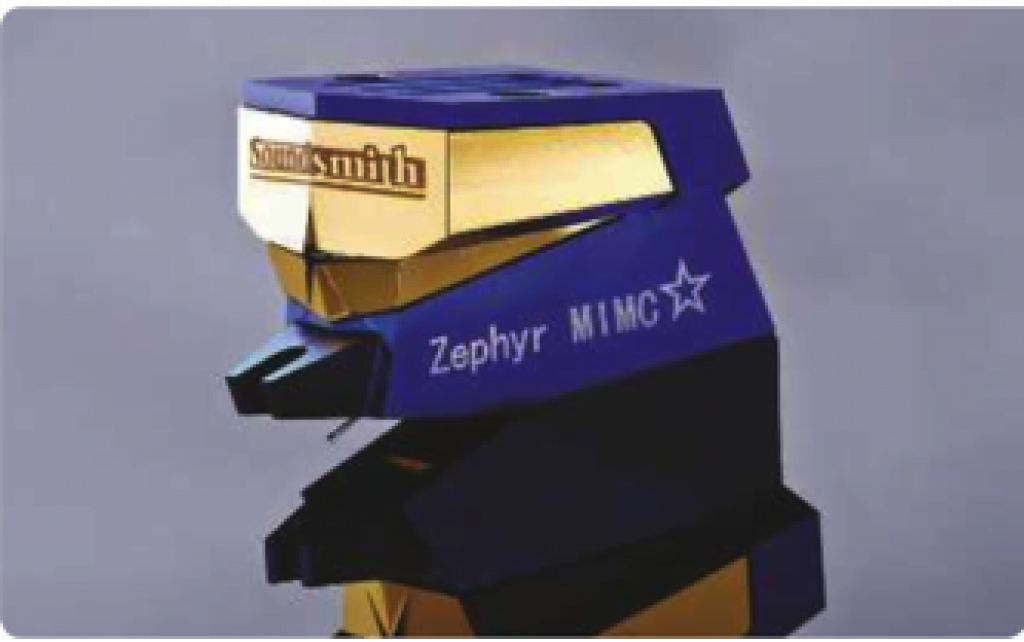 The Soundsmith is the most distinctive sounding and muscular in the group
Nor does it worry about sounding accurate on the Bassheads techno track; it jumps in with aplomb and has a great time. The sequenced bass synth almost growls at me, while the piano voice is fruity and fulsome. Better still, it seems to kick the song along, punching its way through the track having big fun. The Soundsmith also confers an earthy feel upon Lazy Calm; it tells me less about the recording studio and Robin Guthrie's slick production work than most here, but still gives an immersive performance that's bolstered by its slightly warm – or even 'thick' – sound that lends body to those ringing keyboards and the glorious electronic bass drum
DETAILS
PRODUCT Zephyr MIMC Star
ORIGIN USA
TYPE Low-output moving-iron cartridge
WEIGHT 12.2g
FEATURES
• Line contact nude diamond stylus
• Sapphire cantilever
• Quoted frequency response: 15-45,000Hz
DISTRIBUTOR Signature Systems
OUR VERDICT
LIKE: Gutsy, dynamic, musical sound
DISLIKE: You'll need to pay attention to loading issues
WE SAY: Interesting, charismatic design
4.5/5
Reference system
Speaker; it barely raised a sweat pushing the B&W 804D4 to high levels. It has a very smooth and detailed sound that's ideal for making comparisons between different cartridges.
LOUDSPEAKERS:
Bowers & Wilkins 804 D4
The new 'entry-level' 800 Series floorstander is highly revealing, yet doesn't suck the fun out of music. It has a highly open, detailed and even sound, with excellent timing and particularly good dynamics. It is just the right sort of loudspeaker to signpost differences between high-quality moving-coil carts such as these.
TEST MUSIC
VAN HALEN
Jump
1984
COCTEAU TWINS
Lazy Calm
Victorialand
BASSHEADS
Is There Anybody Out There?
(12in single)
RALPH VAUGHAN WILLIAMS
1st movement
A London Symphony
TRY WITH THESE
TURNTABLE:
Michell GyroDec/TecnoArm
Originally launched in 1981, this evergreen deck has been regularly updated over the years. The result is an excellent-sounding design that's never less than open, expansive and smooth. Its partnering TecnoArm is a carefully modified Rega design with moderate effective mass, so will comfortably track the moving coils here.
TURNTABLE:
Technics SL-1200G
A different experience to the Michell, this super tight and taut-sounding quartz-locked, direct drive has a slightly thinner tonal balance, but punchier bass and a more visceral style. It lacks the Michell's soundstaging abilities and overall subtlety, but is more fun. Its tonearm isn't top class, but is decent enough for the more affordable designs here.
TURNTABLE:
Rega Planar 10
You can never accuse Rega of doing 'copycat' turntables; the industry copies it. So what will they make of this radical design with a super-light chassis, ceramic platter and top-quality RB1000 tonearm? We think it's a great package at the price, with a more detailed, analytical and intricate sound than the Technics, albeit less chunky and powerful.