It only takes a chat or two with some like- minded enthusiasts online for your daily driver to become a pristine show car. Just ask Paul Byrne about what happened to his Mondeo ST220… Read our MONDEO ST220 Review.
Words DAN BEVIS / Photos CHRIS FROSIN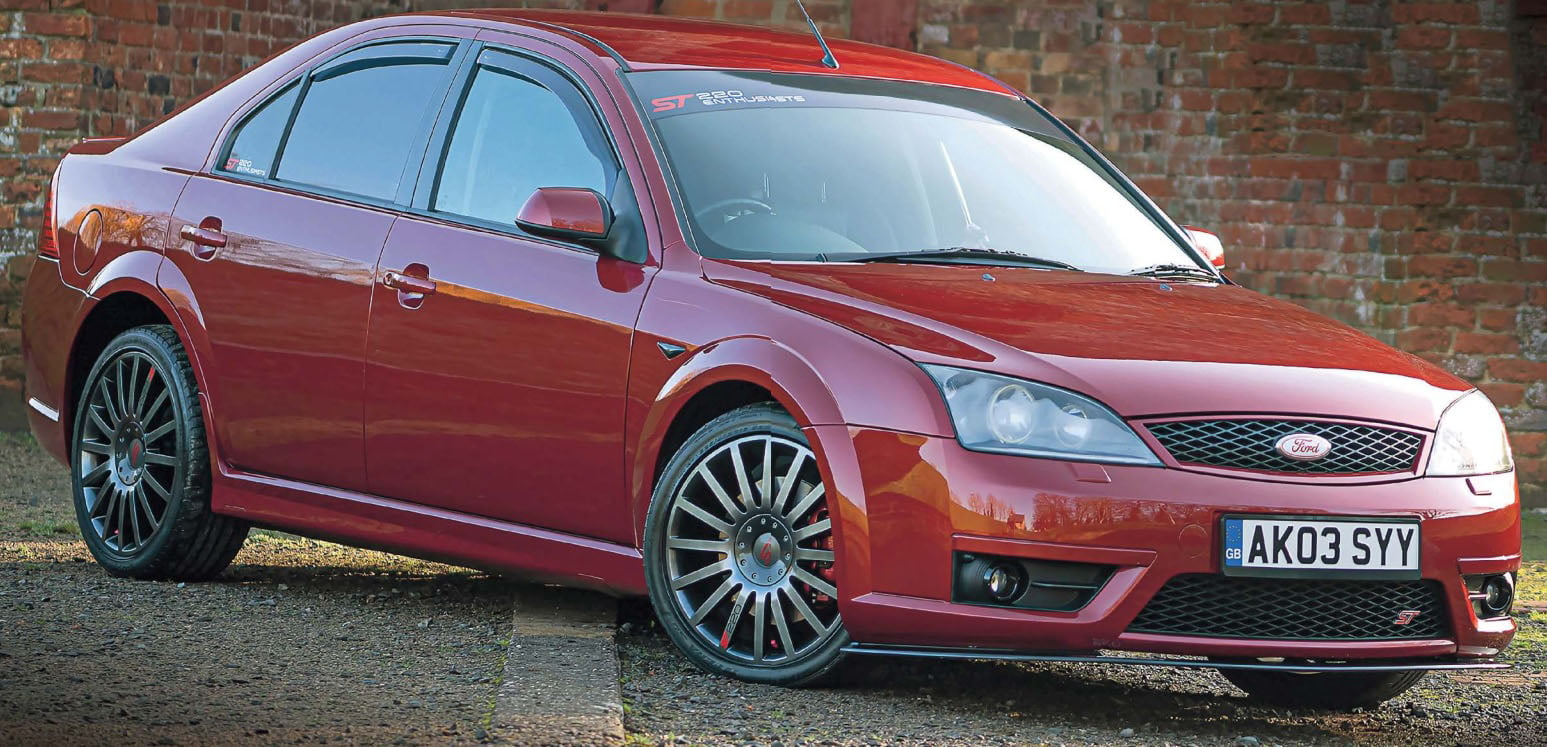 It's easy to sideline the cultural impact of the ST-model Mondeos, but in the timeline of fast Fords these really are important cars. When the first-gen Mondeo appeared back in 1993 it represented a massive step forward from the Sierra that it replaced; sure, some people decried the platform shift from rear- to front-wheel drive, although these were the same folk who got their knickers in a twist about the Mk3 Escort a decade or so before, and we can probably all agree that everything turned out OK there.
The Mk1 Mondeo offered a true next-gen vibe compared to the car it took over from, with every modern appointment available in the early nineties – and of course Ford were receptive to consumer enthusiasm for a hot version. The ST24 that arrived with the Mk2 facelift was actually based on the Si V6 saloon, with the same-spec 2.5-litre motor, but it added sportier suspension that was 20mm lower, half-leather trim, and larger vented brake discs. A hatchback version quickly followed, complete with the Rallye Sport Appearance Pack (RSAP) which brought in bumper mesh and colour-coded sideskirts and rear spoiler, along with model-specific alloys. All of this paved the way for the ST200 in 1999, which saw the motor tweaked to a brawnier 200bhp.
The car we have for you today is a Mk3 Mondeo (or a second-generation Mondeo, depending who you ask), a model which saw a significant step forward for the ST badge. For other V6 variants in the range, the old 2.5-litre unit was carried over – but the top-of-the-range ST220 wasn't just paying lip service to the sporting nameplate. In this guise, it received a full-fat 3.0-litre upgrade, the Duratec 30 motor, which was a DOHC 24-valve V6 pushing out an impressive 224bhp. Available in saloon, hatchback or estate bodystyles, buyers got all the options- list bells and whistles (the leather Recaros were a particular treat), and a 0-62mph time of 6.6-seconds. Impressive numbers today, let alone a decade-and-a-half ago. These cars represent incredible value today, if you can find a good one. Of course, for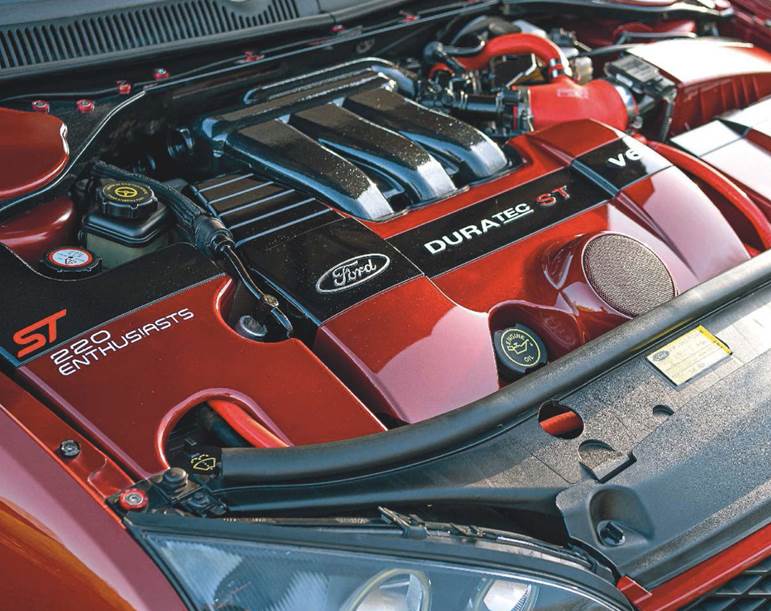 TECH SPEC
ENGINE 3.0-litre Duratec 30 DOHC 24v V6, stainless cat-back exhaust system with backbox delete and 4in smoke chrome tails, engine covers painted in Panther Black and Infra Red, red silicone hoses, stainless steel under-bonnet mirror plates POWER 224bhp (stock)
TRANSMISSION 5-speed manual SUSPENSION OE ST220 spec, new OE shocks and springs, front and rear subframes powder- coated red with Flo-Flex polybushes, underside coated with Tetraschutz chassis paint
BRAKES Mk2 Focus ST front calipers and discs, stock rear calipers, grooved and drilled discs all round, calipers painted Ferrari pearl red
WHEELS & TYRES 18in ST220 16-spoke wheels – powder-coated in smoke chrome, 225/40 tyres
EXTERIOR OE Infra Red paint, Triple R composites front splitter, black-eye headlights with halo rings and integrated sequential indicators, LED red/smoked rear light clusters, Team Heko wind deflectors, full blackout window tints
INTERIOR ST220 leather Recaro interior, ST / Recaro gel badges on seats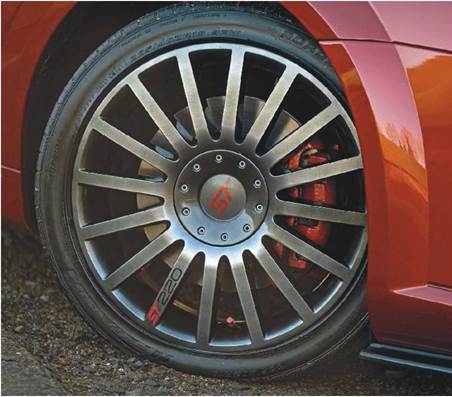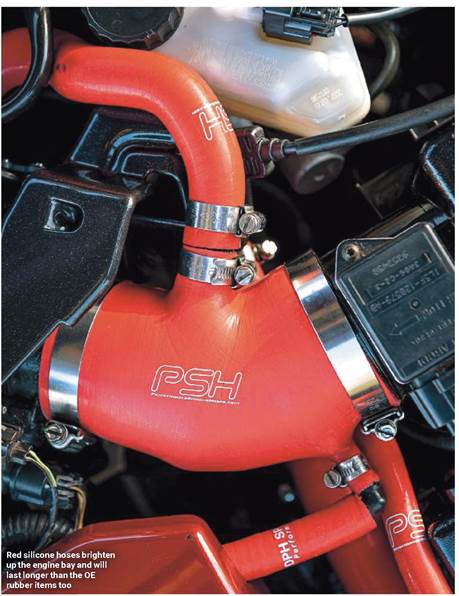 "For the first twelve years it was my daily driver… I didn't really do much modification at all until I joined the ST220 Enthusiasts forum…"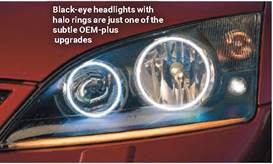 some buyers, the merits of these excellent factory hot-rods were sized up pretty early on…
"I bought this ST220 in April 2004, when it was only thirteen months old," explains Paul Byrne. And it's clear testament to the entertainment value of the thing that he's hung onto it for all this time. Indeed, it's not just a well-equipped runabout either, he's been lavishing an incredible amount of care and attention on the project, keeping it all stock where possible but upgrading where it matters. The result is one of the tidiest and most noteworthy ST220s on the scene today.
"For the first twelve years it was my daily driver," he says, "and the only thing I really did to it was to have the wheels powder- coated, and replace the exhaust with the stainless steel one when it was due. I didn't really do much modification at all until I joined the ST220 Enthusiasts forum."
Ah yes, we've heard this one before – the mischievous influence of the forum!
It's transformed the direction of many an ownership prospect, the ready availability of information and the inspiration for modding potential provided by an eager community of like-minded fans. Suddenly the daily driver becomes the project, as long-time owners get the opportunity to re-evaluate their everyday runabouts. Over the course of a decade or so it's easy to grow accustomed to a car, and when someone points out that it's actually a pretty rare and desirable thing, a little voice in your brain can say 'Hang about, they've got a point actually.'. And when that person goes on to say, 'Oh hey, have you considered this particular modification? And maybe coming to this particular show?' then all bets are off. You've opened Pandora's box. Say what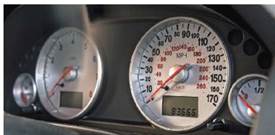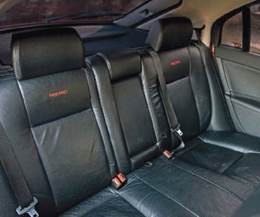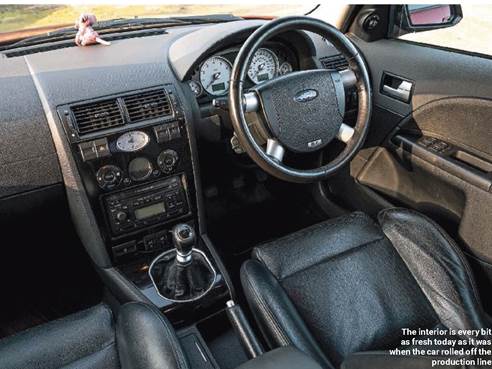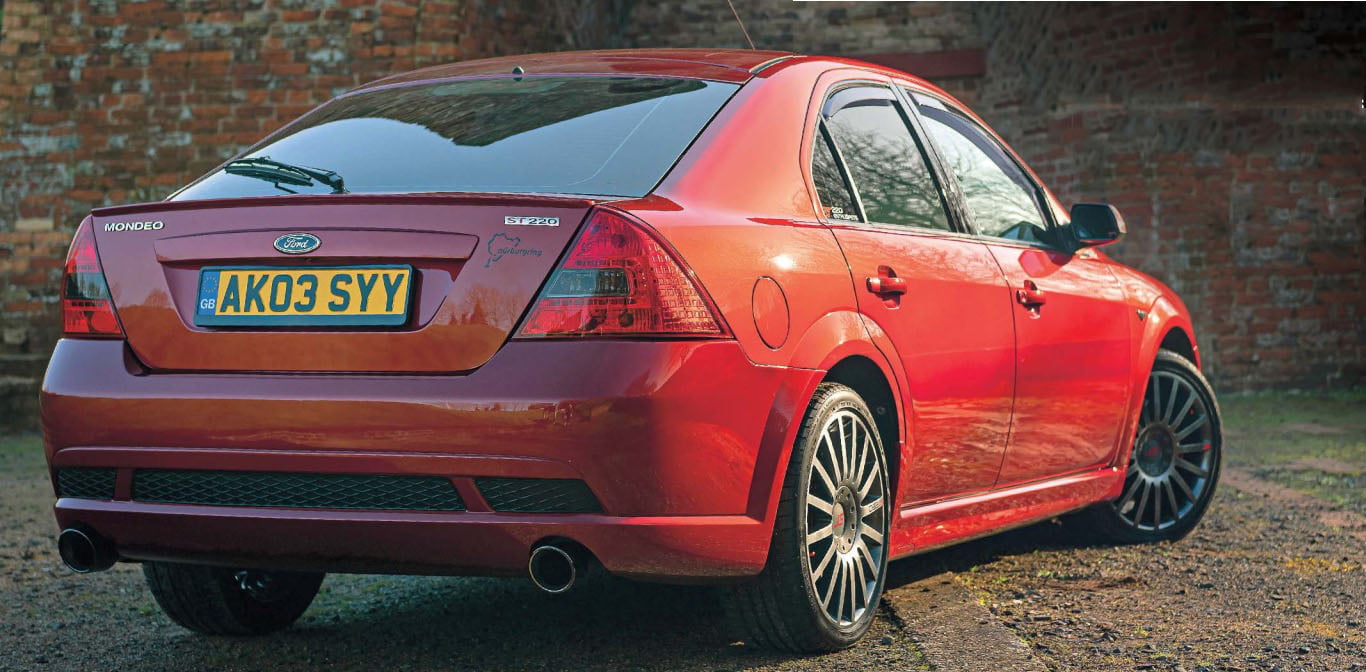 "…On ST220 Enthusiasts it won Car of the Year, it was lucky enough to appear on The Grand Tour, and it won Best in Show at IOW Takeover. I also entered my first ever  concours competition, and won first place in the category"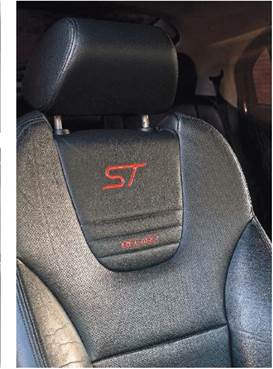 you will about the prevalence of social media killing the traditional forum formula, they're still alive and kicking among the faithful.
"When I started talking to some other owners on the forum, I realised just how much of a following these cars have," Paul recalls. "And how rare they are in Infra Red!" So for the last few years, this daily commuter has transformed into a pristine example of the breed, with a smattering of choice upgrades to turn it into the best possible version of itself.
"About three years ago I decided it was time to start really taking care of the ST220, so I bought another car and stopped using this one as a daily," he continues. "It became a weekend car as I started to do the shows. Most of the work has been me doing little jobs here and there as I went along, but the biggest task came at the start of 2019 when I decided to completely strip the underside, with the help of a mate, and restore it with all new parts. Some of these bits were from a motor factors which supplies all the garages around here, and a lot of the
others were from a local Ford dealership where a friend works – he managed to source some hard-to-get items, plus he went through and got every single nut, bolt and washer I required to replace everything."
It truly is a heroic undertaking, turning the chassis into something better-than-new; indeed, nothing under there is less than twelve months old, it's all been renewed – and we bet there are very, very few Mondeos of this vintage which can make a similar claim. The front and rear subframes have been powder-coated red with Flo-Flex polybushes, and everything that needs it has been coated with Tetraschutz chassis paint. Spec-wise, Paul's kept it largely as Ford intended; he's replaced the shocks and springs with new OEM-spec items, for example, and this is a theme that continues throughout all of the structural bits and bobs. The most significant deviation from stock is with the brakes – he's swapped in the front calipers and discs from a Mk2 Focus ST, and the brakes all round are now sporting drilled and grooved discs with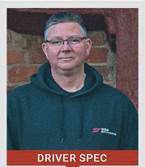 AGE 46
PAUL BYRNE
JOB Shift manager at a brewery
FAVOURITE FORD SHOW OR EVENT? European Ford Event (EFE), Holland
TRACK DAY OR SHOW & SHINE? Show and shine LESSONS LEARNT FROM THIS PROJECT? Take it slow and don't rush things, that's how mistakes are made
WHAT'S NEXT Thinking of removing the engine in the future and having it stripped, rebuilt and all painted up THANKS "Thanks to my fiancee Eva, who helps me out cleaning the car before and at the shows. Chris Elson who helped me with the underside strip and rebuild and other mechanical work. Steve Smith at Dextrous Detailing for doing a paint correction and applying glass ceramic coating. The generous staff at Moira Furnace for allowing us the do the photoshoot in the grounds. And all the guys and gals in the ST220 Enthusiasts groups for giving me such inspiring feedback which pushes me to do more."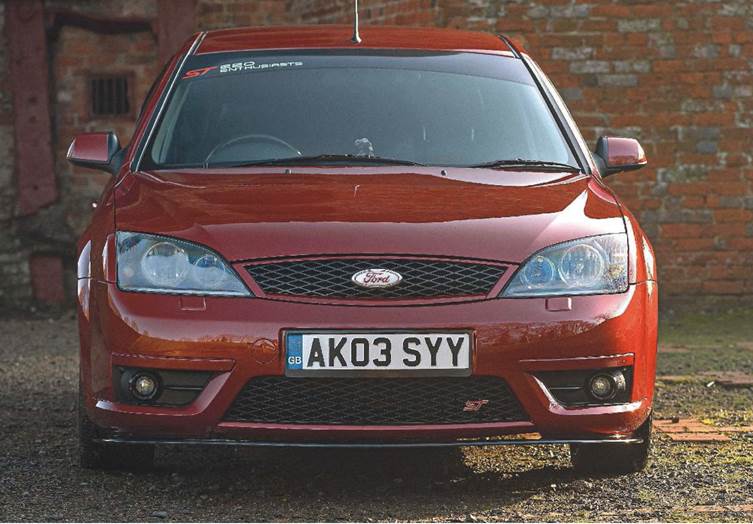 the calipers painted Ferrari pearl red. It's this attention to detail which should give you a clue to Paul's approach throughout the rest of the car.
Look inside the Mondeo, and you'll find that it's all stock ST220, down to the leather Recaros and the standard-issue Ford stereo. But just look how tidy it is! And where the real wow factor can be found is in the exterior and under-bonnet details.
It's a true treasure trove of minutiae for the hardened ST220 spotter.
The Infra Red paint suits the Mondeo's body so well, so the bolt-ons have been kept to a minimum; a Triple R Composites splitter helps to angry up the front end, as does a set of custom headlights which have blacked-out internals, halo rings and integrated sequential indicators. Continuing the theme of artistic illumination, you'll spot red/smoked LED rear light clusters, and the tail also speaks volumes of its boisterous intent by virtue of the custom exhaust system's four-inch tails. Under the bonnet, the architecture is all as Ford made it, but Paul's augmented the powerhouse with Panther Black and Infra Red painted engine covers, red silicone hoses, and some stainless steel mirror plates to show it all off on the showground. The future plan is to pull the engine out, give it a rebuild, and fully paint and detail it before refitting. You see how serious it gets when you post a picture of your daily up on a forum? Back in 2004, we bet Paul could never have imagined things going this far.
"I take the ST220 to a lot of the big Ford shows – including Ford Fair, Simply Ford, RS Combe, the Isle of Wight Takeover, and the European Ford Event (EFE) in Venray, Holland," says Paul. "It always gets a lot of interest, and sometimes I can end up spending a lot of time talking to people about the car and all I have done over the years. Just in the last twelve months it's had a lot of recognition in various forms: on ST220 Enthusiasts it won Car of the Year, it was lucky enough to appear on season 3, episode 14 of The Grand Tour (albeit briefly!), and it won Best in Show at The Isle of Wight Takeover. I also entered my first ever concours competition at the EFE, and won first place in the category!"
This Mondeo's certainly come a long way from having been bought as a well- equipped daily all those years ago, and it's true testament to the cultural significance of the ST220. It's also a clear indicator of the fact that forums are alive and kicking for enthusiasts of every niche – and there are few flying the flag with such enthusiasm as Paul and his Infra Red show-stopper.