Steve Hall takes his first 911 on its maiden road trip: can the 996 Carrera 4S deliver on an adventure to the south of France? Read our 996 Carrera 4S Review.
Beep, beep, beep… groan. It's 4:00am on a Saturday; shouldn't I be rolling in from a particularly good night out, instead of trying to drag myself out of bed? I'm pretty sure that four hours isn't enough sleep, but I actually feel strangely motivated to get on with the day – probably something to do with what lies ahead.
After years of thinking about it, years interspersed with a few fun cars (TVR, NSX, M3 etc) I finally bought my first Porsche in September 2018. It was on a whim, as you do. I'd dabbled with the idea of a Cayman (you drive a lot of cars in this job and I'd enjoyed every Cayman I'd ever tried) but I knew that deep down it really had to be a 911 – you know, a real Porsche. I feel safe writing that in a magazine called Total 911.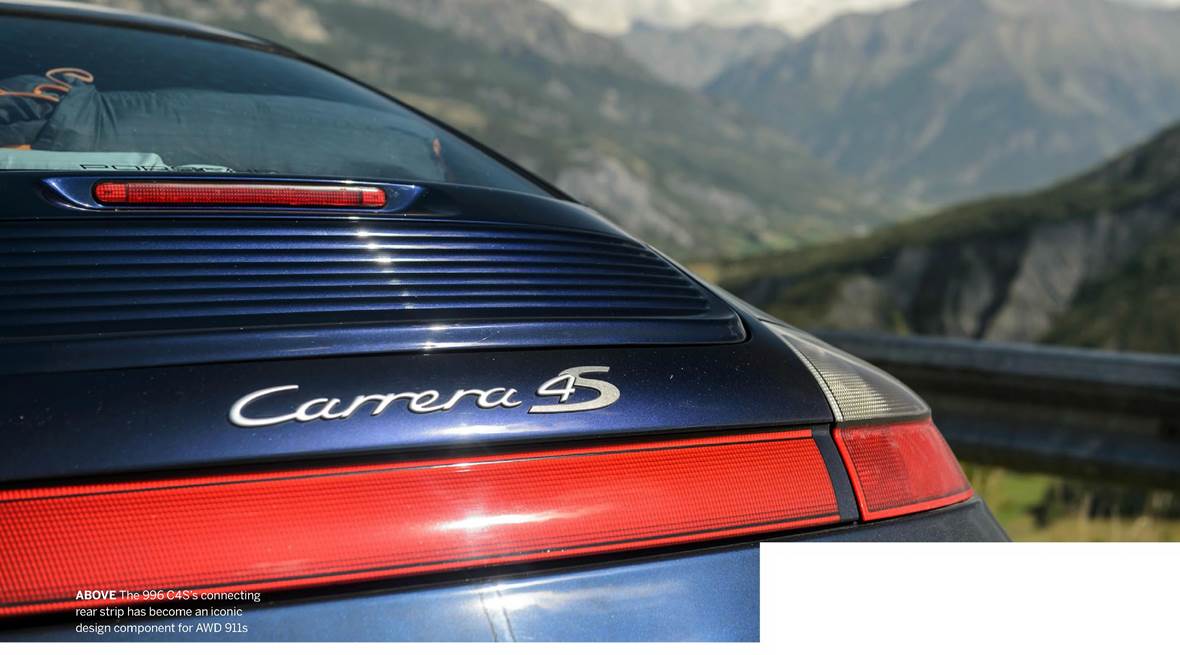 A friend needed to move his 996 C4S on quickly so he could get into a Ferrari he'd been offered at a knockdown price (first world problems, huh?), coinciding happily with my having recently sold a house. I knew the car too, said mate having owned it for a year or so, and I was enamoured by the spec – a lovely deep metallic blue, full black leather, Sports exhaust and short shifter kit making it even more focused as a driving machine. Furthermore, promises were made (and delivered) to have it looked over prior to sale and anything necessary be sorted – that promise eliciting a bill just short of £3K. Good for me. We're still mates, by the way.
So the deal was done, and on a sunny Thursday I picked up 'my' 911 for the short haul back to Essex from Kent. The Dartford tunnel proved the ideal sound chamber to test the aural attributes (windows down, of course), while a few local back roads elongated my trip home showing that all the uniquely 911 dynamic attributes I've always loved were present and correct. This was going to be a blast.
And while it was used little through the grotty winter months that arrived shortly after purchase, a few Sunday fun drives and – in particular – an epic weekend jaunt to Wales with some mates proved the mettle of the car, and that my instinct was right. You see, I've always believed that the thing you simply have to do if you're lucky enough to own a 911 is a big road trip, ideally with the nose pointing south to sunnier climes. It's that combination of robustness, compactness and practicality alongside imperious driving dynamics that makes a 911 – for me – perhaps the best car in the world for a road trip involving serious miles on serious roads. It's something I'd planned to do since well before I bought one, now it's time to tick that box.
Yep, I think I'm going to pay for that lack of sleep later; good job I put my girlfriend on the insurance. But for now I'm in autopilot, jumping out of bed, boiling the kettle and scooping up any luggage we hadn't stuffed into the car last night. Coffee quaffed, we're rolling by 4:30, bound for P&O's finest 7:25am crossing to Calais with perhaps a little more time in hand than anticipated – damn it, I really could have used another 30 minutes shut-eye. No matter, there's always something a little bit special about being on the road before the sun's up, and we're treated to a glorious sunrise as we cruise down the M2 motorway. The port beckons bright and early and we roll on as one of the first cars – perfect, as it means we can bag the best seats for snoozing.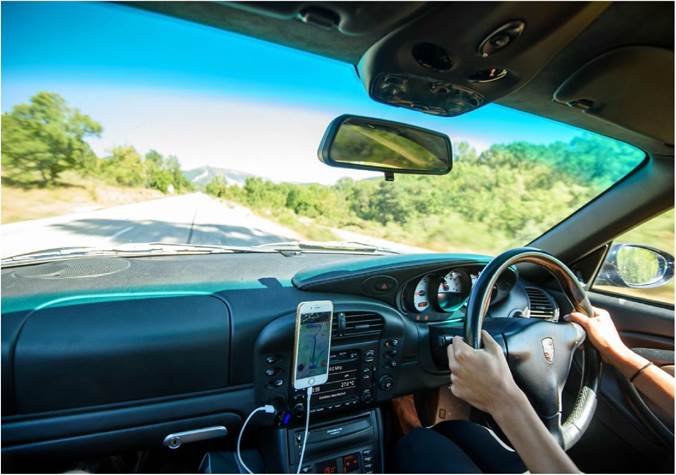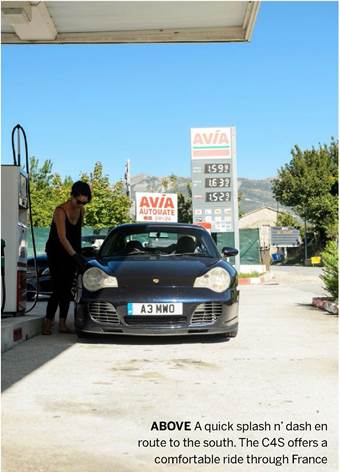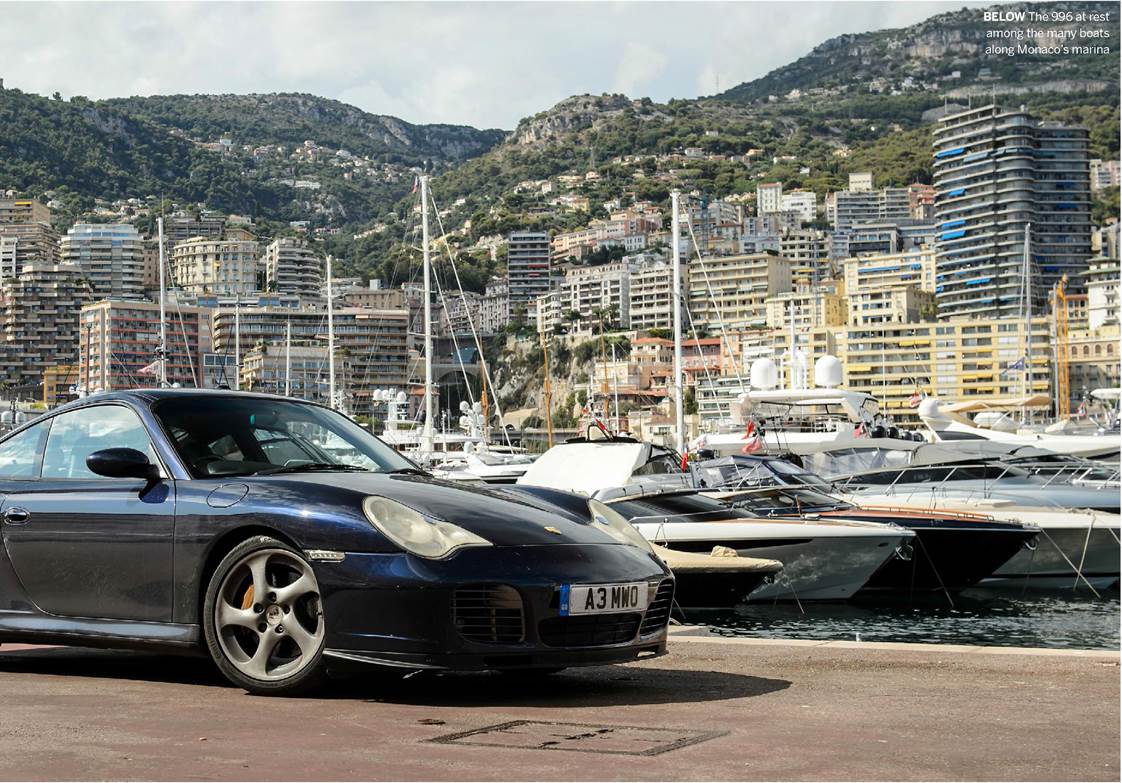 "A 996 C4S is a pretty damned good tool for the job; on roads this tight and twisty 320bhp is more than enough"
120 minutes of broken sleep later, we're in France: now the trip really begins. Today's plan is to get the duller parts of northern and mid France out of the way, and to hell with the toll costs – they are nothing if not efficient. We dropped a pin in the pretty town of Beaune, which proves to be the perfect balance of arrival time (just after 19:00) and distance to our next stop in the Alps. It also offers a wonderful selection of restaurants and bars – if your wallet can handle €9 for a small beer. Ours can't, so I'm glad we snaffled a bottle of red at the hotel before venturing out.
But no road trip of this type would be complete without two nigh mandatory detours, so we're diving off the autoroute at Reims to visit the grandstands on the D27 towards Gueux – a fantastically atmospheric place that's gradually being brought back to its former glory by the non-profit 'Les Amis du Circuit de Gueux' organisation. It's completely open to the public and offers great opportunities for some very cliched (but entirely justified) photos. Being 2.5 hours from Calais, we decide it's the perfect time to dive into our picnic once I've stopped snapping.
And the 911? With 283 miles of motorway under its wheels it hasn't broken a sweat, settling into a comfortable lolloping cruise just short of 90mph once across the channel. I've stuffed a tiny cushion at the base of the seat, but seeing as I do that in every car I drive that's more my buggered back than the car – the Sports seats are otherwise comfortable, the driving position spot on despite the lack of telescopic adjustment of the wheel. Back home it easily swallowed enough luggage for two weeks including camping and photography kit. Is there a more practical sports car?
The next detour takes us off the autoroute a few kilometres east of Troyes onto one of my favourite roads in France, one which has been mentioned in these pages more than once before and remains extremely apt to drive this car on – the D996. Neatly cutting across the countryside between Troyes and Dijon it's a shorter, if slower route than the Waze- recommended A5>A31, but once you've got a few miles into it, you find yourself on a truly great driving road – and the first proper chance to exercise the C4S. The D996 serves up everything from fast open sweepers, to corners coming at you in a fusillade
of gear changes, braking and acceleration, the road twisting one way then the next, the rippled surface asking the 911 what it's got. Well it's got this road covered, that's for sure.
The C4S just soaks up everything the D996 can throw at it, remaining composed despite the extra weight we're carrying – or maybe the extra weight up front helps? Either way, trail braking into tighter sections has the nose locked into the tarmac, the rear sliding ever so subtly to help you into the apex, an invitation to open the throttle I'm happy to accept. All the while, the steering relays everything you want to know – the weight shifting in unison with the front tyres' purchase on the road, the rim gently shimmying to describe the topography of the surface below. And boy does the C4S feel secure; even if the rear slides a little more than you anticipate, you can feel the power shifting forwards as the car straightens up. Which isn't to say it's in any way dull – you can adjust the car's attitude any way you want with both brake and throttle – but you can indulge yourself in any driving style you please, secure in the knowledge it's on your side.
It's a brilliant drive, and we arrive in Beaune feeling surprisingly chipper despite the sleep deprivation.
9:30am; that's more like it. With a mere 286-mile/5.5-hour road time today, the lie in was much needed. We'll use autoroute for the first half, cruising past Lyon towards Grenoble before picking up the N85 (Route Napoleon as it's better known) towards Gap, then head east for our overnight in the pretty mountain village of Pra-Loup. Our schlep down the A6/A48 autoroutes is predictably smooth and uneventful – boredom alleviated by the increasingly mountainous scenery rolling towards us and tagging along with a swiss 991 GT3 for a few miles. The fun starts when we pick up the N85 at Grenoble, the winding ribbon of tarmac climbing steeply out of town with lots of fun to be had, weaving together the faster sweeping sections with the tight switchbacks that elevate us quickly. Truth be told, the southern section of the Route Napoleon is the best part but it's good to be off the autoroute anyway – something we won't need to do in any meaningful way for a while now.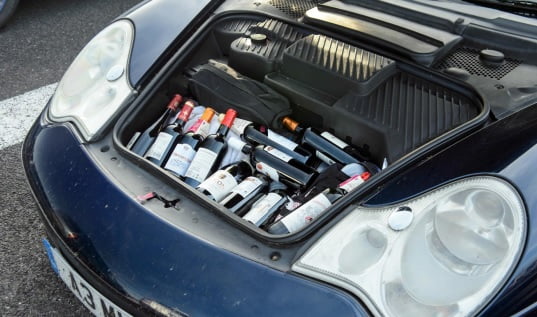 Climbing. Today is all about elevation, beginning with 2,715m of the Col de la Bonette, ending with the 1,607m Col de Turini. Proper driving, I hope. Not the fastest route to Nice – our ultimate destination – but by far the most scenic and, hopefully, the most enjoyable. And the 911 proves the perfect foil for this particular adventure, the narrow winding roads up to the peak of the Col de la Bonette making the Porsche feel 'right sized' for this terrain. These aren't the best driving roads we'll do, but for scenic majesty they're hard to beat; the view from the top is utterly worth the drive. The Col de Turini proves much the same: too narrow and unsighted for proper driving fun, but well worth the venture as a tick-box exercise – it's a Monte Carlo rally stage after all. And the delightful Hotel Les Chamois at the summit proved to be one of the real finds of the trip, the Porsche-driving owner a source of entertainment all night alongside his awardwinning dogs.
Don't. Forget. Your phone. Today was supposed to be an easy cruise into Nice, taking in the Col de Braus along the way for no other reason than the fact editor Lee had mentioned it a few months prior, planting a seed in my driving road mind. And while the eastern side of it proved to be yet another fun, if too narrow road to enjoy the C4S's capabilities on, we didn't get to sample the western side thanks to my pea-sized brain. If you're going to leave your iPhone anywhere, let it be a small town in the eastern Alps where you'd stopped for coffee an hour prior. Amazingly, it was sat on the same bench I'd left it…
Driving back on roads you'd covered a few minutes ago elevates the confidence somewhat. So while I was motivated to retrieve my phone, this was one hell of a drive, the D54 and D21 virtually devoid of traffic and serving up the full a la carte menu of roads you'd want to drive. I now know that if you're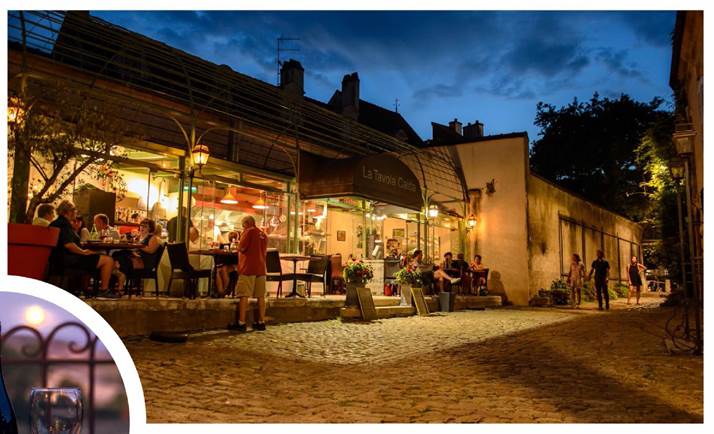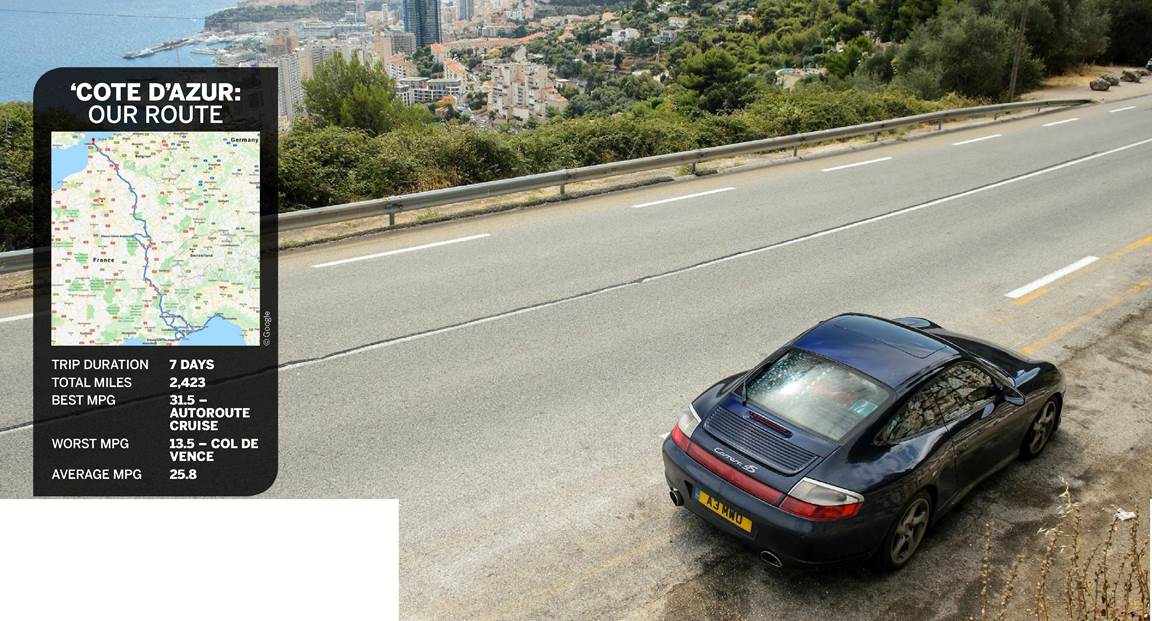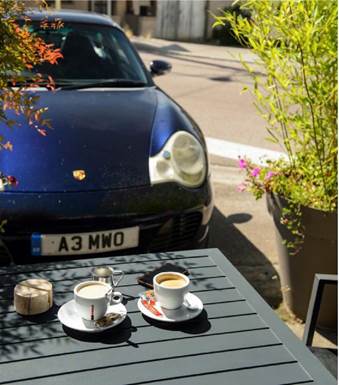 in a rush to get somewhere, a 996 C4S is a pretty damned good tool for the job. On roads this tight and twisty 320bhp is more than enough, but more to the point the strong mid-range grunt the M96 flat six delivers – though it may not be an iconic 'Mezger' – means this is a seriously good engine. Dynamically, all the confidence and feel experienced on the D996 is here in spades. It might have happened by accident, but this proves one of the best drives of the trip. We then took the fast route to Nice, phone retrieved.
The best driving roads are usually painted up the side of a mountain, ideally well sighted, at least with a variety of bends and scenery; but there's something to be said for the coastal motorway that wraps around the southern side of France into northern Italy. Scenery for one. Oh, the scenery. Then there's tunnel after tunnel after tunnel… ideal if you're piloting something with a fruity exhaust which, happily, I am. Quick too, for Italian drivers seem to 'get a move on'. So we settle into a cruise just short of three figures, and the 911 seems happier than ever at these speeds, like it was designed to cruise at 160kph before it left the factory.
Which is all good, until the dashboard tells me to 'check engine' on the return journey The C4S seems to be running perfectly, so after a service station stop I surmise that it's nothing more than the newly fitted Sports exhaust (courtesy of ePorsch) having an argument with the ECU. Pulling the stalk back a notch will become part of the mandatory driving tactic from here on (turns out, it was a dodgy signal from the exhaust, no harm done).
Google Maps suggests the fastest way to Marseille is a couple of hours along the A8 autoroute. But this is a driving holiday, so today we plan to take in one of the best driving roads I know: the Col de Vence. This is a truly spectacular piece of tarmac, rippling up the southern side of the Alps with views you have to see to believe. And the driving? Bloody hell, it's got everything: fast sweeping bends, technical twisting switchbacks, uphill, downhill… It's a proper test of any car; there's good reason so many car launches have been based here.
Good as the D996 was, this is probably my best drive of the trip, the C4S feeling like the perfect device for it. It's to do with the 911's blend of performance (just enough, with that M96 torque), size (despite the wide hips, a C4S is still a compact car, easily threadable), and dynamic acuity – you always know where you're at with this car, the steering crisp and clean, the braking inerrably reliable, the balance predictable. We drive this road at a good pace, and I have to remind myself we've got 14 days of luggage onboard, because you wouldn't know it from behind the wheel. Pretty good these 911s, aren't they?
So good, you can even go camping with one; well, it's 4WD after all. It did draw a few looks on the campsite, admittedly. After a few days' cheap and cheerful downtime in the sun, it's time to point the prow north as we start the journey home. It'll take a few days, visiting the D996 once again – de rigueur – with the iconic Route Napoleon delivering another wonderful driving highlight of the trip. We stay in the pretty town of Castellane 40 miles from the southern side of the N85, but the drive up is absolutely brilliant, as is the drive northbound. Truth be told, the Route Napoleon, despite its cliched overuse as a driving road, remains an utterly fantastic road for driving fun. There's everything you'd want – fast open sweepers, 180-degree hairpins, majestic scenery, and well sighted so you can really commit to the twisting tarmac in front of you. The C4S is sublime here, marrying clarity of steering and excellent mid-corner balance just like it had on the D996.
Some car, the 911. I dare say this trip would have been just as epic in iterations earlier or later. Of course a 991 would have been more habitable with its refinement and the extra poke of its motor; a 993 perhaps more connected on the fun roads, but questionable on the long treks of autoroute. Whichever flavour you prefer your 911, it remains the perfect car for a trip like this: useable, fun to drive on great roads, all with an indomitable sense of robustness that explains why 911s accrue more miles than any other sports car out there. So yes, my 911 delivered exactly what it was bought for, and it delivered in spades. What a car.

Part Number: 99660510400, 99660510401
Interchange Part Number :W0133-1597183
Manufacturer Part Number :99660510401, 99660510400
Other Part Number :7.04389.03.0, 7.04389.03.5
Last update was on: September 14, 2023 7:43 pm