THE M-Sport styling plus Storm Grey paint plus big power, equals one of the best Fiestas in the UK. Read our Fiesta st200 review.
Words BEN BIRCH / Photos LIAM HART & DAVE VARLEY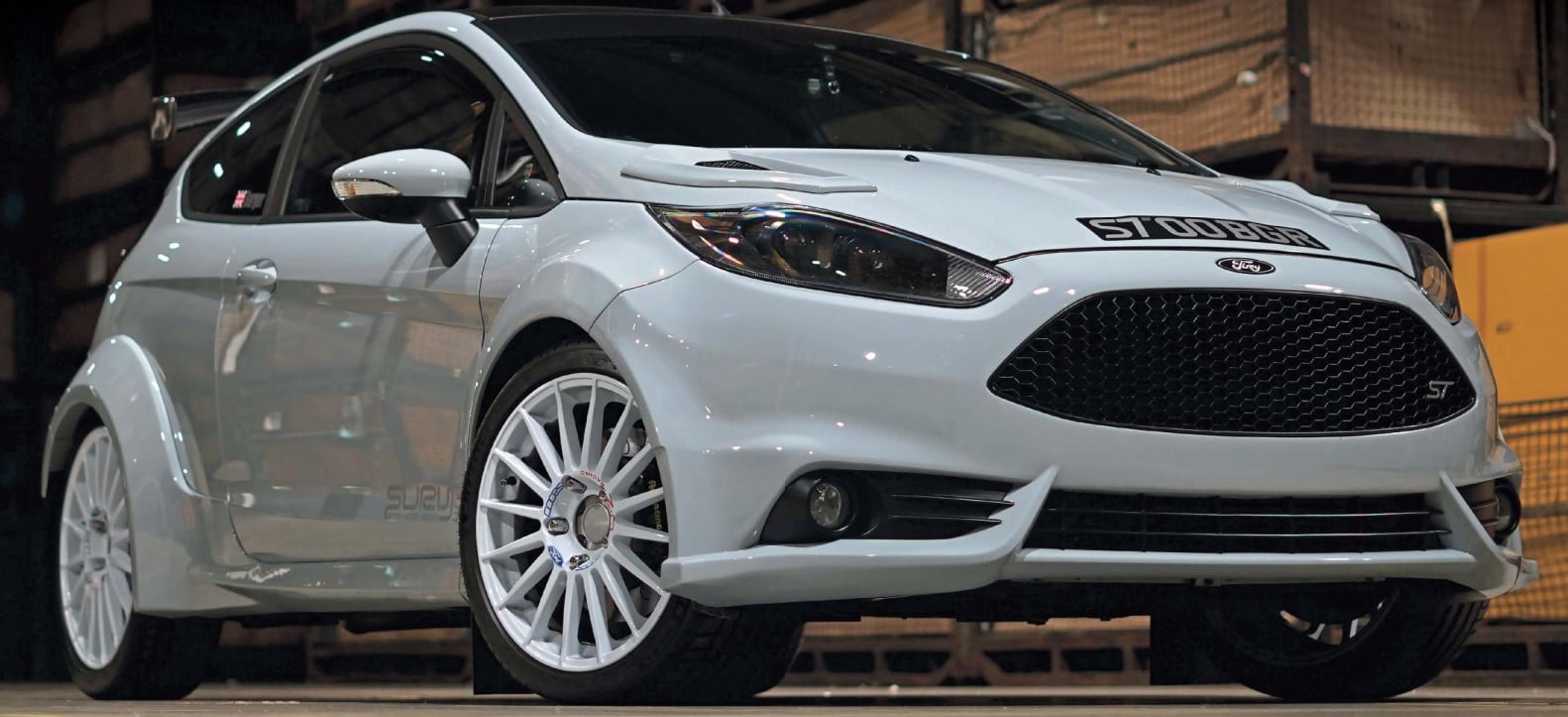 In obsession with cars is ingrained in many of us from an early age, and stays with us throughout our entire adult lives. Some of us even have a loyalty to a favourite marque, usually passed down as a family tradition much like a football team or political party. Other people see cars merely as A to B transport, and much prefer going down the pub!
Unbelievably the owner of this highly modified ST200 was for most of his life, one of the latter. "I work at Ford but I was never a car guy at all," explains Burger (a nickname from school), "all of my interests revolved around people, the pub, and a social life." A fateful day whilst on his way to work at the Ford Daventry parts centre however, found him switched on to the world of turbochargers and body-kits like a man possessed! "I saw a Focus RS500 on my commute," he remembers, "and something about it suddenly ignited an interest in cars… I'd not seen anything like it before." Burger was so inspired, that a brand new Focus ST was swiftly bought and a virtual pub – an online car group forum – helped him school up on the slippery slide of car modifying. "The ST ended up modded to within an inch of its life," he laughs, "a 400bhp engine and murdered-out black bodywork made it really stand out… but it was an RS that I really wanted."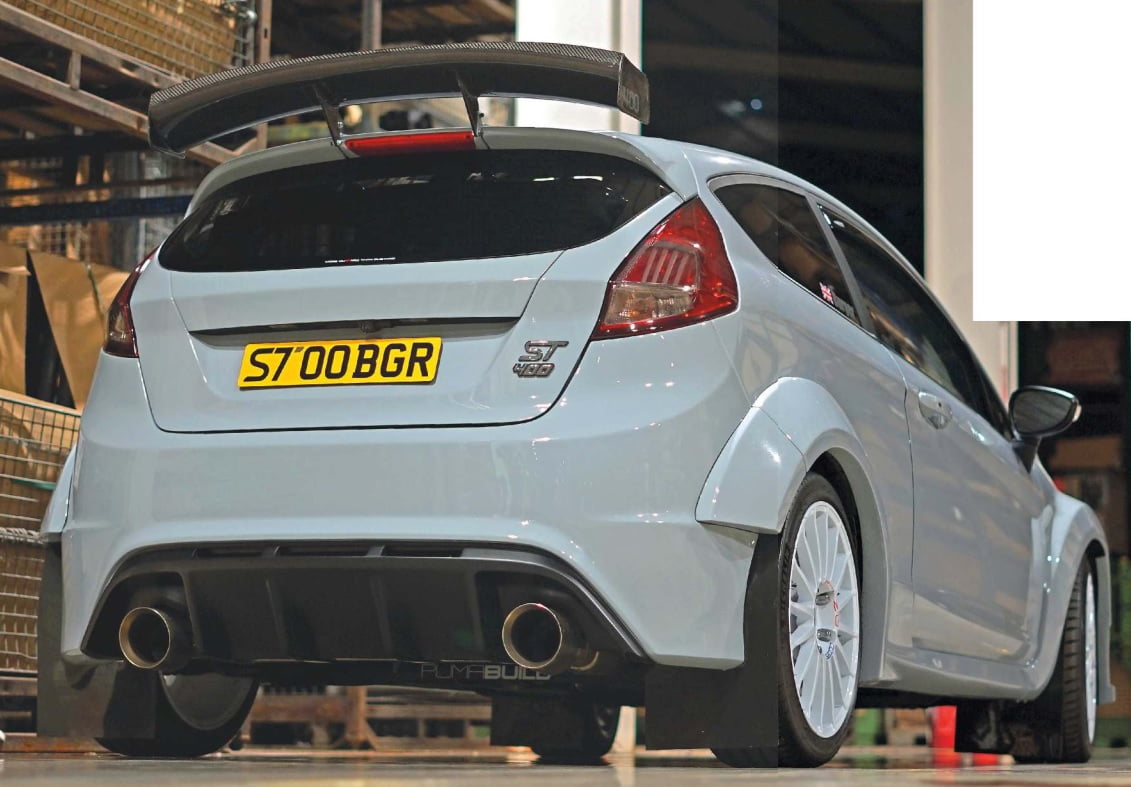 Four years of utterly enjoyable ST ownership eventually made way for a Mk2 Focus RS in Ultimate Green. Like the Focus before it, this was also tweaked to over 400bhp and given some trick styling touches to make it even more eye-catching and loud than it came out of the factory. "I absolutely loved that car," Burger reminisces, "but as time went on I realised I'd bought an investment vehicle, and started worrying about driving it so the thing ended up just sitting in the garage most of the time". As we continue to talk, it's clear that Burger buys cars to drive them and have fun in, not to sit under a cover… so the itch was on for something a bit more useable, and chuckable. "When I was young, my uncle gave me his 1275GT Mini," he explains, "that go-kart feeling never really left me, and I started hankering after a proper little hot hatch". At the same time, Ford announced the launch of the Fiesta ST200 and were touting it as 'the fastest ever production Fiesta', so he decided to take a closer look.
"It looked good on paper," he continues, "but I was worried that I'd buy one, only for Ford to release a Fiesta RS soon after". Luckily, his work contacts gave him access to Ford top brass, who when asked "should I buy an ST200 or should I hold out for an RS version," answered, "you should probably buy an ST200!" With that information, Burger decided to press the trigger on a brand new ST200 after all, with the mind-set of – "if Ford won't build a Fiesta RS, then I'll have to build my own."
The car you see today, is a 2017 model and like all ST200s was Storm Grey out of the factory. First impressions weren't ideal because after owning fast Focuses, its performance came as a bit of a disappointment to him. "The Focus had twice the power I guess," he shrugs, "so the ST200 felt flat in comparison." Rather than mucking about, he decided to upgrade all of the mechanical aspects of the car as well as give it a great big chunk of extra power, all in one big hit. "After lots of research into turbos and power packages," continues Burger, "I was only really impressed with Charlie
DRIVER SPEC
BURGER
AGE 53
JOB Ford Daventry parts
BEST MODIFICATION The rear end
FAVOURITE FORD SHOW OR EVENT? RSOC Northants at Wilton Mill
SIERRA RS500 OR FOCUS RS500? Focus RS500
WRC OR BTCC? WRC
THANKS Grieg Billingham at Anembo Engineering, Rodger Peach at Peach Fabrications Daventry, Andrew Fisher at A&K Motorsport, Charlie Orpen, Nick Kasberger and Jonnie Close at Peron Automotive and Nortech Performance, Alan Farmer at Pumabuild, James and Phil Hunter at Monkeywrench Bespoke, Ultimate Windscreens MK, and finally my utmost respect to Alex Downs and Ollie Burton From Motion Factory Finishes at Stoney Stratford near MK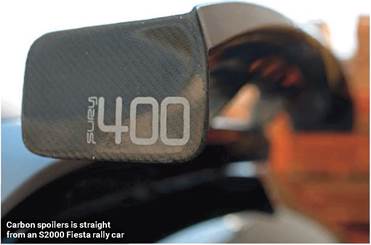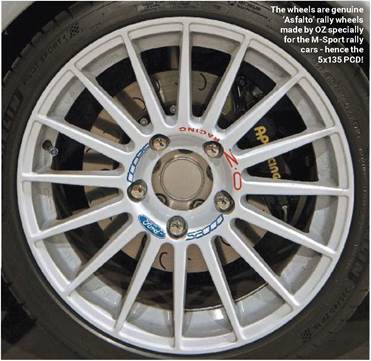 "…The concept was to create the Fiesta RS that Ford never built, it had to have an OEM look and finish, and when I found a guy who'd got a genuine WRC bodykit, I thought I'd hit the jackpot'…"
WRC-ERIOUS FIESTAS
Burger's Fiesta is inspired by the awesome Fiesta WRC-2 cars, his ST200 even featuring the same kit and wheels as the 2013 to 2018 racers. These tiny monsters compete in the R5 production class rather than the full-blown WRC class, but just like the WRC Fiestas the R5's also wielded 4wd and trick Sadev sequential gearboxes, albeit with around 290bhp vs. the WRC Fiesta's 315+.
Put together by M-Sport, they were actually the first cars homologated for the new production R5 class in 2013, previously known as Super 2000. They were M-Sport's most successful rally car ever, with many wins on the WRC, and claiming the 2015, 2016, 2017 and 2018 European Rally Championship.
In 2019, M-Sport revealed the new Fiesta R5 and it's quite simply, bonkers! An ultra-wide body kit more akin to the Fiesta WRC car, Reiger suspension, Brembo brakes and more tech than you can shake Elon Musk at, means this newest incarnation is likely to not just beat up the WRC-2 class, but also the Pro Class in 2020 if it's impressive 4 overall wins and 45 stage wins in 2019 are anything to go by. You can even buy one, road legal… yours for a cool £ !
TECH SPEC
Fiesta st200
engine Garrett Gen2 GTX2860R turbo, Nortech Performance GTX tubular manifold, Nortech 4-port auxiliary fuel kit, Peron Garrett intercooler, Peron/Nortech hi-flow de-cat race down pipe, Peron/Turbosmart external waste- gate, Peron diverter valve, Peron silicone boost and inlet hoses, Peron hard pipe, Peron Stage 4 ECU software Peron/ITG hi-flow CAIS, Wiseco forged pistons, K1 forged con-rods, Piper exhaust system, Mishimoto oil catch can
POWER 347bhp (at the wheels)
transmission KAAZ LSD, Cobb torque mount, VUDU short shifter
SUSPENSION KW V3 coilovers, Summit front and rear strut braces, Powerflex poly bushes
BRAKES AP Racing 4-pot front brake calipers, 330mm discs on Reyland bells
WHEELS & TYRES K.Pierce Co. bespoke 5-stud hubs, Anembo Engineering bespoke hub adapters, 9x18in M-Sport/Oz Racing Super Turismo Rally Asfalto S2000 wheels, 225/40R18 Michelin PS4 tyres
exterior M-Sport (TGST) WRC body kit, M-Sport CF R5 rear spoiler and brackets, CM Composite WRC style bonnet vents, Maxton Design rear bumper/diffuser, Monkey Wrench bespoke custom headlights, Mark One livery, DC3D bespoke badging, DMB overlays, Billet Badges bespoke emblem, MFF (follow the factory) vinyl elements, Ultimate windscreens MK glazing
INTERIOR P3 multi gauge in driver's air vent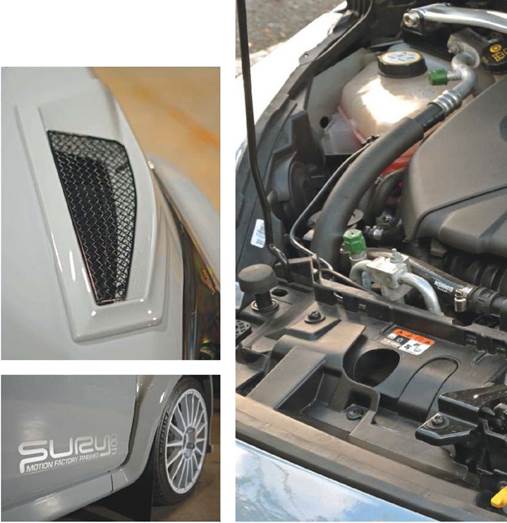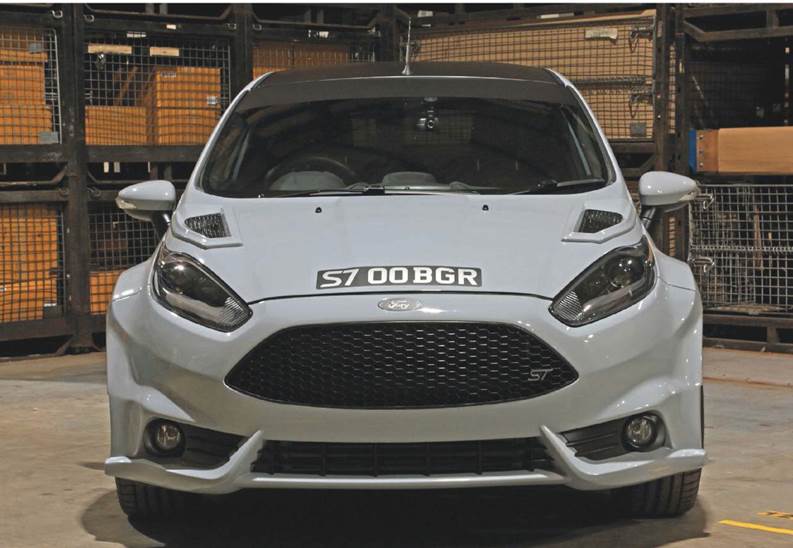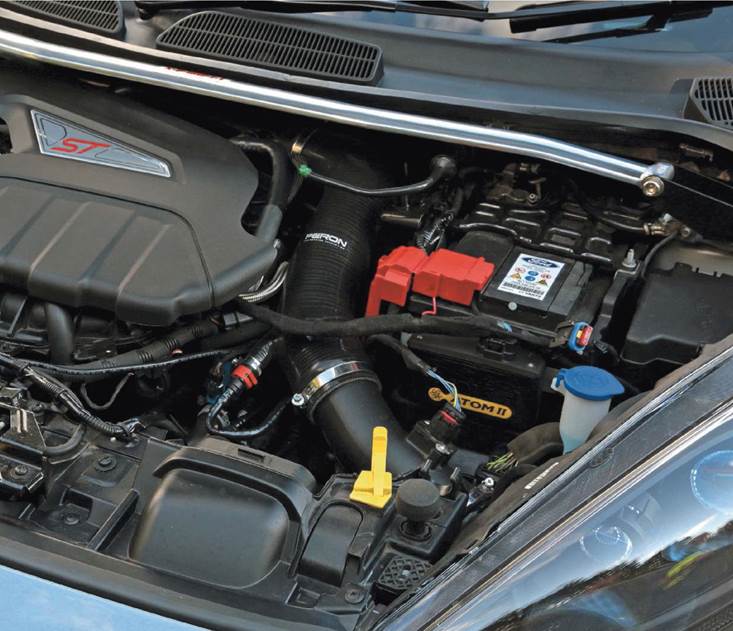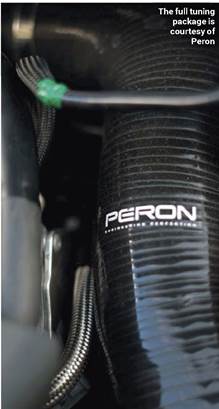 "…Most power upgrade kits have some mediocre parts thrown in, but Peron's turbo was good, their intercooler was good, and their ECU also made sense…"
at Peron – most power upgrade kits have some mediocre parts thrown in, but Peron's turbo was good, their intercooler was good, and their ECU also made sense." Not being keen on hybrid turbos, Burger opted for a Garrett GTX2860R – a dual ball bearing unit complete with billet compressor wheel, and in theory able to achieve his desired goal of 350bhp. "I drove the car up there standard, and drove it away two weeks later with 347bhp at the wheels running 1.6-bar," he says, "so I was really happy, but being a small engine it's delivery is different to the Focus – you have to rev it and drive it quite hard to unlock its potential". We're still amazed by the potential of the little 1.6-litre EcoBoost engine, but Burger has even bigger goals now. "The plan is now 400bhp," he continues, "so we've forged it, done the block mod, and I'm 800 miles into running
it in before we turn the boost up and try to reach that figure". Sensibly at the same time as the power-ups, he had KW's finest street coil-overs fitted, a Kaaz LSD to help put the power down through corners, as well as proper brakes courtesy of AP Racing which stop on a sixpence, and help protect what has been a very substantial investment in the bodywork.
"The whole concept was to create the Fiesta RS that Ford never built," explains Burger, "it had to have an OEM look and finish, and when I found a guy down South who'd got a genuine WRC bodykit, I thought I'd hit the jackpot". In the flesh however, it was obvious the kit was just too wide and extreme for a road car to pull off. But the chap had a load of other trick parts, all from his own Fiesta WRC project which had already eaten up an eye-watering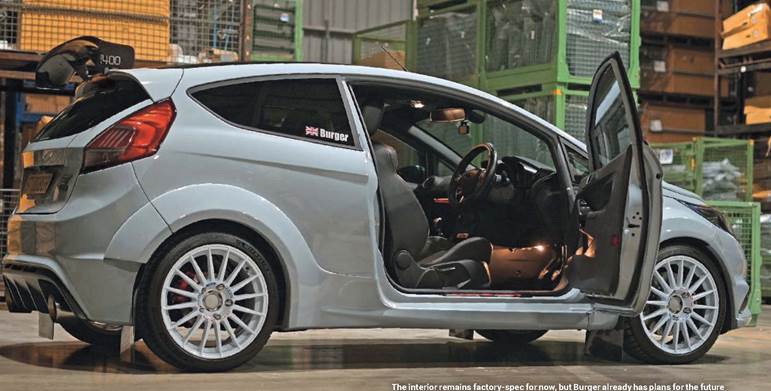 £ of his cash. "He could take it no further," nods Burger, "so I bought the original carbon fibre S2000 rear spoiler off him, as well as the genuine Asfalto racing wheels which were made especially for M-Sport by OZ Racing." As sexy as they were, unfortunately they weren't made for a production Fiesta, being 5×135 fitment as opposed to the 4×108 ST200 fitment. "M-Sport used custom fabricated hubs on the rally cars," he explains, "but you can't buy them so I spent four months researching what could be done." Despite most people telling him to just buy a different set of copy wheels, Burger persisted. After some great advice and help from motorsport engineer Alan Crossley, it was decided that re-drilling the standard hubs from 4×108 to 5×108 and then getting a set of one inch billet adaptors from Anembo Engineering to mate the 5×108 to 5×135, was the way forward. "It might sound simple," laughs Burger, "but
that took four months of head scratching and effort."
With the wheels on the bodywork could start in earnest, and essentially the whole thing was built around those alloys. An M-Sport kit was picked out as suiting the car the best, so trusted body-shop Motion Factory Finishes got to work cutting out the Fiesta's almost brand new rear quarter panels to accommodate the arches, and customising pretty much every part of the kit by chopping and changing other non-M-Sport parts to make it truly unique. "I didn't make life easy for the guys as I kept chopping and changing my mind on rear diffusers and bumpers", admits Burger, "in some cases after getting a perfect fitment, I'd change my idea on a panel which then meant refabricating areas or in some cases starting afresh!" Ollie and Alex's patience was tested to the core, and it's testament to their professionalism that they worked
through it like troopers – even the paint was a pain! "It's amazing how hard the flat grey paint is to match properly," continues Burger, "but I was adamant we kept the colour as it's a unique feature of the ST200 and I think it looks great." We couldn't agree more – there are so many touches on this car like the custom 3D printed badging, wrapped roof, and the usually textured black plastics such as on the door mirrors and front grille are now smoothed and painted matt black.
Unsurprisingly, at shows it gets a lot of attention – it's one of those cars that the longer you look at it, the more you spot.
"The biggest compliment I've had so far," says Burger proudly, "is people telling me it looks like it came from the factory… one guy presumed it was a special edition from Ford!" RSOC National Day also saw a bit of love from Fifth Gear presenter and all round game girl Vicki Butler Henderson, who couldn't resist sitting in the – for now – standard interior. "She really liked it," he smiles, "but it isn't just a show queen." His favourite annual event is a road trip through Scotland with a bunch of car mates – taking in the beautiful sights and letting the go-kart chassis of the Fiesta really come to life. "I absolutely love that trip," he enthuses, "it's the highlight of my year, and is the perfect environment for the go-kart Fiesta. it's just a huge buzz." Well, he may have been late to the party with this car modifying lark, but Burger really does sound like a true petrol-head these days, "oh yes," he nods, "it took me a while, but I think with this build, I've certainly made up for lost time!" You're never too late to start, and given the quality and presence of this Fiesta, we hope there's plenty more to come from him in the future too.