A unique planar drive unit marks out Meze's Uric headphones. Noel Keywood looks closely. Read our Meze Liric Review.
I first bumped into magnetic-planar headphones back in 1972 when Wharfedale released their unique Isodynamics. Being insensitive they had to be driven from the loudspeaker terminals of an amplifier – but they sounded lovely. Renewed interest in this type of drive unit has seen quality rise greatly through development and Meze (Romania) have become a respected player in a now-busy field with their Empyrean, reviewed in our October 2019 issue. Here I'm reviewing their less extravagant but further developed Liric, price around £ honed for portable use.
Development has raised sensitivity of magnetic-planars greatly, they can be driven from a headphone socket these days, unlike the Wharfedales – just expect to turn volume up.That applies to the Liric: they are insensitive, if not impossibly so.After reviewing Grado's conventional RSXI I had to crank up gain by +10dB on an Audiolab M-DAC+ to get these phones to rock. But all hi-res portable players (DAPs) can drive them with ease (see Measured Performance).
There is a lot to talk about with the Lirics.They use a novel planar drive unit that in effect has bass and treble sections etched on it.The bass section is large area, the treble section small area and aimed directly at the ear's canal leading to the drum. Best to look at the diagram to see how this works. It eradicates the warmth and softness that characterises planar drivers. This ingenious asymmetric signal path pattern, complete with what appears to be a phase plate (to smooth things out) in front of the circular high frequency section, marks out the Liric as innovative and different.The low and high frequency surface conductors appear joined in the company literature, there is no crossover between them.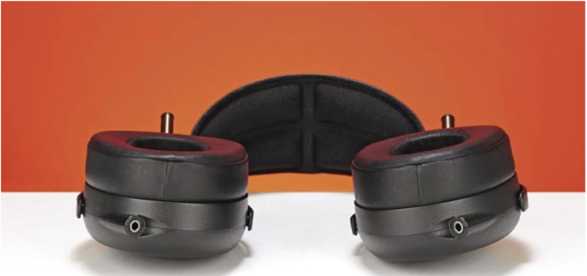 The ear pieces have soft leather cushions that fitted well. Each one has a 3.5mm mono jack socket so balanced working (separate earths) is possible.
Who thought this up? Antonio Meze founded the company in Romania but the drive unit is built by Rinaro of the Ukraine, that borders Romania. It is their technology apparently and they call this – interestingly – an MZ4 Isodynamic hybrid array drive unit. A title that appears to acknowledge Wharfedale's seminal contribution to the field,'Isodynamic' having been replaced by'magnetic-planar' in current parlance.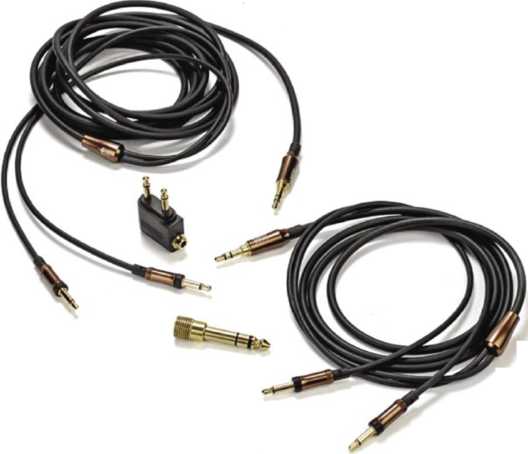 Accessories comprise short lead for mobile use, long lead for home use, plus two adaptors. The leads were flexible and did not kink.
The Lirics are purposed for mobile use they say.That means light weight and a closed back to prevent sound annoying others. Trouble with closed back phones is that they can sound hollow and boomy. Meze say they have addressed this and indeed I found the Lirics sounded airy and spacious like open backs, whilst throwing less sound out. Goal achieved.
Mobility demands low weight and here they were what I'd term "normal weight", coming in pouch for cables and connectors.
Build and finish were very good, with nice soft ear pads that fitted well.The 'phones are not at 395g (without leads) on our scales.The leads for mobile use are light and flexible however, so don't add much.They have 3.5mm mono plugs to each ear piece, combining into 140cm long lead terminated by a 3.5mm stereo jack.There is an alternative 400cm (10ft) long lead for home use. Independently connected earpieces can be run balanced, but a lead is not supplied for this.There are two adaptors, one for aircraft outlets and one for 1/4in (6.3mm) outlets. A hard carrying case is supplied and a symmetric and best stayed on my head with headband swivels at front I found, but neither way appeared quite right for me.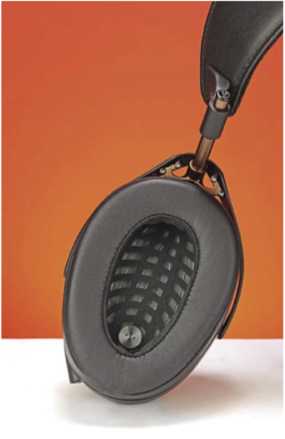 Behind a protective grille lies a diaphragm with flat conductor etched on it. At bottom is what appears to be a phase plate to smooth treble.
SOUND QUALITY
The 'phones were driven by an Audiolab M-DAC+ with ESS ES9018 DAC and on-board linear power supply, connected to a Mac computer (Mojave) running an Audirvana+ software player to read CD, hi-res and DSD, via USB link.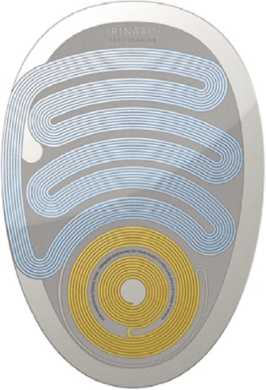 Rinaro's diaphragm has a switch-back bass section and circular high frequency section (yellow).
I found the Lirics have a light balance that favours highs rather than lows, if not by overly great extent. I spent much time comparing their low frequency output against my Oppo PMI planar-magnetics and in the end felt the latter were preferable for their depth, heft and warmth. With
Mozart's Ave Verum the low drone of a church organ had conspicuous weight with the Oppos, less so with the Litics.The acoustic of the space was less obvious too. However, when the choir entered the Lirics were way ahead in insight and delineation of fine detail. Where the Oppos generalised the Lirics presented a large group of individual singers, there was so much more revelation.This made the Oppos sound muffled.
I use this example to illustrate what I heard generally: the Lirics have superb insight, fully up with the best planar-magnetics, even if at times I found them a tad too much in this respect.
What I must not forget to say though is they are a step up on conventional dynamic headphones in their finesse and lack of colour, something I take for granted since I gravitate to planar magnetics for purity of sound.The Lirics were superb in this area.
High frequencies were prominent, yet quality was so good it was difficult to object. Johannette Zomer's voice soared singing Handel's Lascia ch'io Pianga (DSD64), sweet and pure.
I'd say Classical music benefits more from headphones of this ability than most else.With basic Rock like The Eagles 'Somebody' (24/96), insight and sheen took precedence over the driving rhythmic fundamentals supplied by drums and bass guitar.The swirling Hammond organ lost its sinister majesty, a castrati version it seemed! Fantastic insight but whilst the level of analysis was beyond criticism I wanted more meat on the bone with this sort of Rock. Like wise I wanted to better feel Jean Jacques Burnell's lead bass work in The Stranglers' Down In The Sewer, backed by a more solid organ played by Dave Greenfield.
The Lirics needed around 5dB more gain than my Oppos, giving some idea of where they sit in sensitivity terms. Although low in sensitivity, they're still plenty good enough to run loud from even a mobile 'phone.There was very little sound leakage, as intended, to suit mobile use.
CONCLUSION
In true magnetic-planar fashion the Lirics offer one of the most insightful, smooth and detailed sounds possible. They live up to their price and perceived potential here. On offer is a light demeanour where lows are tight and defined but of limited heft.This is not an unusual balance in modern headphones (ignoring Beats) so the Lirics are normal enough as it were and will appeal to all those who want forensic insight rather warmth or driving bass.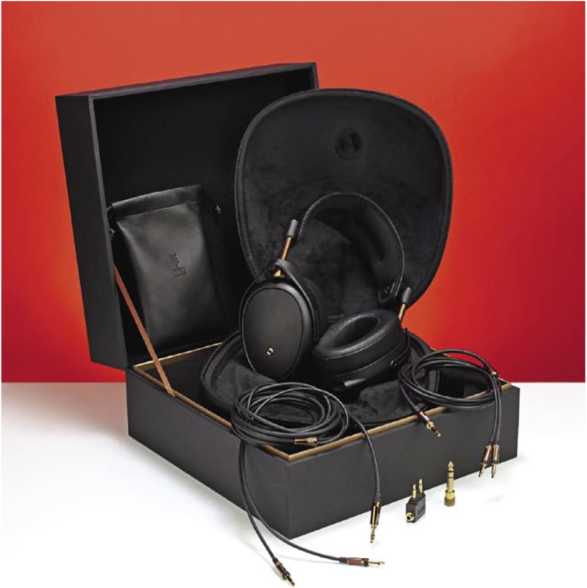 A hard shell carrying case protects the 'phones when on the move. It also carries accessories in a pouch.
EXCELLENT – extremely capable
VERDICT
Meze Liric Review
Clear and insightful, if with a balance favouring highs.
PROS
superbly detailed
fabulous clarity
low sound leakage
CONS
light bass
midband forward
awkward fit
Best Meze Liric prices ?

When sound meets poetry something extraordinary comes to life LIRIC is an expression of emotion. A perfect blend of timeless aesthetics premium materials and the very latest in audio engineering from Rinaro Isodynamics it is an actual harmony of form and function meant to set a new benchmark in...

MORE DEALS

SCV
+44 (0)3301 222 500
www.scvdistribution.co.uk
MEASURED PERFORMANCE
Our frequency response analysis published here is not HRTF equalised so has a dip around 4kHz as result – normal and expected. Overall trend shows low frequencies 3-4dB below the mid band (800Hz) where output is dominant, pushing lows back for a lighter apparent sound. At 40Hz level is down -5dB relative to the mid band, for example. Headphones – magnetic-planars and dynamics – often measure flat to 40Hz relative to 1 kHz so the Liric's will have less obvious bass than many, but it is there.
There is relatively strong output around 10kHz and a deep gap (-15dB at 6kHz) between the peak and the mid-band – deeper than is common – divorcing high treble from all else, likely affecting subjective integration. High frequency output is made stronger, as claimed, by the unique track layout within the Rinaro driver.
The impedance trace has a strong peak at 1.8kHz our analysis shows, but is otherwise 30 ohm with a d.c.r. of 27 ohm. Overall impedance measured 43 ohm, with pink noise. Injecting 1mW (207mV/ 43Q) sine, sound pressure
level measured 93dB – 7dB below the 100dB claimed. Headphone sensitivity values are commonly 'optimistic'. It is still extremely loud from just 0.2V so no problem in real life where mobile 'phones and portable players produce 1V-2V or more.
The Lirics have a distinctive measured performance and likely associated sound, but it is a good set of results with no aberrations. NK