Martin Logan's latest Motion 15i small bookshelf loudspeaker, reviewed by Noel Keywood. Read our Martin Logan Motion 15i Review.
Motion 15i is the smallest loud­speaker this com­pany make, Martin Logan being known for their vast and extraordinary electrostatic loud­speakers like the Neolith that I once sat in front of at a San Francisco show. Coming in at £ the 15i is meant to give you a taste of the £ Neolith!
Well, in your dreams perhaps, yet there is essence of Neolith in this small box.The distinguishing feature of all Martin Logan's Motion series loudspeakers is use of a little folded ribbon tweeter that can "mimic the performance of a large electrostatic panel" they say,"in the confines of a traditional loudspeaker enclosure".The Motion series aims to offer a taste of electrostatic then in a conven­tional cabinet; there's something different in this small loudspeaker.
I'll dive into this issue straight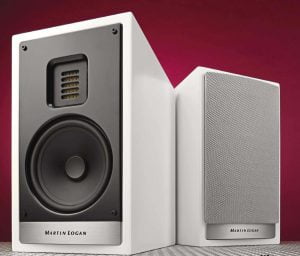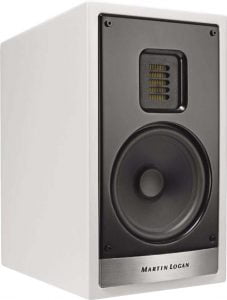 The aluminium cone bass/ midrange driver covers most of the audio band, its central concave dust cap extending response right up to 3kHz. Above lies the folded ribbon tweeter.
away. Martin Logan have raised tweeter output to make its contri­bution obvious, for projective electrostatic-style clarity.Yep, this is not an academically accurate loudspeaker.The folded ribbon tweeter is well forward in the sonic scheme of things – but such drivers have a sweet sound that is sonically acceptable, where cheaper domes get coarse and edgy as they break up. Also, folded ribbons are expensive, with Mundorfs costing hundreds (UK £) for example.
There is suggestion in the literature that the tweeter sets the tone, but measurement showed that is not entirely true. The aluminium bass/midrange unit covers most of the audio band, the tweeter just high treble – so the former does most of the work.
What you get here is a small, solid cabinet measuring 290mm high, 173mm wide and 220mm deep (bare wires; a bit more for connectors) and weighing just 5.4kgs, so easily movable. It's a bookshelf loudspeaker with a rear port, but that's fine as long as a small amount of breathing space – 2cms or so – is left behind. The rear port loads a 133mm aluminium cone bass/midrange unit set into a "non-resonant asymmetrical chamber" Martin Logan say, but the important part is in truth the "rigid structured dust cap" because this is the bit that contributes much to high frequency output.
At rear lie mono­wire terminals with Martin Logan's own terminal connectors that accept bare wire, spade connectors or 4mm banana plugs.There are clip-on front grilles that have light, thin plastic frames and acoustically transparent material that made no different to forward response.
SOUND QUALITY
The Motion 15is were connected to our Creek Voyage i20 and alterna­tively PrimaLuna EVO 300 Hybrid amplifiers, via Chord Company Signature Reference cables. Sources were CD from an Oppo BDP-205D player with its ESS ES9038 Pro DAC.
Hi-res came from the Creek's Bluetooth 5.1 link to an iPhone 11X Pro with an Onkyo HF player app running 24bit PCM and DSD, channeled through an AKM DAC.
The 15i was successful in getting out the essence of electro­static, without over stepping the mark – except on the odd occasion. It is starkly dear in its delivery of vocals, shading most else:Josefine Cronholm hovered well forward of the cabinets and every word tumbled out dearly from In Your Wild Garden (CD).
The bass/midrange unit's alloy cone came across as fast and concise in its delivery, and treble remained smooth and clear – if obvious.The resonating guitar strings of Antonio Fordone playing Tears of Joy cut out strongly, without hiss or spit, just a great sense of projection.There was a nice airy quality to high treble that made for a more attractive character than is common from dome tweeters, especially metal ones.
When I pushed up volume with heavy Rock I did get to hear some boxiness from the cabinet, identified by the large peak in the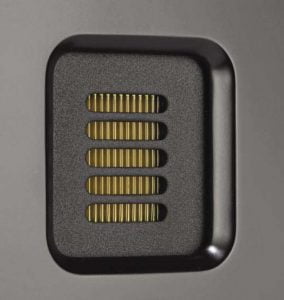 The folded ribbon tweeter, or Air Motion Transformer (AMT) as termed by its inventor Oscar Heil, Mundorf and many others. Expensive to manufacture but becoming popular for excel­lent sound quality, similar to that of a flat ribbon tweeter.
port trace that shows the cabinet is internally lively. Although the 15i has measurably more bass than its predecessor it remains dry and on the light side overall; you can't expect too much from such a small cabinet. It is meant for bookshelf use in a small room (less than 14ft long) that is itself lively at low frequencies. It's best not to over excite a small room, to avoid boom.
The 15i's clarity and projection suited classical, Bach's Concerto for Flute,Violin and Harpsichord "There was a nice airy quality to high treble that made for a more attrac­tive character than is com­mon from dome tweet­ers, especially metal ones" (DSD) came over well, but flute occasionally jumped at me. Intrigued, I looked at the Onkyo HF Player's spectrum analyser and, sure enough, the steady tone of the flute was often at 1kHz where the 15i projects strongly. Also evident though was a bowed cello at around 60Hz – quite low – so the small cabinet was delivering lower octaves well enough. Strings shone and had a good sense of air around them, as well as sounding deliciously detailed.
Similarly, Stevie Nicks high pitched vocals at the start of Silver Spring (24/96), from Rumours (re-release version) were lifted to become a little strident as harmonics were emphasised: I know from our smooth ESL-X electrostatic that this is not how she sounds. For the most part the 15is were fine, it was on the odd occasion like this that the speaker's tilted tonal balance revealed itself.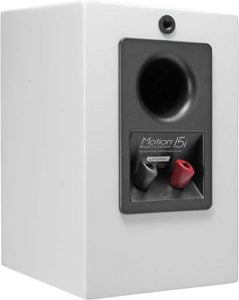 A large rear port tuned to 70Hz helps toward delivery of fast bass when placed on a bookshelf in a small-ish room, meaning 14ft long or less. This mini needs the bass gain a small room provides.
CONCLUSION
Purposed to give a sense of electrostatic clarity, Martin Logan's little 15i bookshelf loudspeaker is quite different to most else. The folded ribbon tweeter and aluminium bass/midrange together project higher frequencies
powerfully and smoothly, giving a sound that puts clarity and insight into the headlines. Warmth takes aback seat.The result is undoubtedly dramatic and works for most of the time, if not all the time. A loudspeaker that makes others sound laid-back and worth hearing.
MEASURED PERFORMANCE
The small folded ribbon tweeter of the Motion 15i runs from 3kHz to 20kHz measurement showed, the 133mm aluminium cone bass/midrange unit reaching up to 3kHz. Overall response extended from 50Hz up to 20kHz our analysis shows (green trace), the port (red trace) giving support over a wide area centred at 70Hz – shown by the dip in the impedance trace caused by the port.
This is better bass extension than that of the original Motion 15, tested in our Sept 2013 issue. Otherwise, the Motion 15i measured like its predecessor in every respect. Tweeter output is raised above that of the bass/midrange unit by around 2dB – enough to make its contribution obvious. It has a smooth response, suggesting absence of minor resonances and low colouration – in typical ribbon tweeter fashion. For a sense of balance though the Motion 15i needs to be used close to a rear wall – within 12in – to sustain low bass.
Sensitivity was a very high 89dB from one nominal Watt (2.8V) of input. It will go loud even from 40 Watts as a
result. This is partly because impedance is low at 4.7 Ohms, so the speaker draws more current than most.
The Motion 15i will have a bright balance but smooth treble that's clean; it is designed for use close to a rear wall. Little power is needed. NK
MARTIN LOGAN MOTION 15i
EXCELLENT – extremely capable.
VERDICT
Martin Logan Motion 15i Review
Fantastic clarity and projection, but tonally tilted.
PROS
super clear
clean, airy treble
forward projection
CONS
lacks warmth
lacks low bass
Best Martin Logan Motion 15i prices ?

$

269.99
1 new from $269.99
in stock


$

299.95
1 used from $264.77
2 new from $299.95
in stock


$

359.99
3 used from $240.32
1 new from $359.99
in stock

MORE DEALS

PMC
+44 (0)1767 686300 www.pmc-speakers.com