Martin Pipe goes On(e) Tour with JBL's latest Bluetooth headphones. Read our JBL TOUR ONE Review.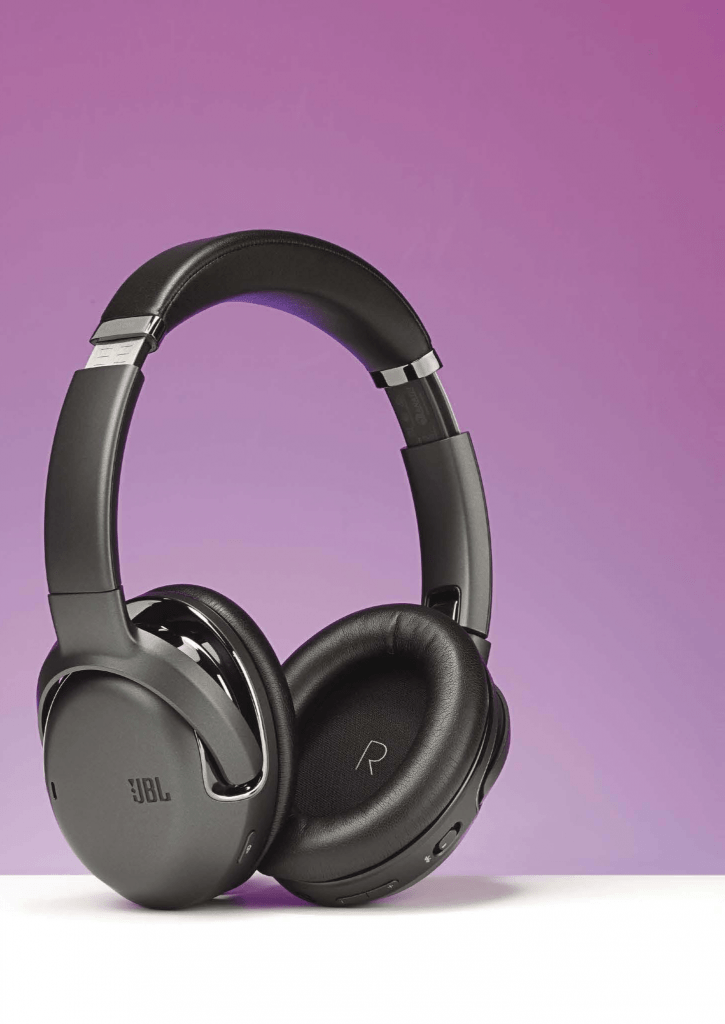 Referring to the JBL Tour One as a mere pair of headphones is a bit like calling the latest handheld wonder from Apple a 'mobile phone'. Of course, the iPhone can be used to make calls, but a lot of other stuff falls within its capabili­ties too. And so it is with the Tour One, which is evidently aimed at those gadget-loving folks who go ape for smart­phones. Sure – in basic audio terms it's a circumaural closed design with 40mm drivers, and a cup-mounted 2.5mm socket for direct connection to a con­ventional audio player via the supplied lead. Were you to use it only in that old-fashioned way though, most of the Tour One's potential would be wasted.
Most of its target audience would prefer to use their precious smartphones with the Tour One in its Bluetooth 5.0 mode, which supports A2DP vl.3.To aid listening in noisy environments, the Tour One has an advanced 'adaptive' noise-cancellation function with no fewer than four embedded 'beam-forming' microphones at its disposal. So effective is it that JBL had to include 'ambient aware' and 'TalkThru' functions, so that wearers can hear what's going on around them.'Silent Now', meanwhile, is a means of efficiently-providing noise­cancellation when the Tour One isn't playing music – handy under some circumstances, such as when travelling. So too is the hands-free function, which comes into its own when that phone is used for its more traditional application. It exploits those mikes, as does voice activation.
The latter, which works with your smart device, can be set up for Amazon Alexa or Google Assistant. As someone who's more used to pressing buttons, telling my phone to play music is quite cool.You'll need to install the relevant apps; while we're on the subject, there's also a JBL app (available for both Apple iOS and Android platforms) that allows the Tour One to be configured. Features you can play with there include noise-cancellation, auto-off, the ambient awareness function, equalisation – user-drawn response curves, as well as preset modes – and a 'video mode' that optimises the connection for the best lip­sync.The condition of the internal battery is also shown.There are however also controls on the Tour One; most prominent of these is a switch, on the right earcup, that turns the 'phones on and initiates Bluetooth.
Close by are buttons that remotely-alter your device's volume level via Bluetooth, rather than its own amp; they have no effect if you're using the Tour One, either passively or in an active (noise­cancellation) mode with a wired connection. On the left cup is the USB-C charging port – the Tour One's battery is good for 25 hours under normal circumstances – and a button that, depending on configuration, cycles through the noise-cancellation modes or wakes up the voice assistant.The right earcup is 'touch-sensitive' and will activate functions (like track pause/skip, mike mute and answering calls) depending on your connected equipment's capabilities and how it's 'tapped'. Its sensitivity is, however, high enough to be annoying – you can't adjust this, or indeed turn it off altogether…even with the app.Thanks to something called 'Play and Pause', the Tour One will temporarily hold the music when it's removed from your head. It wasn't particularly reliable on the review sample.
I tried the Tour One's Bluetooth prowess with a Google Pixel 3a Android smartphone via Bluetooth – my wired devices were an Astell&Kern SR25 and, via a 3.5mm adaptor, a Prism Callia 'headphone DAC'. Comfort was fair, thanks in part to the 298g weight, although sweat could be a problem during long sessions. Immediate neighbours who don't share your musical tastes will appreciate that the Tour One's closed design helps to minimise sound leakage.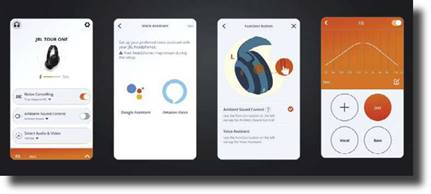 The app 'My JBL Headphones' is available for both Apple iOS and Android platforms. Tour One features you can play with there include noise-cancellation, auto-off, the ambient awareness function, equali­sation – user definable curves, as well as preset modes – and a 'video mode' that optimises the connection for the best lip sync. Also pro­vided are status (e.g. battery life) monitoring and help.
After a quick and easy pairing process, I found the Bluetooth range to be exceptionally good – as much as 10 metres. Some apps (FiiO's Music Player, for example) work with the Tour One's tap­sensitive transport controls, but others (VLC) don't. Although clarity is impressive, especially when the lossy nature of the Bluetooth link is factored in, I found that the tonal balance was warm rather than neutral.This mild lower midrange bias, which brings instruments like bass guitars and synths to the fore, can to an extent be compensated for with the equaliser.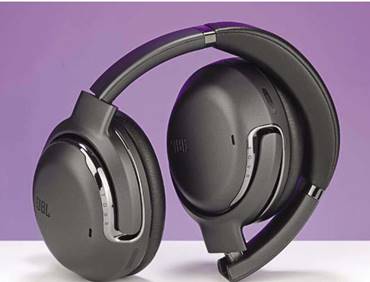 The Tour One folds neatly so it can fit into the compact carry­ing case supplied by JBL as part of its package. Here, we can also see the four embedded 'beam-forming' microphones that are used by the adaptive noise-cancellation, voice-activation and hands-free call features.
No equaliser is available in the passive wired mode, which seems to connect the Tour Ones directly to a player (a welcome standby if its battery is dead), but there were sonic benefits. Although the warmth was still present, treble was cleaner I found, and more detail evident – rhythm guitars, saxes and pianos fared particularly well.
JBL can be congratulated for its noise-cancelling mode, which is undoubtedly one of the best I've tried. In the past, I have found them to be rather fatiguing thanks to the noticeable colouration they add. Not even a noisy Tube train or industrial-grade data centre fazed the Tour One; the music always won.JBL's signal processing does squash dynamics (probably one of the weapons in its digital armoury) but not in an offensive way. I also noted a tiny background hiss and slight grittiness in higher frequencies, while some ambient noise (sharp taps and wind) could cause odd artifacts at times. On the whole, though, it's definitely worth having. As a brief aside, the mikes that help make it happen also excel during voice calls.
CONCLUSION
It's impossible not to like the JBL Tour Ones, which pack in a consid­erable amount for the money. If you simply want the most musical headphones for your money, then something like the Hifiman Deva (reviewed last month) would probably be more suitable (and in its non-Bluetooth form, cheaper). But you'd miss out on the gadgets – Google Assistant is fun, if infuriating at times – and a noise­cancelling system that ranks among the best anywhere.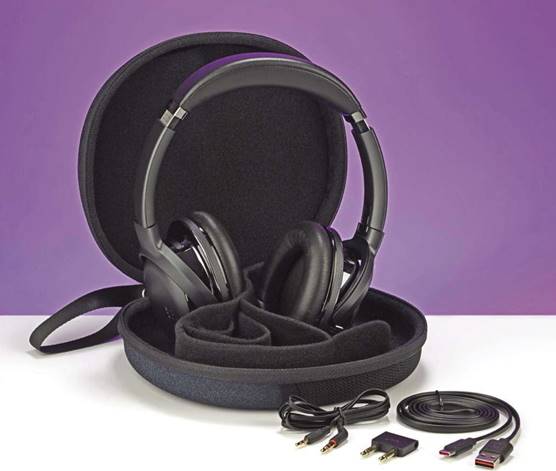 JBL hasn't skimped on the accessories. As well as a zip-up carrying case, there's a USB charg­ing cable and a flat 1.2m cable with adaptor for inflight use (where the Tour One's noise cancel­lation would best be appreciated!). The audio cable is rather insubstantial, and the right-angled rubber-coated plug at its player end tends to snag in pockets.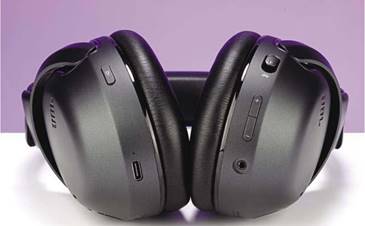 Although the Tour One can be app-driven there are hard con­trols too. On the right earcup are the Bluetooth/power switch, buttons that remotely adjust volume via Bluetooth and a 2.5mm input socket for wired use. On the left cup is the USB-C charging port and a button that engages the voice assistant or cycles through the noise-cancellation modes. The 'touch-sen­sitive' right earcup will, when tapped, activate some frequent­ly-used functions.
EXCELLENT – extremely capable.
VALUE – keenly priced.
VERDICT
JBL TOUR ONE Review
For smartphones, the Tour One is a match made in heaven.
PROS
surprisingly-detailed sound for the money
adaptive noise cancellation is effective
a gadget-lover's delight!
CONS
tonal balance not neutral
earcup touch controls too sensitive
non-perforated earpads can get 'sweaty'
Best JBL TOUR ONE prices ?
MORE DEALS