Martin Pipe listens to a Deva without tantrums – specifically a modestly priced pair of headphones from Hifiman. Read our HIFIMAN DEVA Review.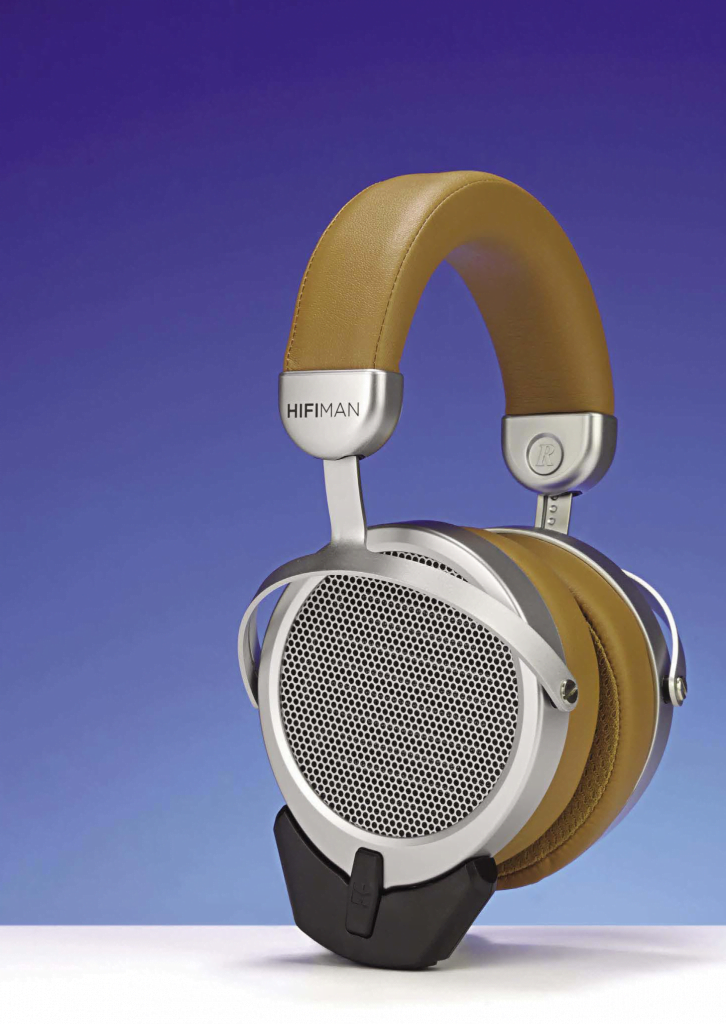 I'm surprised I haven't spent quality time with a Hifiman product before, given that the website of this Chinese manufacturer lists no fewer than thirty different headphones. Prominent among them is the Shangri-La electrostatic model ($50,000), complete with dedicated valve amp, priced in the same league as Sennheiser's flagship. Hifiman, which has been in existence for 15 years or so, also produces ranges of lEMs (earbuds), person­al music players and the accesso­ries to help you make the most of them. Here, I'm looking at their Deva, a large pair of open- backed circumaurals that employ planar magnetic transducers – as used to good effect by rivals like Dan Clark and Audeze, and originally by Wharfedale in their Isodynamic headphones (1972).
The predominantly silver Deva is apparently named from the Sanskrit word for 'heavenly'. It has a bright and breezy appearance, with its coffee­coloured earpads and headband. A notable amount of plastic features in its construction, but there's solidity where it counts – the core of the headband, with the brackets that couple it to the earcups, is made from a tough aluminium alloy. Look inside the earcup, and under a thin doth gauze you'll see the 80mm planar driver. Most evident is the ultra­thin 'Neo Supernano' diaphragm – 80% thinner than that of previous models, claims Hifiman – and the printed tracks of the voice coil that carry the audio signal. Also evident is the 'stator', the grid of magnets that interact with the voicecoil to move said diaphragm in time with the audio. What's visible represents only half of the total magnetic force; the remainder is unseen, on another stator mounted on the opposite side of the diaphragm.
Planar magnetic drivers offer great performance potential, but compared to the traditional moving-coil type (basically, a shrunken speaker drive-unit) they're not particularly efficient.The 18-ohm drivers of the Deva are specced at 93.5dB (1mW @ 1kHz). Compare that with the recently-reviewed iBasso SR2, the sensitivity of which is claimed to be 108dB.This raises implications for the equipment you'll be using to drive the Deva. It will push, say, the output stages of mobile phones and bus-powered USB DACs close to their limits. On which subject, the Deva connects to equipment via a rather nondescript two-metre cable with a right-angled 3.5mm plug at its source end (a 6.35mm adaptor is provided).Thankfully, it can be detached from the left earcup for upgradability as well as storage; the use of a 3.5mm TRRS (i.e. 4-pole) connector suggests that balanced connectivity is possible.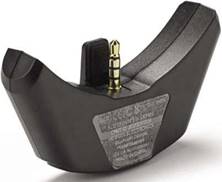 The Bluemini Bluetooth dongle that attaches to Deva's right earcup. The four-pole connector makes a balanced connection to the earpieces. When Bluetooth and USB aren't required, the device is simply unplugged and the 3.5mm cable attached instead.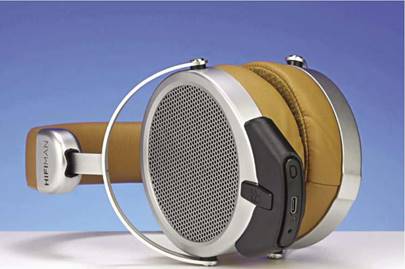 The Deva's design is neat, complicated and effective – Bluetooth, USB and wired connections give you flexibility. What a shame the black plastic Bluemini dongle seen here isn't in a matching colour!
There is however more to the Deva's connectivity. Included in the £ package as reviewed is the 'Bluemini', a black (why not a matching silver?) Bluetooth receiver that plugs into the socket. Curved to fit around the base of the left earcup, it's sufficiently lightweight not to alter the balance of the headphones and thus impact wearer comfort.The spec, is far from lightweight, the Bluemini featuring Bluetooth 5.0, LDAC and aptX-HD support, a battery life of up to 10 hours, user-upgradable firmware, an integrated mike for hands-free calls and an amplifier capable of delivering a 'real world' quarter-Watt to each transducer – at distortion levels of less than 0.1%. It charges via a USB-C port, which also allows the Bluemini to be used as a USB DAC with a personal computer. In other words, you don't have to rely on a PC's soundcard – great news if you like a musical backdrop as you work. Most modern laptops have a USB-C port, but I found that the Bluemini is compatible with 'regular' USB-A ports if the appropriate cable is used. If you don't need the Bluemini, the Deva can be bought in a 'wired edition' for £ – an £ saving. Neither version comes with a carrying case, sadly.
USE AND PERFORMANCE
The memory-foam earpads appear to be covered with faux leather, but the upper surfaces that come into contact with your head are cloth. They are replaceable, snapping into the front of the cup. I could not fault the comfort – the pads fit comfortably around the ear and pressure applied by the sprung headband was not excessive.The Deva's shape and size may give an impression of heaviness, but in reality it weighs only 360g. Being an 'open' design, though, sound leakage is considerable – this isn't the best pair of headphones to use on public transport. I found that the cable, not having a locking mechanism on the plug that mates with the Deva, would detach easily if snagged in clothing – a minor annoyance, but preferable to damage.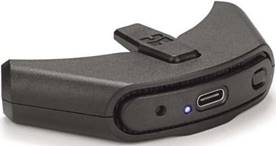 Using the 25 gm Bluemini dongle is simplicity itself – in Bluetooth mode it's paired with your source. The LED indi­cates low battery, charging and operational state. Next to the LED, the hands-free mike can also be seen.
I started my listening with the Bluemini, alternating between a Google Pixel 3a smartphone (Bluetooth, with the LDAP codec) and a fairly modern Dell i5 Windows laptop (USB). Pairing the dongle, which appears in a Bluetooth search as 'HIFIMAN BLUEMINI', was a cinch. The Bluemini works out of the box with Windows 10 but if you want the full 24-bit hi-res experience a free driver can be downloaded from the Hifiman website.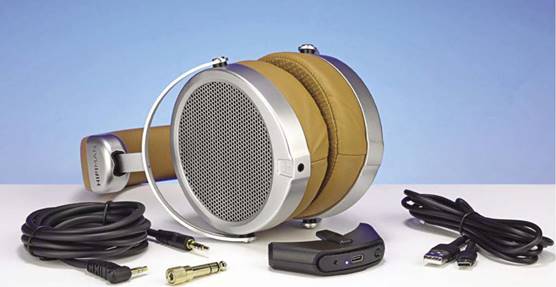 Everything you need for listening with the source of your choice, although a handy carrying case is conspicuous by its absence. The USB cable not only charges the Bluemini's internal battery, but also allows it be used as a USB DAC with a personal computer.
In both cases, the Bluemini/ Deva combo rewarded me with plenty of clarity and precision – this was particularly noticeable with guitars (both acoustic and electric) and upper-band percussion. However, with the direct USB connection I found presentation of the same music to be a degree more 'open' than Bluetooth – possibly because data compression is avoided. Listening via Bluetooth or USB involves your source device's volume control, as the dongle lacks one of its own. Despite the lowish efficiency of the Deva, I had no drive issues – there was plenty of distortion-free volume when needed, even with bass-heavy dance music. I was off to a good start.
And so to a wired connection of a more conventional kind – I tried an Astell&Kern SR25 player and a Prism Callia 'headphone DAC' fed digitally from a Cambridge CXN streamer. Both took the Deva in their stride. Again, it was the detail that leapt out at me – there was far more than you have any right to expect at the modest asking price.With cuts like Talking Heads' Slippery People and Black Country New Road's Track X, subtleties buried in the mix were compellingly laid bare.The low-mass diaphragm of Hifiman's planar driver almost certainly helps here. There is a definite treble bias as opposed to absolute tonal neutrality and this undoubtedly aided apparent clarity.
Upper lows were also fairly prominent, yielding a warmth that emphasised bass guitars, although this diminished over time – a long burn-in is needed.
Lower bass went sufficiently deep to satisfy lovers of electronic music and rap without sounding artificial and overblown.
A play of Britten's War Requiem (Noseda/LSO) revealed that stereo imaging – a traditional shortcoming of planar magnetic 'phones – is excellent too, with fine delineation of the instrumental groups; in this regard the Deva is comparable with its dynamic contemporaries.
CONCLUSION
There's much to be said in favour of the Deva, which covers all listening bases – wired, Bluetooth and USB – for less than £. If you're sure a wired connection is all you'll never need, then pay just £. With the openness and clarity on offer here, the Deva is undoubtedly one of the year's best headphone bargains.There is some colouration towards the lower end of the audible spectrum, but over time this became less apparent. Despite the lowish sensitivity, I heard no audible strain with the various devices I tried – among them the Bluemini dongle – even at highish listening levels. Hopefully, Hifiman will in time be able to offer a matching carrying case, and possibly even a balanced audio cable.
OUTSTANDING – amongst the best.
VALUE – keenly priced.
VERDICT
HIFIMAN DEVA Review
Quality magnetic planar 'phones at a great price, Bluetooth included.
PROS
detail and clarity
Bluemini adds considerable versatility
big bass sound
CONS
no Bluemini volume control
treble emphasis over neutrality
no carrying case supplied
Best HIFIMAN DEVA prices ?

$

159.00

$199.99
1 used from $127.99
2 new from $159.00
in stock


$

199.00

$329.00
1 used from $215.99
4 new from $199.00
in stock


£

274.77

£309.00
1 used from £238.71
7 new from £274.00
in stock

MORE DEALS