Make The Grade
Grado RS1X headphones reviewed by Noel Keywood. Read our Grado RS1X Review.
The market for headphones is huge – and wired over-ears are the only way to go for quality in this arena. All the big brands like Sony, Sennheiser, AKG are in there, as well as my own favourite Audeze with their magnetic-planars. Grado join the battle for market share with their latest RS1x headphones priced at £That's a high price so there's a lot of competition to be considered here.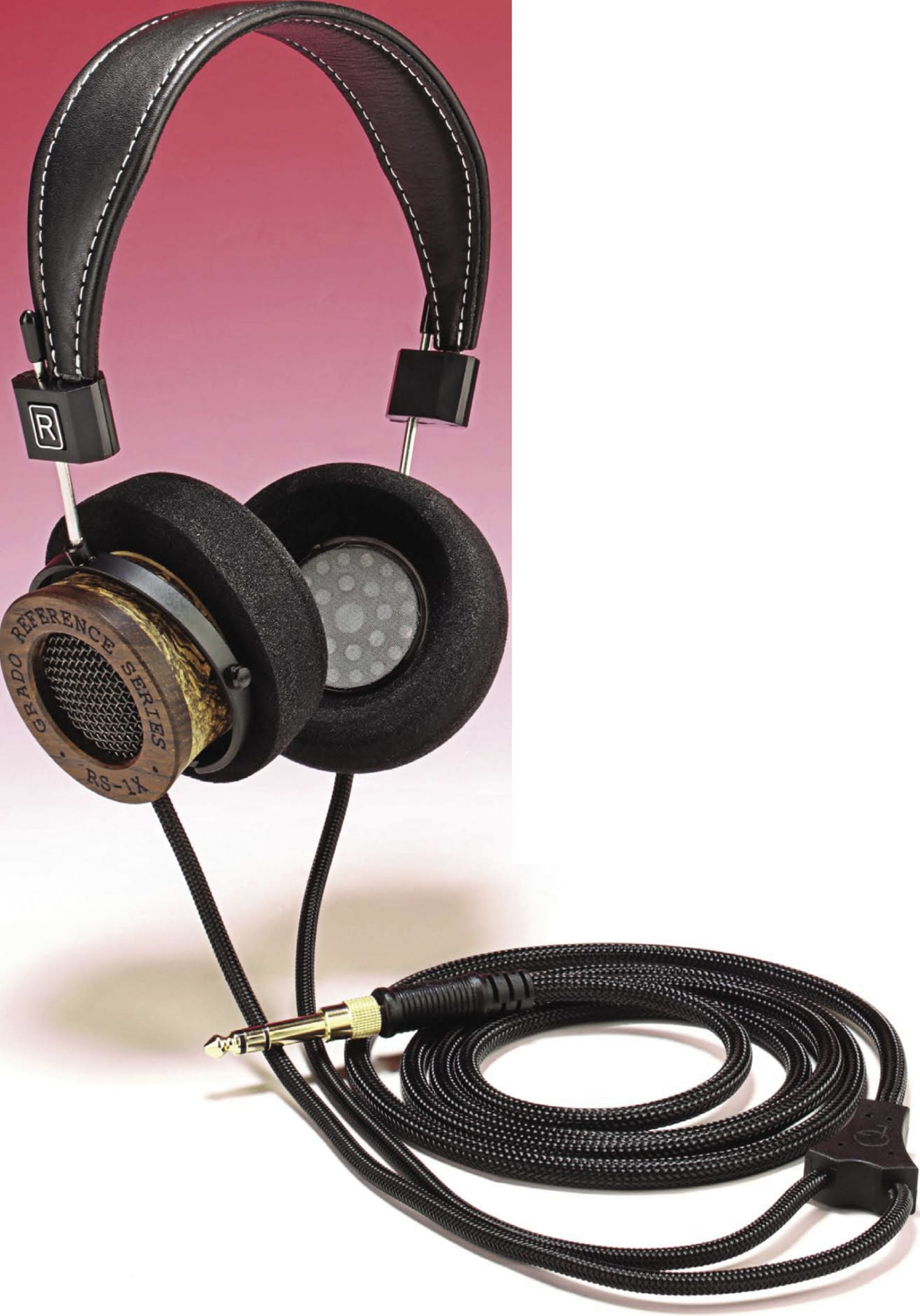 The RS1x is a conventional dynamic headphone, meaning it has a mini-loudspeaker drive unit inside each ear piece, with conventional magnet+coil motor assembly – not a planar-magnetic then. Grado say only that the driver has a 50cm diameter and when I first heard it I thought "titanium dome", meaning there was a cool, fast delivery. But as it was run in this softened to the sound I'll talk about later and I suspected aluminium dome.
RS1x is a simple open-backed 'phone where the rear of the drive unit fires out through a coarse protective mesh. Open-backs give very clear sound and are my preference, but they have lighter bass than closed-backs and transmit more noise outward into the room or – more disturbingly – at people on train or 'plane. Not a commuter's headphone then, even though light at 320g including the cable.
The rear of the drive unit is clearly visible from outside: it sits in a simple chamber made of spun Maple, Hemp and Cocobolo wood surround that, Grado say, impose a specific sound. I'll say here that I heard no contribution that I would attribute to wood; on the contrary they were cooly clear. But whatever, the woods look good as our pics show.
On the spun woods that form the basic cylindrical frame sit simple foam ear pads of 80mm outer diameter and 40mm inner diameter for the ear – small.They sit on the ear rather than over it, and were fairly comfortable because of light pressure, but the foam didn't feel luxurious; quite the reverse it had a rough surface. A larger over-ear assembly would have been more comfortable, but Grado's minimalist approach does avoid sweaty-ears. Air gets to circulate around the bits and with these 'phones I didn't feel so encumbered as I do with my larger Oppo PMIs.The trade off is lighter bass, as the seal between headphone and ear isn't so effective, leading to a degree of front-back sound cancellation.
Unlike most headphones we review, the Grados come with captive cables permanently attached to the earpieces. Meaning the cable cannot be changed, and only lengthened by use of an adaptor.The cable is 70cm (nearly 5ft) long, terminated in a 3.5mm stereo jack plug, so it has good reach, but at the price inability to change the cable or employ balanced connection is a distinct drawback.The cables were not clamped either it appeared, moving in and out of the chamber freely. I worry that a yank on the cable may break an internal connection.
The head strap of stitched leather is a nice touch and I was slightly amused at the simple rod connecting earpiece to strap as this reminded me of my radio headphones from long ago – a simple mechanical system that works well.They swivelled easily and all was happiness here. Grado supply an adaptor to connect into 1/4in (6.3mm) sockets.
With a cylindrical body just 60mm diameter these 'phones look compact – they're visibly smaller than most. Grado don't supply a carrying case or even cloth pouch for on-the-go use, so something like a freezer bag may be needed for protection.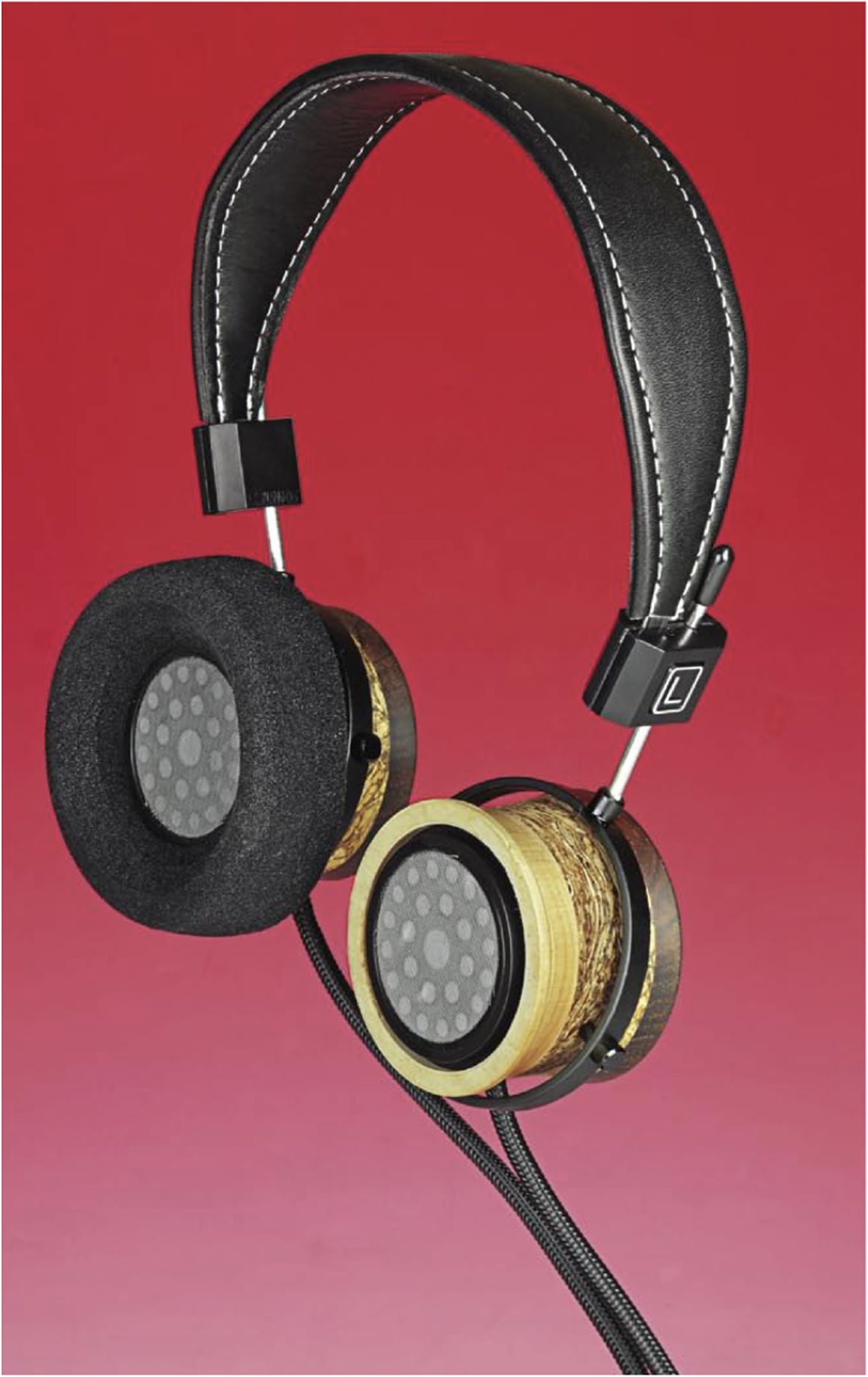 The foam ear pads can be removed for cleaning and they appear to hold the drive unit in place, which is loose in its cavity. This may make repair easy if a lead is yanked out by accident, since there was no cable clamp.
SOUND QUALITY
These are what I'd describe as very revealing 'phones. That was my over-riding impression: vocals were projected strongly, there was clarity and detail. Initially, before running in, there was also some slight edginess but this faded away as they were used. The spoken intro to Daft Punk's Giorgio by Moroder (24/88.2) was supremely clear and nicely balanced too: I heard no edginess or top-end spitch. Backing drums were fast and clear as well. But I use this track as a judge of bass presence and here the insistent synth bass line was on the light side.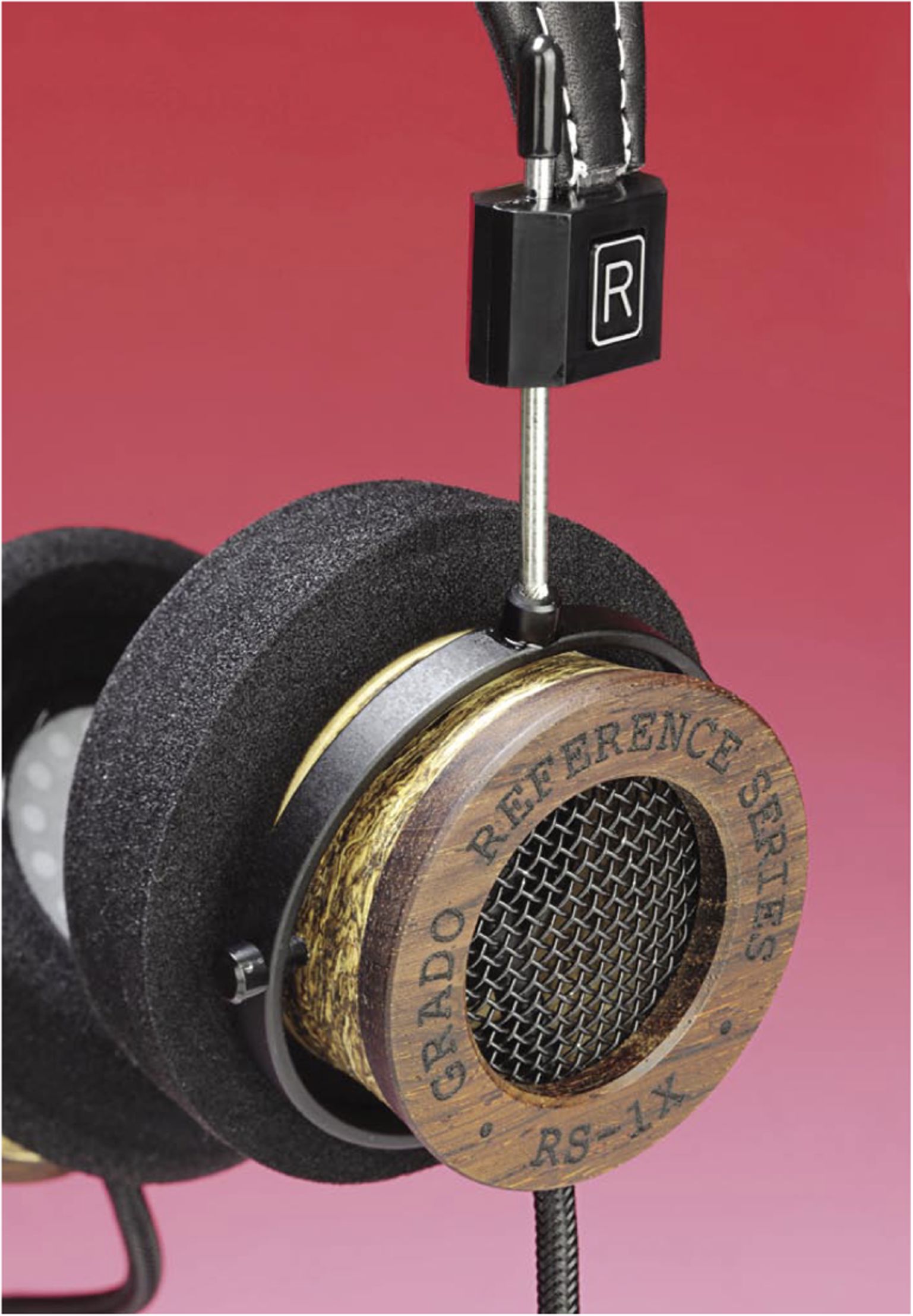 Behind each drive unit sits an open mesh backing, allowing rear sound to escape. By avoiding rear reflections this gives an open sound, generally considered superior to closed-backs, but sound leakage can annoy others when commuting.
"With Beck's The Golden Age (DSD) the stage was wide and images had smoothly clear shape and form"
And so it was with much else in terms of basic balance: these are not bass heavy 'phones – as Beats infamously are for example.They were far away from my Oppo PM I magnetic planar magnetics that have big-bodied bass and warmth.
However, the Grados were considerably more insightful and revealing, not just of the warm Oppos, but most other headphones.They are also sensitive: I listened 10dB lower on my Audiolab M-DAC+ compared to magnetic planars.
Where the Grado's excelled was with well recorded material like Beck's The Golden Age (DSD) where the stage was wide and images had smoothly clear shape and form: it was all slickly beautiful, but then DSD via an ES90I8 DAC in a mains powered Audiolab is like this, the RS1x'phones making it clearly so.They are very revealing that's for sure.
With David Bowie's Suffragette City (DSD), a track that often sounds congested, these 'phones not only sent Bowie forward to make his vocals and the multitrack backing crystal clear, guitars and horns pounded along at left and right with all the pace and energy this track is meant to have. A great rendition of a great song.
The Persuasions' Angel of Harlem (24/96) slid by impressively, with doo-wops at left and right as the lead vocal tracked through, on occasion jumping into my ears as if given a firm push; there was at times some shout. Happily no sting in the high treble though.
Looking for a few scuzy tracks to see how listenable these phones would be I turned to The Eagles as an example of classic Rock and was surprised that Life in the Fast Lane (DSD) was heavy in the bass end and reasonably clear, even if the vocals were congealed and coarse – but this is in the recording I believe. On to Somebody, with its soaring Hammond organ, and it too came over well, although drums were lacking low end oomph. A snappy sense of pace though, if again edginess to vocals at times, something my Oppos would smooth over. But that's the price to be paid for'phones like this that see things better not seen (or heard).
CONCLUSION
Grado's RSXIs are high on insight and clarity, even being a bit midband pushy at times, but you get to hear it all clearly.There is no top-end sting either – a problem with some high quality 'phones that try too hard. At times they made me painfully aware of recording limitations, typically from harsh CDs. Whilst I was listening to DSD all was sweetness and light. What they do not have is heavy or especially deep bass, the obverse being this keeps the sound speedy.
At the price though, use of unsecured captive headphone leads is going to be a deal breaker for many people I suspect and the foam ear pads were functional rather than luxurious. Less than impressive here.
VERDICT
Grado RS1X Review
High resolution sound but so-so build and finish.
PROS
appearance
sonic insight
easy highs
CONS
captive leads
no balanced option
leads unsecured
Best Grado RS1X prices ?

$

750.00
1 new from $750.00
in stock

MORE DEALS