The Escort XR3 was intended to be a VW Golf GTI rival on a shoestring. In the end it added up to a lot more. Read our Ford Escort XR3 Review.
Words Sam Dawson
Photography Jonathan Fleetwood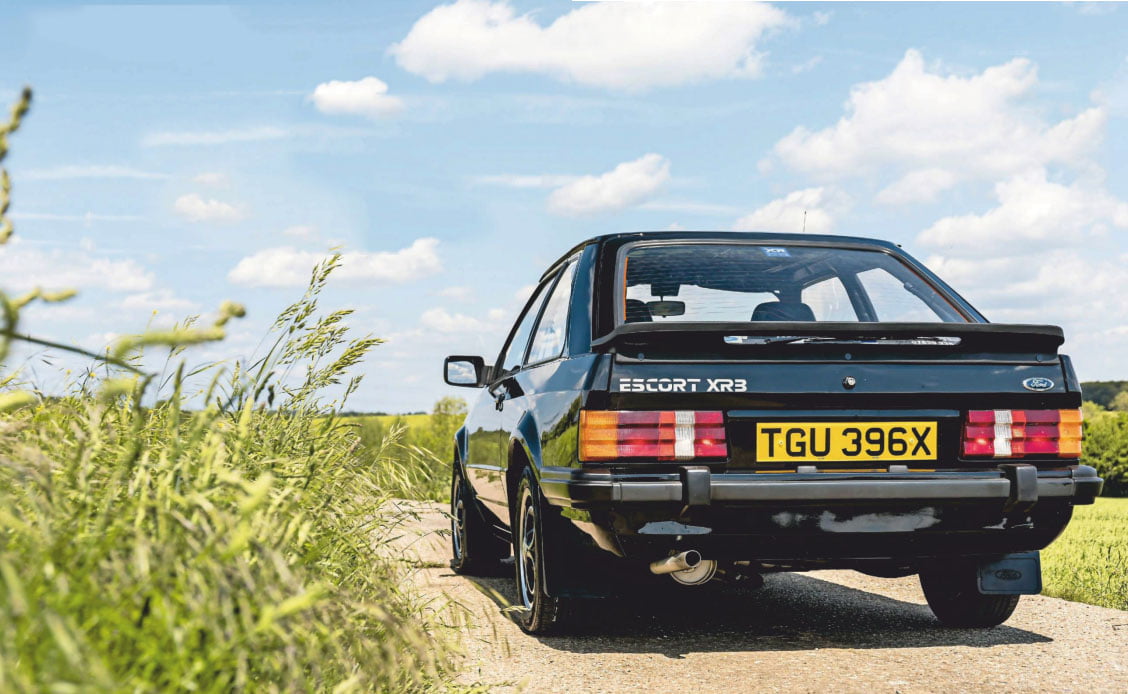 What was the first hot hatch? What you hear there is the lid being prised off a can of particularly energetic, argumentative worms. Cases can be made for the Simca 1100Ti, Renault 16TX and even the rare 1970 Downton Austin Maxi. But we all know that most people think it was the VW Golf GTI that laid down the template for affordable 1980s performance cars. Front-drive, nippy road manners, practical family-friendly packaging and urgent acceleration consigned chilly old ragtops and long- bonneted medallion-man coupes to the realm of bunting and Portakabins.
However, the Golf GTI wasn't the game-changer VW fans would like you to think it was. It was actually the Ford Escort XR3. Back in the very early 1980s, the Golf GTI was an expensive curio, whereas the XR3 is the reason why your company car or even your next hire from Avis goes like a rocket and comers like it's on rails.
Funny, isn't it, how the motoring landscape of the past differs from reality once classic fans have got involved. Thanks to the numbers of surviving cars and the enthusiasts who support them, anyone creating an early- 1980s street scene in a film nowadays will end up with the
▼ You just need a leather jacket and a white T-shirt.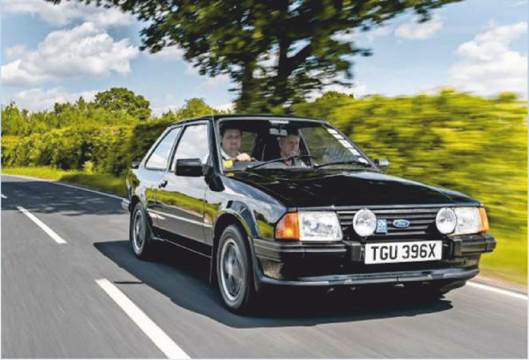 You can rip to 60mph in less than ten seconds.
roads outside brown-and-orange WH Smiths and tobacco-sponsored newsagents clogged bumper-to- bumper by VW Golf GTIs, BMW 3 Series (E30) and Mercedes E-Class (W123).
Whereas in reality, in between a whole host of utterly nondescript-looking and now-extinct Japanese boxes bought by people heartily sick of their British Leyland output breaking down, you would have found rather a lot of sharp-suited third-generation Ford Escorts. And more than a quarter of them would have been sporty variants.
WHAT TO PAY
Concours £12,000
Good £8000
Usable £5000
Project £2000
Forget the Golf's marketing-curated image of classlessness – back then, the GTI was a common sight only in posh parts of London. But behind the wheel of an Escort XR3 you could find anyone from an apprentice who'd bought the thing on hire-purchase, to a middle-aged parent overjoyed that they wouldn't have to drive a stodgewagon in order to accommodate kids after all. Lady Diana Spencer and Sir Jackie Stewart had them too.
It was all thanks to its relatively low price. At £5123 on the road, the XR3 wasn't a range-topper, but rather slipped neatly between the mid-range GL and plush Ghia. It managed to do this partially because it was assembled in the same way as both the Ghia and the poverty-spec L was. But also due to the Ford economy of scale.
A £6177 Golf GTI was an altogether different prospect. The Golf was engineered using a lot of parts from within the VAG empire, many of them coming from Audi's premium parts bin. The XR3 on the other hand was essentially just a trim level. An extra 17bhp and 5lb-ft had been liberated using a twin-choke Weber DFT carburettor, reprofiled camshaft and freer-flowing exhaust manifold. Yet the hot hatch look was simply achieved with different bumpers, wheels and a rear spoiler.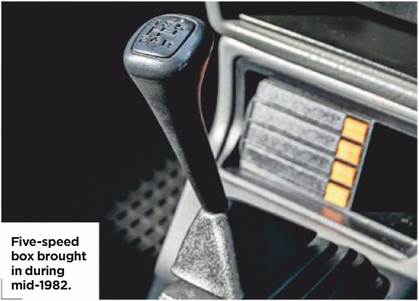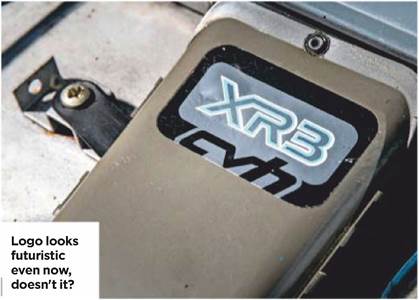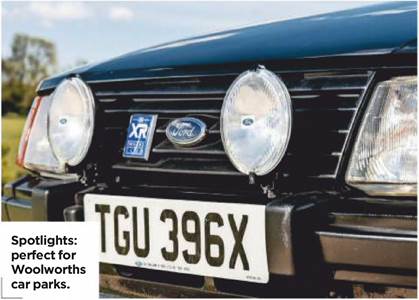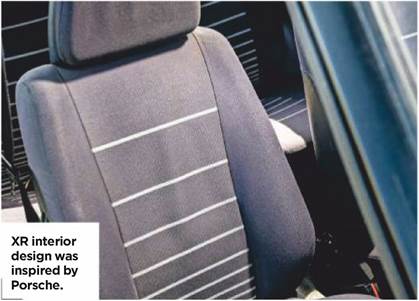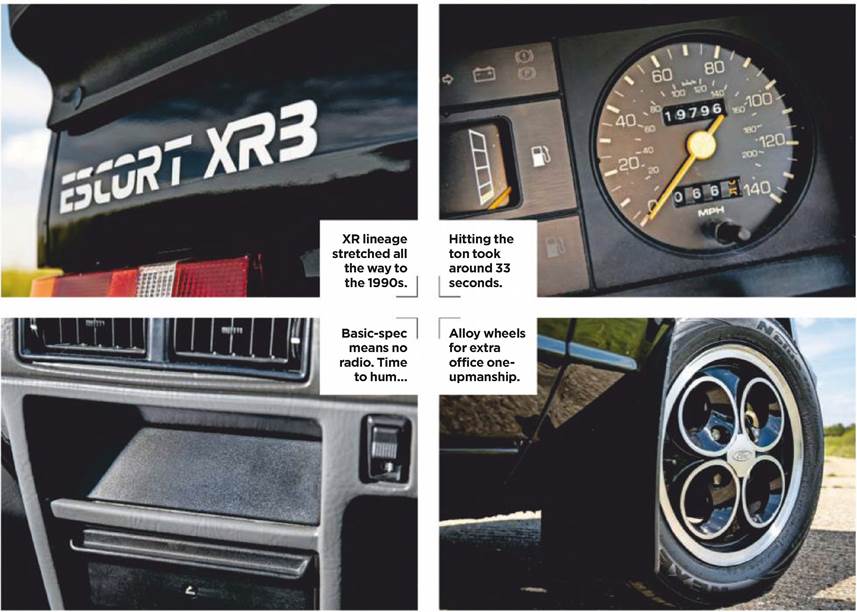 Unfortunately, the Ford CVH engine, while it doesn't quite deserve its 'Coarse Vibratory & Harsh' nickname, isn't the nicest thing to listen to. Put simply, it doesn't like being revved, giving off a pained drone rather than a typical hot-hatch energetic fizz as it clambers over 3000rpm. The gearshift throw is long and rubbery, discouraging the kind of redlining, slick-shifting behaviour of a wild-eyed aspiring rally driver.
And yet, this isn't a problem. Let the CVH – that's Compound-Valve Hemi, making it sound like it's hiding American V8-style engineering in its combustion chambers – play to its strengths instead: its torque. Revvy though the Golf GTI was, it delivered its 103lb-ft torque peak at a relatively high 5000rpm. The XR3's negligibly lower 97lb-ft comes at a markedly lazier 4000rpm, and with a far less obtrusive low growl from beyond the bulkhead. Work with the CVH's torque rather than its power, focusing on maintaining momentum rather than thrashing its reprofiled camshafts, and the weight savings and better-controlled springs and dampers instigated by Peter Hirst and his team start to work coherently. Even if the XR3 slightly trails the GTI against the clock, it's still a remarkably effective point-to-point car.
And wasn't this the true promise of the hot hatch anyway? Although the jury's out as to whether Volkswagen intended 'GTI' to stand for 'Grand Touring Injection' or not, let's not forget the motoring landscape it arrived in. Back in the mid-1970s, there was still a good reason why a Grand Tourer was a special car. For the very simple reason that, unless you were a masochist, you needed something specifically engineered for low-rpm, high-gear cruising, high-speed refinement and sporty-yet-comfortable road manners if you wanted to take on a grand tour.
Although various small saloons had been sold with 'GT' badges along with affectations like bucket seats and an extra carburettor for more than a decade before the Golf GTI came along, it was the way the Volkswagen's fuel injection combined whispering smoothness with genuinely comfortable high-speed cruising abilities that impressed so many industry onlookers. It wasn't just its small-sports nippiness that made it a potential game- changer, it was the way in which it delivered refined performance of a kind that previously needed a six-cylinder package like a Triumph TR6 or a Ford Capri 3.0. It pointed to a democratised future for long-distance
Small steering wheel adds extra effort.
CVH isn't Ford's smoothest engine.
I BOUGHT ONE ROB OSBORNE
'I used to cycle past a black one just like this on a neighbour's drive when I was a kid, and always knew I wanted one just like it,' says owner Rob Osborne. 'This one has a very interesting history – it's in incredibly basic specification, to the point of having an aerial but no radio, and was ordered new by someone who'd gone into a Ford dealership wanting a V6 Capri only to be warned off it by the salesman on the grounds of resale value as a recent oil-supply crisis had threatened sales of big-engined cars.
I keep it in an air chamber to maintain its condition, and just take it to shows really. There are so few XR3s on the road nowadays, it deserves to be preserved in as-new condition.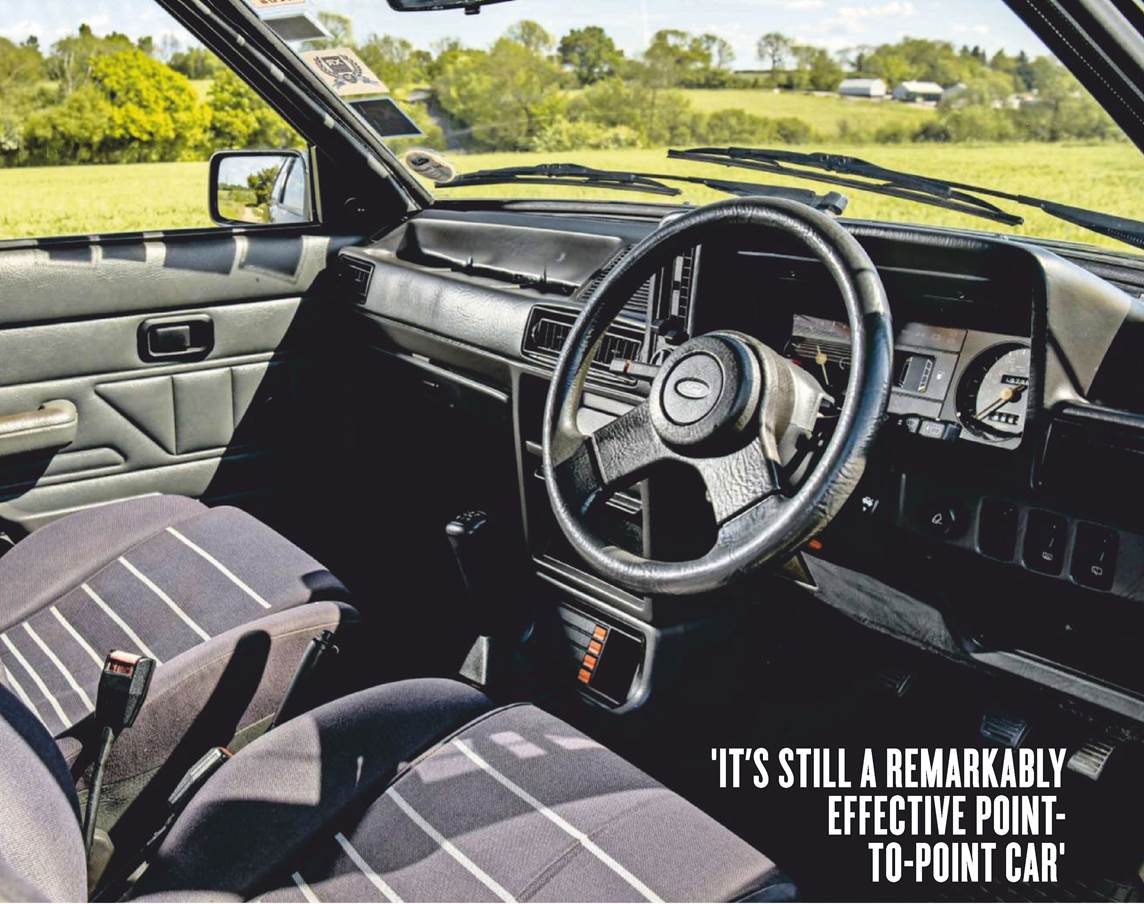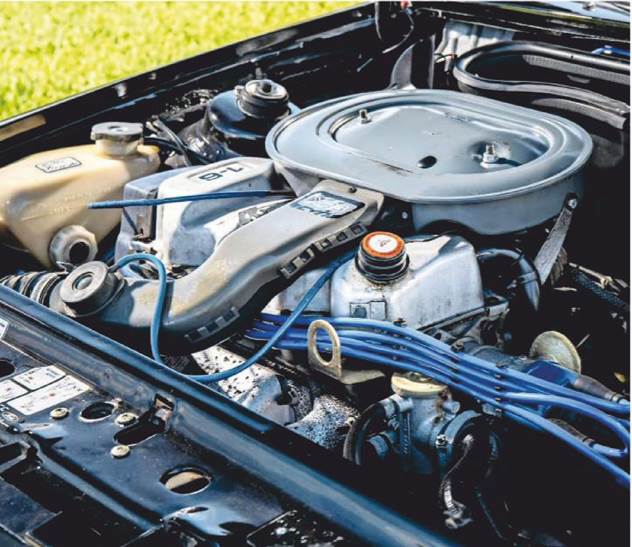 touring. Problem was, it was the same price as a V6 Capri. The XR3, on the other hand, wasn't. In the Ford hierarchy it sat below the entire Cortina range before troubling the Capri. And yet it delivers the kind of sporty, torquey fluency you'd want on motorways and mountain passes alike. Although fuel injection would follow after less than two years of XR3 production, creating the XR3i, it doesn't absolutely need it.
By December 1983, the new XR3i – its fuel injection admittedly taking the price into Ghia territory – slotted into an Escort lineup which also now included the RS1600i Group A homologation special, the RS Turbo rally car, and a new Cabriolet range that turned the XR3 concept into a roadster of sorts. Point is, the XR separated the pure concept of a hot hatch from the world of increasingly specialised, homologation-focused performance cars, and yet was far more credible as a performance car itself than poseur-spec Escort Sports had been in the 1970s.
And it's this reason which makes the Escort XR3 so crucially important to motoring history. In engineering terms, it's a halfway-step to the XR3i, but in marketing and cultural terms, it marks a crucial change in what ordinary motorists on ordinary budgets could expect from their cars. You want proof of this? Have a look in the back pages of a new-car magazine.
Modern hot hatches may be insurance-premium- gobbling monsters with power outputs that would have made them supercars in the 1980s, but look at any given range of cars nowadays and you'll see an interesting subspecies. Vauxhall SRi. Ford ST-Line. Volkswagen GT. Mazda Sport. In a world where classic hot-hatch power can be extracted from as little as a one-litre three-cylinder eco-engine, all it takes to turn an ordinary modern family car into something that can handle both outside- lanes and hairpin bends en route to St. Tropez with the aplomb of a Jensen Interceptor, is selecting a sporty trim level. One which typically includes some stiffer spring/damper units, low-profile tyres on attractive alloy wheels, a comfortably supportive pair of bucket seats up front and a drag-trimming bodykit and spoiler package on the outside.
It's a huge ego-boost to the owner, and yet to the manufacturer, it's just a case of attaching parts from box A rather than box B on the production-line, with no particularly offputting costs to pass on to the buyer. The power and composure of grand-touring cars has been popularised in a manner unthinkable when Bob Lutz, Peter Hirst and Richard Parry-Jones first set to work with a tiny budget.
And yet, were it not for Ford deciding to democratise Volkswagen's big idea, would we be in this lucky situation at all?
▼ Next stop St. Tropez. Or perhaps Southend.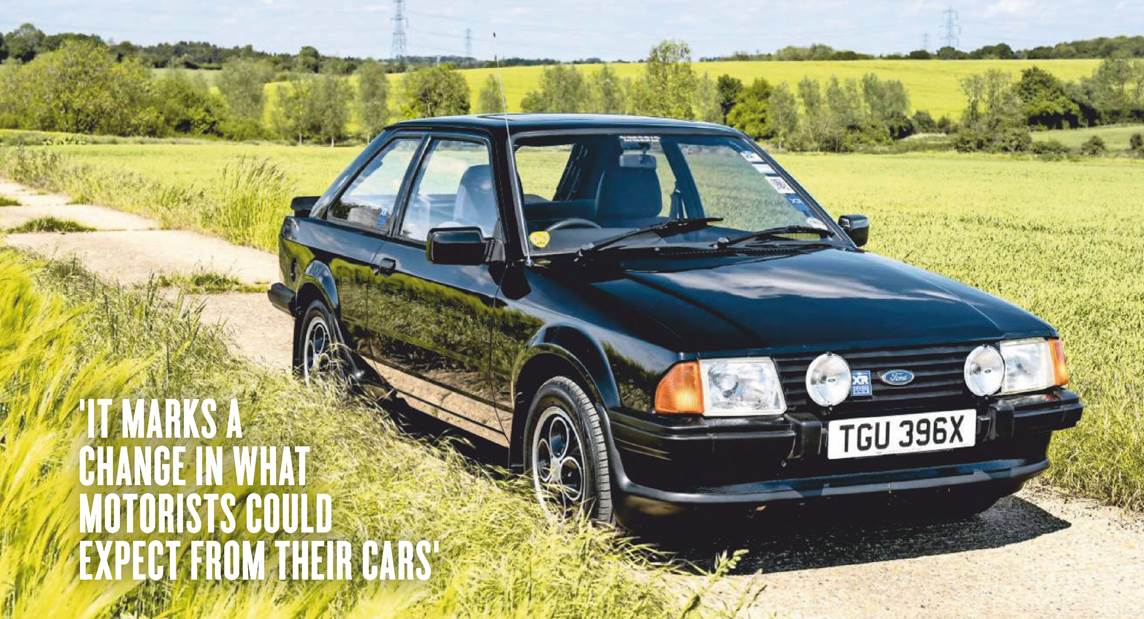 The Modern Classics view
It takes industry knowledge to know how much of a game- changer the Ford Escort XR3 was, and this has taken its toll on this plucky pioneer. The attrition began in the 1980s, when the XR3i first shoved it from view with its fuel-injection technology, before MkIII Escorts in general passed into banger territory and succumbed to rot and indifferent owners. As hot hatches have gone on to form the mainstay of the modern-classic movement, it was only the RS1600i and early white-finish-only RS Turbo which constituted desirable MkIIIs.
But things are changing. Nicely kept low-mileage XR3is and Cabriolets are picking up five-figure sums at auction, and last year an XR3 – admittedly the pace car used at the 1984 Brazilian Grand Prix, but only described as in average condition – went up for sale valued at £12,000- £15,000. These are cars that need cherishing, but thankfully the market finally recognises their importance. Restoring a bad one, on the other hand, will be a nightmare of discontinued trim parts and needless rust traps. But at least it's worth doing now.
FORD ESCORT XR3
Engine
1596cc, 4-cyl, SOHC
Transmission
FWD, 4/5-speed manual
Power
96bhp@6000rpm
Torque
97lb-ft@4000rpm
Weight
927kg
PERFORMANCE
0-60mph
9.2sec
Top speed
113mph
Economy
28mpg