FiiO's complex M11 portable digital audio player is like the UK motorway, challenging but fast, thinks Noel Keywood. Read our FiiO M11 Review.
There are portable players like my small and venerable Astell&Kem AKI20 that just play from internally stored music – and there are portable players like the FiiO M11 I'm reviewing here that are more like mini-computers – able to access music streaming services on the 'net and much, much more. Add in a full suite of connectivity options and top quality audio digital convertor chips and you have the M11 in broad outline, a sophisticated portable digital audio player.
Fitted with a Samsung Exynos 7872 processor running customised Android 7 operating system that, together with all else like wi-fi and Bluetooth and a massive screen, consumes current, there's a large 3800mAh battery onboard. To explain this is no small player, although at 220gms on our scales there are heavier ones around. At 71mm wide, 130mm high and 16mm deep it is pocketable – if not in a shirt top pocket unless you are a lumberjack.
A large battery takes time to charge, FiiO quoting 3 hours (max) on a 5V phone charger, which is about what I got. There are fast charge options though at 9V and 12V with a suitable supply (extra). Running time is quoted as 13 hours – but that's with the large screen off. The touch-screen screen is 117mm high and 58mm wide – nearly the size and resolution of a large mobile phone. But then because the player runs music apps like Deezer, QoBuz, Tidal and Amazon music – to name a few of the 14 options on our player – it needs display area to accommodate their layouts. To play stored music means using the music player app fitted, more of which later.
To go on-line wi-fi is used so there's a screen keyboard for password and data entry. Once connected to a home network the M11 can not only see 'net music servers and Google (this being Android) but also DNLA music servers on a home network, which usually means a PC. It saw music on my Windows 10 PC and played it without hassle. PCs run PCM up to 96kHz sample rate and I ran CD and 24/96 hi-res files from PC when listening but the player comes with a dedicated USB DAC driver for PC for higher resolution music play.
I also used the M11 as a headphone DAC with my 'old' Mac (Sierra, USB 2) and here it forced a 44.1kHz sample rate (no bit-depth info) that could not be changed at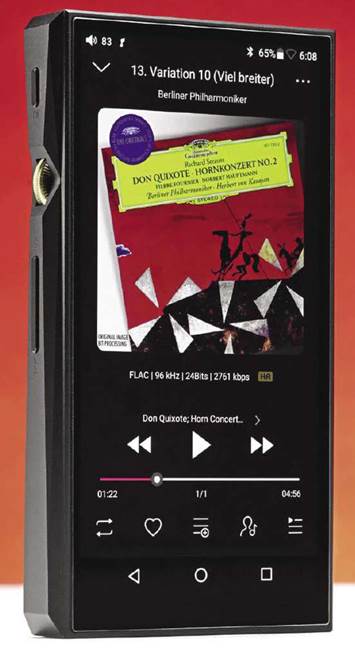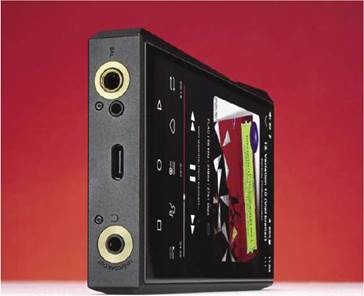 On the bottom face lie a conventional 3.5mm three-pole headphone jack that can be set to line output or deliver S/PDIF digital through an adator cable. Also, there's a USB C socket and 4.4mm four-pole balanced output (top) with 2.5mm (black) alongside.
the Mac, that declared it 'unmixable' – a new situation and declaration to me. USB C is a high data rate port with a complex USB 3 software stack in the M11 and it obviously decided my Mac unsuitable during polling, even though it works fine up to 384kHz PCM over USB 2. So although my Mac could deliver the music, the M11 set a CD-only sample rate limit. Weird.
With a new MacMini (Mojave) having USB 3 ports the M11 accepted and was driven up to 384kHz sample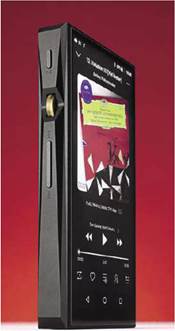 The small rotary volume control has high resolution but takes a lot of turning. There are transport controls too.
rate, set by the Audio/Midi utility as always with a Mac. So Mac users may not get what they expect unless using the latest Mac/USB ports.
Connecting the M11 via wi-fi was quick and painless. So were all the other connection methods in my case and they should be to most users I believe.
A USB C-to-USB A cable is provided. USB C is a reversible socket that's easy to use and worked perfectly, ignoring the problems described above, offering either music file download from Mac or PC, or music play from computer to headphones as a DAC, with DAC mode selected in the audio settings menu. There is no S/PDIF digital input, nor an optical output, only electrical.
The analogue connection side of the M11 was also unusual. There's a 3.5mm stereo headphone socket, but also a larger 4.4mm 4-pole balanced output Bantam jack that is rare. And whilst this new socket is given full visual presence with a shiny brass surround, beside it lies a tiny black hole in the case, asymmetrically placed as a random after thought it appeared; it is a 2.5mm 4-pole balanced jack.
Fair enough: 2.5mm balanced jack plugs are so small and fragile they break and are impractical – I have always complained about them. But if you want to go balanced from the M11 then yet another unusual plug is needed, a 4.4mm Bantam 4-pole jack (not supplied). Since balanced working, where one headphone earpiece is
electrically isolated from the other (they don't share a return line) gives relatively small sound improvement this isn't a big issue, but I felt the player's balanced analogue output sockets were ineptly presented.
The 3.5mm stereo headphone socket can be set to provide Line output (2V fixed or variable level) so the M11 can act as a CD player – one able to deliver hi-res sound quality above that of CD.
The socket can also deliver an S/PDIF digital output when set to do so, via a supplied 3.5mm jack-to-line phono socket adaptor cable. This means it can drive an external mains powered DAC, the M11 acting as a digital transport in effect – how I use my AKI20. Mains powered hi-fi DACs give better bass quality and low-end resolution than a portable working from batteries; best to connect digitally into a hi-fi DAC than from the Mil's analogue Line output – this comment applying to all players.
Start up was a short 15 seconds before the basic user interface appeared. Selecting the music player app a track list of music comes up,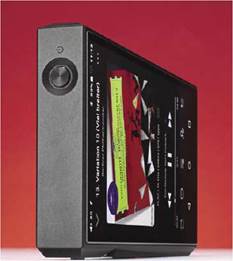 The top face carries a single on/off and wake-from-sleep button. Power up is quick at 15 seconds.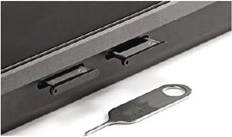 The microSD card carriers fit one way only and extraction is with the tool supplied.
including that in 32GB of internal memory and any microSD card that has been inserted – up to 2TB maximum addressable. Where microSD card slots are usually open – just push a card in – FiiO have chosen to use two card carriers on this player opened by a small supplied tool; loose this and a paper clip works, if not so easily. Changing cards is a fiddly process and on the move difficult-to-impossible, since the tool, carrier and card have to be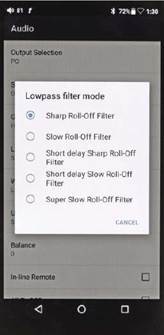 The Mil's filter set, Sharp giving widest bandwidth and Super Slow narrowest, with warmest sound.
manipulated – which really needs a desktop and some care. Best done at home.
The music player app has an option-high interface with full cover artwork display and was not easy to use even when understood. It has a Settings menu in the operating system and a Settings menu in the music player, both denoted by a gear wheel – but they are different. Except that they were not, with audio settings in both.
Also irritating was the need to manually update the player from the player Settings menu every time a new card was loaded. The old music file lists were retained in memory but of course would not play once the card had gone. Players now commonly scan internal music files and update automatically, but the M11 does not, even when turned off and back on.
The Settings menus possess a wide array of options, including filters,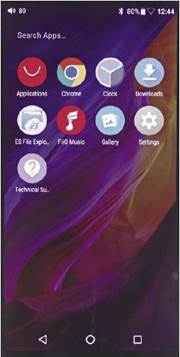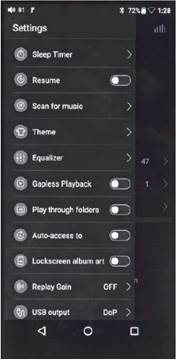 At left one of the home screens with Chrome web browser, clock and other facilities. The red FiiO Music app and grey Settings gearwheel are important to music play. At right are Settings within the Music app. USB ouput can be set to send DSD (using DoP).
output level (low/high), an equaliser, volume control on Line output and much else.
SOUND QUALITY
The M11 plays most music formats including DSD and Diana Krall's Narrow Daylight in DSD64 (.dsf)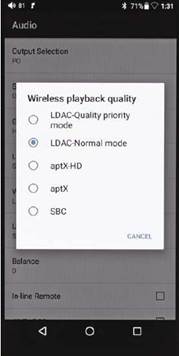 A range of Wireless transmission standards are available to ensure compatibility (left). The main Play screen (right) is large, high resolution and displays cover artwork well.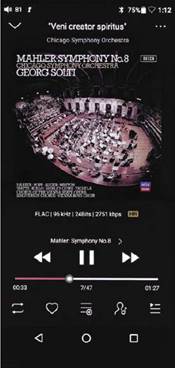 gave a suitable demonstration of this player's sound quality: think super smooth, gentle, organic and yet fulsome and powerful. That it's a player with a classy sound is undoubted.
Rock tracks like Queen's Radio Ga Ga had plenty of low end heft, the
The Audio menu in basic Settings where USB can be set to DAC or Storage.
background synth pushing through strongly.
If anything the M11 is on the soft side; even with tracks like Fleetwood Mac's Dreams (24/96) I preferred the Sharp filter to the softer SuperSlow filter options just to inject a little more sparkle – even though this track has emphasised treble through high resolution DACs like Audiolab's M-DAC+ that I use as a reference. Yet M11 delivers a sense of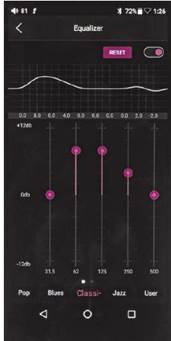 A colourful graphic equaliser option with informative response graph.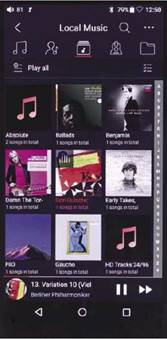 Album artworks look crisp and clear on the scrolling display.
atmospheric insight with no hash to flatten perspectives and it was here
that FiiO's always-impressive audio engineering showed through.
This translated well to classical music, choir sounding expansive with Mahler's Symphony No8 from the Chicago Symphony Orchestra (24/96), kettle drum strikes having plenty of weight, whilst horns and strings came over as slickly smooth.
CONCLUSION
The Mil is a large and complex player that I found challenging to use. Its USB 3/C socket software stack was not Mac friendly or intelligent; life was easier interfacing with a Windows 10 PC.
The operating system's user interface was complex and time consuming, as was that of the music player app; the microSD card slots were an operation too far.
Yet sound quality was superb in its own way and of course you can stream from 'net music servers – something simpler players cannot do.
If you want it all in latest form the Mil is impressive, but it isn't for those who prefer simplicity.
MEASURED PERFORMANCE
Frequency response of the FiiO M11 (Sharp filter) reached 71kHz (-1dB) at 192kHz sample rate, rolling off steeply at 96kHz, the upper theoretical limit (see HR). The Super-Slow filter gave -3dB attenuation at 71kHz, not affecting audio up to 20kHz, and nor did the other filters so their audible impact will be slight, likely imperceptible with hi-res.
With CD (44.1kHz sample rate) the Sharp filter gave usual 21kHz bandwidth, whilst Super-Slow filter rolled off upper treble to -2dB at 20kHz and will soften the sound (see SS). It isn't brickwall either – unusual.
Distortion at peak output (0dB FS) measured 0.002% and at -60dB with 24bit a very low 0.012%. With both low distortion and noise EIAJ Dynamic Range measured a very high 120dB – up with the very best.
The M11 provides superb measured performance, equivalent to top quality hi- fi DACs and above most portable players. Class leading.
Frequency response (24/192)
| | |
| --- | --- |
| | 4Hz-71kHz |
| Distortion (-60dB) | 0.012% |
| Separation | 94dB |
| Dynamic range (EIAJ) | 120dB |
| Noise | -118B |
| Output | 2.6V |
FREQUENCY RESPONSE HR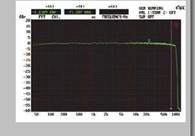 FREQUENCY RESPONSE SS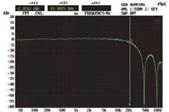 DISTORTION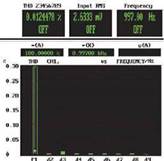 FiiO M11
EXCELLENT – extremely capable.
VERDICT
FiiO M11 Review
A technologically sophisticated player with great sound, but difficult to use.
PROS
warm smooth sound
net music streaming
massive file capacity
CONS
complex user interface
poor with USB 2 on Mac
large
Best FiiO M11 prices ?
MORE DEALS

Advanced MP3 players + 44 (0)343 289 6880 www.advancedmp3players.co.uk