iBasso put an ESS ES9038Pro in a portable player. Noel Keywood is impressed. Read our iBASSO DX240 Review.
YOu have to take notice when a portable digital audio player (DAP) claims to use an ESS ES9038Pro DAC chip. This is the best from ESS (California) by worldwide consensus and the chip I fall back to as my preference for its smooth, deep sound. iBasso (China) use this now-famed chip inside their range topping DX240 they say, so before going any further this means a hefty price (£), a sizeable battery to feed it as the 'Pro chews current, and – hopefully – ability to use it as a mains powered hi-fi DAC. So let's see. First I'll cover the DX240 as a portable player. Its well machined alloy case weighs 206gm and feels solid. With dimensions of 75mm wide, 125mm high and 20mm deep it fits neatly in the hand and will slide into most pockets, but not a shirt pocket unless you are a lumberjack. Inside lies a 4400mAh battery that provides up to 12hours claimed play time and it will charge in a few hours from a fast charger: I used a USB-C-to-USB-C cable connected to a fast-charge hub to verify this, but a USB-C-to-USB Type A (blue USB 3 compatible) is supplied for broadest compatibility with computers and chargers. Exact playing time depends upon screen usage as always, and charge time depends upon the charger; it will charge from any 5V charger that can supply 1A or more, or accept QC3.0 or PD3.0 quick charge.
Once fully charged (it charges whilst switched off) I pressed the gold volume control and waited…for 35 seconds before the Qualcomm Snapdragon 660 processor running Android 9 brought up the home screen. This was garish and can be changed – there are 13 wallpaper options but they're all garish too! I could not find a wallpaper folder in the Operating System (OS) to add my own (plain) background.
The OS carries various apps, most important being iBasso's own Mango music player that occupies a prominent position on the screen. Also provided are a Google web browser, clock, calculator and Gallery for browsing photos etc. Not a simple player then software wise, but one with a general purpose Graphical User Interface (GUI) and a specific music player GUI. This resulted in duplication as I'll shortly explain – a not uncommon problem.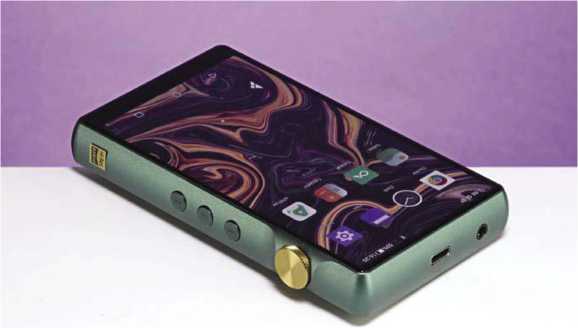 A large rotary volume control worked smoothly. At top is a USB-C socket for charging/computer connection, as well as an electrical S/PDIF 3.5mm digital output jack.
There's wi-fi onboard for internet connection, to stream music from commercial web servers (Spotify, Amazon etc). My interest always turns to the gearwheel icon (Settings) of the basic OS and its audio bits. Here I found three gain settings, a maximum output slider, seven filter options, all of which are duplicated in the Mango player. This is a source of unnecessary confusion.
Which brings me to the Mango player. Tap the screen icon and it starts immediately – and again it's time to look at the player's gearwheel icon to see what's on the menu here. There are the same three gain settings, plus the same seven digital filters, but here marked as D1-D7, with better description of function than provided in the OS. I'll tell you straightaway measurement showed the DX240's digital filters affect frequency/phase little, with both hi-res (192k sample rate) or CD (44.1k sample rate). This is likely because pre-set filter options in the ESS chip are being used – and they're always weak – rather than custom design alternatives, such as the filters used by Audiolab, designed by John Westlake. There are play modes (repeat, shuffle etc) L/R balance and – notably – both graphic and parametric equalisers that can perform extensive filtering, with stored settings. This is one for the geeks – read about it all in the DX240 handbook online.
Important in the Mango settings menu is Advanced, as it is here that use as a Bluetooth receiver or USB DAC are hidden. This is the section for inputs in effect and all worked sort-of well as a USB DAC. Connected to a Mac running Mojave DX240 identified itself as 'Playback inactive' – peculiar. It was active. iBasso could usefully fix this peculiar name declaration. Audirvana+, Audacity etc saw it and worked with it. Audirvana+ was happy to send DSD over USB via DoP.
Also the little green Android man popped up assuredly so music files etc could be loaded to 64GB of internal memory, although I used a microSD card full of test files and music. A PC more slickly interfaces with Android based players – no green men – but a driver is needed for hi-res files.
My iPhone 11X Pro saw the DX240 as a Bluetooth receiver ('DAC') and sent over music files from its Onkyo HF player, including DSD. However, actual quality of iPhone audio through Bluetooth 5 on the iBasso measured out as CD level (see Measured Performance). Exactly what you get depends upon your phone and any Bluetooth compression system; on an iPhone there's no aptX or aptX-HD from Qualcomm, nor LDAC from Sony – heaven forbid that Apple would use anyone else's technology. But the 11X Pro runs later Bluetooth 5.1 with LCE codec that supports 24bit depth and can achieve 115dB dynamic range, but not here I found. Since the DX240 is compatible with aptX, aptX-HD and LDAC BT codecs, other phones so fitted may work better.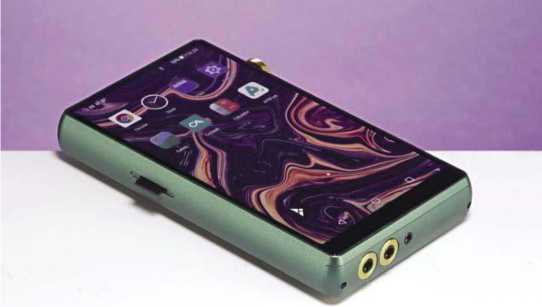 Two 3.5mm stereo jacks (gold) sit at the bottom of the case, with a tiny 2.5mm balanced outlet (black) alongside. The microSD card pops into a spring loaded slot.
There's also outgoing Bluetooth, accessed from a swipe down menu: holding down the BT button reveals a pairing menu. It picked up our Creek i20 amplifier successfully and transmitted to it, but in use this link would most likely send music out to Bluetooth headphones.
iBasso also fit an S/PDIF digital output (now electrical only) for connection to an external DAC.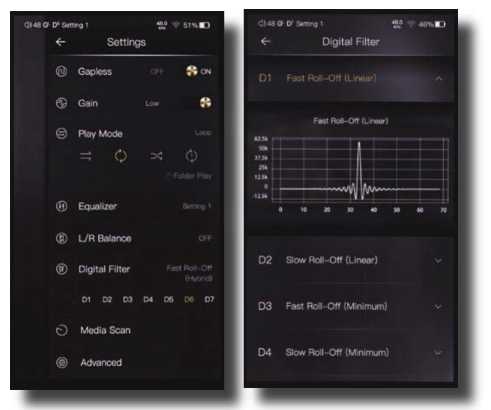 Settings available in the Mango player app with (at right) the list of seven digital filters together with a time domain graph of impulse behaviour.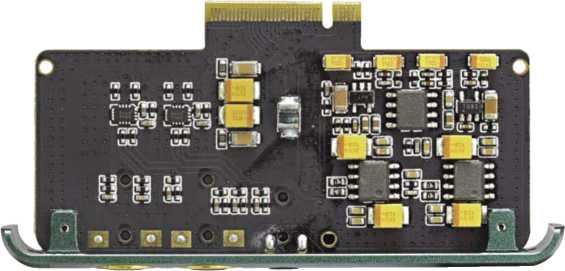 The AMP1 Mk3 output amplifier uses surface-mount mini components, including three chip op-amps at right.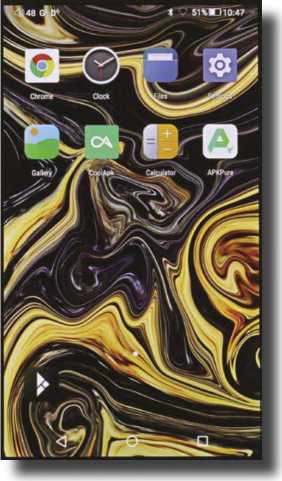 One of the background wallpapers provided, that obscures the Mango player icon (bottom left).
However, there is no S/PDIF digital input so it cannot be used as an ESS upgrade for an old CD player.
As you might expect the player handles all PCM (32/768) and DSD (512) files anyone is likely to encounter – and it will handle DSDI28 via DoP sent over USB from a computer. The single card slot accepts a microSD card up to 2TB, so plenty of space for huge DSD files here.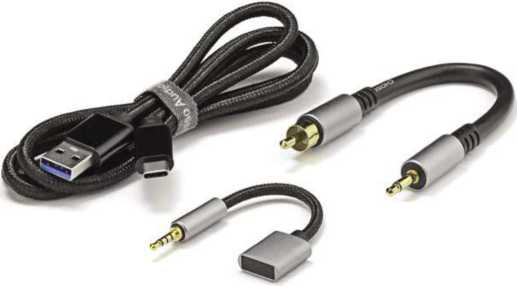 Three leads are supplied – USB-C to Type A, S/PDIF digital out (3.5mm to phono) and a peculiar balanced output burn-in lead.
What I have not mentioned so far is the analogue amplifier used and the headphone outlets. Our sample came with standard AMPI Mk3 analogue output card, but will accept all cards up to AMP8 iBasso say. There's no explanation of how to change cards in the manual so I presume this is meant to be a dealer mod. In practice two tiny TORX T5 screws have to be removed and the card slid out – not difficult. Unfortunately, the AMPI Mk3 card has a 2.5mm four-pole balanced output which I dislike, the tiny plug being all but unwireable and it snaps easily. iBasso offer an AMP8 Mk2 card (£) with a more serious 4.4mm Pentaconn (five-pole) balanced output.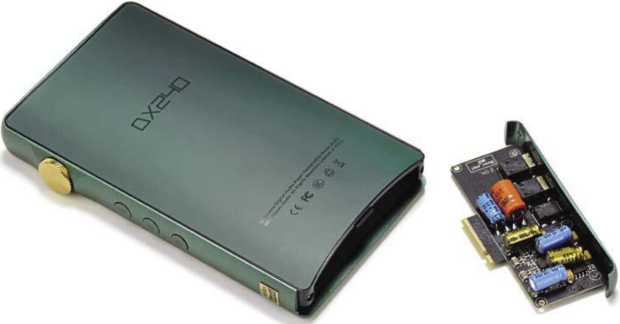 The AMP module slides out from below, after two miniature Torx T5 screws are removed. Other modules are available, AMP8 proving a better balanced output.
In addition to its balanced output AMPI Mk3 on our player has two standard 3.5mm stereo outputs (three-pole), one marked Headphone, the other Line. Curiously, Line was identical to headphone and not Line in usual form, with fixed output of 2V to mimic a CD player. The 3.5mm unbalanced outputs deliver 3V maximum, the balanced output 6V maximum. Since IV is shatteringly loud with conventional phones this is plenty enough, but low sensitivity planar-magnetics – now becoming popular and rightly so – need 2V or thereabouts.
SOUND QUALITY
Right on the nail: that's what I thought with this player. It quite obviously has the big, silky smooth sound of an ES9038Pro chip but also its sense of easy depth. ESS chips have always burnished the sound of digital; this player did likewise by making a 24/96 transcription of Fleetwood Mac's Dreams sound amenable, removing what is some sort of glare in the recording/transcription. As a result volume went up and I got to hear how hard Mick Fleetwood was working his drums, because this is also a player with solid, pacey bass. Not quite the depth of my Audiolab mains powered M-DAC reference, with ES90I8 chip, but close and certainly with the essence intact. Portables are commonly vague in bass timing and also don't hold left and right images firmly as current gets drained from the battery and the d.c. boost convertors start to wilt, but this player has a wide sound stage with strong, stable, extreme left and right images.
There were times I wondered whether the ESS warmth was too pronounced, with Misery from Dave's True Story (24/96) for example, where most players impose sharper definition, yet the DX240 gave atmospheric depth and fulsome dynamics. Diana Krall's Narrow Daylight (DSD) was under pinned by a firm acoustic bass line that was fluid and expressive. The lady's vocals were suitably breathy centre stage, with plenty of push into my Oppo PM1 planar magnetic headphones.
All these characteristics of the ES9038Pro suited classical music perfectly, giving a generously large Minnesota Orchestra stretched out wide, strong at left and right, stable in imagery and with big strikes from kettle drum in Dance of the Tumblers from Korsakov's Snow Maiden (24/96).
CONCLUSION
The electronics iBasso wrap around the ES9038Pro DAC in this player make the most of its capabilities. It offers a big, smooth sound that's analoguelike, with strong tuneful bass too – a rarity in battery-driven portables. Not all parts were perfect: the balanced output could be better and the purpose of AMP8 module is likely to address this issue. The Bluetooth receiver could have been better too, but its CD quality was still decent enough. At its technological heart and in sound quality this is a top notch player from iBasso, well designed for top sound quality.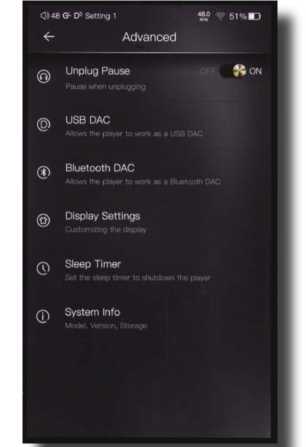 The Advanced menu in Mango player gives access to USB DAC and Bluetooth DAC modes.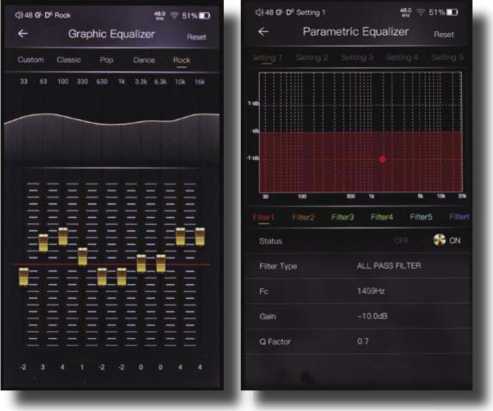 A Graphic Equaliser and a Parametric Equaliser provide massive ability to tailor the sound balance.
MEASURED PERFORMANCE
iBasso's DX240 portable player delivered 3V maximum from its 3.5mm stereo headphone jack and double that (6V) from its 2.5mm balanced headphone jack, the player set at Max Gain. The Line output was identical to headphone output, 3V max altered by volume control, where Line outs are usually 2V fixed to resemble a CD player. This is enough even for most planar magnetics.
When used as a USB DAC the unit is not isolated and needs to feed headphones in this role, not an earth connected hi-fi system unless the balanced output is used, to avoid ground
noise and distortion that occur due to a loop through a computer source.
EIAJ Dynamic Range measured a very high 123dB and distortion was extremely low 0.014% at -60dB (24bit) and 0.0004% at 0dB, via the unbalanced outputs. The balanced output gave a worse result, 97dB dynamic range and 0.3% distortion due to the presence of noise. Likely AMP8 would give a better result from its balanced output; AMP1 provides high balanced output, but at CD quality.
Frequency response measured flat to a very high 91kHz (-1dB) with the fast D1 filter our analysis shows. The remaining six options made little difference, at 192kHz or 44.1kHz (CD) sample rates; their affect will be minimal subjectively.
With Bluetooth distortion rose to 0.26%, dynamic range deteriorating to 98dB, where better is now possible from Bluetooth 5.1 (transmitting 24bit from an iPhone 11X Pro, using Onkyo HF player). It's satisfactory all the same, similar to CD.
From its 3.5mm stereo headphone outputs the DX240 gives class leading results.
OUTSTANDING – amongst the best
VERDICT
iBASSO DX240 Review
A top player with great sound quality, well worth hearing.
PROS
build quality
generous deep sound
range of ability
CONS
slightly warm ESS sound
mediocre Bluetooth
mediocre balanced output
Best iBASSO DX240 prices ?

$

966.00
3 used from $966.00
in stock


£

849.00
1 new from £849.00
in stock

MORE DEALS

+44 (0)343 289 6880
www.advancedmp3players.co.uk