iBasso DX200 high resolution digital audio player by Buzz Hughes. Read our iBasso DX200 Review.
Coinciding with its 10-year anniversary, iBasso has released the new DX200 digital audio player. iBasso's digital audio player seeks to justify its price- tag by being able to do a little bit of everything you might need. In addition to being a mobile audio player with 5G Wi-Fi and Bluetooth 4.0 capacity, the DX200 doubles as a fully functional USB DAC. Equipped with an XMOS XU208 USB receiver and Thesycon USB driver, the DX200 will enhance music from a computer and source files to an amplifier potentially making it a very valuable addition to your equipment lineup.
iBasso's DX200 is billed as an upgrade of the company's earlier DX100 DAP in many key areas. The DX200 now sports dual 32-bit ES9028 Pro DAC chips based on HyperStream DAC technology, each of which has eight built-in DACs running in parallel for each channel. The DX200 has an upgraded eight-core, 64-bit CPU and a long list of internal 'Cadillac' components like femtosecond oscillators, a jitter eliminator, low ESR capacitors, and ultra-low-noise power regulators. While you most likely will never set eyes on these internal upgrades, iBasso is confident that its exacting work under the hood will pay dividends to your ears once you hit play.
The exterior of the DX200 centres around a 4.2-inch IPS high-resolution touch screen that is surrounded by a tank-like shell formed from CNC machined aircraft aluminium. A set of physical command buttons and a 150-tick volume control wheel are located along the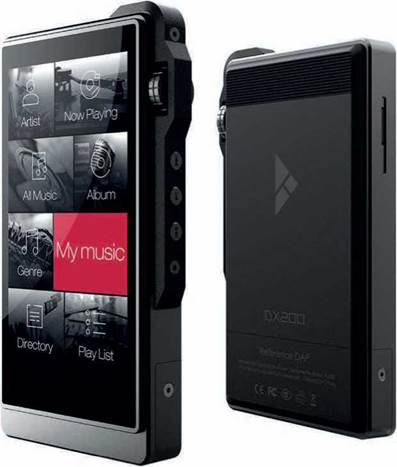 right-hand edge of the device, allowing you to control basic functions like play/ pause/track forward/track reverse/volume up/down without having to look down and swipe away every time you need to interact with your tracklist. The DX200 features several interchangeable amplifier card 'bases' that are easily switched out in seconds with a supplied mini flathead screwdriver. The different AMP cards offer various configurations of high current, high-voltage, and other circuits each offering different sets of sonic attributes, where the idea is to tailor your AMP selection to complement your favorite earphones or headphones.
My review sample of the DX200 came with iBasso's IT01 dynamic driver headphones and a couple of AMP base options to try out. Initially I feared
The DX200's organisation of spatial cues and superb dynamics produced nothing short of a captivating listen.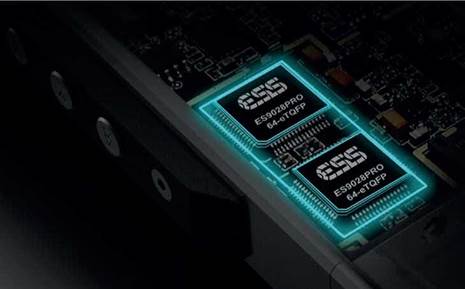 the interchange of amp cards would be a hassle, but the change-out proved to be so quick and easy that it ended up being a fun spot in the listening tests that broadened the appeal of the DX200 and gave the device a good bit of sonic flexibility.
As future-ready as this device is designed to be, the DX200 makes the music sound deliciously retro and steers far away from any kind of 'plastic' digital sound. Using the IT01 headphones and the AMP 5 card in my auditions, the music had more than enough space to breathe and gave a pleasantly warm presentation that reminded me of listening to a good analogue system. The DX200 showed crisp resolution without ever feeling harsh as I observed when playing The North Mississippi Allstars' Shake Hands with Shorty [Tone-Cool Records]. Through the DX200, the album's lively reinvention of the Memphis Blues turned into an extended 10-track 'wow' moment as any number of previously buried whoops, harmonies, and delta hollers were drawn out into the open. The drums were vividly loose and raw, the slap bass guitar was clean and nuanced, and Luther Dickinson's indelible shredding guitar tone was crystal clear. The DX200's organisation of spacial cues and superb dynamics produced nothing short of a captivating listen.
The DX200 is pushing into the upper tier with its healthy price tag, but those who can dish out the cash would do well to place this DAP up near the top of their 'must go hear it' list. The combination of well-thought- out functionality and top-notch musicality make the DX200 a benchmark to measure against in the digital audio player realm.
Verdict
TECHNICAL SPECIFICATIONS
Type: Android-based high-resolution digital audio player Inputs: Wi-Fi, Bluetooth, playback from onboard storage, USB-C Outputs: Depends on AMP module chosen
Supported file formats: PCM to 32-bit/384kHz, DSD to DSD512 AMP 1 Balanced output: 6Vrms,
20Hz-20kHz +0/-0.16dB; SNR: 125dB; Distortion (THD + N) <0.0002%
AMP1 Single-ended output: 3Vrms,
20Hz-20kHz +0/-0.16dB; SNR: 122dB; Distortion (THD +N) <0.00032%
AMP 5 Single-ended output: 8Vrms,
15Hs-45kHz, +0/-0.3dB; SNR: 121dB; Distortion (THD + N) <0.00025%
Battery: 4400mAH Lithium Polymer Accessories: Leather case, tool for changing AMP modules, USB cable, 2.5mm burn-in cable, 3.5mm coax cable
Dimensions (HxWxD): 19.5 x 69 x 128.5mm
Weight: 240g

Dual SABRE ES9028PRO DAC Chip DX200 Reference High Resolution Audio Player, Leather Case, Extreme Audio 3.5mm Stereo to Stereo Cable, Extreme Audio Mini SPDIF to SPDIF cable, Extreme Audio USB Wall Charger

iBasso SR1 + iBasso DX200 + Extreme Audio 3.5mm stereo to stereo cable
very powerful sound while retaining excellent microphonic details
Silicone Suspension
Detachable cable with MMCX connectors
Last update was on: June 2, 2023 5:42 pm