Three-way, DSP-controlled wireless/active speaker
Made by: Goldmund, Geneva, Switzerland
Supplied by: Sonata, London,
UK Tel: 0330 111 5653
Web: www.goldmund.com; www.sonatahifi.com
Prices: (Prana)/ (Mimesis 15)
Goldmund Mimesis 15/Prana
There certainly aren't many speakers that look like them, but these baby models – yes, really – in the Swiss brand's wireless active range combine style with all-alloy substance. Read our Goldmund Mimesis 15 Prana Review.
Review: Andrew Everard & Paul Miller
Lab: Paul Miller
When the entry-level model in a speaker range costs £ a pair, and weighs no less than 80kg – that's each speaker – you'd rightly assume you're in very serious high-end territory. And yes, imposing though the Prana speaker looks, its two aluminium enclosures mounted on a hefty 'Z-frame' and the whole enterprise standing some 99cm tall, this is the baby of this particular range. Above it sit the Satya speakers, 1.23m tall, 140kg apiece and a pair, while the flagship is the 1.47m tall, 180kg-a-pop Samadhi, yours for a nice neat a pair…
All three speakers clearly have much of the DNA of Goldmund's 1987 Apologue reference speaker, designed by Italian artist Claudio Rotta Loria on the same 'multiple enclosures on a Z-frame' principle – it's just that the Apologue used five enclosures and was a passive design, before the Anniversary edition 35 years later became active and wireless. While the Apologue name derived from Greek for the truth, the current lineup instead draws on Sanskrit, Prana meaning 'the universal sea of energy that infuses and vitalises all matter', Satya 'truth' and Samadhi 'the climax of all spiritual and intellectual activity'.
CHUNK OF CHANGE
All three speakers are the product of Goldmund's in-house modelling software, previewed in a paper at the 2007 AES Convention in Austria. The firm's engineers proposed a DSP-based solution to tackle the phase and group delay distortions associated with the port, drivers and crossover used in a two-way, reflex-loaded loudspeaker. Maintaining a flat amplitude response was also key to the project.
Using Matlab software, Goldmund's custom IIR (Infinite Impulse Response) filter corrected the crossover phase and group delay distortions but only proved stable if the input signal was first divided into
The Pranas, looking as they do, break all the rules'
chunks and 'reversed' in time using a LIFO (Last in/First Out) buffer. After processing, the data chunks were switched back into correct time and reassembled. Dubbed the 'Leonardo Project', this computer modelling was extended to include almost every aspect of loudspeaker design, including cabinet diffraction effects, and was first implemented in the Epilogue range and for the Metis speaker and sub.
THEORY TO PRACTICE
'The comparisons between measurements and calculations were so good', reported Goldmund's Head of Acoustics,
Dr Véronique Adam, 'that we decided to give up the necessity of any measurements for the
loudspeaker systems developed after this validation' [see PM's Lab Report, p39].
The latest Leonardo 2 version of this time alignment correction
algorithm, with digital crossovers, gains and delays, is incorporated in the active Prana speakers we have here.
And that's where we enter the world of Goldmund speaker design – yes, the same Goldmund responsible for the celebrated Reference turntable of 1983 [see Interview boxout, p37]. But in this new, computer-modelled world the Pranas, as well as looking as they do, also seem to break a lot of rules along the way. For example, whereas just about
RIGHT: The upper alloy enclosure houses a 140mm midrange and 25mm soft dome tweeter powered by 2x175W Telos amplifiers while the lower cabinet hosts a 180mm woofer with a 250W Telos amp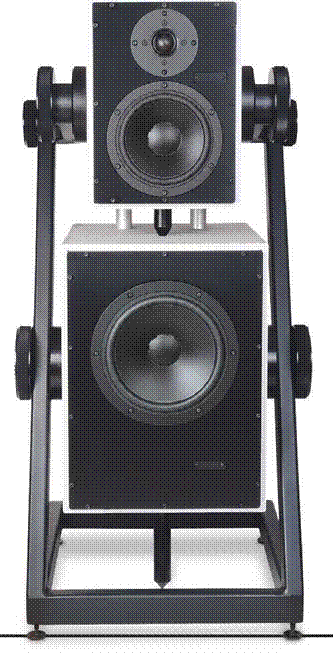 every other speaker on the market employs some kind of shaping to its cabinet to control diffraction, dispersion and internal reflections, the Prana boasts two resolutely rectangular alloy boxes.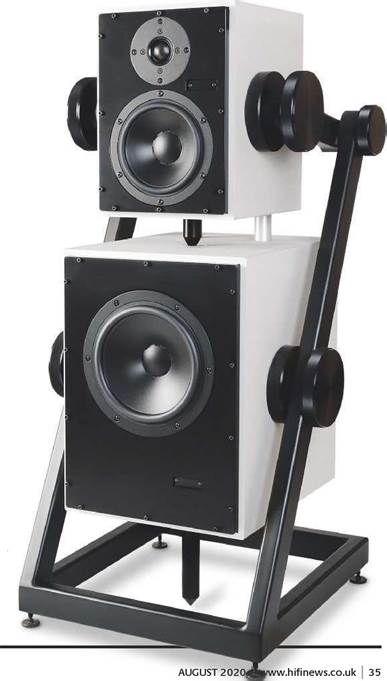 The microbead blasted, anodised finish is truly superb while damping is seemingly provided by the sheer mass of the 13mm-thick slab-aluminium cabinets, with further aluminium bracing within, and the application of an internal layer of a tar material called Idikel, which also adds more mass. There's no clever curving going on here – these are simply very heavy, and very inert enclosures.
DELIVERY BOX
And while those two enclosures are clamped to its exo-skeleton 'Z-frame' using fixings with oversized knurled knobs, these cannot be loosened and adjusted for tilt. In fact they're fixed in place by two slender columns joining the two boxes at the rear while providing a conduit for signal connections from below. There are also fixed 'Goldmund Mechanical Grounding' poles running from the upper enclosure to the lower, and from the larger enclosure to the floor. So while the frame supports the two boxes, it's this 'fifth foot' that couples them to the floor, not the four spikes on the frame.
Then there's the fact the Pranas also contain DSP, DACs and amplification, with 175W apiece for the soft-dome Scan-Speak tweeter and 140mm midrange in the upper enclosure, and 250W for the 180mm bass unit in the lower one. Both mid and bass units are from the Danish AudioTechnology brand and use polypropylene-sandwich cones. Despite all the electronics, there's no ventilation beyond a 100mm-diameter downward-firing port running almost the full height of the bass cabinet.
All of which means the Pranas really do 'warm up' after they've been switched on for a few hours. But there
is a lot going on in there: the only connection between the speaker and the rest of your system, apart from a mains feed for each, is via either S/PDIF digital or wireless, both methods being able to handle a data-rate of up to 96kHz/24-bit. So you could just feed the Prana speakers wirelessly from a computer, for which purpose Goldmund has a simple plug-in USB dongle [see boxout, above]. But to use the speakers with more complex systems, you're going to need one of Goldmund's processor boxes.
For our review, Goldmund distributor Sonata Hi-Fi also supplied the company's Mimesis 15 processor, able to support up to 16 channels of surround sound. The Mimesis 15 has eight S/PDIF digital outputs, configurable as mono or stereo – on the review sample the first two were set up as mono left and right, with another configured for stereo to feed the wireless transmitter. For much of our listening, and PM's lab testing [p39], we stuck to wired operation using a pair of Goldmund Lineal digital cables, costing for each 6m run.
The Mimesis 15 processor is simple to use, with no more than a
HIGH-END WIRELESS
In addition to their coaxial S/PDIF digital input, located alongside the mains socket on the rear of the 'Z-frame' at floor level, the Prana speakers offer a range of wireless connection options, using a proprietary 96kHz-capable link developed by Goldmund in association with TI. This operates on the same 2.4GHz band as home Wi-Fi networks, but is a dedicated link. At its simplest, one can use a 48kHz/16-bit USB dongle plugged into a computer and paired with the speakers using a pinhole button on the rear panel of each speaker's upper enclosure. The Pranas arrive preconfigured to the dongle with which they're supplied, and a yellow 'locking' LED confirms the connection. The computer's sound settings will then control the volume.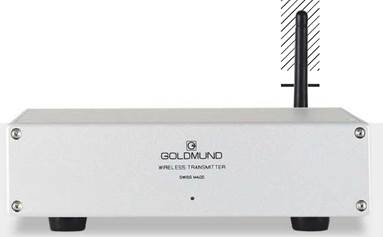 Alternatively one can use the wireless transmitter box [pictured] – this has one coaxial S/PDIF digital input and a stub antenna for the 96kHz/24-bit wireless link.
The Mimesis 11 'wireless' preamp-hub is another alternative as this includes built-in wireless transmitters for a one-stop solution. In all cases, the wireless link has a range of 5-20m, depending on the environment in which it's used.

ABOVE: The Mimesis 15 processor couldn't be simpler with two rotary encoders covering input selection [left] and digital volume [right]. Volume '99′ on the display is equivalent to a -0.9dBFs digital output while the full 65dB range is covered in ±0.5dB and ±1.0dB steps (see Lab Report, p39)
volume control, an input selector and a remote control [p39]. Inputs extend to three analogue line-ins, passing through a 96kHz/24-bit ADC, and four coaxial and two optical digital ins also accommodating files up to 96kHz, and a USB-B for direct connection from a computer (or, in our case, a Melco Digital Music Library).
All good so far, except the USB input is limited to 48kHz, which will be fine for those who only ever play CDs – or CD- quality files. A hard drive full of high-res files will not leave you with the sound of silence, however, because all correctly-engineered USB sources, including the Melco N1ZS20/2 [HFN Jun '17], will 'handshake' with the Prana USB sink and automatically downsample their output from 96kHz,
192kHz, etc, to the 48kHz required. If you're listening off a PC or Mac, you should also be able to force a 48kHz output from your media player of choice.
BIG PICTURE
From the outset the Mimesis 15/Prana combination proved very listenable indeed, and without a doubt able to convey a broad brush of the music, even if its balance was a little soft and safe-sounding at lower listening levels. Whipping off those substantial box-framed grilles certainly brought back more bite and sparkle and playing a range of music left me in no doubt that these speakers were doing some good things in terms of presenting
Losing the box- grilles brought back more bite and sparkle'

ABOVE: Three stereo analogue line ins are joined by six S/PDIF digital ins (four coaxial/two optical that accept 96kHz LPCM) and one USB-B (rated at 48kHz). Four sets of configurable (stereo or mono) S/PDIF digital outputs feed the left and right Prana speakers, respectively, at 96kHz/24-bit
the music's big picture. Nevertheless, perhaps they really weren't really delivering masses of detail when it came to vocal and instrumental timbres and textures.
TIGER TANK
There's good weight in the bass, even at lowish levels (PM noted this meant at around 52 on the Mimesis 15's 'goes to 99′ scale) but while there's reasonable midband and treble information, the things I tend to listen for in a good recording – meaning coherent, focused soundstaging and a sense of space, air and ambience in the presentation – were just a little muted here.
The sound down in the sensible zone is arguably a tad dark and, on occasion, slightly gloomy, even with a highly atmospheric recording such as Mike Oldfield's Return To Ommadawn [Virgin EMI CDV3166] where the, quite literally, multi-layered instrumentation is usually crisply defined and precisely placed in the soundstage.
Via the Goldmund Pranas running at 'polite' levels it's all a bit loose and uninvolving in hi-fi terms, though very listenable without a hint of strain. Increase the volume, however, and the Prana's suggest there's a tiger slumbering in the tank as Oldfield's strings and keyboards start to take flight into the room, with a deal more life and energy. But turn up the juice too far and the tiger is just as likely to reach out and give you a swipe.
VÉRONIQUE ADAM
During our three-month long review process, editor PM shared many a mail with Goldmund's Head of Acoustics, Dr Véronique Adam, and UK distributor Robert Wilson of Sonata Hi-Fi. While our conversations focused on the technology, neither did we overlook Goldmund's long high-end history.
'The brand was founded in France in 1978,' recalled Véronique, 'and its first commercial product was the T3 computer-controlled tonearm followed a year later by the direct- drive Studio turntable with its revolutionary acrylic platter.'
In 1980 the company was solely acquired by Michel Reverchon (who still owns the company, 40 years later) and relocated to Geneva.
'The first "Swiss Made" product was the legendary Reference deck, launched at CES in 1983, its trademark "Mechanical Grounding" becoming a cornerstone of every Goldmund product since. Electronics were added in 1987 with the Mimesis 2/3 pre and power amps, and digital solutions with a CD transport/DAC in 1990 followed by the modular Epilogue speakers.
'Incidentally, there'll soon be an updated DSP-driven flagship speaker to replace the Apologue, featuring a new design aesthetic. Our R&D into active room acoustic correction may also appear as a commercial product under the Goldmund name.'
Finally, and the question that most audiophiles will ask… will there ever be a new Goldmund turntable? Says Véronique, 'the current position is "never, say never"'.