When it comes to amplifiers power is cheap, especially if you are looking at transistors. You can get 100 Watt amps for sums that don't break the bank… and that's your classic Class A/B types; if you go for Class D, prices are significantly lower. But there was a time when modest power outputs were the norm for solid state amplifiers and 50 Watts was considered more than sufficient for the average system. Indeed, there used to be a school of thought that considered high power to be a bad thing, quite possibly a philosophy emanating from a certain Salisbury based company where 100 Watts used to be considered so excessive as to be vulgar.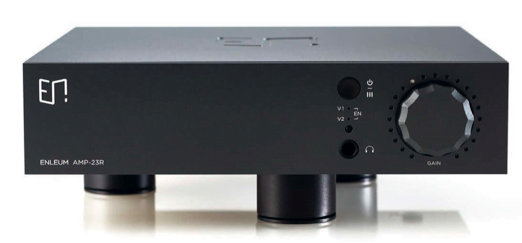 Enleum is very much in favour of low power amplifiers and has been making them under the Bakoon name for 12 years now. Its biggest AMP-51R is specified to produce 100W but it costs nearly twenty thousand dollars. By contrast, its debut product, the AMP-31 offered 25W for approximately the same price as the Enleum AMP-23R. The new AMP-23R is also a 25 Watter and a rather distinctive beast with three large and asymmetrically placed feet under a small but perfectly formed enclosure. An amp that is more minimalist than most, it's maker Soo In Chae has taken the less is more philosophy to heart and extended it to the power output and size of this amplifier. Specifically in the way that the signal paths are much shorter than usual and the circuit was designed to be quieter and more efficient than most.
"The BNCs have 'Enlink' beneath them and provide a proprietary current-based connection for forthcoming Enleum source components."
The AMP-23R is an integrated amplifier with only two controls; a button that switches it on or off that also doubles as an input selector, and a volume control. That's it, there is a headphone output but that requires no switching and merely cuts the speaker output when a quarter inch headphone jack is inserted. There is barely anything in the way of lighting either, just tiny LEDs to indicate input. The volume knob, which is actually a stepped attenuator, has a delightful mechanical display where a white indicator moves behind the pierced holes that surround the knob, so this is pretty much invisible in low light. The design of the case alone make the Enleum a cult product, but things are a bit different around the back as well.
Two of the AMP-23R's inputs are on conventional RCA phono connections but the third pair are on BNC connectors, the type used to make a proper 75 Ohm link between a digital source and DAC. The RCA phonos are marked 'voltage' while the BNCs have 'Enlink' beneath them and provide a proprietary current-based connection for forthcoming Enleum source components. Prior to the fire at AKM (which eliminated a key supplier of audio chips) Soo In had planned to release a phono stage and a DAC with Enlink outputs, these are now expected "later next year". The only other elements on the back of the AMP-23R are a pair of good quality five-way binding posts for speaker cables and a power inlet, there really isn't the space for anything else.
The odd arrangement of feet on this amp was arrived at by calculating the exact centre of mass of the amplifier by weighing every component and the chassis so that it's supported in a balanced fashion. The feet themselves have a loose base that's designed to provide isolation; these metal bases are very slippery however, and Enleum provides rubber discs to put between amp and support surface to stop it sliding. Not that this is likely to be an issue unless you put heavy cables in the back, as operation is largely achieved with a compact remote handset that provides a few other features such as mute.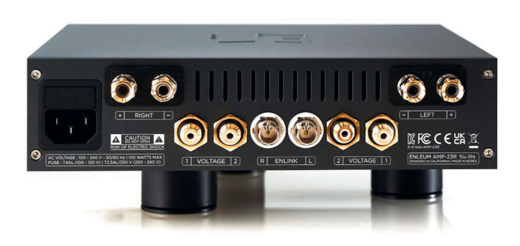 The obvious drawback with a 25 Watt amplifier is that you really need high sensitivity loudspeakers to play music at entertaining levels, 90dB at the full 1w/1m (rather than the misleading 2.83V/1m) is about minimum unless you sit very close or listen at low levels. I don't actually have such a speaker in my usual armoury but took advantage of some JBL HDI-3800s that were in for review, these are substantial beasts with three eight-inch bass drivers and a compression driver tweeter but they offer a 92dB (2.83V/1m) four Ohm load, which is equivalent to 89dB at eight Ohms, so that's how listening commenced.
Actually I tell a lie, as I had PMC's mighty (and mighty hard to move) Fenestria loudspeakers in the system when the Enleum dropped I thought what the heck and hooked it up. Given the phenomenal resolution of these speakers and the relatively low sensitivity of transmission lines the results were remarkably good with excellent delicacy through the midband and decent weight and body to bass guitar. Not Bryston 4B3 (300W) weight and body but enough to really enjoy the poise of Carla Bley's Life Goes On [ECM] where the playing from bass, piano and sax
"This amplifier does all the hi-fi stuff well; it images precisely, has plenty of punch and delivers voices like you wouldn't believe."
came across in nimble and charming fashion. I also tried a dem favourite in London Grammar's 'Hey Now' [If You Wait, Metal & Dust], here it was the vocal that really shone alongside the precise nature of the effects used to make it work so well. Even the low end on this was respectable, not floor shaking but muscular. It reveals that 25W can do a lot more than expected when backed by a decent power supply.
I managed to move the Fenestria in the end and brought things down to a more sensible level with the aforementioned JBLs. These probably need an amplifier with more grip than the Enleum but produced some delicious low end with a number of tracks. The emphasis however is more on timing, texture and the many qualities of musical composition, this amp proved to be exceptionally good at revealing what makes a piece of music appealing. There is a tendency when reviewing to play the first two or three minutes of reference tracks and move on, here that proved almost impossible because the music was so captivating that I had to let it run to the end and often onto the next piece. It's hard to say exactly how this amplifier achieves this but it clearly has a degree of musicality and charm that eludes a lot of the competition. Low power may have something to do with it and the fact that similarly equipped valve amplifiers can sometimes do the same trick would back this up, but that's not all. I suspect that the simplicity of circuit and short signal paths are important, that and the fact that it runs so hot, those feet aren't tall for style points, they allow plenty of air to circulate around a box that uses its small case alone to dissipate heat.
I decided to try the AMP-23R with something closer to its own size in the form of PMC twenty5.21 standmounts, these aren't particularly efficient but have a relatively easy load. This combination proved to be addictive, both components have a degree of coherence that's astonishing and makes the music totally immersive, not to say emotionally overwhelming at times. I tried an old (usually vinyl) favourite in Crosby, Stills and Nash's 'Helplessly Hoping' [Crosby, Stills and Nash, Atlantic] on the Melco N50 and iFi Pro DSD and was blown away by the beauty of the harmonies. Digital transfers of analogue rarely achieve a connection that's this powerful, and all from a system that would fit in a suitcase. Haydn string quartets were wonderfully spirited, full of refined energy and verve while Radiohead's oft monochrome 'Decks Dark' (A Moon Shaped Pool, XL) revealed tonal colours that are rarely glimpsed. Even Kendrick Lamarr's 'How Much a Dollar Cost' [To Pimp a Butterfly, Interscope)] proved unputdownable thanks to a level of lyrical intelligibility that allows the message behind the song to come across so clearly.
This amplifier does all the hi-fi stuff well; it images precisely, has plenty of punch and delivers voices like you wouldn't believe. I put on the first Nicks/Buckingham Fleetwood Mac [Fleetwood Mac, Warner] album to hear 'Landslide' which was lovely but decided that 'World Keep Turning' is equally good, that never seemed the case in the past. And that's a rare and valuable quality in any piece of audio gear, showing the listener just how good the music really is. A lot of stuff makes the better recordings sound great but fails to reveal the musical beauty of less polished productions, but the Enleum gets to the heart and soul of the matter in very convincing style. Its low power output does limit speaker choice to an extent and headbangers will have to find really sensitive models to get their fix. But music lovers are catered for very well indeed, and that's before we hear what Enleum's proprietary connectors can do.
Technical Specifications
Type: Solid-state, 2-channel integrated amplifier with built-in headphone amplifier
Analogue inputs: Two single-ended line-level inputs (via RCA jacks), one 'current' input (via BNC connectors)
Digital inputs: N/A Analogue outputs: Five way
loudspeaker binding posts
Input impedance: Line-level: 10kOhms Enlink: 10 Ohms
Output impedance (preamp): N/A Headphone Loads: Not specified Power Output: 25Wpc @ 8 Ohms,
45 Watts @ 4 Ohms
Bandwidth: Not specified
Distortion: Not specified
Signal to Noise Ratio: Not specified Dimensions (H×W×D): 55 × 230 × 230mm,
H with isolation 82.5mm Weight: 4kg
Manufacturer: Enleum URL: enleum.com