B&W's new 603 floorstanding loudspeaker has vivid clarity says Noel Keywood. Read our B&W 603 Review.
The Festival of Sound show, held at London's Novotel hotel end of September 2018, saw British loudspeak­er manufacturer out in force. Amongst them were B&W with a lavish display of their high end loudspeakers. But when I crept in with my camera hoping to sneak some pics without getting accosted. I was accosted! My afro wig and shades didn't work. What B&W were keen to show me was their new 600 Series loudspeakers, premiere amongst them the 603 floorstander I am reviewing here.
In the new 603 B&W offer an exciting sound – relaxingly open yet vivid and punchy. I can't say I was ever unhappy with the outgoing 600s with their distinctive yellow Kevlar cones, other than they needed a very long run in of circa 150 hours (paper cones need 40 hours or so).
Kevlar has gone however.
Instead the new 603s use a silver hued Continuum cone that is also a weave of synthetic material it appears. In this loudspeaker it takes the form of a relatively large 150mm (6in) 'midrange unit' as B&W label it, sitting just below the tweeter at top.
Being large I suspect the new drive unit it goes low – to around 300Hz. Below this two 165mm paper/Kevlar bass units take over to handle bass, working together into a chamber damped by a reflex port at rear. Concentric foam bungs are supplied to restrict or seal the port, should there be too much bass in a room. However, with bungs absent the bass units are strongly damped acoustically in any case (see Measured Performance) so only when room boom occurs are these bungs likely to be necessary.
At top sits an aluminium Double Dome (Ring dome?) tweeter of conventional 25mm (1 in) diameter. It works from 3kHz upward as usual, our impedance analysis shows.
The cabinet stands 1055mm (41.5in) high on its plinth, is 190mm (7.5in) wide and 340mm (13.4in) deep. The plinth extends outwards slightly, being 320mm wide and 370mm deep. It comes with carpet piercing spikes or rubber feet for hard floors, both height adjustable for stability.
Cabinet finish was a lacklustre matt black on our review samples, the plinths looking prosaically simple. But as budget floorstanders go the 603s are heavy at 24.1 kgs (53.1 lbs) and were solid, a rap of the knuckles producing no comeback.
Rear connection is via a bi-wire panel with removable straps between high and low inputs. Large gold plated terminals accept bare wire, spade connectors and 4mm banana plugs.
SOUND QUALITY
I connected the 603s to our Creek Evolution 100A amplifier through Chord Signature Reference cables. Music came from an Oppo BDP-205D Universal player spinning CD and accepting hi-res from our Astell&Kern AK120 player. The 'speakers had a long run-in.
The new 603 has more mid-range sheen than its predecessor
a less dark sound – but also less upper treble if I recall rightly – the tweeter isn't sonically obvious. Couple this with tight but deep bass and you come up with quite a distinctive sound.
Most immediately noticeable was the sheen of the new Continuum drive unit that pushed vocals and detail forward: Willy DeVille singing Spanish Harlem (CD) almost crackled in front of me, projecting out with vivid definition. This made every nuance in his voice obvious. The new Continuum unit is midband projective, giving the 603 very high resolution of detail.
Interestingly, where most loudspeakers today have raised treble from the tweeter and an often sharp sound, B&W have turned away from this in the 603. Instead my attention wasn't drawn to treble spit or such like, making the 603 mild up top. It's also neutral here, high treble having little obvious character; it's there but makes no imposition. I like.
B&Ws have always had solid, powerful bass – not overblown and the 603s capitalise on this quality well. They are very tight.
super clean and controlled in bass delivery, made obvious by Toto's I Will Remember (CD) where the opening percussive sequence was fiercely gripped and dynamically dramatic, spreading wide across the room in front of me, with a nice sense of depth too.
The 603s excelled here, as they did with Loreena McKennitt's Gates of Istanbul where the deep background underpin from a regularly plucked Bazouki had visceral power – dryly delivered. There was obvious deep bass – subsonics – from this track, making for a powerful presence in our room, a large 6500cu ft. Perhaps this is why those bungs are needed; smaller rooms may get a tad over-excited by such low bass power.
Nigel Kennedy's Stradivarius was highlighted by the 603s, seemingly picked out by a bright white light. Listening intently to Massenet's Meditation the instrument was clearly outlined in front of me and well detailed too. I did notice here that the big cone of the midrange unit has a little 'cuppiness' – sending violin out from a slightly enclosed space. This effect is subjectively mild in impact: musicians hear it, most of us don't.
With large orchestral works, such as Holst's Planets, kettle drums in Mars, Bringer of War (hi-res 24/48) had room moving impact – and their character was well conveyed too. I heard an acoustical instrument of richness and power, not a marshmallow like impersonation.
CONCLUSION
B&W do a lot different in their new 603, coming up with a sound that's both distinctive and impressive. The new Continuum midrange unit is forward, having an LED sheen to its sound: think those bright car headlights. You get to see it all. as it were. Yet there's no stinging treble nor the occasional harshness from CD that results from it. Instead this loudspeaker has an easy, mild and natural quality to high treble. But with deep and powerful bass the 603 brings speed and punch to Rock whilst laying out Classical instruments clearly across a wide sound stage. All round a great performer then and also one that needs little power to rock the room – even make it shudder.
MEASURED PERFORMANCE
Our measurement of frequency response, a third-octave analysis of pink noise, shows a basically flat characteristic over a very wide band, stretching from 40Hz up to 20kHz within 3dB limits. Whilst the 603 isn't as smooth as some, with shallow loss around 2kHz likely due to crossover mis-match, there is no treble peaking so the 603 will not come across as bright, so much as smooth and easy going, yet natural. B&W have kept away from the treble emphasis common in current designs, meaning in a showroom demo the 603 will likely sound less bright in high treble than others, but it is more accurate and truthful.
Interesting that the 603 lacks raised output below 500Hz to add body to the sound, and it also has unusually flat and extended bass output – all the way down to 40Hz. There is a slight roll-off below 80Hz showing a well damped time-domain response that will lack boom or waffle. This suits near-wall positioning, giving quite dry and controlled bass behaviour, one that will less excite room boom.
Our impedance analysis shows the port is tuned to a low 28Hz and applies very broad damping, shown by a wide dip at this frequency with residual peaks either side. Port output (red trace) in our frequency response analysis correlates, its acoustic output around 28Hz delivering deep bass down to 20Hz. In a large room around 20ft long this will be perceptible; in smaller rooms less so. In all however the 603 goes very low, producing subsonics audible in a long room.
Sensitivity was high, a loud 88dB sound pressure level (SPL) produced from one nominal Watt (2.8V) of input. Amplifiers of 40 Watts per channel will go very loud with the 603s and less power sufficient to go loud even in a 16ft long room. Overall impedance measured 5 Ohms and d.c. resistance 3.8 Ohms, the latter being set by the bass units – likely 8 Ohm units connected in parallel. This is how most modem loudspeakers are configured.
The B&W 603s will give a smooth and accurate sound that lacks obvious treble – but they are accurate in doing so. Bass runs very deep but is unemphasised. Near wall placement is ideal. This is a well engineered loudspeaker.
FREQUENCY RESPONSE
Green – driver output
Red – port output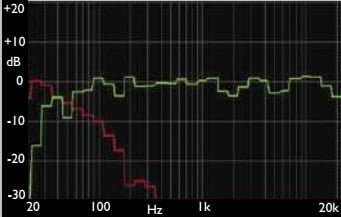 IMPEDANCE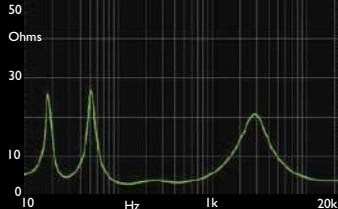 OUTSTANDING – amongst the best
VERDICT
Tel: +44 (0) 800 232 1513