A stereo soundbar plus wireless subwoofer, with Alexa voice control built in, Yamaha's YAS-209 delivers a powerful TV and movie performance at an impressive price. Read our YAMAHA YAS-209 Review.
"Crazy Phil Spector was being interviewed (looking terrifyingly nuts), then the drum entry on Wah-Wah came in — and how huge a presentation the YAS-209 delivered…"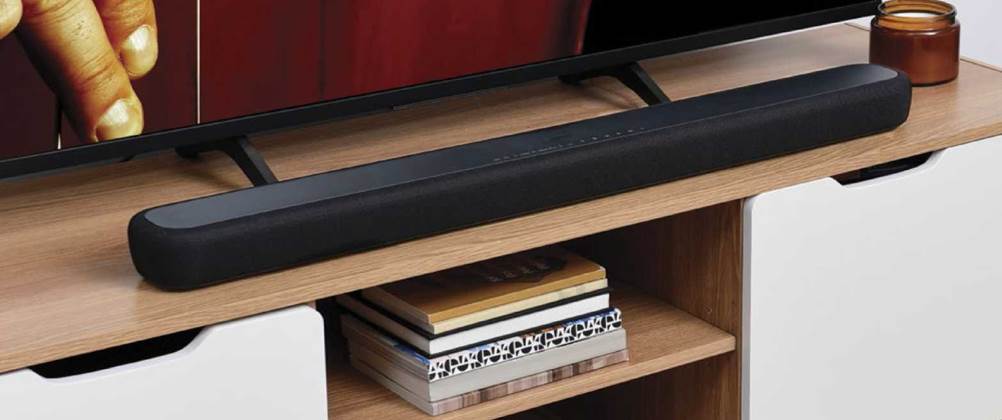 We had a moment during the unboxing of Yamaha's YAS-209, turning the soundbar around between our hands, feeling its weight, seeing how the blue-black fabric wraps right around to meet the sturdy base at the back, leaving a top lozenge of surface, lightly textured and studded with nine indicator lights at the front, next to touch icons. We liked it immediately, and even more so when we placed it in front of our TV and found it so very low, 62mm, that we could actually use our TV remote without having to aim it down from a raised position, arm up like a Roman emperor thumbs-downing his displeasure towards the TV's half-hidden IR sensor. Here we had clearance. A good start.
We had a different sort of moment, though, when we examined the Quick Start Guide for the YAS-209 (yes, we do read the instructions), and saw the YAS-209 declared to be a "Front Surround System". Sounds tautological, doesn't it? And it is. Front systems that try to be surround systems so often become a cropper that such claims generate a noticeable chill in the listening room, and a silence into which such a Front Surround System is invited to 'prove it'.
EQUIPMENT
The YAS-209 hopes to prove it with that nicely- wrapped 92cm-long soundbar, together with its associated wireless subwoofer, the 'NS' prefix of its item number indicating that the sub at least is aiming for Natural Sound.
Lest you are wondering, Yamaha's MusicCast platform is not here onboard the YAS-209, although there is the Sound+Image award-winning MusicCast Bar 400 bar for $ more, which does include that wireless multiroom streaming platform and AirPlay 2 as well, so adding a lot of useful music sources to that soundbar.
But instead the YAS-209 has Alexa built in, and it has a smartphone control app, and it has Bluetooth so you can send music to it from your phone, tablet or laptop. So there's no shortage of ways to play to this unit.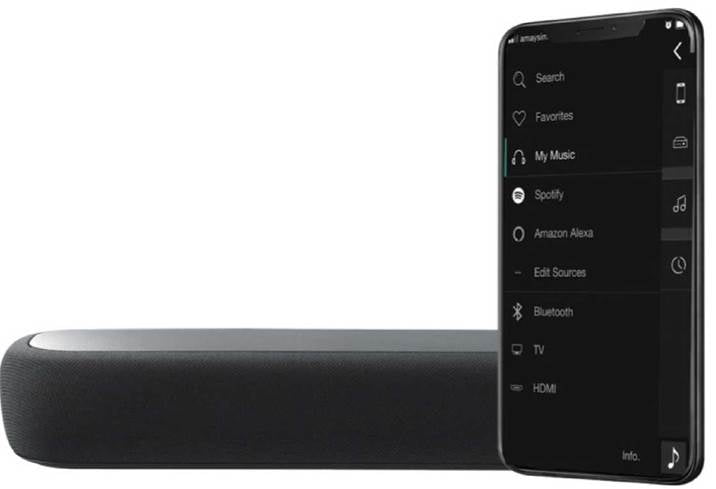 You could make do with one HDMI cable between the soundbar and your TV, not sending any video but for the TV to send sound the other way, to the bar via HDMI's Audio Return Channel. To do this your TV will need to have at least one spare HDMI socket marked ARC. If not, you can connect the supplied optical cable from TV

The Yamaha bar was low enough not to interfere with our TV's IR sensor, and feels impressively well-built for a $ soundbar and subwoofer solution.
to bar. There's no analogue audio input here, so this is not a soundbar to buy if you have a TV without ARC or optical output.
So with one of those connections letting you play sound from your TV, you can also plug a source of choice into the bar's single 4K-compatible HDMI input. The best choice of source would be one delivering multichannel digital sound with which to attempt its Front surround, so perhaps a Blu-ray disc player or a media player like an AppleTV.
The subwoofer is precisely the same unit that comes with that more expensive MusicCast Bar 400, and it is 42cm high, 19cm wide, 40cm deep, though the depth and width may switch depending on how you position the subwoofer. It has grilles on the front and side, but no controls at all, so all it needs is power to wirelessly link with the bar (this Quick Start section is titled "Turing on the bar", but there's no code-breaking here).
We gave the bar an Ethernet connection to our network, and plugged in the power cables to both soundbar and subwoofer. Ready to go.
PERFORMANCE
We had our Blu-ray player connected to the soundbar, and it played through perfectly to the TV, but initially without audio; we found we also had to select 'HDMI' on the remote control to hear the audio — even though we could see the video already. But there weren't the problems we experienced recently with another soundbar which lacked any indicators to confirm which input you were selecting; the Yamaha's dedicated keys on the remote control get over that. The indicators on the bar itself are a little less useful, being on the top of the bar so not very visible from the couch; we were never quite sure even when it was on or off because 'off' keeps the left-most LED illuminated white, while 'on' keeps one of the adjacent LEDs illuminated white. A red LED for off might be a more communicative choice.
This is also an issue when selecting the various options such as 'Clear Voice', '3D Surround' and the various sound modes. You can press the remote buttons, but unless you learn that, for example, a blue light means 3D surround while a white light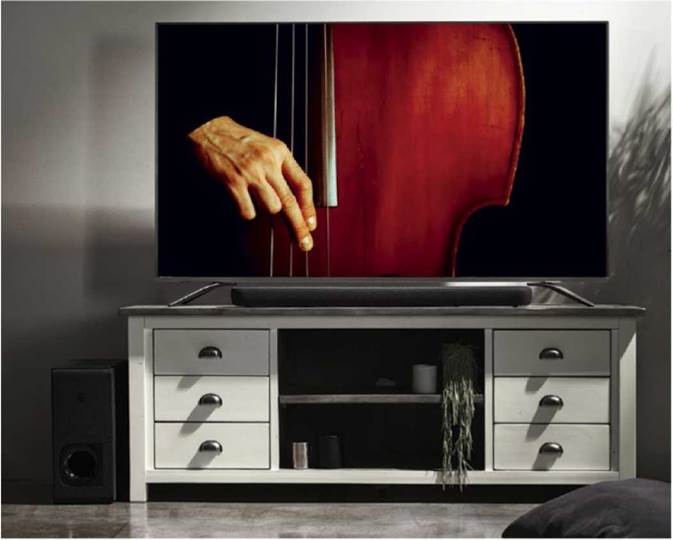 means merely surround (and you have to stand up to check them), it's hard to know what's engaged. We'd recommend using Yamaha's Sound Bar Controller app for this; the 'sound settings' section is much clearer in showing what's on or off, and which program is current.
The app is a definite bonus, and you'll need it to get Alexa working. Indeed the Quickstart guide's introduction lists four features of note, but in the wrong order. First — 'play surround sound' (we'll get to that). Second is Ask Alexa to control the unit' — but you can't do that until you've linked your Alexa account, which involves implementing feature number three: 'Easy operation with the smartphone app'. Yamaha's Sound Bar Controller app found the bar quickly, allowed us to connect our Alexa account, and it also advised us of a firmware update, which we dutifully installed. It is also the path to linking rather more, as you can tap through to Spotify and to a DLNA section that can be used to stream music from network drives and tunes stored on your device — and these will travel by Wi-Fi or Ethernet, potentially better than Bluetooth via the network.
Our first indication of the YAS-209's sonic abilities came when we were warming up the HDMI socket with Scorsese's George Harrison doco on Blu-ray, and crazy Phil Spector was being interviewed (looking quite terrifyingly nuts), then the drum entry on Wah-Wah came in — and how huge a presentation the YAS-209 delivered. We'd been tweaking back the bass earlier on day-time television so it wasn't a high level of subwoofer bloat — quite the opposite, as the sub was set down at three out of ten (judging from the our interpretation of the LED indicators). It was the actual slam that impressed us, a quality which indicates speed and air movement, two attributes unusual in a discussion of a soundbar at this price. But it must be admitted that the best soundbars today are leagues ahead of the earliest and the worst at such prices, and of course it's not a surprise for Yamaha to be among the more able, since they have remained at the forefront since the beginning of this wildly successful market segment.
We tried Alexa — 'Alexa turn it up', which ducks the volume level while it listens, then makes a chime, and then raises the volume.
If this is your first voice assistant, or if you have Alexa in other rooms, this can open up not only soundbar control but access to the whole world of Alexa abilities. If, of course, you already have another Alexa device in the room, or a Google Assistant device, if may actually be a negative to bring another one home in your soundbar. But if it gets in the way, or someone in your family has privacy concerns, you can turn the Yamaha's mike off using a button on the bar itself.
We found it a bit annoying that Alexa volume control cuts out a bit of dialogue, or indeed music, so we favoured the supplied physical remote control instead. This has separate controls for main volume and subwoofer volume, something we find very useful for tweaking bass to match different content. It also offers dedicated buttons for each input — HDMI, TV (ARC), Bluetooth and Net, a toggle to kick in additional bass extension, and an 'info' key which didn't seem to do anything except change the lights on the bar. From the sound programs we stuck largely with stereo, though 'Music' seemed to add some relatively non-destructive width and substance (it seems to add actual reverb, because if you pause it you can hear the sound hang and tail off; the sports setting also does this), and indeed the variation between any of them seemed relatively low and benign, so we wouldn't warn you off any of them; just play with them and use what you like.
The 3D Surround button, which uses DTS Virtual:X and claims to "make it possible to hear sounds not only from horizontal directions but also from varying heights", added a bit of fizz to everything — the cicadas in Once Upon A Time in the West went crazy under its influence, while speech went sibilant, music went thin and phasey. Useful expansion of sound heard we none. But heavens how the gun shots in that film cracked loud and alarming, with no Virtual:X required.
We kept invoking 3D Surround during other content, but never to advantage, except on one Dolby test loop, the famous leaf demo, where a little extra width seemed imparted to the background atmosphere. (These demo tracks also showed the subwoofer capable of some impressive depth at the price.) Surround, no. Height, no.
The stereo mode actually locks off 3D Surround as an option, and also delivers the clearest sound. It's a good sound for movies, TV, and for music in some cases, assisted by that easy ability to adjust the subwoofer. We kept the soundbar in place for general use for three weeks with no complaints from other users in either sound quality or ease of use. We played plenty of music through it, both under request from Alexa on Spotify (though Alexa first tried to sell us a trial subscription to Amazon Music), from Bluetooth, and across the network from a NAS drive, from which it proved happy playing the likes of 24-bit/192kHz FLAC files (a 352kHz file played at half speed, so 192kHz seems its limit). Such direct music playback seemed a little less rich and dynamic than had music videos: a little boxy, vocals slightly pinched and edgy — we were always checking, of course, that we didn't have some unwanted sound option engaged, though the bass extension button assisted in filling out the sound for its most enjoyable delivery, using either the stereo or music sound program. (Don't hit the 3D surround button with music, whatever you do!)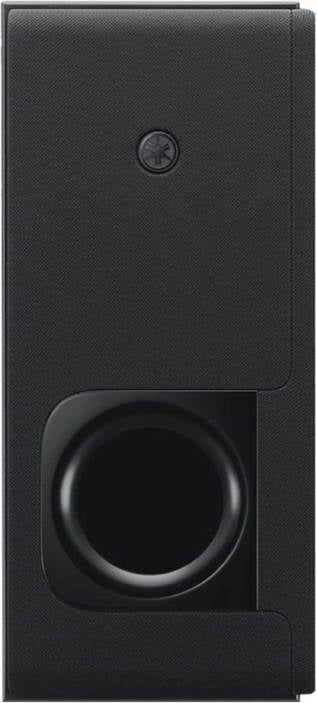 Its TV and movie performance, however, was well over the odds for the price. It was full, dynamic and atmospheric by turns throughout Indiana Jones and The Kingdom of The Crystal Skull, able to go loud too, delivering a massive thrum to La Beouf's motorcycle as it whizzes around Marshall College. During the umpteenth viewing of A Star Is Born on UHD Blu-ray, cranked high (Alexa couldn't hear us), the clarity of Jack's full-on rock numbers, the opening Black Eyes for example, was significantly compressed dynamically, whereas the more open songs such as Shallow were pleasingly presented, if lacking finer details such as the resonance of Ally's footsteps on the stage as she walks out to sing her verse. For the money, it's impressive. Of course you could pay more to get more
CONCLUSION
So don't make too much of the 'Surround' in that description of the YAS-209 as a 'Front Surround System'. We prefer how it's described in the online specs, as a Digital Sound Projector. It's a strong and powerful performer at this price in delivering excellent TV and movie sound, plus it looks good, and it has Alexa to bring it into the new age of voice assistance and music requests.
Yamaha YAS-209 soundbar
• Great TV and movie performance at the price
• Alexa on board, and a wireless subwoofer
• Not entirely musical
• Certainly doesn't achieve 'surround'
SOUNDBAR
Inputs: 1 x HDMI, 1 x optical digital, Wi-Fi, Ethernet, Bluetooth (SBC, AAC)
Output: 1 x HDMI ARC
Drivers: 2 x 25mm tweeters; 4 x 46mm midrange
Quoted power: 2 x 50W (no criteria quoted)
Dimensions (whd): 930 x 62 x 109mm
Weight: 2.7kg
SUBWOOFER
Driver: 1 x 16cm bass
Quoted power: 100W
Dimensions: 191 x 420 x 406mm
Weight: 7.9kg
Contact: Yamaha Music Australia
Telephone: 1300 739 411
Web: au.yamaha.com