Marantz keeps a low lid on this 'slimline' Atmos-equipped AV receiver, while the quality and the smart stuff could make it the perfect fit for your music as well as movies. Read our MARANTZ NR1710 Review.
Marantz introduced its slimline series of AV receivers some years ago, managing to reduce the height of the normal hulking multichannel beast from a dominant double-height to a more room-friendly lower level, akin to a normal hi-fi amplifier. This shrinkage was originally possible because the introduction of HDMI cables had done away with previous multiplug connections that had required a huge area for socketry on the rear of receivers, while at the same time the rise of Class-D amplification lowered the heat produced with power, along with the internal space and heatsinks required to cool it down.
But in addition Marantz has achieved the physical reduction by making sensible choices for a mid-range AV receiver — keeping to reasonable power ratings and including features and socketry that will work best for a unit of these dimensions.
All this doesn't preclude extended functionality. The higher of the two current slimline units, this Marantz NR1710 is loaded with streaming and multiroom abilities as well as keeping the fundamental roles solid.
Equipment
Smaller than usual it may be, but the Marantz NR1710 still manages to includes seven amplifiers. Each is rated at 50W per channel. Too low? Only if you have particularly demanding loudspeakers. Remember, the difference between 100 watts and 50 watts is only three decibels of loudness.
This receiver also supports a second zone — audio only — and you can use two of those seven amplifiers to drive this if you want, or alternatively use a separate amplifier and the receiver's line-level zone outputs.
That's for a second zone to which you run cables, but you can run any number of other zones via your home network, as the NR1710 has HEOS onboard. HEOS is the streaming multiroom platform developed by Denon (see the Denon Home speakers elsewhere in this issue) and used widely by both Denon and Marantz. Using HEOS you could do things like send the phono input signal from this receiver to a Denon Home speaker in a different room. Or the other way around. It supports streaming services including Spotify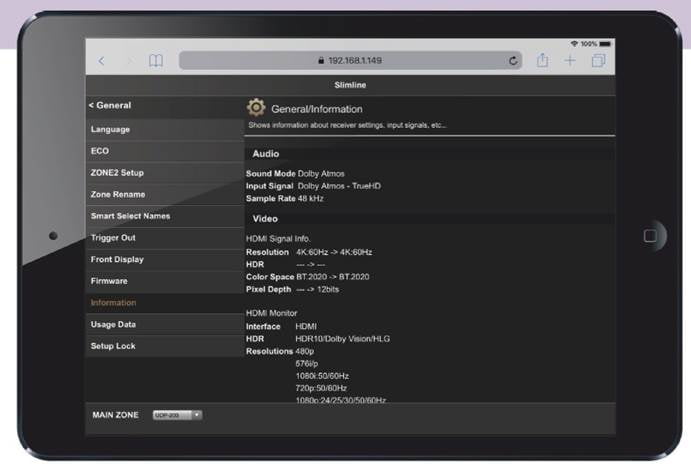 Connect, Tidal, Deezer, iHeartRadio, Tunein and Soundcloud, and can access files stored on your home network including high-res audio, even regular and double-speed DSD.
Just as conveniently you can use AirPlay 2 to send music to the receiver wirelessly from an iOS device or a Mac computer.
So that's a whole world of source material available before you've even plugged anything into the receiver's inputs.
Those inputs are also comprehensive, despite the reduced rear-panel real estate. They include a healthy eight HDMI ins (and one HDMI out), all rated at HDMI 2.2 and HDCP 2.3, which means support for pretty much anything in the Ultra-HD family. That includes HDR, with it passing through HLG, the size, the smarts and the convenience of the Marantz NR1710 make it a fine AV receiver, and still a rarity in achieving its qualities in that smaller chassis.
HDR10 and Dolby Vision video. There are also three sets of analogue audio inputs on the back, three composite video and two component video input connections, along with matching analogue outputs. One economy at this level is that the receiver doesn't convert analogue video to digital, so if you want to plug in an old VCR, you'll also need analogue cables from the receiver on to the TV.
There's one optical and one coaxial digital audio input, and an input for a moving-magnet level phono (along with an earthing point).
Digital file playback is supported in the form of Bluetooth, USB and network audio via HEOS. To network the receiver there is dual-band Wi-Fi or Ethernet; a pair of small antennas poke up from the back for Bluetooth and Wi-Fi. The USB socket is on the front, and you can plug in a huge hard drive of music and control it via the HEOS app, which is highly effective with file-based playback.
You can also control the unit by voice, using either Alexa or Google Assistant. Those still remain a bit limited, but it's really cool when it works.
You can also boost the power to the front left and right speaker by adding your own

power amplifiers for those two channels. Other wiring options include bi-amping the front speakers, adding a second pair (Speakers B) to the front, or using the last two amp channels for surround back or several height options for Dolby Atmos and DTS:X use. Yes, Atmos (and Atmos-enabled) speakers are supported, so you can have speakers physically installed high on the front wall or in the ceiling. If you're going for such height channels, the maximum configuration possible here from the seven channels of amplification is 5.1.2.
There is, of course, an IR remote control provided. Marantz-branded 'Remote In' and 'Remote Out' connections are included, along with a 12V trigger out. In addition to the HEOS app, the unit can be controlled with a Marantz AVR app on iPhone and Android, and via a web interface. The web interface (shown above left) is primarily for changing settings. The HEOS app is more for source control, in addition to managing HEOS functions such as grouping rooms. The AVR app is for doing things like switching to a different surround mode. We found it easiest mostly just to use HEOS and the physical remote control.
Set-up
The set-up wizard proved as good as always on Marantz AV receivers, despite the unit's lower stature than some. It guides you securely — and pictorially — through it all, from wiring up the speakers, choosing which ones you are using, calibrating them and your room (using Audyssey MultEQ, not Audyssey MultEQ XT32), setting up your network and assigning your sources to inputs. And if you're a bit more experienced, you can skip big chunks of the set-up and do it manually.
The Audyssey set-up chose sensible settings. The receiver comes with a cardboard stand to hold the microphone, so it's pretty much ready to set up straight away. (One note at the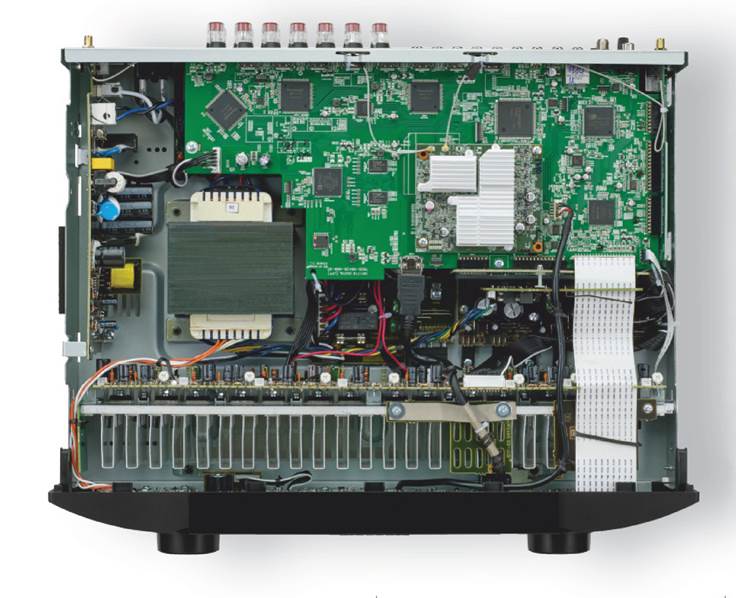 end: we suggest ignoring the suggested 'Yes' for Audyssey Dynamic EQ and choosing 'No'.) Then you connect the network. If you haven't plugged in Ethernet, it will give you some options for the standard SSID search for Wi-Fi, the push-button WPS method, or having an iPhone/iPad set it up fairly automatically.
Sound
We used speakers of middling sensitivity — around 89dB/W/m — and the Marantz NR1710 receiver drove them easily. We had a volume incident, caused because Marantz receivers now show volume on a 0-100 scale, whereas we're still used to their old -80dB to +20dB scale (to which you can change back if you wish, but we hadn't). We'd been testing the voice control by commanding volume changes without actually playing music, and had the volume showing something around 80, the old minimum, but now very loud indeed! — as we discovered when we used the HEOS app to start some network audio playing. It was far
The higher of the two current slimline units, this Marantz NR1710 is loaded with streaming and multiroom abilities as well as keeping the fundamental roles solid.
beyond our usual listening levels, but clean and controlled regardless.
In fact music, whether sourced from local network storage, decent quality streaming from Tidal, or even the phono input, all sounded excellent using this receiver.
As did movies. Using this 5.1.2 system did narrow the overhead spaciousness a little from higher receivers which offer 5.1.4 (four ceiling speakers), but after the immediate contrast had worn off, the results remained effective.
The receiver supports eARC, so the latest TVs can send things like Dolby Digital Plus encoded with Dolby Atmos (which is used by some Netflix and Disney+ shows) back down the HDMI cable to the receiver.
The Marantz NR1710 now pairs with Bluetooth headphones for wireless playback, a boon if your partner has gone to sleep in a nearby inadequately noise-isolated room, though for video sync there's always the spectre of latency when receiving by Bluetooth, in which case you might run cabled headphones into the front-panel socket instead.
Video
As mentioned, the receiver does not convert analogue video input to HDMI output.
But what it does do is a really good job of upscaling and deinterlacing content, all the way to 2160p if you want. The 'Auto' and 'Video and Film' settings for the deinterlacer seemed to be identical, but both were very good, almost perfectly identifying film-sourced test clips appropriately, and switching modes swiftly and effectively.
There was one tweak that was necessary in the video settings, though. When playing a 2160p/60 HDR UltraHD Blu-ray disc, no picture came through. Searching the Video settings, one called '4K Signal Format' was on 'Standard'. Flicked over to 'Enhanced', the picture came through to the TV perfectly. This may be confusing for many users.
Conclusion
If seven channels is enough, you'd be wasting your money by getting more. If your speakers and room are such that 50W per channel will do the job, then the size, the smarts and the convenience of the Marantz NR1710 make it a fine AV receiver, and still a rarity in achieving its qualities in that smaller chassis. It acts a lot bigger than its physical size suggests.
MARANTZ NR1710
Strong performance in a compact and well-priced package
HEOS streaming & multiroom
Excellent guided set-up
No DAB+
Tested with firmware: 4000-9120-7002-0025
Power: 7 x 50W into 8 ohm (20Hz-20kHz, 0.08% THD, two channels driven)
Inputs: 8 x HDMI, 2 x component video, 3 x composite video, 3 x analogue stereo, 1 x phono, 1 x optical digital, 1 x coaxial digital, 1 x USB, 1 x Ethernet, Wi-Fi, HEOS streaming, Bluetooth, AM/FM, AirPlay 2 Outputs: 1 x HDMI, 1 x component video, 1 x composite video, 1 x 2.1 pre-out, 7 pairs speaker binding posts, 1 x 6.5mm headphone
Zone: 1 x analogue stereo, assignable amplifiers, wireless multiroom via HEOS Other: 1 x set-up mic, Marantz R/C I/O, 1 x 12V DC
Dimensions (whd): 440 x 105 x 378mm
Weight: 8.4kg
Contact: QualiFi
Telephone: 03 8542 1111
Web: www.marantz.com.au