Martin Pipe discovers that the FiiO BTR5 Bluetooth DAC is a pocket Hercules. Read our FIIO BTR5 BLUETOOTH DAC Review.
FiiO's latest Bluetooth devic­es is the BTR5 "Portable High-Fidelity Bluetooth Amplifier". Despite being described as a flagship model. As its name suggests, the basic job of the BTR5 is to wirelessly pair with a Bluetooth device like a mobile phone and reproduce any of

its audio through headphones. As I'll explain though, there's more to its talents. A nicely-finished black lozenge measuring 72 x 32 x ll.3mm and weighing less than 50g – that includes the built-in 550mAh lithium-polymer battery, able to deliver up to 9 hours of Bluetooth playback from a single charge – the BTR5 is supplied with a practical snap-in cradle with inte­grated belt-clip.
The unit's front-panel is glossy, because it's made of "2.5D" (contoured) glass. Behind it discreetly-lurks an OLED display, which under normal circumstances tells you the current volume level and what sort of Bluetooth connection exists between the two. On the side are buttons for standby, volume adjustment (which is independent of your host device's) and a button that, under normal circumstances, pauses music or answers calls (the BTR5 has an in-built mike for hands-free use).
The buttons have multiple functions, according to how long they're pressed. Hold the volume keys down, for example, and they'll select tracks (this worked fine with VLC, as running on my Google Pixel 3a). The pause button (again, VLC- compatible) also engages Bluetooth pairing, and straightforward Pixel 3a operation. Even easier, if your gear supports it, is one-touch NFC pairing.
But things don't always behave as expected. Apparently, holding down the standby button for two seconds reveals the menus that allow the BTR5 to be configured – digital filter (permutations of slow/fast/minimum- phase/aperiodic/hybrid), gain, preset equaliser (jazz/pop/rock/dance/R&B/ hip-hop/classical/user/off), display dimmer and USB mode.
Huh? Yup, the BTR5 doubles as a USB DAC (driver-free USB 1, or hi­res USB2.0) for your computer. What the frankly inadequate documentation – a single quick-start sheet – doesn't make clear is that you can also use the BTR5 as a DAC with USB OTG- type Android devices. I was able to use it with my Pixel 3a on this basis, although you need to provide your own USB-C to USB-C cable (FiiO include a stubby USB-C to USB-A cables for charging and PC DAC use). This gives the best sound quality, as you avoid the compression associated with Bluetooth.
The menu has the option of turning off USB-charging mode, to avoid draining your phone's battery. There's also a 'car mode', which may be useful when the BTR5 is being powered from a USB cigarette-lighter adaptor. Here, the device is only active when a voltage is sensed on the USB port. Unfortunately, such menu-related functionality was a moot point – because I could not, for the life of me, gain access to it – no matter how long I pressed that standby button (hold it down for too long, and the darn thing turns off). Maybe a firmware upgrade will work? And yes, there's indeed firmware available from FiiO's website – which warns you "not update the firmware again if your BTR5 is using the latest". And how do you discover what version of firmware the BTR5 is using? Um…it's a menu option…
Many functions are however available via FiiO Music, a free player app for iOS and Android devices. As well as menu-accessible functions like the digital filters, charging configu­ration, firmware identity – the latest 1.0.6, as it happens – and car-mode are others that aren't available – channel balance, USB/Bluetooth priority selection, auto power-down, convenient setting of the mysterious 'user' equaliser with manual l0-band control, various phone call-related functions and even Bluetooth codec selection.
Oh, and there's more. Working my way through FiiO Music's options, I also discovered that my particular BTR5 had been set so that menus were accessed via a double-click of the standby button – an eventuality not mentioned in the quick-start guide, or for that matter the relevant FiiO YouTube video!
That's the software, then – more on the hardware. Although the BTR5 lacks conventional digital connectivity, it is equipped with both 3.5mm (unbalanced) and 2.5mm (balanced) headphone outputs – unexpected, given the price. The electronics making it all possible is surprisingly well-specified too. Running the whole shooting-match, and providing the USB interface, is an XMOS XUF208 multi-core controller working in conjunction with a custom-designed FPGA chip and – to keep jitter at bay – precision crystal oscillators. To look after wireless connections, FiiO has specified a comprehensive Bluetooth 5-capable Qualcomm CSR8675, the 120MHz DSP of which supports 24- bit audio processing and support for AAC, SBC, aptX, aptX-LL, aptX-HD and LDAC codecs. Responsible for the audio side of things, meanwhile, are two ESS SABRE ES9218Ps.
Combining the functions of balanced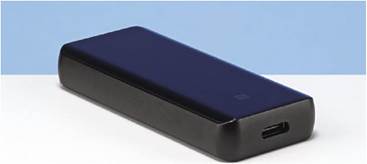 Thanks to this USB-C connector the BTR5 can double as a USB DAC with a computer. Both driver-free (USB1) and hi-res (USB2.0 driver needed) modes are supported.
Directly connect BTR5 to a compatible phone with a suit­able cable and it becomes a wireless-free USB DAC for 'on-the- go' listening. This gives best sound quality by avoiding lossy Bluetooth compression.
32-bit/DSD DAC and headphone amplifier, one chip is allocated to each channel. "Under balanced output with its 2 DACs working in conjunction", claims FiiO, the BTR5 is "capable of 220mW output at 32 Ohms; and 7.6Vp-p at 300 Ohms".
SOUND QUALITY
I tried the BTR5 with various PCs (you need drivers, freely available from FiiO's website, if you want to get USB 2.0's benefits – asynchronous mode and 32-bit 384kHz PCM/DSD256 hires support) and the aforementioned Google Pixel 3a, via both Bluetooth and direct USB connection.
Headphones used included IEMs (FiiO's own FH7s as reviewed last month, and the Lime Audio Model Xs covered elsewhere in this issue) and – via an adaptor – full-sized headphones like the Focal Utopias and Meze Empyreans. All could be driven, with no audible signs of strain at sensible listening levels. Even via the latter high-end 'phones, the BTR5 did not disgrace itself – admirable, for a complex piece of audio kit.
Resolution was sufficient to lay bare the differences between Bluetooth modes; hardly surprisingly, aptX-HD and LDAC mode (mercifully supported by the Pixel 3a) tend to come out best, in terms of transparency and openness. USB mode ups the ante further, but under most day-to-day circumstances the FiiO Bluetooth connection should suffice. It's certainly the most practical option.
In terms of timing and retrieval of detail, the BTR5 punches well above its weight – percussive electronic music (for example, Etapes 1 to 3 of my Kraftwerk Tour de France Soundtracks CD FLAC rip) demonstrates how agile this little unit is. Sticking with electronic music for a moment, I found that the lushly-organic analogue synths and distinct atmospheres of Boards of Canada's Reach for the Dead (Tomorrow's Harvest, CD FLAC rip) and Pye Corner Audio's The Mirror Ball Cracked (Sleep Games, CD FLAC rip) were competently-handled. Another Tomorrow's Harvest track, Palace Posy, reveals that the BTR5's low-end is correct-proportioned and well-defined. Overall, I would judge the unit as tonally-neutral across the audio band – if brightness and bloated bass are heard, blame your source material or choice of headphones!
And hi-res? Thanks to the BTR 5's not-insignificant resolving power, the individual vocal breaths and string noises of Keith Greeninger and Dayan Kai's back-to-basics Blue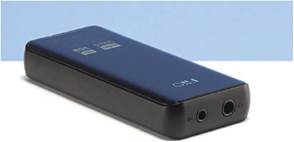 The BTR5 caters for both balanced (3.5mm) and unbalanced (2.5mm) headphones. Each channel is driven by the headphone amplifier of a dedicated ESS SABRE ES9218 DAC chip.
Coast recording 'Looking For A Home' (DSD64) helped to impart a degree of 'you-are-there' realism. Between my earpieces, I also got some insight into the acoustics of the venue where the performance took place.
I was equally impressed with the BTR5's handling of another familiar recording, Britten's War Requiem (LSO Live/Noseda, 24-bit/48kHz). String sections were as brooding and ominous as the composer intended, choral forces given sufficient room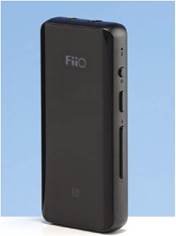 On the side of the BTR5 are four buttons with multiple functions, according to how they're pressed.
and brass endowed with attack and bite. This 2011 recording, live from London's Barbican, also demonstrated the BTR 5's ability to deliver a strong dynamic performance.
CONCLUSION
The BTR5 achieves a lot for its asking price. A standard tablet or smartphone, especially one with support for the latest Bluetooth standards, is in essence converted into a hi-res portable music player. What lets down the BTR5 is a poor standard of documentation; needs improvement here.
FIIO BTR5 BLUETOOTH DAC
OUTSTANDING – amongst the best.
VALUE – keenly priced.
VERDICT
FIIO BTR5 BLUETOOTH DAC Review
Transforms the sound of smartphones and tablets, to a standard that audiophiles can appreciate
PROS
fulsome, detailed and natural
can be used as USB DAC
CONS
buttons have multiple functions
inadequate documentation
Best FIIO BTR5 BLUETOOTH DAC prices ?

£

179.66
2 new from £179.66
in stock


£

190.99
1 new from £190.99
in stock

MORE DEALS

Advanced MP3 Players +44 (0)343 289 6880 www.advancedmp3players.co.uk