Emotiva's most affordable monoblock amplifier might be just the ticket if you want an upgrade on your cinema AVR, says Mark Craven. Read our EMOTIVA XPA HC-1 Review.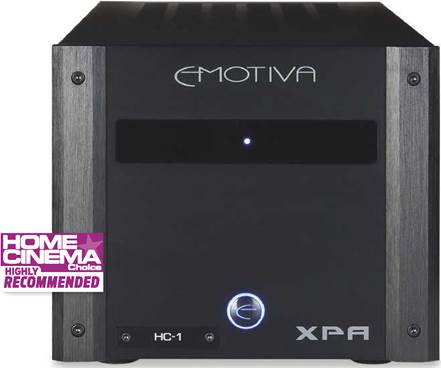 AV INFO
PRODUCT: Balanced/ unbalanced monoblock power amplifier
POSITION: Entry-level in Emotiva's X series, below XPA-DR1
PEERS: Audiolab 8300MB
THE ARRIVAL OF 3D audio formats has left many cinema systems in need of more channels of amplification, and while AVR makers have risen to the challenge with 11- and even 13-channel integrated models, in some instances all that's desired is an external amp to partner an existing receiver. There are various solutions available, from cost-effective stereo to high-powered multichannel models. And then there are monoblocks.
So named because they offer a single channel of amplification, monoblocks are often seen as the preserve of high-end hi-fi systems, where splitting left/right power is desirable. Yet Emotiva's XPA HC-1, rated at 300W into 8 ohms, is more accommodating than much of the monoblock masses.
Who might be interested in it? Anyone looking to give their front left/right speakers a boost over their cinema receiver (dependent on the AVR's configuration possibilities); owners of standalone processors (particularly those with balanced XLR outputs, as the XPA HC-1 features both balanced and unbalanced inputs); and perhaps those wanting to run a second-zone music system.
Styled to match the rest of Emotiva's X series fleet with its pressed steel chassis and brushed aluminium fascia, the amp is a half-width design that gives the impression of compactness, but note that it extends back 483mm. For paired installs, Emotiva recommends placing the HC-1 close to your speakers to keep speaker wire runs short, but two can sit side-by side (the amps vent out of their top plate), and even lock together via an optional Coupler Kit.
On the back panel are XLR and phono inputs (plus switch to select between them), high-quality binding posts, and a button to dim the status LED on the amp's front display.
Third time's a charm
As a member of Emotiva's XPA range, the HC-1 packs the manufacturer's third-generation amp module. Previous 'Gen2' XPA amplifiers used a toroidal power supply and offered a Class A mode (selectable by a switch on the front panel) in addition to the standard Class A/B output. Now, Emotiva has changed tack
Emotiva's Gen3 XPA models are Class H designs
and adopted a switch mode power supply and Class H topology.
There's little doubting the potent power of the HC-1. Partnered with Arendal Sound's 1961 floorstanders (see p48) and an Emotiva XSP-1 preamp via unbalanced RCA output, the sound is forceful, largescale and seemingly blessed with endless headroom. There's no sense of strain or distortion, which brings the confidence to go big on the volume dial.
Low-frequency handling is one obvious beneficiary, the Emotivas gripping on to drum beats and basslines in music and film soundtracks. Another is dynamic attack, as dramatic movie moments – such as gunshots and car-crashes – leap from the soundstage.
A run-through of Black Sabbath's God is Dead? (Tidal Hi-Fi) gives an instant indication of the HC-1's strengths. The track's ominous intro sounds fulsome and cavernous, and when the main riff surges in and the bass and percussion run amok, it's .. explosive. It's not all about heavyweight muscle either. There's control too, and a nicely neutral tonality.
Switching to Fast & Furious Presents: Hobbs and Shaw (4K Blu-ray), the film's frequent fistfights have a visceral, cinematic impact that speaks of the HC-1's responsiveness and transient delivery. Everything hits hard and fast, and the effect this has on the clarity of the soundstage as a whole is notable.
Overall, while the unusual form factor of Emotiva's entry-level monoblock may either be a blessing or a hindrance depending on how you rack your kit, once installed I reckon it will begin to look like value-for-money.
Verdict
Editor choice
EMOTIVA XPA HC-1 Review
Emotiva's bang-for-your-buck ethos continues with this punchy and dynamic sub-£ monoblock amp.
MORE DEALS

SPECIFICATIONS
AMPLIFICATION (CLAIMED): 1 x 300W/8 ohm (20Hz-20kHz; THD <0.1%); 1 x 600W/4 ohm (20Hz-20kHz; THD <0.2%)
CONNECTIONS: Balanced XLR input; unbalanced phono input
DIMENSIONS (INCLUDING FEET): 213(w) x 194(h) x 483(d)mm W
EIGHT: 9.75kg
FEATURES: Gold-plated 'audiophile-grade' speaker binding posts; 12V trigger input; i2v trigger output; dimmable status LED; Class H amplifier technology with switch mode power supply; steel chassis/brushed aluminium fascia