The siren call of Cyrus
Cyrus claims its new XR series represents a step change in design. So Chris Frankland checks out the i9-XR integrated amplifier and CDi-XR CD player.
The Cyrus brand has a heritage dating back almost 40 years and its latest XR series boasts "a fundamental step change in design approach".
Cyrus says that the XR series has benefited from improved manufacturing processes and the availability of high-grade components, with a ground-up redesign where its engineers were free to select components based on efficiency and optimal performance "without consid­eration of cost".
Reducing noise was one of its primary design goals with the SR series, taking care to isolate signal paths from any sources of noise. Another was optimising the power supply by using "only the best components", while finally paying close attention to the design of its DACs. Aimed at the "discerning audio enthusiast", Cyrus says that the XR series has benefited from its understanding of DAC technologies and power supply designs.
The XR range consists of two integrated amplifiers with built-in DACs (i7-XR and i9-XR), a CD player and a CD transport, a preamp and a separate power supply. I am looking in this review at the i9-XR integrated amplifier and the CDi- XR CD player (not the tranport) because so many ask about them.
The i9-XR amplifier breaks the mould in terms of its size and shape. At just 215mm wide by 73mm high and 360mm deep, it is only around half the width of most products, which means that the CDi-XR can sit next to it and still occupy only the same space as a typical integrated amplifier. Its aluminium case, shared with the CD player, is finished in a matt black and feels solid and sturdy. The i9-XR is rated at 91 watts into 6 ohms with a quoted dynamic range of 104dB. It provides four analogue inputs, a moving magnet phono input, a USB input and four digital inputs (2 x SPDIF, 2 x optical). It also provides a headphone output – but on the rear panel. A multi­pin connector is provided so the i9-XR it can easily be upgraded by adding the separate PSU-XR power supply.
One annoyance is the speaker sockets, which are the type that have a central pin to accept plugs that are hollow. This means a plug swap if your existing speaker cables have conventional banana plugs. Two sets of terminals allow for bi-wiring. A preamp output and an upgrade socket to enable firmware upgrades are also included. For those who end up with multiple XR series components, there is an MC-BUS output that allows them all to be daisy-chained so that the power function of the entire system can be controlled from one remote control.
The front panel of the i9-XR is minimal, with a main display, a rotary volume/selector knob and buttons to select input, mute,
"The Cyrus conveyed Sarah Jarosz voice well: she was open and articulate, with good delicacy and attack from her mandolin"
headphones, channel balance, main menu and select one of the seven digital filters on the DAC.
Cyrus says that the preamp section uses relay input selection, a high-performance gain stage and keeps signal paths short to optimise sound quality. The built-in DAC uses an ESS Sabre chip and an all-new high-speed analogue buffer. Input options include sample rates up to 32/768k on USB, as well as DSD to DSD5I2, although DSD5I2 requires a Cyrus USB driver.
In the CDi-XR CD player, stating that some off-the-shelf mechanisms produce significant noise when stepper motors are used, Cyrus says it has designed its Servo-Evolution system to reduce disc re-reads and corrections by around 20%, producing a cleaner data stream for the DAC, which is the same QXR DAC (ESS Sabre) as found in the i9-XR and housed here in its own shielded section of the PCB. It claims to have optimised the inbound data path, data conversion and the filtering stages to produce the best analogue output. Cyrus circuits have been designed using "counter­current" methodologies to reduce noise pickup. Cyrus says that its engineers have geometrically aligned individual components to facilitate the cleanest possible flow of power and the music signal. To this end, the power supply circuits for the XR have had a complete overhaul.
The CDi-XR provides two analogue and both optical and electrical S/PDIF digital outputs on the rear panel, where there is also a socket to connect a separate power supply and a micro USB connector for firmware upgrades, as on the amplifier.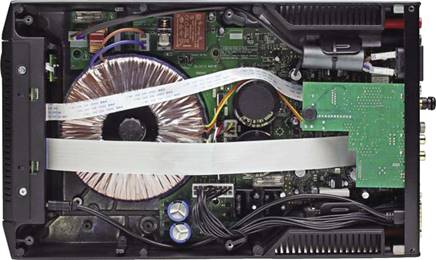 Large toroidal transformer helps the i9-XR pack quite a punch.
SOUND QUALITY
There was certainly plenty to get my teeth into with this review and so I started by hooking up to a Pro-Ject Stream Box S2 Ultra streamer to the i9-XR, playing through Neat XPlorer loudspeakers.
On the excellent Build Me Up from Bones from the Sarah

Cyrus remote control is compre­hensive and will work the CD player as well as the amplifier.
Jarosz album of the same name, the Cyrus conveyed her voice well, it was open and articulate, with good delicacy and attack on her mandolin. Backing cello and violin were also well separated and the track ebbed and flowed well.
Switching to I Can See Clearly Now from guitarist Peter White's excellent Groovin' album, the i9-XR captured the delicacy and nuances of his play, separated the accordion backing well and preserved the lilt and movement of this track.The sound had a warmish balance, but not overly so, and bass was tuneful and powerful.
Broad Daylight from Ben Sidran's wonderful The Doctor is in album also came across well on the i9-XR, with good weight and movement to the bass line, openness and articulation on his vocals plus body, power and dynamics on his piano play. Again, it did have a slight warmness that some competitors may not have, but I can truly say it wasn't to any great detriment to the sound. In fact, dare I say that if you have speakers that are slightly bright or forward, the i9-XR may prove the ideal partner.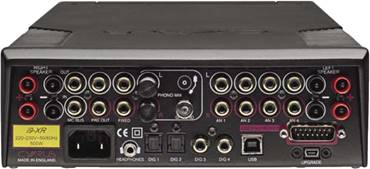 i9-XR offers analogue inputs, an MM phono input, a USB input and four digital inputs (2x SPDIF, 2x optical). It also provides a headphone output and a multi-pin for the separate PSU-XR power supply upgrade.
I mentioned earlier that the DAC offers seven filters. The manual says these provide subtle changes but that the default setting offers the best all-round performance. Any differences are indeed subtle. Experiment if you wish, but I'd stick with the default.
While I had been enjoying the performance of the i9-XR on Tidal through the Pro-Ject, the CDi-XR had been switched on and limbering up and was ready for action.
First up was the funky Honey Dipped from sax ace Dave Koz's Saxophonic CD. Here, the sound using the CDi-XR was dynamic and tuneful, conveying both the body and power of Koz's sax. Drums and percussion were open and delicately handled, while Jerry Hey's trumpet was well separated and easy to follow. The bass line also moved well, having good weight.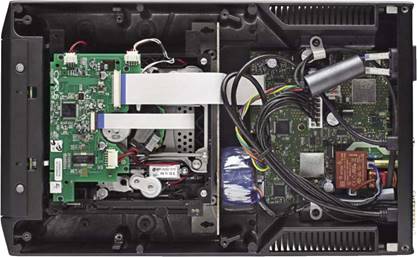 CDi XR DAC section is housed in its own shielded area on the PCB.
Calling on Ben Sidran again, I next tried his excellent rendition of Sunny Side of the Street. Here, the CDi-XR really put a snap into drums and the DX7 synth was voiced well with great sparkle and presence. Sidran's vocals had emotional impact and articulacy and the whole track moved well, with that smoking bass line conveyed with good weight, but also excellent grip and poise.
It only remained to try the phono input and headphone output of the amplifier. I hooked up my Audio Note TT3/Arm2/ lol with S9 transformer and spun up Hello Tomorrow from guitarist Larry Carlton's excellent Discovery album. And no plus micro-USB ports for firmware and servo upgrades.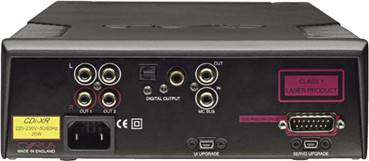 CDi-XR has two analogue, electrical and optical digital outputs complaints here. The sound was detailed, dynamic, open, tuneful and captured the voice of his guitar and nuances of his play. It was a credit to the i9-XR that it more than ably demonstrated the improvement in sound when plugging in a state-of-the-art turntable combination. I was happy.
To test its headphone amp circuits, which by the way are rated at 138mW into 16ohms, I plugged in a pair of Focal Clear phones. It was a slight nuisance that the socket was on the back panel of the amplifier as that instantly shortens the headphone cable, although many users will probably be using an extension lead anyway.
A quick blast of Larry Carlton's Sleepwalk and Dave Koz's Saxophonic soon showed me that the i9-XR's sound quality on headphones was in no way going to let the side down. The sound was detailed, clean, dynamic and well balanced, lacking any glaring faults. Both units have auto-shut off that can be defeated, that the manuals don't mention.
CONCLUSION
The Cyrus i9-XR amplifier is a very versatile and capable performer. It is powerful and its sound is dynamic, detailed, articulate and tuneful. It drove most speakers I threw at it while barely breaking into a sweat.
The CDi-XR also impressed with its musical, pacey and dynamic performance.This is a quality CD player for stand-alone use.The amplifier only needs a Cyrus transport of course.
Sharing a remote, both units worked well together so if you are after a combo that looks good, sounds good and doesn't take up too much space, they are worth investigating.
MEASURED PERFORMANCE
CYRUS i9-XR
The Cyrus i9 XR produced 90 Watts into an 8 Ohm load, increasing to 156 Watts into a 4 Ohm load. Frequency response measured flat from 3Hz up to 39kHz as our analysis shows, unaffected by load value.
Distortion values were very low at 0.003% up to near full output (1kHz). At 10kHz the figures were also low, just 0.01% at 1W and up to near full output.
The MM phono stage was accurately equalised to give flat response from 5Hz- 20kHz, with no warp filtering. Gain was high, input sensitivity measuring 2.4mV – good enough for high output MCs. However, input overload was low 35mV but this is satisfactory.
The digital section worked up to 192kHz sample rate, except through the optical inputs that reached 176.4kHz. Distortion was reasonably low at 0.03% but EIAJ dynamic range limited to 108dB by some noise peaks above 10kHz. USB gave identical results to S/PDIF
The many filters changed frequency response little, even the slow filters having no affect at 30kHz (192kHz sample rate), or at 20kHz with CD (44.1kHz sample rate). There will be minimal subjective impact.
The Cyrus i9 XR measured well, having plenty of power and very low distortion. Digital results could usefully have been better to match rivals though.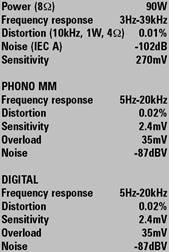 CYRUS CDi-XR
Frequency response of the CDi XR measured ruler flat from 4Hz up to 20kHz, terminating in a very steep 'brick wall' anti-aliasing filter.
Distortion values were as expected for CD 0.0015% at full level (0dB) and 0.25% at -60dB, set by 16bit quantisation noise, not the player. It is this noise that fixes CD dynamic range at around 102dB maximum, the Cyrus managing 98dB – close but sometimes bettered. Surprising as they say it has "a Sabre DAC".
Output level was 2.4V which again is a fairly standard figure, in line with Philips Red Book standard of 2V.
The CDi XR gave a satisfactory set of performance figures entirely in keeping with CD.
CYRUS i9-XR AMPLIFIER
EXCELLENT – extremely capable.
VALUE – keenly priced.
VERDICT
Solid performer. Versatile, easy to use and easy on the ear.
FOR
– powerful and dynamic
– excellent built-in DAC
– headphone output
– MM phono stage
AGAINST
– auto-standby shutoff
– won't accept standard 4mm speaker plugs
CYRUS CDi-XR
EXCELLENT – extremely capable.
VERDICT
Sound is clean, detailed and dynamic. No nasties. Well worth a listen.
FOR
– detailed and well balanced sound
– easy to use
– compact
– shares remote with the amplifier
AGAINST
– I don't like slot­loading mechanisms
– no auto-standby shutoff
Cyrus Audio www.cyrusaudio.com
+44 (0)1480 410900