Creek's voyage CD player has intriguing ability, Noel Keywood finds.
A CD player or a digital preamplifier? The Voyage CD player is both Creek say, fulfilling much the same role as other CD player/DAC combinations, but with a few nice touches.
A primary reason this CD player can be labelled a preamplifier is presence of a digital volume control – yes, it's that simple. A volume control allows a "CD player" to be hooked up direct to a power amplifier. And since this player also has digital inputs, optical, electrical and USB (for computer) it can host a variety of digital sources, acting as a hi-res DAC/preamplifier. Plug in a portable player (DAP) or a laptop perhaps. Missing are analogue inputs or the ability to read a USB drive, the latter being a disappointment.
This is a full CD player with AKM AK4493 DAC chip on board, a top spec chip that's part of AKM's Velvet Sound series. All quality DAC chips have balanced output, volume control, on-board filters and the ability to process DSD, so that's what you get here. Creek fit XLR output sockets for balanced analogue output, plus phono sockets for the usual unbalanced output. Note that the unbalanced output of just about all quality DACs/CD players, including this one, passes through a balanced- unbalanced conversion chip, another stage so the use of balanced output is always best. Creek say they use Texas Instruments OPA2I34 SoundPlusTM op-amps in the outputs.
The filter set fitted is interesting, since it has massive effect with CD and 48kHz sample rate PCM but little effect with higher sample rates such as 96kHz and 192kHz. There are five filters in all; Sharp, Sharp+, Slow, Slow+ and Natural. Since the Sharp filters roll down treble slightly to -IdB at 20kHz this is never going to be a tizzy sounding player; Creek deliberately use well damped filters rather than zingy sounding brick-walls so there's not even a brick-wall option.The Slow filters roll down output fast above 12kHz, which all but eliminates distortion harmonics without seriously affecting treble, whilst Natural is fascinating in that it imposes a slow roll down above 6kHz in the audio band and does not have high attenuation even above 21 kHz. In other words, it is a thoroughly analogue style filter that was quite intriguing to look at on the spectrum analyser. Al I filters can be cycled through on the remote control for easy auditioning from the settee.
Volume can also be altered on the remote control, as you might expect and there is a large volume level display on the player.A small slide switch at rear selects this or fixed output and when changed the amp must be switched off/on to effect the change over. Maximum variable output is the same as maximum fixed output: 4V for XLR and 2V for phono socket.
Input limits are 384kHz PCM and 22.4MHz for (DSD5I2) although my Mac saw 768kHz max for PCM, as AKM claim.All file types were played, including FLAC and ALAC.
The player is solidly built with a thick front panel, steel top cover over steel chassis in conventional arrangement. Dimensions are 430mm wide, 80mm high and 320mm deep, or 350mm including mains plug. CDs are taken in by a slot-loading mechanism, said to be a Stream Unlimited CD80.Weight is substantial at 6.8kgs.The fascia carries CD transport controls and an input selector, but not volume control, filter selection or anything else, so the remote is best not lost. The power supply is a switch-mode that Creek are at pains to say is a custom design, with an 86V-265V input range, and 20W consumption, an auto-standby circuit (that can be switched off) cutting this to less than 0.5W to meet European regulations. It allows use in any country around the world.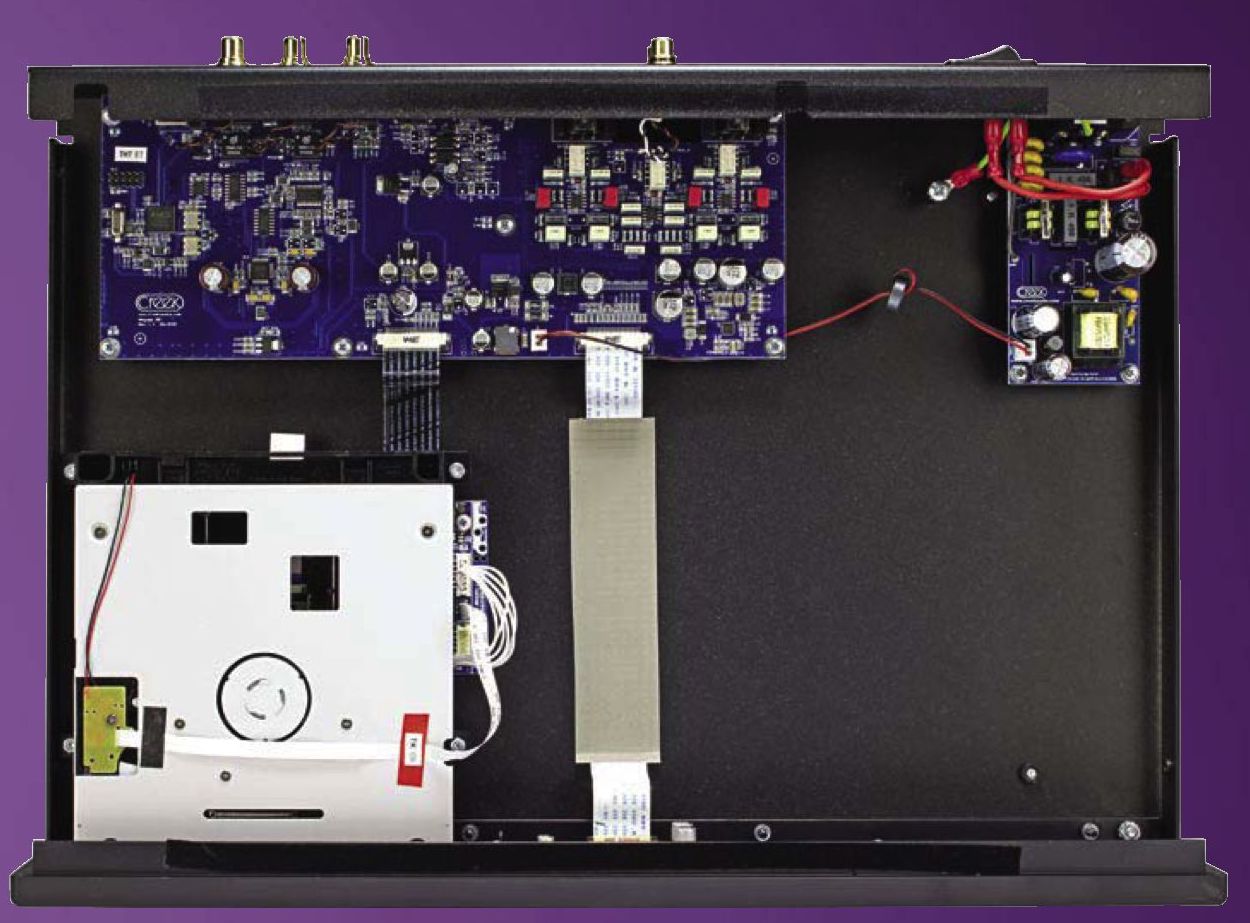 SOUND QUALITY
The Voyage CD was connected with Chord Company Epic balanced XLR cables to their Voyage 120 amplifier, so as to use the AKM DAC in the CD player rather than the amplifier. I also ran the player from its unbalanced phono-socket outputs into our Icon Audio Stereo 30SE amplifier, so as to use it in full preamplifier mode as it were, and outside an all-Creek environment. Although the Voyage CD is styled to match the amplifier it's not an efficient pairing since player or amplifier DAC goes unused. I'd connect the two digitally, using the player's digital output, rendering its internal DAC and filters redundant. Digital connection sounds a tad tidier than analogue I find, some of the benefit lying in shorter, connector-free linkage between DAC and amplifier stages in the amplifier itself.

Loudspeakers were Martin Logan ESL-X hybrid electrostatics connected by Chord Company Signature Reference screened cables.
AKM's 'Velvet Sound' DAC chips give just that: a velvet sound.Think very easy on the ear, fractionally more so than those from ESS. Not better, just different – and minimally so. But in this player Creek have inserted an influential filter set that sets it apart, so I spent time with these filters to check out how well they act specifically as a stand-alone CD player (rather than a transport).
With Hans Theessink singing Mississippi the Sharp filters gave a vivid rendition of his guitar strings, well defined between left and right loudspeakers; I liked the Sharp-t in particular, that suited our loudspeakers.The Slow filters removed some of the cutting edge to guitar strings, easing the sound slightly and this had its merits with older CDs in particular.
Switching in the Natural filter was intriguing.The overall sound balance softened out slightly, whilst the sound stage opened up to stretch wide, beyond the electrostatic panels. Images became better defined and there was more detail and insight into the performance too.The presentation became spacious in an unforced manner. Some may prefer the tonal balance of Sharp or Sharp+ to this presentation, but with today's loudspeakers sounding sharp in any case, perhaps not. Natural offers a sound that is not only ameliorative, but also more refined in pure hi-fi terms and I settled into using it. Classical performances like Cesar Franck's Le Chasseur Maudit (CD) spread wide, brass pushing out powerfully whilst sounding smooth, a large and ethereal kettle drum adding in deep subsonics.
One small concern was that when strong treble existed I think I detected a bit of background muzz with this filter, but with Classical I did not, nor most Rock.This may well be linked to its lack of alias reduction, but the other filters provide high alias reduction so they can always be used instead.
Generally, the player has a deep, full bodied sound very much in Creek tradition and this brought weight to classical, as well as Rock.
CONCLUSION
Creek's Voyage CD player offers a wealth of ability and a great sound from its ARM DAC – relaxed, spacious yet powerful.The filter set is tailored for CD usage, offering a conventional 'Sharp' balance, an unusual 'Soft' option to tame discs that are too sharp in any case, and a 'Natural' filter that is a bit left-field, but intriguing in what it achieves; it ended up as my preference. This is a lovely sounding player of broad ability – well worth auditioning.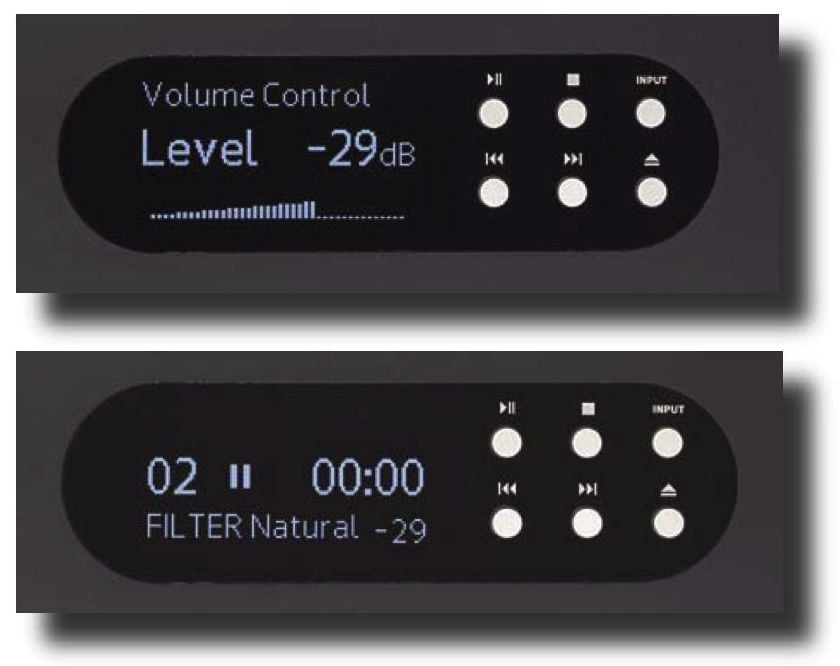 With a 24/192 digital input, frequency response of the Voyage CD measured flat from 4Hz up to 33kHz via XLR out, with a slow roll down to the upper 96kHz analogue limit. The filters affected this result little.
With 44.1kHz (CD) or 48kHz sample rate the filters had substantial affect, Sharp and Sharp+ being alike and curtailing output above 10kHz slightly. Slow and Slow+ rolled down output fast above 12kHz whilst Natural (shown here) had a slower roll down from 6kHz and far less attenuation above 21kHz from its anti-alias filtering. These last three filters will obviously soften the sound of CD, more so than most filter sets.
Distortion values were as expected for CD, 0 002% at full level (OdB) and 0.22% at -60dB, set by 16bit quantisation noise. With 24bit distortion fell to 0.03% at -60dB from XLR. Dynamic range (EIAJ) was high at 117dB for 24bit and lOldBfor CD (XLR out).
Output measured 2V from the unbalanced phono sockets and 4V from balanced XLR, with volume in or out.
The Voyage CD measured very well all round and has an interesting filter set. NK

| | |
| --- | --- |
| OUTSTANDING | amongst the best |
| Distributor | Creek Audio Ltd |
| Tel | +44 (0)1442 260146 |
| Website | www.creekaudio.co.uk |
VERDICT
CREEK VOYAGE CD Review
Great sound quality and a wide selection of useful features, including effective filters.
PROS
powerful, dynamic sound
easy on the ear
superb filter set for CD
CONS
no headphone outlet
no analogue input
MORE DEALS