A former award-winner of an amplifier is upgraded to a new generation, and proves capable of even more power, and more hi-fi joy. Read our CAMBRIDGE CXA81 Review.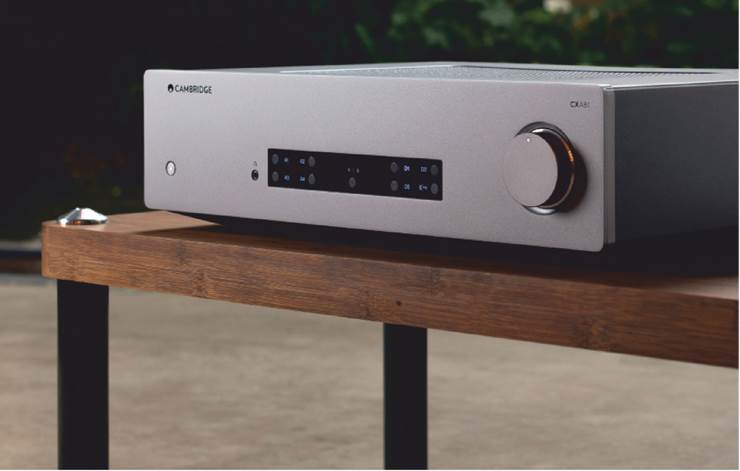 After the heady heights of the Edge range, created to mark Cambridge Audio's half-century with a set of no-holds-barred smart amplifiers, the company has settled down to develop its more accessible models, introducing its entry-level AX range and now launching the second generation of CX separates.
This CXA81 is the higher of two integrated amplifiers in the CX range, and it looks very much the classic yet modern hi-fi amplifier. At this price it's all about balancing the right features with the best possible amplification, and since Cambridge built its rep on exactly that talent, we had grounds for optimism. And we were not in the least disappointed.
Equipment
This amplifier's predecessor, the CXA80 from 2014, won itself a Sound+Image Award. So we were perfectly happy to hear that for this new generation Cambridge hasn't messed with the fundamental circuit design, but has rather focused on "the desire to progress… doing everything we can to make it 'more'". Cambridge's engineers have gone through the circuit tweaking at the component level, notably upgrading most of the op-amps in the signal path, and the capacitors in both the pre and power sections of the amp.
Nor have they switched to new-fangled Class-D amplification. Here you get 80W of solid Class-AB power into eight-ohm speakers, rising to 120W into four-ohm speakers, and that's specified at under 0.02% distortion across the 20Hz-20kHz audio spectrum. The CXA81 also goes notably beyond 20kHz: if you're a high-res audio fan and want an amp which actually reproduces the higher frequencies (a great many don't), you and your pet bat can revel in this amp's response from 5Hz to 60kHz (plus or minus a mere single dB).
Talking of power, the CXA81 offers two sets of speaker outputs at the rear, so you can connect a second pair of speakers to be heard elsewhere in a large room, or in another room entirely. Normally we preach some caution with such abilities, because doubling up on speakers effectively halves the impedance seen by the amplifier, which can thereby get into trouble. But Cambridge positively encourages it. The manual doesn't even caution again pairing up lower impedance speakers.
Such confidence may be because the amp is unusually well protected by no fewer than five different systems. Bang away too high for too long into low impedance speakers and several systems may save you from disaster, including the over-temperature detection system that monitors heat generated by the output transistors. If it triggers (and it didn't do so, despite our best efforts), give it 15 minutes chill-out and you should be good to resume.
Connections
The rear connections on the CXA81 will surely be generous enough for all but the most extreme user. For analogue sources you get a healthy five inputs — four of them normal unbalanced using RCA sockets, one balanced on XLR connections for any special source that offers them. The obvious omission here is the lack of a built-in phono stage for a turntable, though Cambridge has standalone phono stages from its other ranges, and either the Solo or Duo model would match the CXA81's styling perfectly. And Cambridge's own turntable, the Alva, could plug straight in, having its own phono stage, and Bluetooth too!
Digitally all is covered, if in less profusion, with one coaxial and two optical digital inputs, a USB-B socket into which you can connect your computer, and also Bluetooth available. The Bluetooth spec offers both aptX and aptX HD, though lacks the AAC codec to improve sound from Apple devices.
Behind all these digital inputs is an entirely new digital board designed for the CX Series 2 amplifiers, incorporating the highly regarded ESS Sabre ES9016 DAC. According to the manual the USB-B computer input will accept up to 32-bit/384kHz, along with DSD up to DSD256. We were surprised but by no means disappointed when this proved not to be the case — it offered still higher to our Mac Mini, with a selection available for 32-bit/764kHz! (We don't have such a monstrous file, so we can't confirm it would actually play one…)

There's no networking here, no Wi-Fi or Ethernet, nor any USB-A slot to which you could attach a stick or drive of files. This last omission is likely a byproduct of the first, since file playback really needs an app for control, and for an app you need networking. But if you invest in the matching CXN network player, its app can, via a cable between control bus sockets, also control the CXA81 amp. And a stonking combination of traditional and modern would that pairing deliver.
Performance
One early delight during set-up was noting that Cambridge is one of those rare companies that labels each input twice on the back panel — one of the labels being upsidedown, so you can read things more easily when peering over from the top. Other than plugging up, the only set-up option we changed was to disable the Auto Power Down function, which will otherwise turn off the CXA81 after 20 minutes. Many will prefer this default power-saving mode, but we were badly raised and like our amplifiers permanently on and ready to play.
The remote control seemed at first to be confusingly busy, but that's because it's a full system remote, so most of the buttons don't operate the amplifier at all. You come to focus just on the well-positioned volume and input buttons, and it proved effective for even incremental nudges of volume level, while still being quick to drop the level when held con­tinuously. The physical volume knob rotates mechanically as you do so, which is always more fun than a boring old numerical display.
Your mind will be further calmed by the sheer pleasure of listening. Our very first impression of the CXA81's sound was of its tightness and speed, the taut whack of foot pedal on a central kick drum delivered with full power but lacking either image smear in the spatial domain or overhang in the time domain. The music was no wall of sound, rather putting a spotlight on each individual musician while leaving spaces of silence between, an impressive feat of soundstaging excellence in separation and recombination.
Indeed this is an amplifier that reveals the art of the mix. Playing at volume without distortion, the immediacy of Neil Young's Heart of Gold shone brilliantly, the snare slaps to the left, the richness of the loose-strung guitar right and harmonica centre, even before the pedal steel and vocal arrive. Ever noticed the female back-up singer on this song? You will when listening with the clarity of this amplifier; you might even guess that it's Linda Ronstadt doing a little rise back there on the last line. (James Taylor's in there too, but harder to isolate within the tight harmonies.)
Even with lesser-quality files, the Cambridge was able to kick quite the arse, which is a tribute to the DAC implementation. Our digital copy of Santana's She's Not There is a rip from a dubious Japanese compilation CD obtained from a back street in Tokyo, yet the Cambridge delivered it with impeccable sound­staging, opening up a thrillingly complex mix that goes hair-shakingly wild in the middle.
We also used the Cambridge for TV audio, and of course any high quality amplifier with a good pair of stereo speakers will put your average soundbar to shame. Take the Nilsson track Spaceman which features at the beginning and end of Netflix's 'Space Force' series: through the Cambridge the song sounded rich and involving, an almost vinyl-like presentation. When we replayed it through two different leading-brand soundbars under test at the same time, it was a sad weedy pretend version of the song.
Caveats to our joy here? The front headphone socket is a minijack. And we'd have liked the ability to switch the variable preamp outputs to fixed level. Otherwise all happiness.
Conclusion
We thank Cambridge for the musical joy we experienced during this amplifier's visit to our listening room; the CXA81 delivered the timing, separation and power that charac­terised true hi-fi, and had all our reference speakers singing whether small and unfriendly or large and generous. Also of high merit is the generous set of inputs, and if you want to add networking and streaming to the Bluetooth here then consider adding the CXN. But the CXA81 will deliver a beating heart to any system, whether Cambridge or mix'n'matched. It's at the top of its class, and beyond.
CAMBRIDGE AUDIO CXA81 INTEGRATED AMPLIFIER
•    Marvellously musical
•    Great range of inputs inc. Bluetooth
•    Dual speaker use easy
•    Minijack headphone socket
•    No networking
Inputs: 4 x RCA analogue unbalanced, 1 x XLR analogue balanced, 2 x optical digital, 1 x coaxial digital, 1 x USB-B, Bluetooth (SBC, aptx HD)
Outputs: speaker outputs (2 sets), headphone out, pre out, sub out
Power: 80W into 8 ohms, 120W RMS into 4 ohms (<0.002% 1kHz at 80% power, <0.02% 20Hz-20kHz at 80% power)
Quoted frequency response: <5Hz-60kHz +/-1dB
Dimensions: 115 x 430 x 341mm
Weight: 8.7kg
Contact: Synergy Audio
Telephone: 03 9459 7474
Website: www.synergyaudio.com