A tube phono preamplifier from Audio Research has Noel Keywood intrigued. Read our AUDIO RESEARCH PH9 Review.
Billed as a "vacuum tube phono preamplifier" the PH9 from Audio Research lies in the company's Foundation Series, "offering stunning playback value" they say. What this means is the PH9 offers top sound for a relatively low price of £. OK, that isn't low to most of us but look inside and the picture changes. It's a very specialised if peculiar design, quite different from all else. So I've got a lot to say.
Strange that Audio Research of the USA have little to say. The PH9's design philosophy gets no look in on their website or User Manual – but it's unusual. For example there is a valve (tube) power supply – virtually unheard of in a Phono stage. We found with World Audio Design amplifiers that a valve power supply was always preferable but they are big, bulky and expensive. Audio Research use a high power 6550 valve inside the PH9, acting as a series regulator, plus a low power 6H30P controlling it. You can see both in our pictures.
The size and complexity of the power supply explains use of a rack-mount sized case. Quite obviously the case is chock full of specialist parts that go to explain price as well as size.
More conceptually challenging is the fact that gain is fixed at a quoted 58dB for MM and MC cartridges, that pass through the same circuitry. Audio Research make no distinction between the two other than to switch in different loads on the front end. They say nothing in the literature about this peculiar approach. By using a compromise value, gain is low for moving coil (MC) cartridges but very high for moving magnet (MM) cartridges. Whilst gain is quoted as 58dB we measured 55dB, where 60dB is usual for MC.
What this means in practice is volume must be turned up on an accompanying amplifier if an MC cartridge is used, and down if an MM cartridge is used.
There's normally x10 (20dB) gain change between the two, but not here. Considering the PH9's specialist nature it's best to look at it as an esoteric MC phono stage with low gain, it's ability to cope with MM being an extra, as it were.
In keeping with such simplicity there is no on-board volume control, nor any way to trim gain; the PH9 needs an external preamplifier with good amounts of gain to make up for its shortfall with MC.There are no XLR-socket balanced outputs or inputs, just unbalanced phono-socket pairs. However, it seems the amplifier is fundamentally balanced, as I'll come to explain.
Input loading options are 47k for MM and 1000/500/200/100 Ohms for MC, all standard values. Most MCs work into 100 Ohms but high output types need a higher load of 1000 Ohms. Cartridges like this are another way to make up for the PH9's lack of gain with MC. Dynavector 10X5 series and Clearaudio MC cartridges come to mind as suitable.
The big C-core mains transformer, banks of smoothing capacitors and two power supply tubes occupy much of a case whose dimensions are 450mm (I8in) wide with overlapping 483m (19in) wide front panel. Height is a substantial 165mm and depth not inconsequential either at 370mm excluding handles. Luckily, weight is a reasonable 7kg so it can be swung into place without effort, helped by the big frontal grab handles.
Switch on brings up a 2 minute delay that's long and tedious; electronic circuits stabilise within seconds and valves are in suitable working condition after 30 seconds. When the flashing Mute light finally goes out the green dot matrix display becomes accessible with an array of user options. Cartridge load can be set as already explained, an automatic power-off circuit defeated, there's a Mono button and a Mute button, both repeated on the remote control. Audio Research also provide a tube hours counter with readout, but at 2000hrs for the 6550 and 4000hrs for the 6H30Ps there's a lot of listening available before a change is needed. At 2hrs per night that's 1000 nights or nearly three years. A remote control covers all these functions too, including power switching.
I had to stare very closely and have a head scratch over the internal circuit arrangement.There are numerous transistor pairs in the input stage, six of which are encapsulated into clear plastic containers that I can only assume are used for vibration damping as there are unlikely to be heat issues.As all discrete devices are in pairs I assume they are differential pairs, as I have used for a solid­state phono stage using LSKI89 FETs (a rare device flown in from Texas by Mouser).The idea was to reduce noise in a fully balanced design, and eliminate input bias currents passing through the cartridge by use of FETs. Looks to me like Audio Research are using the same topology here, suggesting this is internally a fully balanced phono stage, but they use a chassis-grounded input socket I found, making it unbalanced.
Likely the PH9 is a cut­down single-box version of their Reference Phono 10 that, they say, uses "extremely low noise FETs".
The extensive transistor input stages hand over to three 6H30P low noise twin triodes, making this a hybrid design. Alongside are six large audio­grade foil capacitors.The tubes feed the output sockets, likely configured as cathode followers, output impedance being quoted as 200 Ohms. Because the output devices are tubes the PH9 can swing 50V out and is almost immune to overload, allowing an MM to be used in an MC environment because there's an 86mV input overload ceiling – way above the 30mV an MM can produce.
SOUND QUALITY
This being a "tube" phono stage I inevitably started out using our Icon Audio Stereo 30SE single-ended valve amplifier with it, not just to match the sound but also to make for a minimalist system. However, the PH9 has an even and neutral delivery that equally suited both our Creek Evo100 amplifier and a pair of McIntosh MC830 power amplifiers, fronted by a Music First Audio passive preamplifier – again for the simplest signal path. Loudspeakers were Martin Logan ESL-X hybrid electrostatics connected by Chord Company Signature Reference screened cables.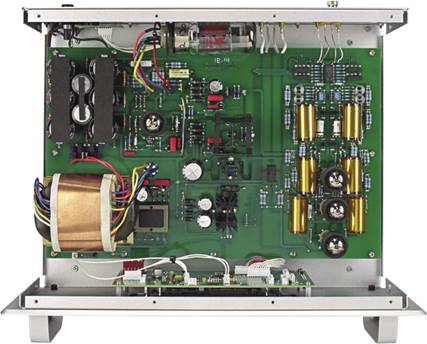 Looking down at the PH9 shows that two-thirds of circuit board area at left is devoted to the valve (tube) power supply. A quality C-core mains transformer dominates (bottom left) and there are banks of smoothing capacitors above it.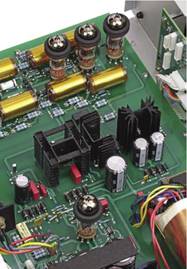 Even the 6H30P regulated power supply control tube has a damping ring around it.
I suspect the PH9 will see use mostly in Audio Research systems for which it has been designed – and we're talking tubes here, but with a punchy sound. Vinyl replay came from our Timestep Evo modified Technics SL-1210 Direct Drive turntable with SME309 arm and Ortofon Cadenza Bronze cartridge, plus Audio Technica OC9X SH moving coil cartridge.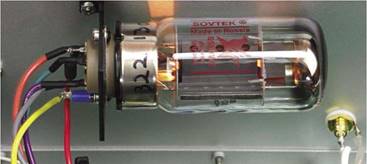 A 6550 beam tetrode that acts as a voltage regulator. Why do this? Because tubes give a deep, smooth sound when used in a power supply.
Much as expected, the PH9 was deliciously clear and neutral in basic nature, having an almost ethereal quality about its sound. Our Abbey Road re-master of Here Comes The Sun was a suitable way to appreciate it,The Beatles sounding boldly embodied in front of me, their harmonies forming a rich tapestry that was humanly convincing. What I picked up on very early in listening was superb sound staging, singers like Jackie Leven – who was a big man – sounding so when singing. With The Beatles however, their complex orchestral arrangements were unravelled by the PH9;John and Paul had depth and texture to their voices in tracks like Polythene Pam and the startling She Came In Through the Bathroom Window. In its own way the PH9 teased out drama here by making instruments and vocals weighty and richly textured. Sun King was suitably dreamy, nicely framed by clearly focussed guitar chords left, right then drifting across the stage. Martin Logan's line-source XStat panels were a perfect match, since they too can image fabulously when fed a good source – and this is what I was hearing.
It had to be that the violin of Marianne Thorsen would come out well and here the PH9 moved into top gear, showing what it was capable of. With Mozart's Concerto No4 from our 2L (Norway) LP (180g from Direct Metal Master, 352.8kHz DXD recording) there was a sense of intense richness and detail within the strings. At start her violin came over as bigger bodied and more richly expressive than I am used to, but there was both speed and cutting precision in there too. Making for a listen that had my attention gripped. I love her playing and the PH9 lifted out every nuance, plus every rich harmonic.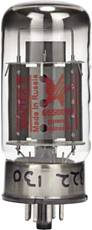 The 6550 power tube, popular in the US where robustness and low price make its use wide­spread.
FET pairs carefully potted into clear plastic containers on the input circuit board. These ampli­fy the incoming cartridge signal. Four pairs above board, two pairs below.
Interestingly, after a while I realised there were no ticks and pops. Classical music enthusiasts have traditionally excoriated LP for this, flocking to CD (only to be met by digital distortion!).The PH9 has a vast overload ceiling and shrugged off these irritations, leaving me undistracted. OK, older LPs I played did have 'em, but they did not intrude.There was no audible hiss from the speakers at high volume and when up close, but at full volume slight hiss was apparent.
As the LPs slid by the PH9 showed itself to
6H30P tubes made in Russia by Sovtek, likely supplied by Mike Mathews New Sensor Corporation of New York, who distribute Russian tubes.
be speedy and succinct, deeply insightful but without imposition.
If one track sounded muddled, the next was not: it dearly identified differences. I was left listening to the LP I felt, rather than the preamp. Not to say that this was always "nice": not glossing over blemishes can have its own challenges. Plenty of my beloved 'hi- fi' LPs from the past don't sound so good nowadays!
In terms of overall balance the PH9 is neither warm nor bass heavy, rather it is dry and tight.This was very obvious with the rolling drum work in Sing Sing Sing, from the Syd Lawrence Orchestra on their LP Big Band Spectacular.Again I heard a wide and open sound stage and low disc surface noise, accompanied by vivid insight into the brass section in particular.
CONCLUSION
An internally complex and unusual 'tube phono stage', the PH9 from Audio Research offers an esoteric listening experience from LP like no other. It's big, bulky and expensive but honed to provide high-end sound quality without compromise. The amalgam of transistor and tube circuits inside come from high fidelity's inner thought processes on what is right for top LP sound quality and certainly deliver the goods. It needs a good accompanying preamplifier to make up for low MC gain, as well as control volume – but then provides a sound from LP difficult to find elsewhere.

The rear panel carries just one pair of phono-socket inputs and outputs. They are internally connected to chassis earth a continuity test showed, making this an unbalanced input.
MEASURED PERFORMANCE
The PH9 applies the same gain of x583 (55dB) to both MM and MC. This is very high for MM, x100 (40dB) or so being common, whilst it is low for MC where x1000 (60dB) is common. There is no way to change gain, such as a volume control or gain pre-sets. Only the input load value can be changed, otherwise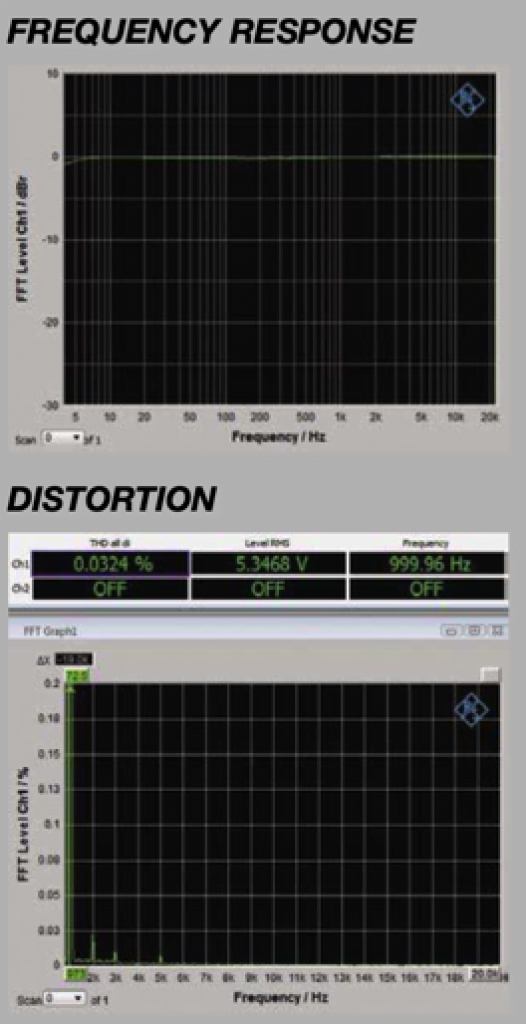 PHONO MM & MC
Frequency response 3Hz-20kHz
Distortion 0.03%
Gain x583 (55dB)
Noise -76dBV
Overload 50V out
MM and MC run through the same amplifying and equalisation channel unaltered. With MC volume will have to be turned up in an accompanying (pre)amplifier and with MM it will need to be turned down.
RIAA equalisation was accurate, frequency response measuring flat from a very low 3Hz up to 20kHz, as our analysis shows. There is no warp filter so full gain is applied to warps around 5Hz, resulting in loudspeaker cone flap with warped LPs.
Because they run at high voltages valves can give enormous output swings and this was the case here, 50V maximum output giving a high input overload value of 86mV for MM and MC.
Input noise measured 0.17 muyV which is low, if above the 0.08 muyV possible.
The PH9's fixed gain value is not ideal for MM or MC, but it is accurate in equalisation and of low noise. The use of tubes gives a massive overload ceiling.
AUDIO RESEARCH PH9
OUTSTANDING – amongst the best.
VERDICT
AUDIO RESEARCH PH9 Review
Enormous insight into LP – magical. Needs preamp.
PROS
deep sonic insight
glorious sound staging
low hiss
CONS
fixed gain for MM and MC
size
low MC gain
MORE DEALS

Absolute Sounds
+44 (0) 20 8971 3909
www.absolutesounds.com