Bringing planar magnetic drivers to gaming. Read our Audeze Maxwell Review.
when an audio powerhouse like Audeze comes along with a gaming headset offering, it's hard for us to not want to get our hands on it as soon as possible. With peripherals such as the Penrose and Euclid impressing us massively, when the Maxwell was released we wanted to see what impact this could have in the gaming sphere. The Maxwell features a more minimalistic design than the previous Penrose gaming cans before it, without the typical gaming-related design queues you get with headsets. Is this more serious and high-end step forward equally impressive?
The Maxwell leans on a more circular design with huge, deep ear cups. The construction feels incredibly durable and premium, with minimal creaking from its steel and aluminum chassis. To the touch, it feels even more expensive than its price tag might imply, but that might come down to the weight, coming in at over 1lb, though that's not to say it's uncomfortable. This is one of the comfiest pairs of headphones we've tested. It features a similar ski-band style headband found on SteelSeries' headsets, which we're a huge fan of. This evens out the weight across your head to avoid areas of increased pressure over long durations. It also has three levels of adjustment, which we found to be plenty considering the band has some stretch in it anyway. Aside from the headband, the earcups are incredibly plush and large enough to completely swallow a range of ear sizes. After a long session of gaming, they barely caused any discomfort.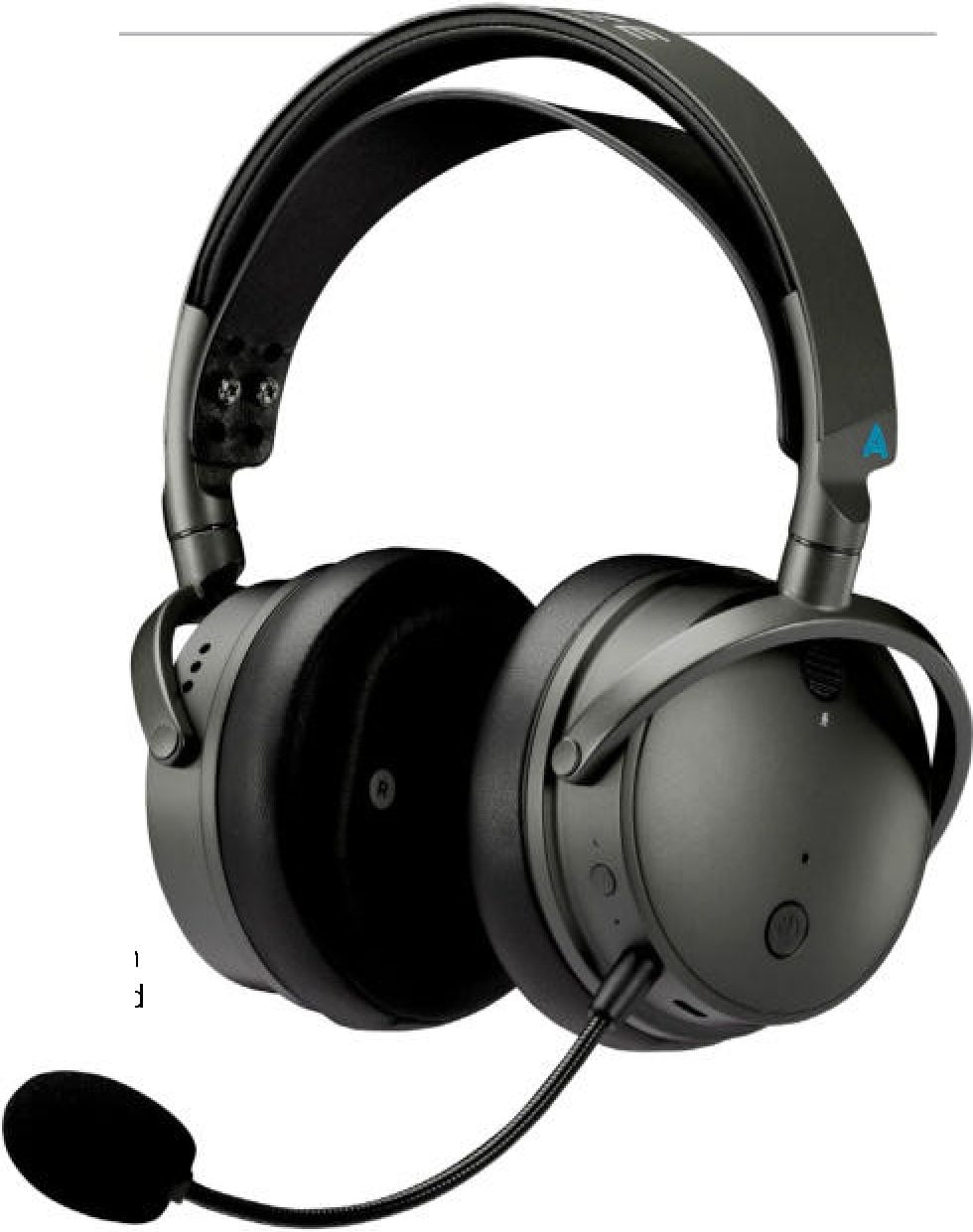 With a huge tick for design and comfort, what features does it offer? On the left earcup, you can find the power and mute button, volume wheel and microphone wheel, 3.5mm, USB Type-C port, and a noise-suppression button. With all that on one earcup, it leaves the right one feeling lonely. If anything, it would have been nice to see the volume wheel on the right to quickly distinguish it from the microphone volume. Other features include a whopping 80-hour battery life (after a few days of testing we didn't need to plug these in once), ultra-low-latency wireless through the USB Type-C dongle, Bluetooth 5.3, and a 3.5mm auxiliary connection. In the box,
you get a USB Type-A to a female USB Type-C, a 3.5mm cable, a USB Type-C cable, and a detachable microphone. It's fair to say that this is a feature-rich package that covers a lot of ground in terms of what you have from the get-go.
INCREDIBLE AUDIO
On paper, these cans should rock, and boy do they! With 90mm planar magnetic drivers, the sound is powerful and punchy enough to provide your ears with nothing less than audio bliss. As this is predominately a gaming headset, we dived straight into some FPS titles to test out the spatial capabilities. It didn't take long to realize how accurate shots, footsteps, and the directional audio of this Audeze headset is and how important that is when it's this good. Swapping over to a cheaper pair of cans, we noticed the impact this had on our overall experience. Granted, we aren't exactly going to be appearing in the next eSports competition, but this added accuracy certainly gave us an advantage in competitive games. The highs were full of clarity, with a solid midrange and cracking bass to add to the immersion. The Maxwell nails everything you need in terms of audio for an incredible gaming experience.
This performance carries over when you listen to music. Again, with its punchy sound stage, you can feel every beat and hear every detail. We recommend downloading the Audeze HQ app on your PC when using the headset. This way, you can update the dongle and headset to keep them running at their best. Equally, you can alter the EQ presets—the default Audeze EQ offer's a great balance, but the bass boost option increases the atmospheric and cinematic immersion through bass you can feel from those huge drivers.
It's fair to say that it nails design, comfort, features, and audio quality. For use as a party chat headset, too, the included detachable microphone does a good job of picking up your voice clearly without much background noise. The only gripes were down to the software. We had to turn off the sidetone feature, as this was picking up far too much feedback. Equally, the application isn't the most polished piece of software we've seen, but again, this isn't the end of the world. The Maxwell proved itself as an outright gaming headset monster that can easily double as a premium pair of headphones too. Sure it's expensive but the price tag is fully justified by the experience you'll get. -sam lewis
VERDICT
Best Audeze Maxwell prices ?

Immerse yourself deep into your favorite games and media with the Audeze Maxwell Wireless Gaming Headset. Sporting an over-ear and closed-back design the Maxwell provides you with enhanced sound quality and comfort suitable for prolonged gaming sessions.


Unrivaled AudioPowered by Audezes latest 90mm planar magnetic drivers, with over 3X the driver area of leading competitors, Maxwell delivers powerful bass and pinpoint precision. Audeze drivers are trusted by leading recording and game studios worldwide, and feature patented technologies...

MORE DEALS

outstanding battery life.
– MINIMAL No active noise cancellation; software gripes.
$, www.audeze.com
Audeze Maxwell Wireless Gaming Headset
+ MAXIMUM Punchy soundscape; immersive, precise details; pillow-like comfort; superb build quality;