Guts 'n' glory
Martin Pipe checks out Arcam's all-new SA20 and SA10 integrated amplifiers.
They have a gloriously gutsy sound he thought.

This new mid-price series of separates from Arcam is known as HDA (High Definition Audio), and it will be eclipsing the FMJ (Full Metal Jacket) range that has been around for a couple of decades or so. The HDA line-up currently comprises the CDS50 streaming CD/SACD player and two matching slimline integrated amplifiers – the SA10 and SA20, reviewed here. In this review, I'll examine the latter units, destined to replace the existing AI9 and A29 respectively. I'll concentrate on the SA20, the lower-end SAIO's principal deviations being described at the end of my review.
The differences between the HDA models and their FMJ predecessors is striking, reflecting changes in hi-fi over the past few years. Both AI9 and A29 made little provision for digital, streaming and AV integration. They had 3.5mm front-panel sockets for the personal MP3 players that were then in vogue, and the A29 built on this with a rear-panel USB socket for charging devices of this type. In contrast, both SA10 and SA20 feature built in DACs fed from rear-panel inputs labelled 'BD', SAT' and 'AV'. They also have a 'processor' mode that enables them to dovetail with surround- sound audio systems. There are rear-panel Ethernet (RJ45) and USB ports, plus RS232, but these are for software upgrades, rather than audio streaming. Despite the presence of Ethernet, there's no web interface for control of the amp via a PC or smart device like an iPad. Wi-fi isn't incorporated, and Bluetooth is missing too.
Like the A29, the SA20 incorporates Arcam's 'Class G' amplifier technology; in contrast, the lower-powered (50 Watts per channel, against the SA20's 80 Watts claimed) SA10 has a conventional Class A/B power amplifier.
In a Class G amplifier, the output stage's power-supply voltages change according to the signal level. It's difficult to do this in 'real time' without affecting sound quality, a problem that preoccupied Arcam's engineers for much time. Why go to so much trouble? Conventional amps apply the full supply voltage at all times, regardless of the demands of the music you're listening to – and this is wasteful. Class G operation was conceived to improve efficiency, but not at the expense of musical performance. Greater efficiency equates to less wasted heat, and as a result amps can be made smaller and lighter. In theory, at any rate; I note that the SA20 is heavier (9.2kg) than the non-Class G SA10 (8.4kg)! Both make use of toroidal mains transformers.
Similarities between the old and new ranges include – for both SA10 and SA2O – a 3.5mm front-panel headphone socket and line-level input (Aux), a power-saving autostandby system that automatically shuts down the amp after a preset period of 'idling', the ability to adjust stereo balance, muting and an integrated MM phono stage.
A decent remote, which will also operate other Arcam gear, is supplied for armchair use – you also get a practical complement of front-panel controls, together with a
bright alphanumeric fluorescent display that can be 'dimmed' or extinguished altogether.
The SA20's DAC is one of the ESS 'wonder chips' that have gained so much attention of late
–   the ESS9038 K2M.
It can be fed from three inputs – two of which are coaxial, and one optical. Despite Arcam's intention to make amps relevant for modern musical consumption, no provision for USB sources (like computers) has been made. So no DSD over USB (DoP) here! They max out at 192/24 (96/24 if you're using optical) and the sampling rate of what you're feeding the amp is shown on the front-panel display.
Although the manual doesn't mention it (you'll find the details in a 'supplement' on Arcam's website), the characteristics of the DAC's digital filter can be modified courtesy of four preset modes accessible in the menus.
There are three rear-panel analogue line-level inputs – plus the aforementioned phono stage and front-mounted 3.5mm auxiliary jack.
No tape loop is present, but a line-level pre-amp output has been fitted for 'bi-amping' suitable speakers with the help of whatever external power amp happens to be at your disposal.
As with previous Arcam amps, the speaker terminals are robust fitments able to accept bare wire or 4mm banana plugs. When an input is allocated to 'processor' mode the SA20's volume control will be disabled. In this mode, said processor
–   typically a surround decoder, with its own volume control – will be using the SA20 and its speakers to reproduce the front left and right channels. Menus are also used to set the specific volume level.
SOUND QUALITY
I partnered the SA20 with Quadral Aurum Wotan VIII speakers, a Cambridge CXN streamer (connected both via analogue and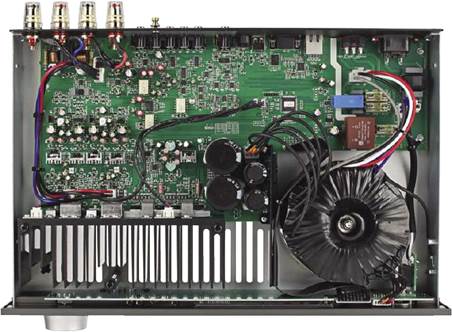 Internally the SA20 is a packed space, the large black toroidal transformer of its linear power supply (right) dominating. Although Class G and not running at a high idle current, there is still copious heat sinking – at front.
coaxial digital, for comparison purposes) and an original Technics SL-1210 Mk2 turntable fitted with Audio-Technica AT-440MLb MM cartridge. The first thing I heard is just how deep bass notes go – this is a gutsy performer! It helps to compensate for the low-end reticence of the Wotans, the qualities of which are more concentrated in the treble (thanks mostly to their
"The SA20's DAC is one of the ESS 'wonder chips' that have gained so much attention of late"
ribbon tweeters). The bassline of Boards of Canada's Palace Posy, from Tomorrow's Harvest (lossless CD rip), had the expected depth and guts. In other words, this amp manages to eke out the speaker's potential in this regard – and with no sense of strain audible.
The SA20 also did justice to the organic tonality of the track's analogue synth-driven melodies.
Not much in the way of percussion here; other electronic music like Kraftwerk's Tour de France Soundtracks, in lossless CD rip form, were well-timed, crisp and clean.
And with Radiohead's Idioteque (lossless CD rip) the complex and busy percussion was bestowed with immediacy and bite. All this was with the analogue input, fed by Cambridge Audio's CXN DACs.
Feeding the SA20 from one of the CXN's digital outputs yielded a presentation that switching between the inputs revealed as a tad more forward and aggressive – and all
the better for it! In terms of stereo imaging and tonal character, though, the CXN DACs may have a (slight) edge.
The bass end of the audible spectrum was well looked after with digital sources, but the same degree of impact was missing when playing vinyl. The bass harmonica of The Boxer (from my mid-70s CBS pressing of Simon and Garfunkel's Bridge over Troubled Water LP) may have been tight, but didn't have the sheer heft I have heard with other systems. Likewise the prominent bassline of Squeeze's Tempted (East

The rear panel carries an RJ45 ethernet socket, RS232 and USB at centre, for external control and software upgrade. At centre are S/PDIF digital inputs but no USB for computer connection. Then come analogue inputs and at right a single pair of loudspeaker output sockets for 4mm banana plugs, spades or bare wire.
Side Story, LP) lacked the depth I'm used to; Phono-stage warp filtering is to blame. These subdued elements were restored after I connected a Pro-ject Phono Box S2 Ultra (the infrasonic filter of which is switchable) between my turntable and one of the S20's line inputs.
Putting aside its low-frequency reticence, the Arcam Phono stage is undoubtedly capable. For example, Paul Carrack's soulful vocal and organ-playing on Tempted both worked here.
Classical music on LP also showed the SA20 to be a capable performer. The sheer variety of instrumental texture that underpined my 1958 EMI stereo recording of Dvorak's New World Symphony (Berlin Philharmonic/Rudolf Kempe) was faithfully portrayed, as was the space in which the musicians perform.
Classical delivered via digital also had appeal. Radio 3 concerts, experienced via the CXN's ability to access the BBC's inadequately- publicised 320kbps stream, are immersive and take advantage of the SA20's broad frequency response. A 24-bit reference-standard recording of Britten's brooding War Requiem (LSO Live/Noseda) showed that the SA20 takes hi-res in its stride – orchestral attack and precision were evident, as was the ability to deal with the complex sound of massed choirs.
CONCLUSION
There is much competition in the sub-£ integrated amplifier market, but the SA20 has much going for it at this low price point. Arcam has attempted to make a product that appeals to everyone, and I can't help thinking that on the whole it has succeeded. The SA10 is more modest but still a respectable performer.
The SA20 produced 105 Watts into 8 Ohms and 182 Watts into 4 Ohms, enough for all situations. The SA10 produced 60 Watts into 8 Ohms and 72 Watts into 4 Ohms, lower power with poorer regulation.
Distortion levels of the SA20 were low at both low and high outputs at all frequencies, the critical 1W/10kHz value – a measure of crossover distortion – coming in at a low 0.02% our analysis shows. In the midband (1kHz) distortion measured 0.003% at 1 W and 0.005% just below full output. The SA10 was identical.
Input sensitivity was high at 190mV, so the amplifier will work with low output sources such as an MC phono stage.
Frequency response measured flat from below 3Hz to 68kHz, unaffected by volume control position. The SA10 was however limited to 10Hz-30kHz (-1 dB).
The optical S/PDIF digital input worked to 192kHz sample rate on both amplifiers, frequency response extending to 66kHz on the SA20 but a lower 30kHz on the SA10. Distortion with CD was 0.22% on both models, and 0.05% from hi-res (24/96). The SA20 had a good EIAJ Dynamic Range value of 115dB from both loudspeaker and preamp outputs, the SA10 managing 112dB due to higher distortion, so its digital section is slightly poorer.
The MM phono stage of both SA20/10 was very sensitive at 2mV for full output, suitable for high output MC cartridges. Overload was high at 55mV. A strong warp filter is built in and attenuates low bass heavily. There will be no cone flap, but also not the low bass presence LP provides.
The SA20 measured well all round and the SA10 wasn't far behind, being only marginally down in most areas except power. Both are well engineered with no weaknesses. NK
SA20 AMPLIFIER
Power                                      105W
Frequency response (-1dB) 3Hz-68kHz Distortion (10kHz, 1W)   0.02%
Separation (1kHz)                     90dB
Noise (IEC A)                          -91dB
Sensitivity                              190mV
DIGITAL
Frequency response (-1dB) 4Hz-66kHz Distortion (-60dB)          0.05%
Dynamic range                       115dB
PHONO (MM)
Frequency response (-1dB)
40Hz-20kHz
Distortion (1kHz, 5mV in) 0.04% Separation (1kHz)     67dB
Noise (IEC A)                          -76dB
Sensitivity                                 2mV
Overload                                 55mV
ARCAM SA20
EXCELLENT – extremely capable
VALUE – keenly priced VERDICT
Gutsy sound and quality digital, but mediocre LP
FOR
– a gutsy and musical delivery
– ESS digital sound quality
AGAINST
– no Bluetooth
– no networking
– phono stage lacks impact
Arcam
+ 44(0)1223 203200 www.arcam.co.uk