Martin Pipe tries some interesting Bluetooth headphones that bring technology to personal listening. Read our PSB M4U 8 MKII Review.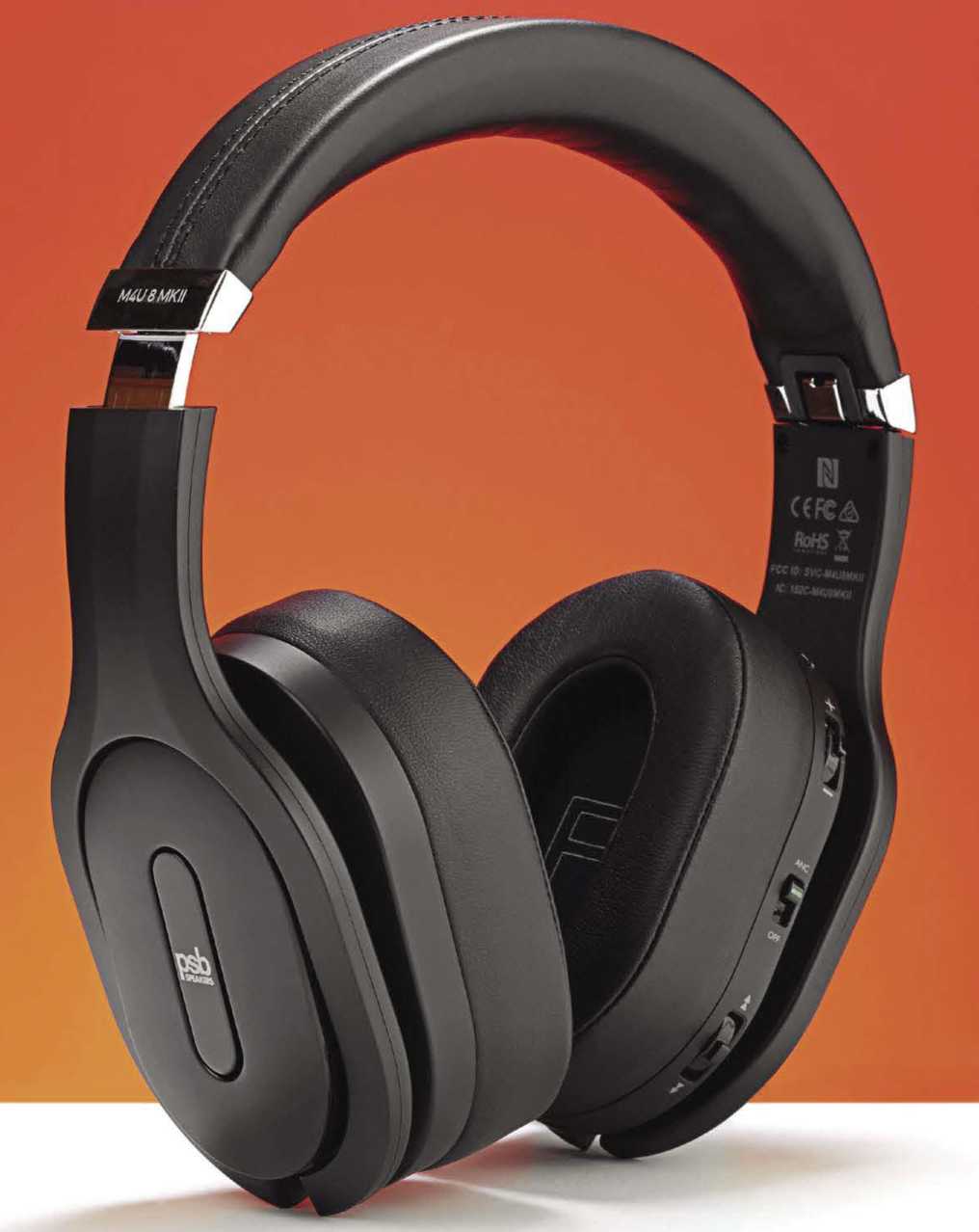 Canadian firm PSB – named after Paul and Sue Barton, its husband-and-wife founders – has been making transducers of one form or another since the early 1970s. Some of their loudspeakers were developed with the help of government-owned anechoic chambers in Ottawa. PSB is now part of the Ontario-based Lenbrook group, which also owns NAD and Bluesound. We favourably reviewed a pair of PSB speakers not so long ago, but this month will be examining the latest (MkII) version of the firm's flagship M4U 8 wireless noise-cancelling headphones.
Your £-odd pays for neatly-foldable closed-back circumaural headphones that will connect to your audio source via Bluetooth aptX HD or a detachable 3.5mm cable – which, at 2m, is possibly a little too long for mobile use. PSB also throws in a widget that allows said cable to interface with airline audio systems, a more conventional 6.3mm adaptor and a neat carrying case.
Fully-charged, via a basemounted USB-C port, the M4U 8 MKII is capable of up to 25 hours of use (18 if the four-microphone active noise-cancellation system is engaged). When turned off, or if the batteries are drained, passive operation is possible when fed via the cable.
Plugging the 'phones into the USB port of my Windows 10 PC, as I accidentally discovered, turns 'em into an alternative to the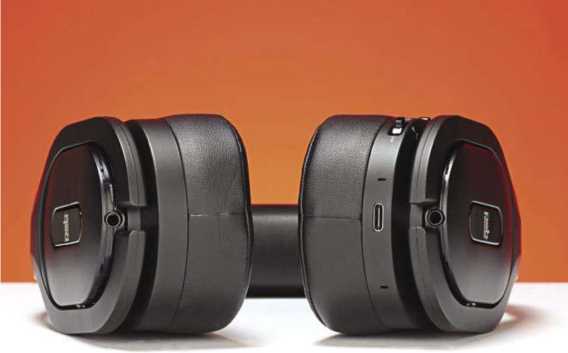 Unusually, PSB has fitted a 3.5mm socket to each earcup. If you're using a 'wired' device, you no longer have to worry quite so much about where it's positioned. There is however only one USB-C socket, which is needed to charge the M4U8 MK2 for of up to 25 hours of continuous use.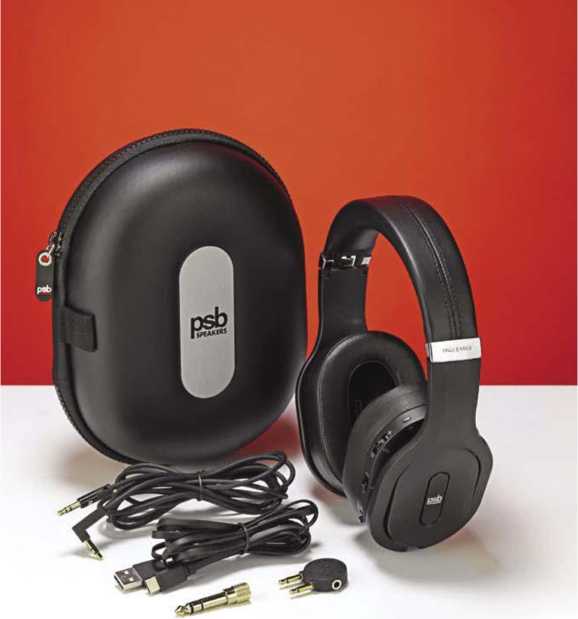 A generous package from PSB. As well as the M4U8 MK2 'phones, you get a neat carrying case and all necessary paraphernalia – USB charging and 2m 3.5mm audio cables, plus 6.3mm and airplane adaptors.
existing soundcard – worth bearing in mind, if you spend a lot of time sitting at a computer.
On which subject, the M4U 8 MKII is packed with techno wizardry that I suspect would impress the likes of Bill Gates. For a start, NFC is offered as a wireless alternative to Bluetooth. Then there's the latest version of PSB's proprietary 'RoomFeel' technology, which emulates loudspeakers operating in a room to deliver the "clear, natural sound of a live performance". Even more interesting, though, is the M4U 8 MKII's ability to tailor its sound to the individual wearer.
"Personal Sound by Audiodo" is configured via 'PSB Headphones', a free Android or iOS download from the relevant app store. Basically, it's a hearing test. You're asked if you can hear a series of tones at different levels, first through the left channel and then the right. Audiodo then applies correction to the audio, in order to achieve a flatter response. These 'customized sound profiles' are however for over-18s only.
I wonder if this is in any way related to Lenbrook's data-collection policy? Any personal info collected during the creation of these profiles, claimed to be non-identifiable, is granted to Lenbrook on a "non-exclusive, worldwide, transferable, perpetual, irrevocable right to use, modify, distribute, display and perform" basis. Lenbrook may however also provide access to third-party content providers via the "Lenbrook Product, from time to time". Before running the app you must however accept that Lenbrook is "not responsible" for evaluating "such third-party services, technologies or related materials".
Using a Sony Nexperia 10 mobile phone, Bluetooth pairing using the app didn't work ('not found)'. However, I was able to successfully-pair the phone to the headphones via the phone's own Bluetooth settings. I was thereafter able to use the headphones with my phone, and configure them with the app.
Such sophisticated digital trickery is all well and good, but PSB has thankfully got the more 'analogue' aspects right. For a start, the 342gm M4U 8 MKII is comfortable to wear, and the intimate fit of the replaceable 'ergonomic gyro-action' leatherette earpads helps to reject outside noise. How pleased I was to note PSB's insistence on 'genuine' hardware controls for everyday operations. In other words, there's no need to remember just how many times you should touch the back of an earcup to engage a specific function.
There are side-mounted slide-switches to raise or lower volume, turn on or engage the
"the sense of scale given to the fifth movement of Berlioz's Symphony Fantastique (Berliner Philharmoniker/von Karajan) was entirely appropriate"
not-ineffective noise-cancellation system and – if you're using Bluetooth – pause playback, or select the next or previous track. The latter control also answers calls.
PSB has provided only one button to invoke the Bluetooth 'discovery' mode in which your playback device (e.g.mobile phone) looks for compatible hardware to pair with. Since PSB has avoided the use of trendy touch-sensitive earcups, you won't inadvertently change tracks (or whatever) by accidentally-brushing your hands against them!
The volume control can the signal processing, i.e. fed via the 3.5mm socket in 'passive' mode, the 40mm 32 Ohm moving-coil drivers of the M4U 8 MKII are capable of a clear and detailed presentation, operate independently of the Bluetooth-driven paired-device 'takeover', as it still works if your player is connected via the 3.5mm lead. Plugging the cable into the recessed socket on either earcup disables Bluetooth, which also means the app 'loses control'.
I'm particularly impressed with this 'active wired' functionality, as it can give a useful volume boost to players with inadequate headphone amps. I tried the headphones with a Mahdi M200 MP3 player, picked up for a couple of quid at a charity shop (I was more interested in the memory card still inside!). Its bland and lifeless sound was transformed into something far more acceptable. Even without although I noted a distinct (but not unpleasant) warmth to the bass. With PSB's processing turned on, the sound became livelier and more engaging. Purists will hate the idea of all that extra digital manipulation sitting between the music and their ears, but it does work very well indeed!
The 'rasp' of the sax in Black Country, New Road's Track Xwas was imparted with accuracy and vitality, while the sense of scale given to the well-known fifth movement of Berlioz's Symphony Fantastique (Berliner Philharmoniker/von Karajan) was entirely appropriate. The subtleties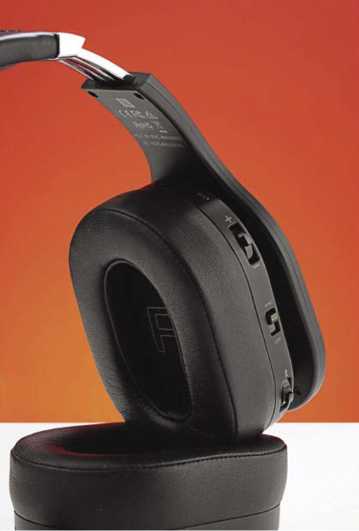 Sensibly, all M4U8 MK2 controls are positive-action physical switches – as opposed to accidentally-operable touchpads. Equally sensibly, the inner earpads clearly-identify the channels they'll be reproducing.
of the bell's attack and decay emerged intact, as did its overall tonal character. Strings suffered from a slight glare, though, and that previously-noted warmth was still present.
I found that personalised 'Audiodo tuning' added a brightness that tended to reveal tape hiss while bringing percussion elements to the front of the mix; this does help to make the presentation more exciting. Processing can however be turned off with the app, and so the choice is yours. It's just as well that the M4U 8 MKII is fundamentally a well-designed and good-sounding pair of headphones; anything else is just cake-icing!
CONCLUSION
PSB has dared to be different with the Mark 2 version of its M4U 8, and the risk has paid off. Its ability to tune sound to your ears makes a definite difference (and can be disabled). With Audiodo processing engaged, the sound was more exciting and revealing. I suspect that the older you are, the more obvious the change will be as the system is compensating for age-related high-frequency losses. Maybe that's why you have to be 18 or over to use the app; most young people simply don't need it!
OUTSTANDING – amongst the best.
VALUE – keenly priced.
VERDICT
Minimalists might scoff, but there's something in PSB's high-tech approach to headphone listening.
FOR
flexible connection arrangements

psychoacoustic enhancements make an audible difference

immersive and engaging
AGAINST
tendency towards brightness

occasional Bluetooth

dropouts PSB
Best PSB M4U 8 MKII prices ?

$

349.00
2 new from $349.00
in stock


$

349.00
1 new from $349.00
in stock

MORE DEALS