JBL's L52 Classic loudspeaker, reviewed by Noel Keywood. Read our JBL L52 Classic Review.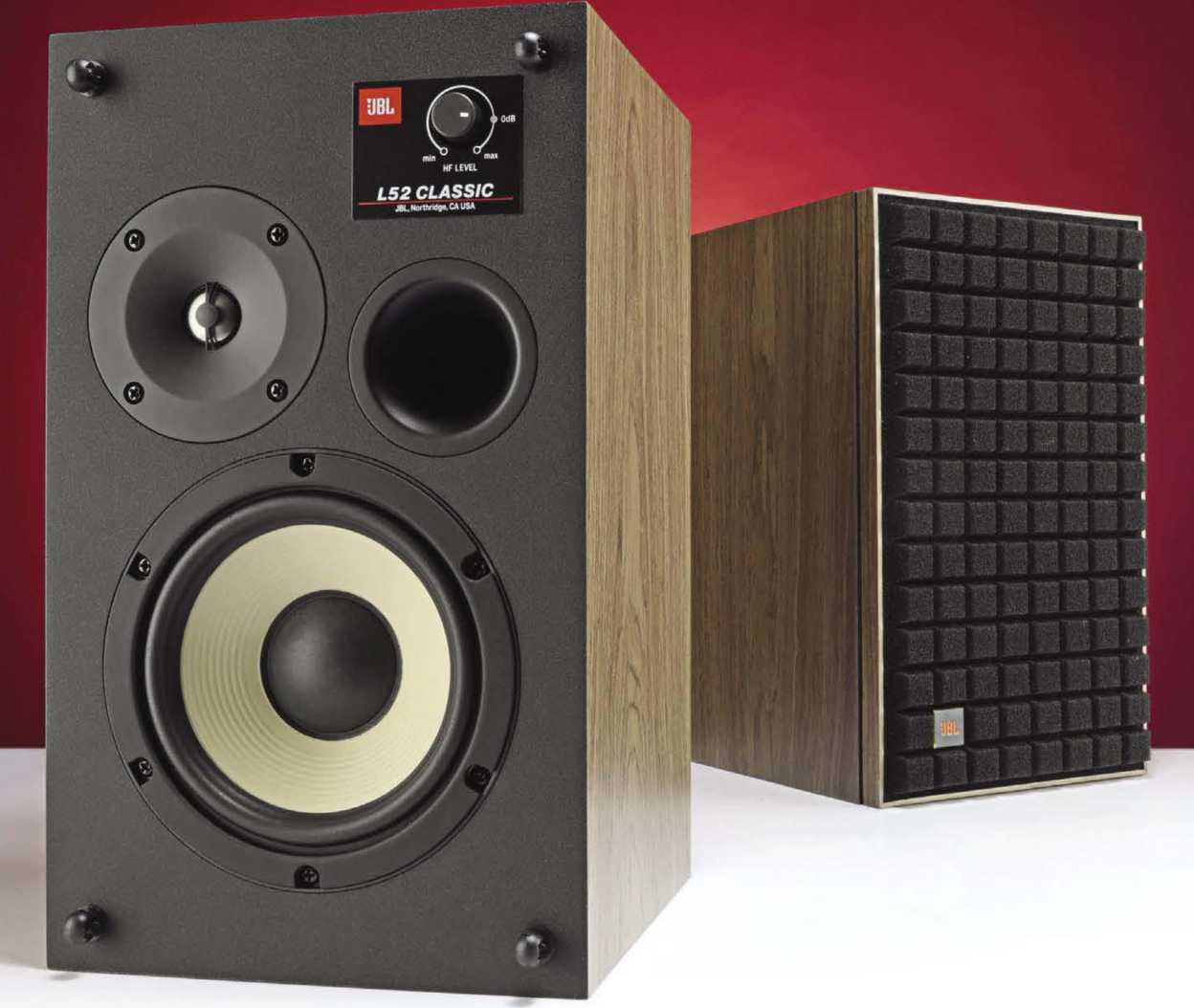 Classic values? It's difficult to know what expectations are here – a big warm sound, analogue smoothness, a genuine wood veneer? Is JBL's small L52 Classic (£) I'm reviewing here capable of evoking such old time strengths, whilst avoiding old-time weaknesses that – cough – commonly go unmentioned?
The L52 is a conventional ported two-way, with a 133mm (5.25in) bass/mid-range unit crossing over to a small 20mm titanium dome tweeter (most are 25mm / 1in). The cream coloured Pure Pulp (paper) woofer is loaded by a front mounted port and – adding to front panel visual activity – there is a rotary 'HF level' (High Frequency level) control to increase or decrease output from the tweeter, anchored by a 0dB reference position (which I'll explain later).
Topping off this complex looking mini there's a funky 1970s Quadrex foam grille that, I know from using them back then, collect dust. Prepare vacuum sweeper or possibly a blower of some sort if long term cleanliness is important to you. It may just be that a wash under the tap is best, but I didn't try it for fear of returning soggy speakers to Harman. Surprisingly, even though the foam is thick these grilles have no influence on treble, measurement showed, so can be used on or off.
"in Neils Lofgren's Keith Don't Go, there was a sense of diamond hard speed that JBL seem to prefer"
The cabinets are solidly built, weighing 5kg (11lbs) each. JBL say they are finished with 'satin walnut furniture grade wood veneer' and – surprisingly – they come in mirror image pairs where it is usual to place tweeter on inside for sharpest stereo imaging. Some prefer the wider but more diffuse stage given by placing tweeter on outside. Looking at JBL's specs they say its impedance is 4 Ohms and it does sink to that as a minimum, but overall it is exactly 6 Ohms like most other speakers nowadays, so not an unusual load. Suitable amplifier power is quoted as 10-75W and this will do, but sensitivity isn't very high at 85dB and I'd suggest 40-100W.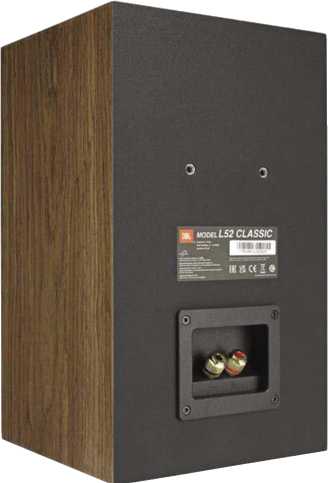 At rear just one set of gold plated terminals, eliminating the ability to bi-wire. Bare wire, spade terminals or 4mm banana plugs are accepted.
The 'HF level' control I thought would raise treble for a bright sound, or lower it for a soft one. Well it does, but the maximum lift is small at +2dB, whilst maximum cut is drastic, the tweeter not working at all, so behaviour is asymmetric: you don't get a neat +/-5dB for example. Perhaps not a big deal but I think a bit more lift would have suited some listeners, if not me. In JBL's favour, the 0dB reference position gave an impressively flat and accurate response – a perfectly wrought starting position.
SOUND QUALITY
The 'speakers were initially driven by our PrimaLuna EVO 300 Hybrid amplifier, connected through Chord Company Signature Reference screened cables. Sources were an Oppo BDP-205D acting as CD player – used for its top ES9038 DAC chip and linear power supply – plus hi-res from a MacBook Pro running Audirvana+ software player to deliver in DSD (via DoP) over a USB link.
Running through our wide dynamic range review CDs I was a little surprised at the brisk modern sound balance of the L52s, rather than any hark back to the past. Set flat (0dB) there was a natural balance with no sense of warmth or body to the sound. The result pushed saxophone forward in the Pink Panther theme, whilst plucked bass was somewhere behind and lacked depth. When the orchestra came in there was some coarseness in the brass section, with the hard quality expected from a titanium dome. The EVO300 Hybrid amplifier has fast, concise and brightly lit treble from its output FETs I know and this did not suit the L52s, so I swapped over to our Creek i20 Voyage amplifier for its softer, easier demeanour and this proved a more appropriate subjective match.

JBL's Quadrex foam grille is reminiscent of times gone by. Although thicker than modern cloth grilles it was acoustically transparent, measurement showed.
In themselves the L52s were clean and speedy, right on the nail timing wise. Their sense of clarity and resolution only faltered when I turned volume up with Safri Duo's Samb Adagio for example, where the pounding synth beat started to overwhelm the small bass unit and box boof became apparent from the front firing ports. This track also made clear bass was fast and snappy at normal volume, but it did not run deep – an over-damped balance best suited for use close to a wall in a small room, meaning 12ft long or less. The titanium dome tweeter could harden up with strong treble: Fleetwood Mac's Go Your Own Way (24/96), that has brightness in its transcription from analogue master tape, pushed it into this state and sounded a bit remorseless. For most of the time though, with close miked guitar strings such as those in Neils Lofgren's Keith Don't Go, there was a sense of diamond hard speed that JBL seem to prefer.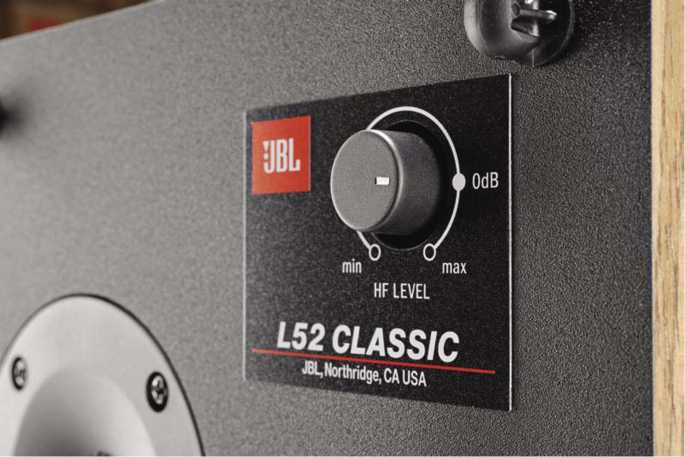 A unique feature of the L52 Classic is adjustable tweeter level. Set to 0dB the 'speaker measured flat. A few dBs of treble lift are possible, or a large range of treble cut.
With Vivaldi's Concerto in D Minor, Opus 4 No8 (DSD) the orchestra was accurately balanced across the frequency range but I was – after lengthy listening – beginning to realise that a certain slight boxy quality was coming from the front firing ports, the reason that ports are best (and most commonly) placed on the rear. It may well be that front port and Quadrex foam grille are the Classic bits in JBL's description, because otherwise this is a loudspeaker of thoroughly modern sound balance.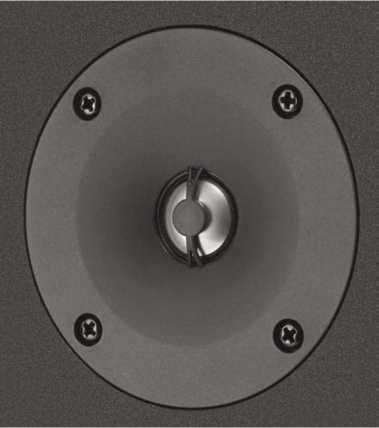 The titanium dome tweeter has a frontal phase plate to flatten its frequency response by suppressing cavitation at the dome's apex. It sits in a shallow horn that directs energy forward.
CONCLUSION
Our JBL reviews consistently pick out the fact that this large U.S. loudspeaker manufacturer engineer their products for accuracy – and that's what I found with the L52. But its titanium dome tweeter had a somewhat hard quality and was conspicuous in its output even when set flat at the HF Level control. It could be dialled back a bit to ameliorate this.
There was little low bass, but in a small, resonant room, with placement against a rear wall, this may well be balanced out by 'room gain' and not be apparent. Under such conditions the L52 would indeed give a speedy modern sound from what appears to be a retro design. At the price it has plenty of competition, from Wharfedale, Q Acoustics, KEF and others, all of whom offer similar accuracy coupled to greater sophistication. None offer adjustability though, where highs can be dialled back – a feature that makes the L52 stand out.
JBL L52 CLASSIC £
3/5
GOOD – worth auditioning
VERDICT
JBL L52 Classic Review
An updated retro design that's accurate and adjustable. Fast but bass light.
PROS
tonally accurate
small
adjustable treble level
CONS
bass light
prominent midrange
hard treble quality
Best JBL L52 Classic prices ?
MORE DEALS

JBL
+44 (0)161 222 3325
https://uk.jbl.com/
MEASURED PERFORMANCE
With the 'HF Level' control (tweeter level) set to its 0dB position the L52 Classic measured close to flat from 55Hz to 20kHz our analysis shows, with front grille removed. Although the foam grille is thick it made no difference to this result. Rotating the control up to Max gave a small lift of +2dB above 3kHz, enough to add just a slight sheen. Rotating the control down to 12 o'clock gave similar cut, any further introducing strong cut until the tweeter stopped working.
For cabinet size bass extension was fair, the small front port tuned to 60Hz -see impedance trace dip – contributing to output down to 40Hz. Small ports provide little acoustic power however, so deep bass will not be apparent but the L52 Classic has plenty of upper bass around 60Hz that will be obvious, especially in a small-ish room 12ft long or less.
Sensitivity was on the low side at 85dB sound pressure level (SPL) from one nominal Watt (2.8V) of input but this is sufficient to go loud with 60W+ amplifiers. JBL unsurprisingly use a 4 Ohm bass unit for best voltage sensitivity, resulting in a measured impedance (with pink noise) of 6 Ohms, which is right on market target. Our impedance curve shows the load is mostly resistive, with just small residual (reactive) peaks around port resonance at 60Hz.
The JBL L52 Classic is surprisingly accurate, its titanium tweeter with corrective phase plate running smooth and flat to 20kHz. Bass extension is good too. A carefully engineered loudspeaker that is accurate and adjustable. NK