The C8 Vette has arrived in Europe at last, with strong spec and pricing, right-hand drive available and – best of all – a chassis that has the measure of our roads.
IT'S HARD NOT TO FEEL A BIT SORRY FOR the folks at Chevrolet, specifically for their representatives in Europe. At the beginning of 2020 they were all revved up about selling us the new eighth-generation, mid-engined C8 Corvette on this side of the pond. And in the UK the excitement must have been especially intense given that the car was going to be factory built in right-hand drive for the very first time.
To whet our appetites we drove the new Vette out in the US and, bar some mild reservations about its styling, we reckoned it was ready to take on the best European sports cars that less than £100k could buy. It bore all the hallmarks of being a 911 rival but for Cayman money, plus, of course, it had a big old 6.2-litre V8 in its belly with not a turbocharger in sight. Nice.
And then the you-know-what happened, which meant the whole 'Corvette comes to Europe' campaign was put on ice for the thick end of two years, and the excitement surrounding the car inevitably faded. Yet here we are, all that time later, and the all-new Corvette Stingray is finally with us, and despite the financial difficulties that recent events must have presented Chevrolet with, it's still going to be made in right-hand drive.
The engine is essentially the exact same dry-sumped 6.2-litre V8 that we sampled in the States, except it's been mildly detuned to meet Europe's stricter emissions regulations. Power is down from 490bhp to 475bhp and torque has dropped a touch too, from 465lb ft to 452lb ft. The revs at which that peak torque figure is generated has also lowered a fraction, although thankfully the fundamental character of the engine hasn't been affected.
What has altered in the meantime is the price, but in a good way. The fully loaded Convertible 3LT tested here costs £85,150, which is a bit less than we thought it might be 18 months ago. But it's the entry-level coupe in slightly less well equipped 2LT specification that's the real bargain of the European range. It comes with the same engine and eight-speed dual-clutch gearbox, and the same chassis and suspension as the 3LT Convertible, yet costs just £77,200. On paper that seems like astonishing value, even beside the cheapest Porsche 911, which costs over seven grand more, isn't as well equipped and produces 95bhp less from its turbocharged, 3-litre, six-cylinder engine.
As we know, however, the world has gone a little bit bonkers ecologically since the very first C8 sketches were being drawn up back in 2011, and electric vehicles have become the go-to solution. This means the resolutely naturally aspirated new V8-engined Corvette can be viewed in one of two ways: either as an instant relic or, maybe, a much-needed blast of fresh air, delivered unashamedly up both nostrils via a quartet of brass-coloured exhaust pipes.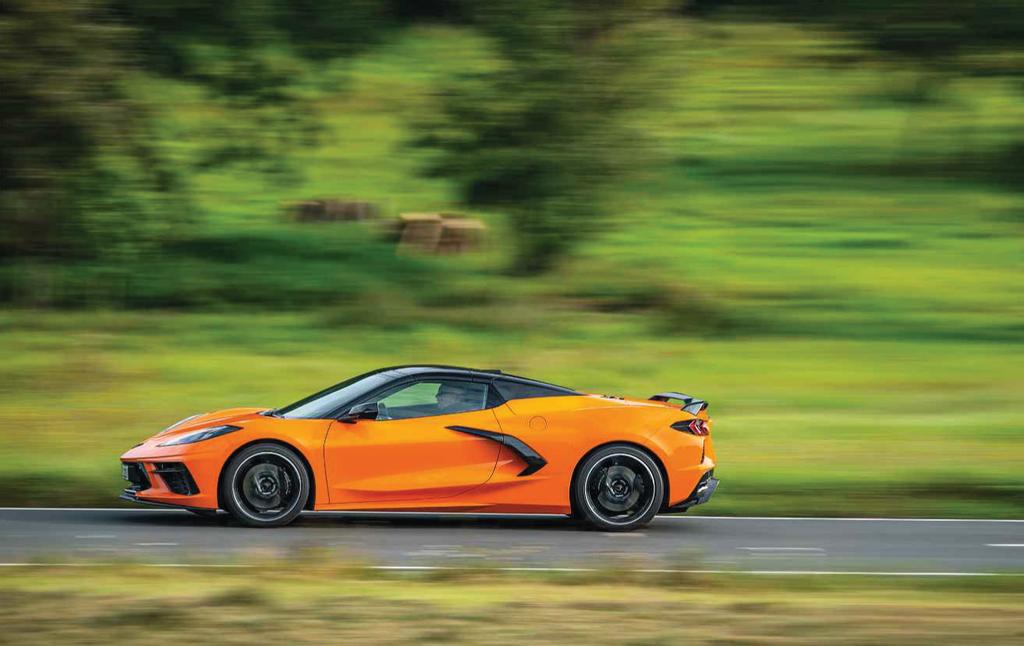 'The suspension control is excellent, even over some quite naughty road surfaces'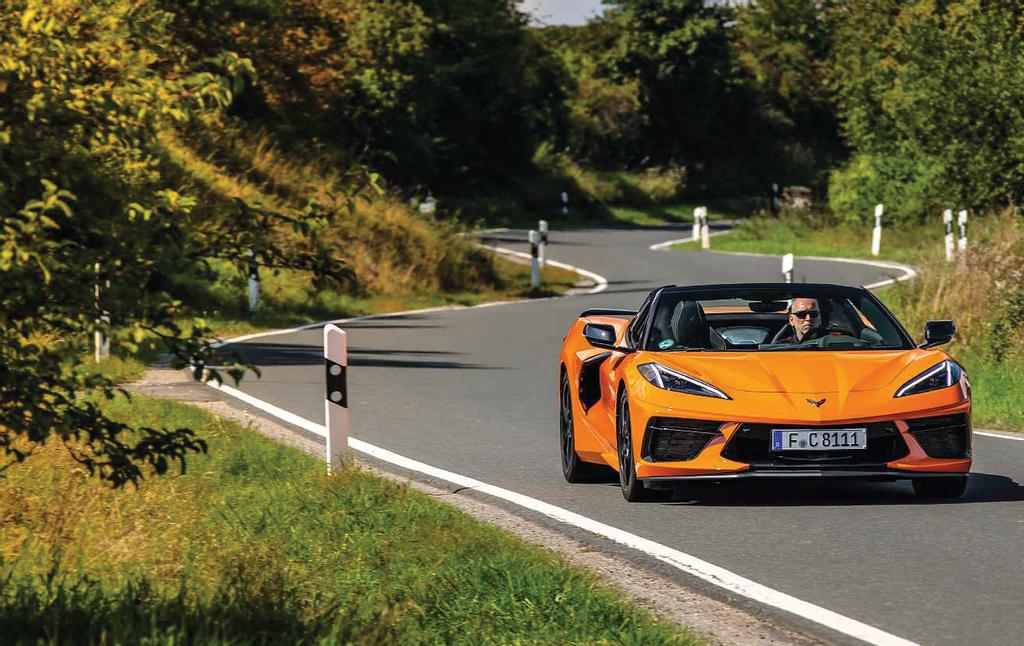 Fortunately, there is still a market for cars that do things the old-fashioned way, and although it's a cutting-edge design in much of its thinking, at its core the new Stingray is, shall we say, a fairly traditional kind of sports car. It's a pretty damn exciting one to drive, too, with a fundamentally well set-up chassis, good steering, excellent brakes and that thundering V8 at the centre of its personality.
In time there will be a hybrid version, and the nutcase Z06 with a flat-plane-crank V8 has just been announced too. But as a starting point, the car you see here is oozing with raw appeal. This is aided in European specification by the standard fitment of the Z51 Performance Package, which adds uprated brakes and suspension, a performance exhaust, a shorter final drive ratio, an electronic limited-slip differential, a heavy duty cooling system, a front splitter and rear spoiler, and Michelin Pilot Sport 4 S tyres – but not, of course, the 5bhp uplift to 495bhp that Z51 brings in the States.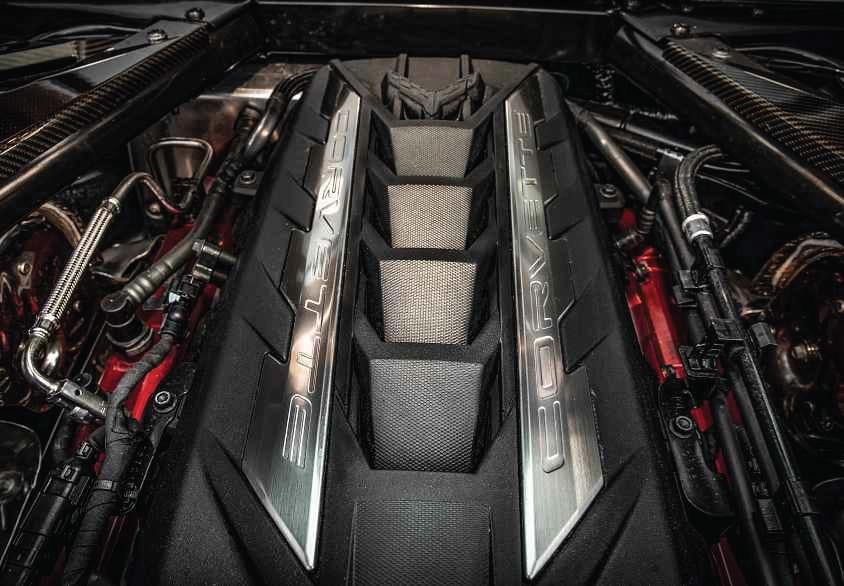 While power is down for the C8 in Europe, its weight, at first glance, appears to have gone up. This is because in its homeland Chevrolet quotes 'dry' figures, which see the coupe register at 1530kg. However, include all the fluids that you need to actually drive the car, such as oil and coolant and petrol, and that becomes 1655kg. And for the convertible you can make that 1692kg. So it's no lightweight, being well over 100kg heavier than any 911 you might reasonably want to compare it with. Then again, it's in the same ballpark as, say, an Aston Martin Vantage or an Audi R8, although the latter does have two extra cylinders and four-wheel drive.
Does all this spoil the new Corvette's overall appeal? No. Do the reduced outputs remove the edge from its ultimate ability to entertain? Yes, maybe just a little bit, but in overall terms it hasn't impacted too much on the enjoyment factor it delivers on the move. And it still has the same great driving position, the same driver-focused cabin design, the same ability to paint a very big smile across your chops.
For starters, it's a lot more delicate in its dynamic approach than any previous Corvette, with a precision to its controls and a deftness to its responses that drivers of traditional front-engined Corvettes would struggle, and fail, to recognise. From its steering to its brake feel (which can be adjusted via six different drive modes) to its ride – controlled on our test car by £1940 of Magnetic Ride adaptive dampers – it just works. Even over the notoriously tough roads around the Nürburgring, where we drove it for a couple of days.
The gearbox is particularly good, with a PDK-like snap to its response that will go a long way towards compensating for the fact that there is no manual version available this time. As for the V8, it's a very good engine, a charismatic one to listen to for sure, but not quite one of the all-time greats. It percolates with energy and sounds peachy between 4000 and 6000rpm, but it never quite sends shivers up your spine somehow.
The raw performance is similar in a way, in that it's strong but never quite heroically so. Coupe or convertible, zero to 62mph takes 3.5sec, claims Corvette, and is aided by a full launch control system. The top speed is 184mph, which is just two mph more than that quoted for a Cayman/Boxster GTS 4.0. Just guessing, I'd say the 0-100mph time might be in the mid to high eight-second bracket. That's nowhere near what the bigger-hitting mid-engined cars from Europe can achieve, most of which are in the mid or even sub sixes to 100mph, and almost all of which will nudge or top 200mph.
What's not in much doubt is the way the Corvette goes about dismantling a really decent, ideally twisty and bumpy piece of road, the lumpier the better if Magnetic Ride is fitted, it seems. This bodes well for the way the car should behave over a typical UK B-road. The suspension control is excellent, even over some quite naughty road surfaces we found near the Ring. There's not much roll, or to be more precise what roll there is is kept in check extremely well, and the traction generated is deeply impressive. Even in the drying damp it could take near-enough full beans in second gear without the TC light flickering for the briefest of moments, with almost no perceptible killing of the throttle to interrupt the flow of forward motion.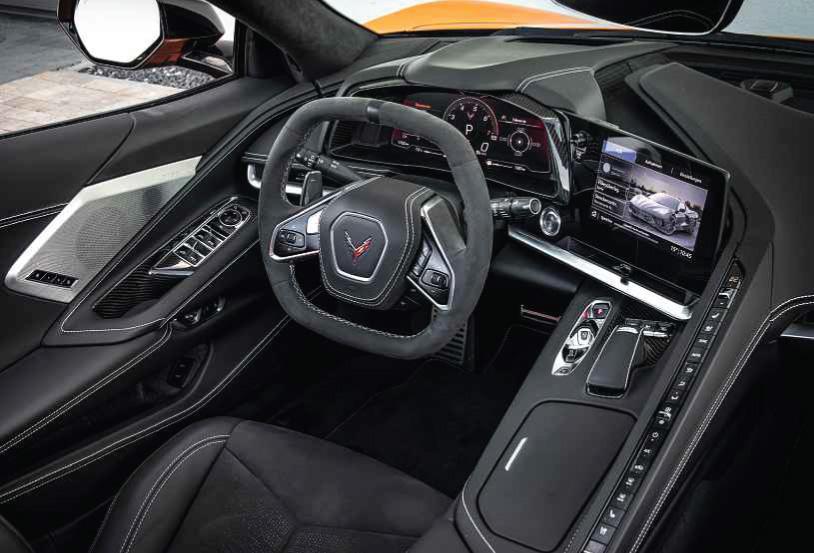 Turn it all off – which you can do with a long press of a single button, which is refreshing – and even then it'll take big throttle openings in low gears and still not break traction easily. The rear suspension clearly works a treat in this respect, as does the diff, otherwise there wouldn't be anywhere near as much purchase from the 20-inch rear Michelins. Then again, the level of pure thrust available isn't actually all that crackers: there's enough torque but never too much, which again is quite refreshing in an era of faster/bigger/crazier everything. But as we say, those versions will come later.
The front end isn't half bad, either, to a point where the mid-engined Corvette always feels nicely balanced on turn-in, especially so once it's settled into its stance mid-corner. Trouble is, while there is precision aplenty plus a decent level of accuracy to the steering, feel at the square-jawed rim itself is a wee bit lacking. The steering seems a touch digital in its weighting and response, so although you can usually put the nose to within an inch or so of where you want it to be in most corners, there's still a whiff of e-sports to the experience. Maybe that's being a bit cruel, maybe not. Either way, a Cayman or a 911 or an R8 each has sweeter steering overall in the opinion of this particular tester.
Those upgraded brakes, on the other hand, are mighty, with borderline 911-like power and stability under big applications. They also have great feel and touch under lighter loads, and suffered from zero fade during our time with the car, despite plenty of to-ing and fro-ing on steepish winding roads while the filming a video for our YouTube channel.
The cockpit of the new Vette is a pretty nice environment from which to conduct proceedings, too, even if the decently supportive electric driver's seat doesn't go quite as low as some folks might want, me included. The main instruments are all digital and alter in design as you scroll up through the six different drive modes: Weather, Tour, Sport, Track, Individual and Z. The first five of these are accessed via a stiffly sprung rotational control down on the centre console. But the Z mode is activated via a separate wheel-mounted button and allows you to set the car up just-so, meaning you can switch into your own personal 'max attack' mode at the mere prod of just one button, much like you can in a BMW M-car.
The cabin works well ergonomically in other areas too, the whole cockpit – including the 10-inch central touchscreen – being angled towards, and therefore focused on, whoever is behind the wheel. Visibility is extremely good for a mid-engined car, and so is the boot space. The amount of luggage capacity doesn't change one iota in the convertible, either, no matter if the hard-top is up or down. The coupe, incidentally, has a removable roof panel that can be stowed in the rear boot, but this means you loose luggage space when it's in there. So the convertible is actually the more practical of the two.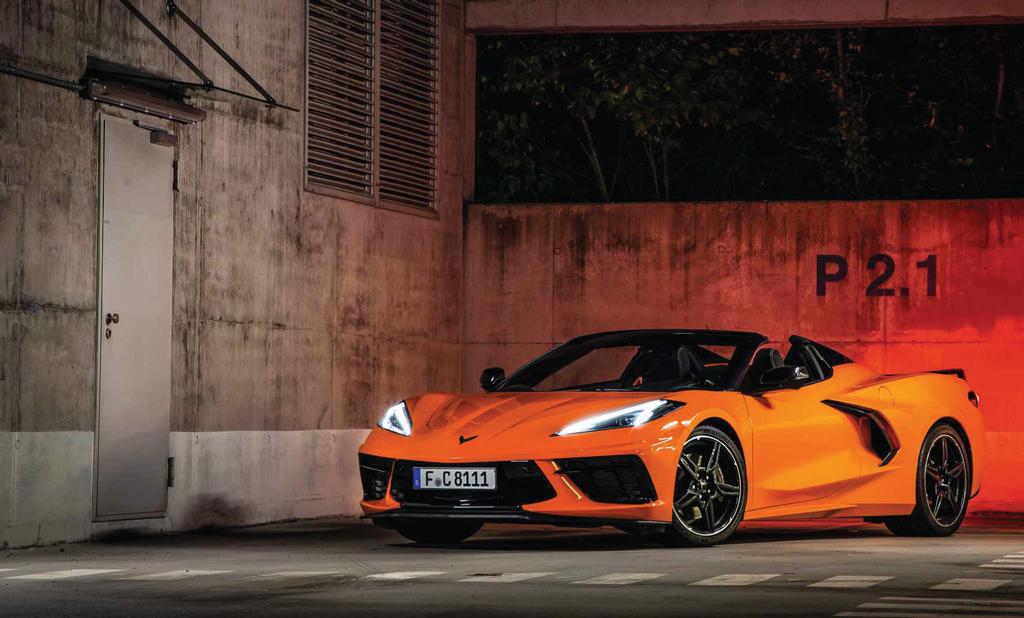 'The all-new Vette is clearly an awful lot of sports car for the money'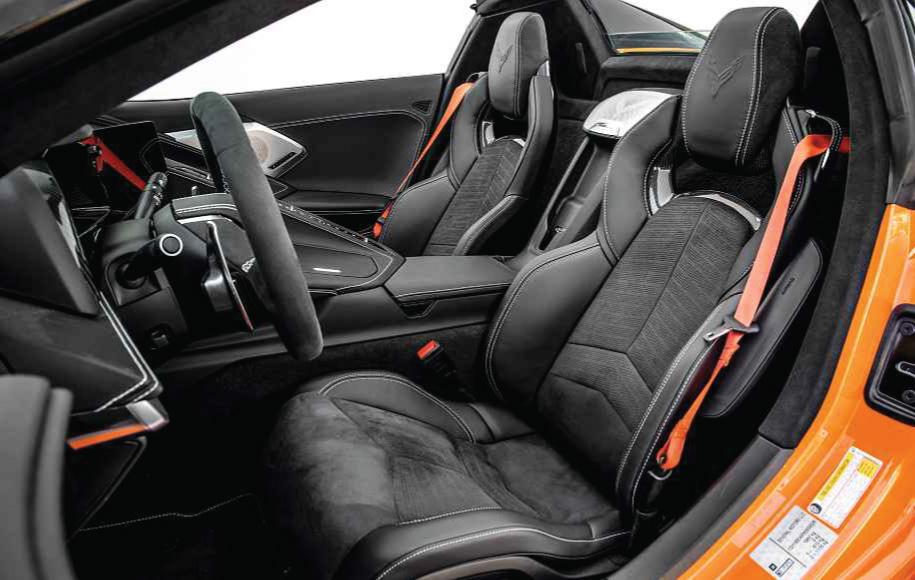 Better still, on the move you can't really tell much difference dynamically between coupe and convertible because, says Corvette, they are both equally as stiff as one another and ride on exactly the same suspension settings.
Whichever version floats your boat, the all-new Vette is clearly an awful lot of sports car for the money. True, its clipped outputs and chunky-ish weight mean it doesn't go quite as hard as we hoped it would, but in the overall scheme these are not vital flaws. It's still more than quick enough for the money.
What could be an issue is the way it looks, because not everyone likes what they see when they encounter this car in the flesh for the first time. But this is inevitable, I guess, given the C8's design team has been asked to apply traditional styling touches to a shape they've never been applied to before.
Then again, if you do like what you see, the rest of the package is difficult to ignore for the money. And even if you're not all that sold on the looks, the way this car drives is hard to argue against. Very hard indeed.
Engine V8, 6162cc Power 475bhp @ 6450rpm Torque 452lb ft @ 4500rpm Weight 1692kg (285bhp/ton) 0-62mph 3.5sec Top speed 184mph Basic price £82,200
PROS
Strong V8 engine, good brakes, excellent gearbox, fine value
CONS
Not as quick as we were hoping
Best C8 Vette prices ?
MORE DEALS