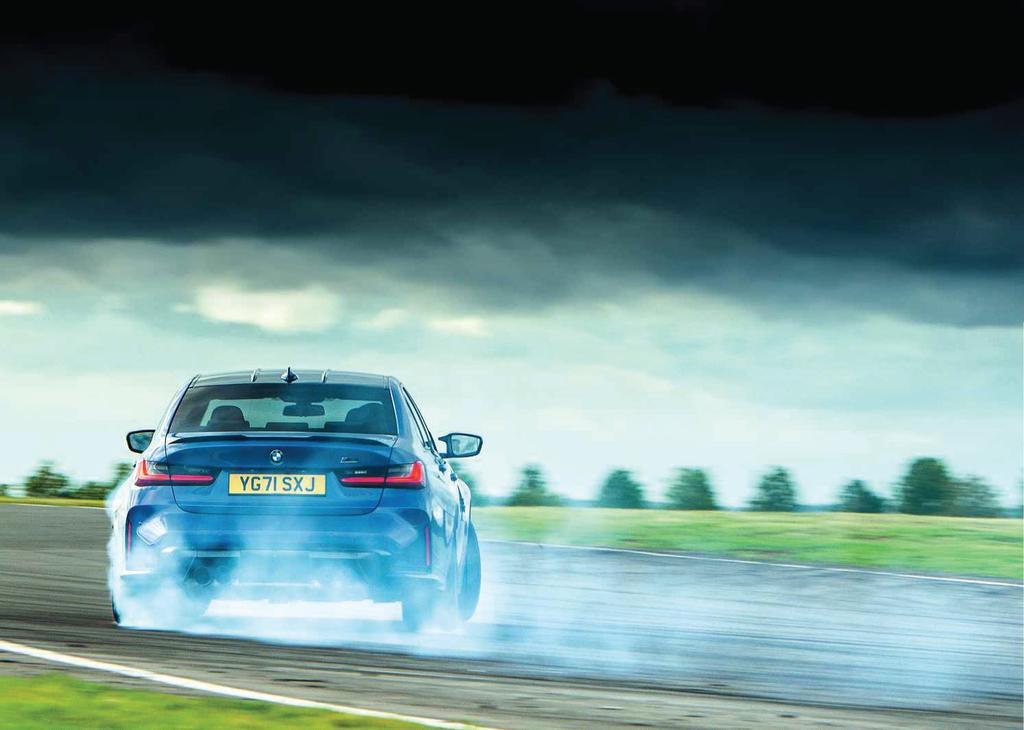 I THINK I CAN GUESS WHAT SOME OF you are thinking. Is it not bad enough that the latest BMW M3 – and the M4 for that matter – weighs significantly more than the last one? That it's switched to a torque converter automatic gearbox? Not exactly the stuff of Steve Soper and Roberto Ravaglia yumping their E30 M3 touring cars at The Ring, is it? And I haven't even mentioned the divisive styling yet… And now there's this, an M3 with four-wheel drive. Humph. It's enough to make an M-car purist cry into their pint of Warsteiner.
However, don't be taking to sniffing the Wintershall rocket fuel just yet, because given the glittering run of form that BMW M has been on lately, and just what a frankly superb and broadly talented car they've created in the rear-wheel-drive M3 (and M4), only a fool would dismiss this four-wheel-drive version without further investigation. So, the real question is not so much whether the BMW's all-weather ability and general traction is improved – that's a given – but whether the 4WD car is as enjoyable, and as fast, as its more traditionally driven twin.
The xDrive set-up is similar to the one used on the M5 in that it uses an electronically controlled multi-plate clutch in the transfer case, and in normal driving is rear-wheel drive. Only when there's a loss of grip at the rear axle do the front wheels come into play, their keenness to intervene depending on whether the car is in its standard 4WD setting or in 4WD Sport, the latter biased more to rear-wheel drive.
As with the M5, you can also choose to disable the ESP system completely and then force the car into a purely rear-wheel-drive setting, too. Much of the 4WD hardware is bespoke for the M3/M4, and it also has its own front suspension tuning and geometry over the rear-drive car, while the engine's oil system has been upgraded too.
Visually, you can't distinguish an xDrive-equipped M3 from a rear-wheel-drive one. There's no subtle badge, no difference in body trim or wheel design. And the first big surprise is that it's almost impossible to tell from behind the wheel that you're driving the four-wheel-drive version.
With, say, a Porsche 911, the difference between a Carrera 2 and a Carrera 4 is immediately obvious, due to changes in the weight and general feel of the steering. But driving evo's RWD Fast Fleet M3 and this one over the same piece of road, one after the other, I really couldn't tell the difference when driving normally, which is a hugely impressive act of hardware integration on M's part in itself.
Moreover, while there's a 50kg weight penalty for the extra driveshafts and associated gubbins, as a percentage of the standard car's already-portly 1730kg kerb weight it's a small one: such a gain would make a noticeable difference to a lightweight sports car, but here much less so, and the xDrive car feels no less obscenely rapid or responsive to the throttle than our RWD M3.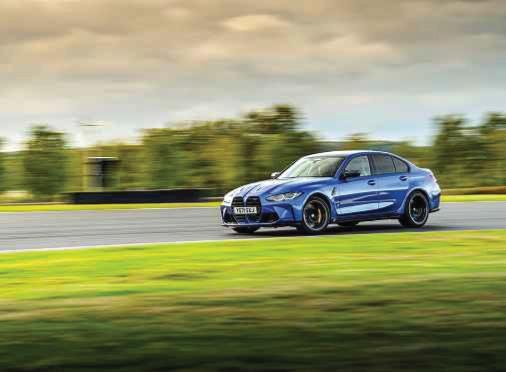 'Force it into purely rear drive and it'll drift for Munich'
As you up the pace, the xDrive possesses a tremendous sense of surefootedness under power. It's not that it won't begin to rotate with plenty of throttle, but just when you sense an application of lock might be needed the car blasts out of the corner as if the rear tyres have just doubled in grip, but without the obvious tugging from the front wheels to signify they've suddenly been called to the coalface. It's almost spooky in how well it masks what's going on, but the upshot is that the M3's ultimate cross-country pace has gone up another notch from an already devastating level.
This can be further heightened by the fitment of the optional Michelin Cup 2 tyre, which we've also now tried on both cars. A Cup 2-shod xDrive has to be one of the quickest, if not the quickest way of getting from point A to B, melding grip, traction, any-time torque and brutal power into a device that occasionally feels like some kind of insanity.
At Bedford Autodrome, running Cup 2s, the xDrive is stunningly effective. 4WD Sport feels like rear-wheel drive, and it'll even allow you to power oversteer, but when the corner exit arrives it pulls the car forward and you're no longer a prisoner to traction at the rear. The special bit is how smooth and organic it makes this transition, with no snatch from the front and no well-timed steering correction required as the front end bites. It also warms up its Cup 2s faster than the rear-drive M3, and ends up easily a second faster with a time virtually as quick as a PDK Cayman GT4's (we'll post a video on our YouTube channel shortly). And of course, you can force it into purely rear-drive anyway, in which case it'll drift for Munich and smoke its rears to oblivion every bit as well as the rear-drive car. So all in all, while it may be difficult for the purists to overlook the rear-drive car, it's hard not to see the xDrive as the optimum M3.
Engine In-line 6-cyl, 2993cc, twin-turbo Power 503bhp @ 6250rpm Torque 479lb ft @ 2750-5500rpm Weight 1780kg (287bhp/ton) 0-62mph 3.5sec Top speed 155mph (limited) Basic price £78,425
+ Still huge fun, still rabidly quick
– The slight weight penalty?
BMW M3 Competition xDrive Review
MORE DEALS