The new flagship DragonFly is similar in concept to the smaller models, but rather different in execution reckons Ed Selley. Read our AudioQuest DragonFly Cobalt Review.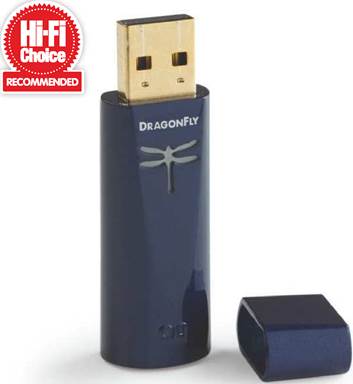 As the latest addition to the DragonFly family, the Cobalt is designed to augment the existing Black and Red versions (HFC 414). And it must be said, it is a bit of a head scratcher at first as there appears to be no difference between it and the Black, which is cheaper. Plus the maximum sample rate supported is a relatively low 24-bit/96kHz, although native MQA decoding is supported.
Where the Cobalt differs, however, is internally. It is still built around an ESS Sabre DAC, but the higher spec ES9038Q2M is used with an ESS 9601 volume controller. There's also a new filter arrangement that uses a minimum phase, slow roll off filter claimed to make it more satisfying to listen to long term. These refinements are partnered with a range of measures to reduce its susceptibility to noise and interference.
The Cobalt uses sufficiently little power that it can be connected to a mobile phone or tablet via a relevant adapter. A male USB-A connection is fitted at one end and AudioQuest supplies a USB-C adapter in the box. This outputs to a 3.5mm stereo output. Volume is adjusted on the connecting device, and the sole indicator is the DragonFly logo that lights and changes colour to indicate different sample rates.
Sound Quality
There is a method in the madness as to why the maximum sample rate of 96kHz has been selected. Doing so means that it doesn't require any USB driver so you can use it on any computer. As so many rivals lack any form of driverless operation at all, this is a significant plus point for the AudioQuest.
Listening to the Cobalt attached directly to a Roon Nucleus+ (HFC 439) shows that the new decoding and filter arrangements offer significant advantages over the Red. Listening to the entirely instrumental Black Swans And Wormhole Wizards by Joe
DETAILS
PRODUCT AudioQuest DragonFly Cobalt
ORIGIN US/China
TYPE Portable DAC
WEIGHT 22g
DIMENSIONS (WxHxD) 19 x 12 x 62mm
FEATURES
• Supports sample rates up to: 24-bit/96kHz PCM
• MQA compatible
• Roon compatible
DISTRIBUTOR AudioQuest
WEBSITE audioquest.com
Satriani, reveals subtle details and microdynamics in Satriani's playing that elude the DragonFly Red. There is a spaciousness and order to the music that the more affordable DAC cannot achieve as reliably.
While I would hesitate to describe either the Black or the Red as fatiguing, there is a more natural feeling to the way the Cobalt handles the unplugged version of Emily King's Can't Hold Me that makes it easier and more enjoyable to listen to for extended periods. It manages to do this without any subjective loss of dynamics or punch and it is a very elegant balancing act.
It is as a mobile DAC that the Cobalt really shines, though. For Tidal users in particular, the combination of its small size, MQA support and ability to drive any earphone (and indeed most headphones) far beyond any sane listening level means you can enjoy its excellent performance while maintaining an easily portable set of components. AudioQuest's efforts at resisting noise levels have also been extremely successful. The simple act of using a male USB connection also pays dividends because it allows the Cobalt to attach directly and avoid having an extra run of cabling acting like an aerial for interference. In the time it is on test, I barely hear a moment's cellular noise and this is vital in ensuring you are drawn into the music itself rather than being constantly distracted.
Conclusion
The DragonFly Cobalt might at first appear to be an odd addition to the range on paper, and if you need support for very hi-res PCM and DSD you will need to look elsewhere. In more real-world terms, though, this is a fantastic DAC that elevates the go-anywhere, work-anywhere abilities that the more affordable models do so well, providing an extra level of performance
OUR VERDICT
AudioQuest DragonFly Cobalt Review
The Cobalt is the best DragonFly yet and one of the best portable decoding options out there
PROS
Open, rich and detailed sound
well made and easy to use
CONS
Limits to format handling and connectivity
Best AudioQuest DragonFly Cobalt prices ?
MORE DEALS