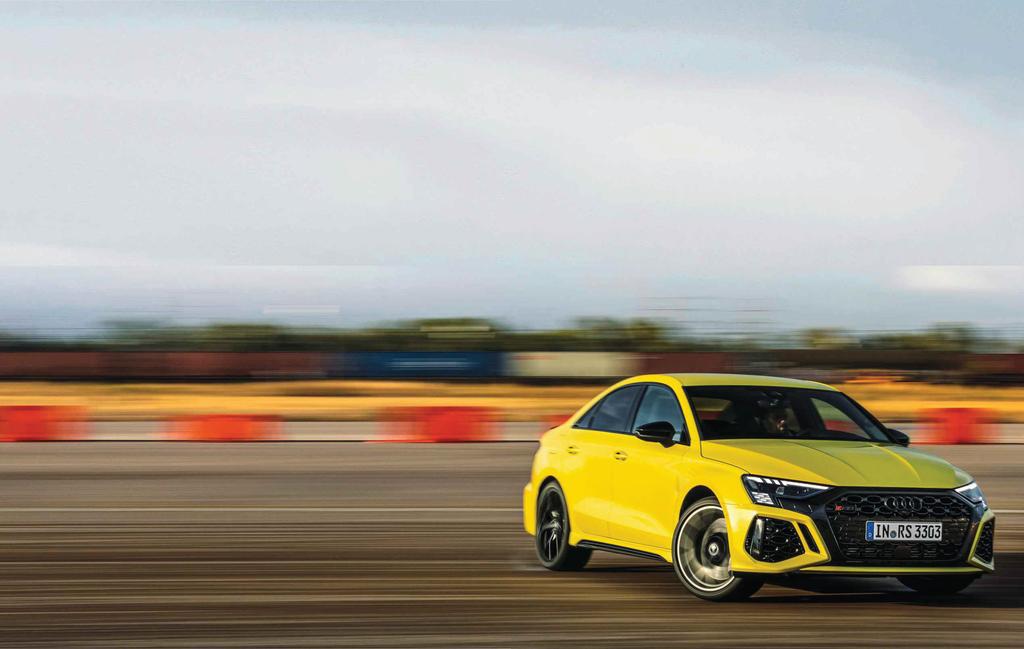 AUDI'S RS3 HAS ALWAYS BEEN THE automotive kid who has everything handed to them on a plate but still managed to flunk it all and achieve very little. It's failed to capitalise on the unique characteristics of its five-cylinder engine, make the most of its four-wheel drive, or take advantage of having the might of Audi Sport in its corner. It has, instead, had more of a 'that will do' approach to life, which is why it leaves many disappointed and signing up for Ford RS, Honda Type R and VW R models instead. And in more recent times, AMG's hot and hyper-hatches.
All this could be about to change, because the new RS3 feels more the honed hyper-hatch – or, as pictured here, compact saloon – than a sales box-ticking exercise. It retains the key ingredients of its predecessor, many of which have been tickled rather than overhauled, such as the 2.5-litre five-pot. Peak power remains at 394bhp, although it arrives earlier in the rev range and hangs around for longer, much like the 369lb ft of torque (up 15lb ft).
That distinctive and charismatic five-cylinder engine still sounds superb despite particulate filters and WLTP's best efforts, and it transforms the humdrum A3 into something truly desirable. Its capacity and cylinder count provide a naturally strong shove of low-down torque, the turbocharger then adding the top-end fizz to remind you that nearly 400bhp in a car with a relatively small footprint is always going to be exciting.
What doesn't help the RS3's powertrain is its ageing and slow seven-speed S-tronic (dual-clutch) gearbox. Its ratios are quite short, to help with the 3.8sec 0-62mph time, which means the next ratio is never far from being called upon. And this is where the problem lies, as the slow shift speeds can result in you headbutting the hard rev-limiter, which stalls everything for what feels like an eternity. The 'box is also slow to downshift, regardless of whether it's left in auto or you have resorted to using the paddles (woefully small and cheap feeling, as per many VW Group products), so you find yourself planning every up and downshift with far more detail than you should have to in a car with an automatic gearbox.
An explanation as to why the powertrain now feels out of its depth is because of the work that has gone into the RS3's chassis. Previously this drivetrain shone when mixed with a rather dimly lit dynamic package, but now the RS3 has found its mojo the tables have turned.
There is nothing revolutionary going on at each corner when it comes to the chassis, but the small changes have yielded some pretty big results. Springs and anti-roll bars are stiffer and the dampers feature a new valve system to improve sensitivity, rebound and compression characteristics. There's up to one degree of additional front negative camber (half a degree on the rear) above a regular A3, requiring stronger bearings and a stiffer subframe. The four-point multi-link rear suspension also includes stiffer wheel carriers. Opt for the optional RS Dynamic pack and the suspension can be tweaked further still in terms of more specific damper settings.
'It feels more than a highly polished S3, it feels more bespoke, more individual'
On the road, it makes for an RS3 that no longer gets caught out by every imperfection or thrown offline if the lines on the road are painted too thick. It deals with the majority of compressions as if they simply aren't there, and those too big to ignore no longer have the car crashing and thumping through and out of them, so your spine isn't shattered and the RS3 continues to travel in the direction of your choice.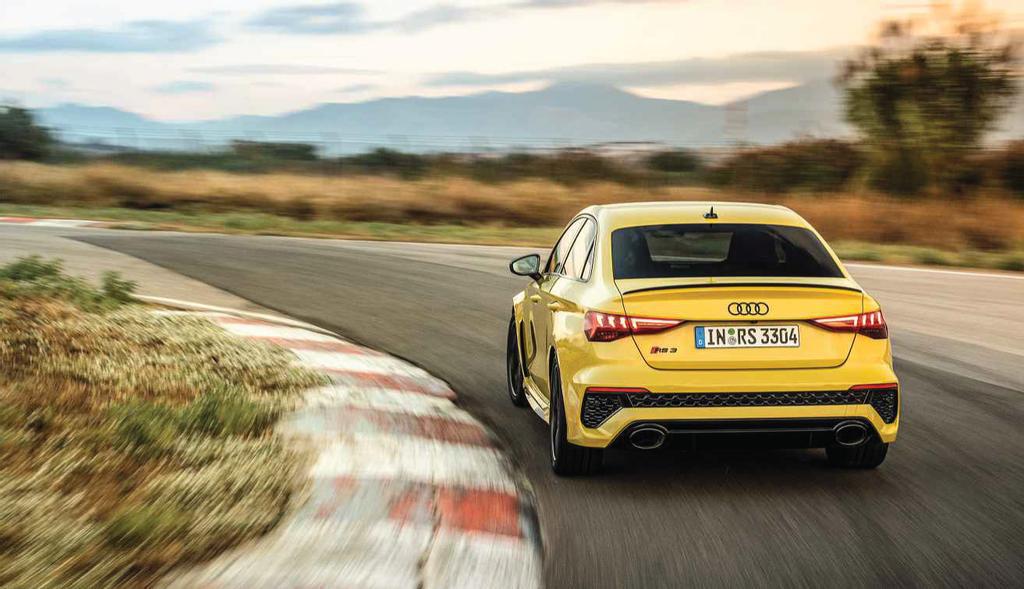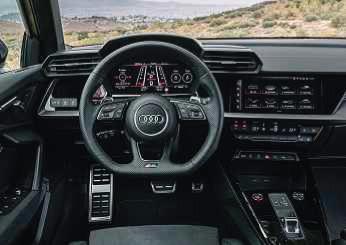 There's also more poise and precision, turn-in is neater and quicker, and your backside and palms of your hands have a better feeling and understanding of what's going on beneath and ahead of you. This feels more than a highly polished S3, it feels more bespoke, more individual, and all the better for it.
Also key to these attributes is the new RS Torque Splitter that sits on the rear axle. Replacing the traditional single clutch pack, the Torque Splitter has an electronically controlled clutch on each driveshaft designed to increase torque to the outer rear wheel during cornering and to therefore nip understeer in the bud. As a by-product, if you switch the traction aids off it will also allow you to drift until the tyres shred.
But while the smoky four-wheel drifts are fun, the way the Torque Splitter brings the RS3 to life on the road is where it gets interesting. Even on the standard Bridgestone Potenza Sport tyre fitted to the test cars (the UK has elected not to offer the optional Pirelli P Zero Trofeo R because it didn't think the demand would be there) the RS3's nose is keener than that of any Audi we've driven to clip the apex of a corner as cleanly as possible, the centre of the car pivoting around your hips and the rear being more mobile than expected but not wayward.
Keep the throttle and steering inputs clean and you can carry some serious corner speed; widen the throttle opening before you wind the lock off and you'll need a quarter-turn of corrective lock as you head along the next straight. It's no BMW M-car, but it does make for an unexpectedly rewarding experience, turning the RS3 from a point-and-squirt machine into an engaging and entertaining one. In quicker turns the Torque Splitter continues to work for you, the car settling on its haunches, curtailing any desire for the nose to push and allowing it to maintain its line. The blunt instrument has been well and truly sharpened.
However, the improvements to the chassis, and especially those resulting from the Torque Splitter, bring us back to the engine and its less than lightning fast reaction times. Be too aggressive with your throttle adjustment either way and the systems think you have gone too far or no longer want to play and so stop the fun, the RS3 pulling itself straight as soon as possible. And it's a similar situation with the variable-rate steering if you wind off the lock too quickly. The latter could be solved with more attention to detail applied to the steering calibration, but the former would require a drivetrain rethink, which requires more than some dev time with a laptop and a test driver's supersensitive hands. A deal-breaker? Only if you want to enter your RS3 into drift competitions.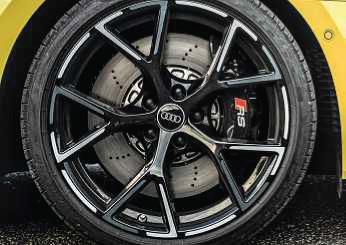 It was previously the case that you found yourself making excuses for the RS3. It wasn't as sharp as its rivals, but it was better built. It didn't ride as well, but it had more traction than you could possibly need. And down a straight, it was serious sports car quick. Those excuses are pretty much gone and the RS3 is now a genuine contender.
Engine In-line 5-cyl, 2480cc, turbo Power 394bhp @ 5600-7000rpm Torque 369lb ft @ 2250-5600rpm Weight Saloon: 1575kg (254bhp/ton); Sportback: 1570kg (255bhp/ton) 0-62mph 3.8sec Top speed 155mph (limited)
+ Chassis tech makes the RS3 a contender
– Engine and gearbox hold it back
Best Audi RS3 prices ?
MORE DEALS