I don't care what it is, if it costs £ I want it in a wooden presentation box. Or, because I'm writing for Hi-Fi+ (which knows a pricey product when it sees one), I should really say "if it's smaller than a paperback book and it costs £, then I want it in a wooden presentation box'.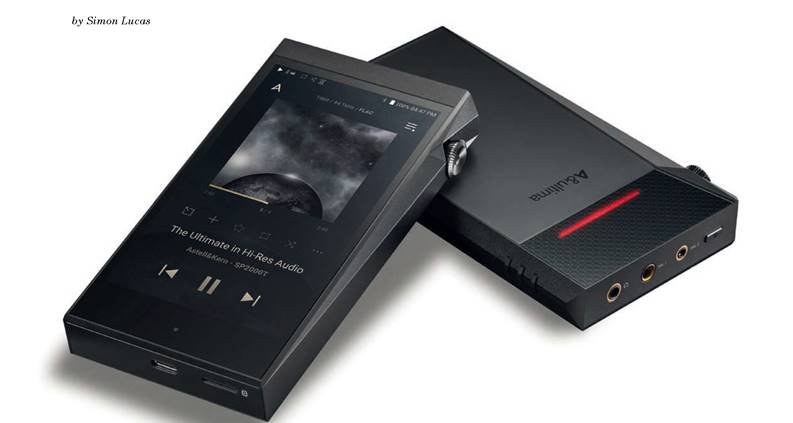 Astell&Kern, of course, is no stranger to the 'small but pricey' area of electronics. As the 'anglicised for nervous Westerners' arm of South Korea's iRiver brand, Astell&Kern has been delivering increasingly expensive, increasingly extravagantly specified media players since 2013. And while the A&ultima SP2000T (don't ask me – it's a fool who looks for logic in Astell&Kern's model­naming choices) isn't the company's most expensive portable music player (that honour currently belongs to the SP2000 – see model-naming comment above), at a fraction under two grand it's nevertheless pricey.
Mind you, if it's 'extravagantly specified' you want, you've come to the right place. The SP2000T may be on the chunky side (141 x 78 x 18mm, hwd), but when you consider the sheer amount of 'stuff' that's involved here it's slightly surprising it's not the size of a backpack.
"The Astell&Kern A&ultima SP2000T is a staggeringly informative, thrillingly musical and thoroughly entertaining listen."
The most attention-grabbing feature here is almost certainly the Tr-Amp system. As well as Astell&Kern's more usual op-amp amplification, the SP2000T is also fitted with dual-triode KORG Nutube 6P1 amplification – because nothing says 'high-resolution digital modernity' like a valve amp, right? And by way of an encore, it's possible to select 'Hybrid Amp' mode – which seeks to combine the 'clarity and dynamism' of the OP amp with the 'uniquely warm and musical' anode grid filament tube amp sound. And in the SP2000T's (necessarily lengthy) 'settings' menus, there are five degrees of, um, hybridness – so in grand total the Astell&Kern has seven individual emphases where amplification is concerned. A fabulous prize (subject to non-availability) to the first reader who gets in touch with a credible reason why this isn't enough.
Before your digital audio signal gets anywhere near your own personal amplification choices, it gets a thorough seeing-to from the SP2000T's four (count 'em!) ESS Sabre ES9068AS DACs. Deploying two DACs per channel (especially 32bit/DSD512-capable DACs such as these) in an effort to achieve the most detailed and balanced sound possible is a bold move, and one that's to be applauded. And at the business end, the SP2000T features three headphone outputs: balanced 2.5mm and 4.4mm sockets, plus a 3.5mm unbalanced alternative.
In light of this thorough headline specification, it probably won't come as all that much of a surprise to find the SP2000T's engineering is equally purposeful in every other respect. Wireless connectivity, for example, is achievable via dual-band wi-fi or Bluetooth 5.0 with compatibility with SBC, AAC, aptX-HD and LDAC codecs. All popular file types (and quite a lot of unpopular ones too) are catered for, including FLAC, WAV, DSF and MQA. Life from the 4200mAh Li-Polymer battery is around nine hours (as long as you haven't ticked all the most esoteric options where file-type, wireless connection and what-have-you goes) and it can be charged from flat to full in around three hours. The capacitive display is a big five inches and a crisp 1920 x 1080 Full HD resolution.
I could go on, but there seems no need to (further) labour this particular point. The Astell&Kern A&ultima SP2000T is a lavishly specified portable music player.
Which is all well and good, of course, but the enjoyment that comes from reading such a fulsome spec-sheet can only ever be fleeting – the proof of the pudding etc and so on. So in an effort to get a proper flavour of the Astell&Kern, some of its 256GB of internal memory (which can be expanded using a microSD card of up to 1TB) is loaded with content in sizes ranging from 320bit and 16bit/44.1kHz MP3 through 24bit/192kHz FLAC to 2.8Mhz DSF and MQA. And then it's connected to a domestic wireless network where it has access to a similarly wide selection of file types and sizes. The option of wireless headphones is taken up by Grado GT220 and Bang & Olufsen HX, and a wired connection is made using Sennheiser IE900 in-ear monitors and Montblanc's startlingly capable MB-01.
First things first, though – and that's deciding on the sort of sonic characteristics you like your amplification to have. And while it would be unfair to suggest I don't appreciate all the efforts Astell&Kern has gone to when it comes the the amplification deployed here, or its supposed flexibility where different types of music are concerned, there's no denying that (for me, at ►
other than superbly integrated and unified on an almost molecular level – it is.
least) there's one setting on the SP2000T's amp settings that works best. And it works best no matter if you're listening to the ramshackle indie-pop stylings of Car Seat Headrest's Teens of Denial [Matador] as a 16bit/44.1kHz MP3 file, Stevie Wonder's immortal Innervisions [Tamla] as a 2.8Mhz DSF or Can's Live in Brighton 1975 [Mute] as a 24bit/96kHz FLAC. In the 'AMP' section in the 'Settings' menu, select the 'Hybrid' option dialled two stops away from the pure 'Tube' setting. Any other position will be subtly, but to my mind unarguably, inferior.
There's no two ways about it: the Astell&Kern A&ultima SP2000T is a staggeringly informative, thrillingly musical and thoroughly entertaining listen. I'm not sure of the exact number times I've listened to Stevie Wonder's 'Higher Ground', though obviously it's up in the hundreds – and yet there is nuance previously unheard, harmonic variation previously unnoticed and space between sounds previously unobserved, all revealed by the SP2000T. Its attention to detail is getting on for fanatical – every slur of a drumstick across a drum-skin is distinct from every other, and every off-mic 'wooh' is an audibly individual event. If the most transient, fleeting aspects of a recording interest you as much as the entirety of a performance, this is the small-ish, chunky-ish portable music player for you.
The song is presented on a wide, authoritatively organised sound-stage with tremendous width and no little depth. Despite the fairly busy mix and the multiple instrumental strands scrapping for primacy in there, the way they're separated and isolated makes them very easy to follow right down to their most minor dynamic variations. And don't let the word 'isolation' give the impression that the Astell&Kern is anything
The warm analogue tonality of the recording is carried over intact, with everything from clavinet to horns bathing in that early-70s high-end hi-fi sheen – this song fairly glows in the SP2000T's hands. The top of the frequency range features a winning balance between bite and shine, with the sibilance of the percussion always just about on the right side of the line. And in between, there's a directness and an immediacy about the vocal performance that is only partly explained by the fact the singer sounds like he's mic'd from mere nanometres away from his mouth. The Astell&Kern hands over every last shred of information, and as a consequence Wonder's timbre, his technique, his commitment and his level of engagement are utterly apparent – and literally hair-raising as a result.
It almost goes without saying that a product like this is not for everyone. It's relatively big and heavy (309g), for starters, and Astell&Kern's long-established aesthetic means the chassis is a festival of pointy corners. Then there's the price, of course – unless you take your portable audio experience deeply seriously, is there really so much to be gained by spending a couple of grand on a device that only does something your smartphone can do already?
Well yes, actually. If you have the wherewithal, and if you have money for similarly talented headphones, and if you find yourself in transit a lot of the time, it's hard to know how you might better spend this not-inconsiderable sum. The amount of enjoyment the Astell&Kern offers is prodigious, as is its capacity to reveal facets of recording you might previously have imagined yourself familiar with. It manages to balance a borderline-forensic analysis of a recording with a deep understanding of the same recording's primary purpose as a piece of entertainment.
And it's not like you have to take the wooden box along for the ride.

TECHNICAL SPECIFICATIONS
Type: Solid-state portable music player with expandable storage
Storage: 256GB integrated, expandable by up to 1TB via microSD
Analogue Inputs: n/a
Digital Inputs: USB-C (charging only)
DAC Resolution/Supported Digital
Formats: PCM: 8kHz-384kHz (8/16/24/32bit); DSD Native:
DSD64 (1bit/2.8MHz)/DSD128 (1bit/5.6MHz)/DSD256 (1bit/11.2MHz)/DSD512 (1bit/22.4MHz); WAV, FLAC, WMA, MP3, OGG, APE, AAC, ALAC, AIFF, DFF, DSF, MQA
Analogue Outputs: Unbalanced out (3.5mm)/Balanced out (2.5mm, only 4-pole supported) Balanced out (4.4m, only 5-pole supported)
Digital Outputs: Optical out (3.5mm)
Frequency Response: ±0.024dB
(Condition: 20Hz~20kHz)
Unbalanced / ±0.038dB (Condition: 20Hz~20kHz) Balanced ±0.027dB (Condition: 20Hz~70kHz)
Unbalanced / ±0.052dB (Condition: 20Hz~70kHz) Balanced
Distortion (THD + Noise): 0.0003% @ 1kHz,
Unbalanced/0.0003% @ 1kHz,
Balanced
User Interface: 5in 1920 x 1080 touch display
Other Features: Bluetooth V5.0 (A2DP,
AVRCP, Qualcomm® aptX™ HD, LDAC)
Dimensions (HxWxD): 141 x 78 x 18mm
Weight: 309g
Manufacturer: Astell&Kern
URL: astellnkern.com
Distributor: Armour Home Electronics
URL: armourhome.co.uk
Tel: +44 (0) 1279 501111